Hamilton lauds 'strongest year ever after 10 races'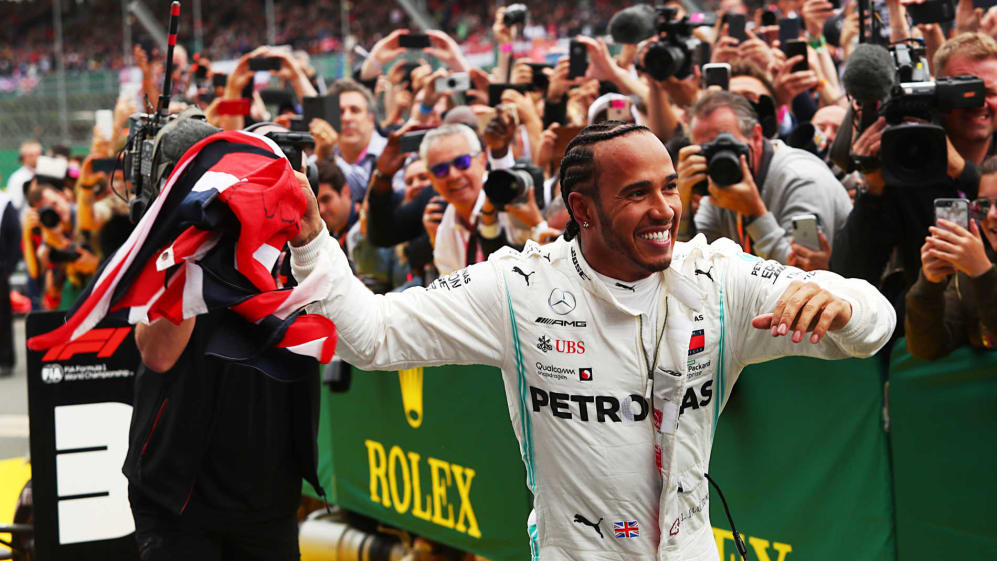 Lewis Hamilton says that, 10 races in, he's enjoying the best Formula 1 campaign he's ever had at this stage of the year, revealing that he was "super nervous" after Ferrari's strong pre-season testing performance in Barcelona – until Mercedes pulled it back.
With the team on course for a sixth consecutive constructors' title after an unprecedented seven 1-2s this season, Hamilton says it's never been better for him or Mercedes. This is the team's highest total after 10 races with 407 points.
"This has been the strongest year – to this point in the first 10 races – that I can remember ever having," he said after winning the British Grand Prix with team mate Valtteri Bottas in tow.
Mercedes didn't expect such an impressive start to the year after pre-season testing in Spain, as Ferrari were consistently faster than the Silver Arrows.
READ MORE: The Winners and Losers of the British Grand Prix
"When we were in Barcelona, when we were driving that car, these guys [Ferrari] were doing some really serious laps and we couldn't do that and we were super nervous," revealed Hamilton. "And I think if we had left Barcelona without discovering some ultimate changes that we ended up making, we probably wouldn't be where we are right now."
He credited the team's understanding of the car and rapid rate of improvement as the reason for their recovery after testing, taking 1-2s in the first five races of the season.
"The journey's been great and we're going to go from strength to strength. We've got improvements coming, we're understanding the car a lot," said Hamilton.
It's not just the engineers at Mercedes, but also team mate Bottas who's pushing the team ever further. The gripping battle between the pair at Silverstone was a case in point.
"Look," said Hamilton, "it's no secret that Valtteri wants to beat me and I want to beat him and that fighting spirit is stronger than anything, individually for all of us. I think it's so vital though, to have a respect. I know how hard it is to get a pole here is. He did a fantastic job [in qualifying], I know how hard it is to wake up and deliver every weekend, as do these other drivers, so the respect is there between us.
READ MORE: DT's 10 Hot Takes on Silverstone – Hamilton's 'luck', Leclerc's toughness & more
"I think we want to race wheel-to-wheel and tough. When you're racing with a team mate it's on a different level."
Now it's up to Red Bull and Ferrari to spoil the party as Mercedes head to the marque's home race at Hockenheim. And Hamilton is anticipating a challenge on what is also Sebastian Vettel's home turf.
"The advancements that this sport makes and that we make as a team – each team makes – is amazing," said the championship leader. "So I'm excited to see the upgrades that other teams have and the improvements for example that Ferrari make of their use of tyres, the improvements we make to downforce, all these different things, it's going to be different."
Hamilton goes into this weekend's German Grand Prix with a 39-point lead over Bottas atop the driver standings, with Max Verstappen and Sebastian Vettel a further 48 and 61 behind respectively.