Hamilton pinpoints where Mercedes lost out in Austin qualifying as Russell eyes stronger race display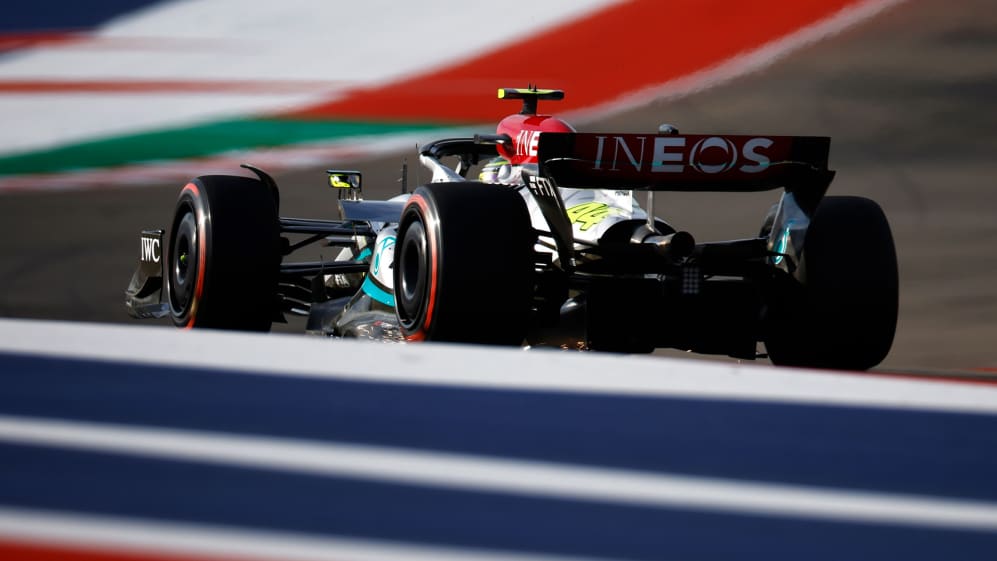 Lewis Hamilton believes that a temperature drop between final practice and qualifying contributed to Mercedes' lap times falling away from pace-setters Red Bull and Ferrari.
After showing early promise, Hamilton and Mercedes ended up as the 'best of the rest' during the grid-deciding session, almost six-tenths off pole-sitter Carlos Sainz, the other Ferrari of Charles Leclerc and Red Bull's Max Verstappen.
Hamilton will, however, be promoted to third on the grid, with team mate George Russell joining him on the second row, following the application of engine-related penalties for Leclerc and Sergio Perez.
READ MORE: Sainz takes pole for the 2022 United States Grand Prix ahead of Verstappen
Reflecting on the gap to the front, Hamilton said: "I thought we were closer, if I'm really honest. My laps weren't great; I really struggled with the car in this session. I think with the temperature drop, [the track] in P3 was around 30 to 40 degrees, then it was like six degrees, seven degrees cooler [in qualifying] – it really changed the set-up of the car – it was a real handful.
"I'm praying it's going to be better tomorrow. I'm really just hopeful that… If we can hold onto the guys [ahead], at least keep them in [viewing] distance, that would be awesome, because then strategy can come into play. But I think they're too quick."
Russell referenced the upgrades Mercedes brought to the Circuit of The Americas and expressed hope that the team will put up a stronger performance on race day – pointing to several "unknowns" after part of Friday practice was set aside for 2023 tyre testing.
Asked if Mercedes' qualifying session was representative, Russell said: "I'm not too sure, to be honest. We obviously brought a couple of updates. I guess we all hoped for a little bit more, but when you take the season as an average, we probably qualified better than average.
READ MORE: 'It was a long time coming!' – Sainz revels in COTA pole as Leclerc plots fightback after grid penalty
"When you look at our gap to the midfield, as a percentage, the gap ahead to the gap behind, we're probably the furthest away we've been from them since Zandvoort or Budapest. [So there are] some positives to take away from it, but we know Sunday is where it's at, and I think there's a real opportunity.
"It's sort of rare that as a driver you go into the weekend more excited about the race than qualifying, because qualifying is where the car is alive and you're going [at your] fastest, but [I'm] definitely really excited, because I think there's going to be a lot of opportunities, lots of pit stops and a lot of unknowns – that's good news for us."