Horner praises Red Bull crew for Verstappen repair job after Bottas 'does a good job taking us out'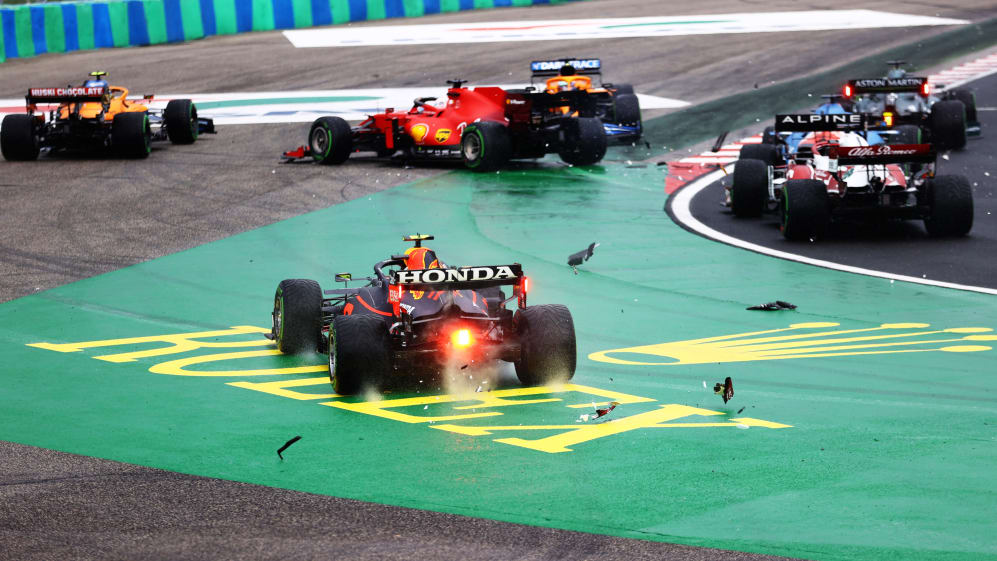 Red Bull Team Principal Christian Horner was left to rue another Grand Prix where his team suffered an unfortunate retirement, this time thanks to a Lap 1 collision triggered by Mercedes' Valtteri Bottas – with Horner bitterly suggesting that Bottas had done 'a great job' in hampering the races of both Red Bulls.
Bottas careered into the McLaren of Lando Norris at Turn 1 of the opening lap and then hit Red Bull's Sergio Perez – who was forced into retirement – with Norris's car then causing damage to Verstappen's.
But while Horner was grateful to his mechanics for the swift repair job to Verstappen's car during the resulting red flag – which allowed the Dutch driver to ultimately claim P9 – the Red Bull chief was also frustrated at a second consecutive race weekend where a Mercedes had made contact with a Red Bull.
READ MORE: Verstappen laments frustrating run to P10 in Hungary after being 'taken out by a Mercedes again'
"Unfortunately, the result for us is that [Bottas] eliminated both of our cars," said Horner.
"I think unfortunately you saw Valtteri make a poor start, he obviously misjudged his braking and he's done a great job for Mercedes in taking out both of our cars. A significant amount of damage, lost another engine with Sergio and then Max was hugely compromised.
"I have to say the mechanics worked wonders getting that car working again," added Horner, "just getting some of the pipes straightened on it was an incredible response. But hugely frustrating obviously.
"It's brutal for us, but I think the team did well to get that car back out there, they nailed the fastest stop, Max fought for that one point [which later became two when Sebatian Vettel was disqualified], and that could prove vital at the end of the year."
READ MORE: Perez fears costly engine damage after 'big mistake' from Bottas
The damage may sting Red Bull later this season as Perez could face grid penalties if he uses more than the three allocated engines over the season, while the financial implication will worry the team under F1's cost cap rules.
Asked if Mercedes Team Principal Toto Wolff had apologised to him, Horner replied with a chuckle: "Is he going to pay the bill?"