Feature
How the intense Mercedes vs Red Bull battle is heating up – on and off the track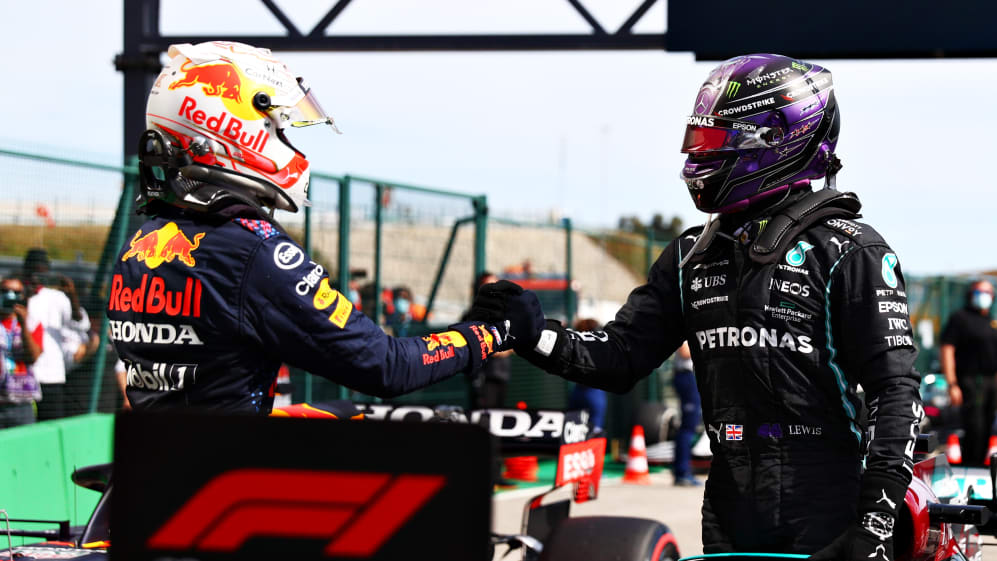 In years to come, it's looking increasingly likely the 2021 Formula 1 campaign will be remembered fondly as one of the most exciting in living memory.
A combination of largely stable regulations over the winter, a tweak to the floor rules which appear to have hurt Red Bull less than others and brand new rules for 2022 which will limit in-season development has meant Mercedes have found themselves with an equal.
Add into the mix a Lewis Hamilton who looks happier and more relaxed than ever, the reigning world champion pushing himself to a new level in the face of a greater threat to his dominance, and a Max Verstappen who is excelling now he finally has a car worthy of his exceptional talents – and you have a recipe for one of the greatest ever rivalries.
We've been treated to a trio of cracking races already, the duo filling the top spots in all three, with Hamilton edging ahead by eight points, aided in part by Verstappen having a frustrating relationship with track limits rules.
READ MORE: Verstappen explains why he's fallen foul of track limits in 2021 – but why he won't change his approach
All that means as we approach this weekend's Spanish Grand Prix, the quest for victory is once again wide open. If either deliver the perfect race, the win can be theirs. Both have made mistakes. Both have at times seized their opportunities. Both have performed damage limitation. There really is very little to choose between the two.
"You're seeing the closest battle we've seen for some time," says Hamilton. "You're seeing Max performing exceptionally well. He has a championship winning car, no doubt, and a championship winning team who can really pull off the job this year if we don't do our job so I definitely think experience will help us in terms of how we approach weekends and how we battle back from touch weekends.
"From my side, I would like to think experience will help but you still have to do the job, minimal mistakes. Reliability is going to be a big deal this year, and as you've seen, even these fastest lap extra points are going to be significant by the end of the year."
FORM GUIDE: Is 2021 the year Mercedes' exceptional Spanish GP run comes to an end?
Hamilton, at least publicly, seems to be revelling in having a genuine threat to his championship crown from outside the team. He's achieved so much in Formula 1 already, that Verstappen's attack on his top spot is something of a new challenge that can only serve to motivate the seven-time world champion and get even more out of him.
"Hopefully you can remember when we were fighting against Ferrari, that is my preference, to be racing another team and another team that are at their best - and even ahead potentially in certain instances," said Hamilton.
"Of course Max is more experienced now than he ever has been and clearly incredibly hungry to win more races and win this championship and you know: game on, it's what we're all here to do - to race, to fight for wins and the battles we've had in these first few races have been amazing so I'm very excited."
There is an immense amount of respect between the two title rivals, which is evident on track.
In previous times, when Hamilton and Verstappen have gone wheel-to-wheel, their respective priorities were very different. Hamilton was fighting for a title and had something to lose in the heat of battle, whereas Verstappen was trying to make the best of the handful of weekends he had a race win-competing car. As a result, Hamilton simply wouldn't defend as hard – and Verstappen could be more aggressive.
READ MORE: 'You know you can go to the absolute limit' – Verstappen and Hamilton on trusting each other to race hard but fair
There was the threat, then, that things might get heated when they both eventually had something on the line. But that hasn't happened at three times of asking. In Bahrain, they were both very clean and fair, with Verstappen giving back the lead after exceeding track limits.
It was close in Imola, as Verstappen bullishly forced his way through at the start, with Hamilton keeping his foot in it and bouncing over the kerbs. And then in Portugal, Verstappen mugged Hamilton at the restart and then was passed later by Hamilton, the two jostling for several corners in dramatic fashion.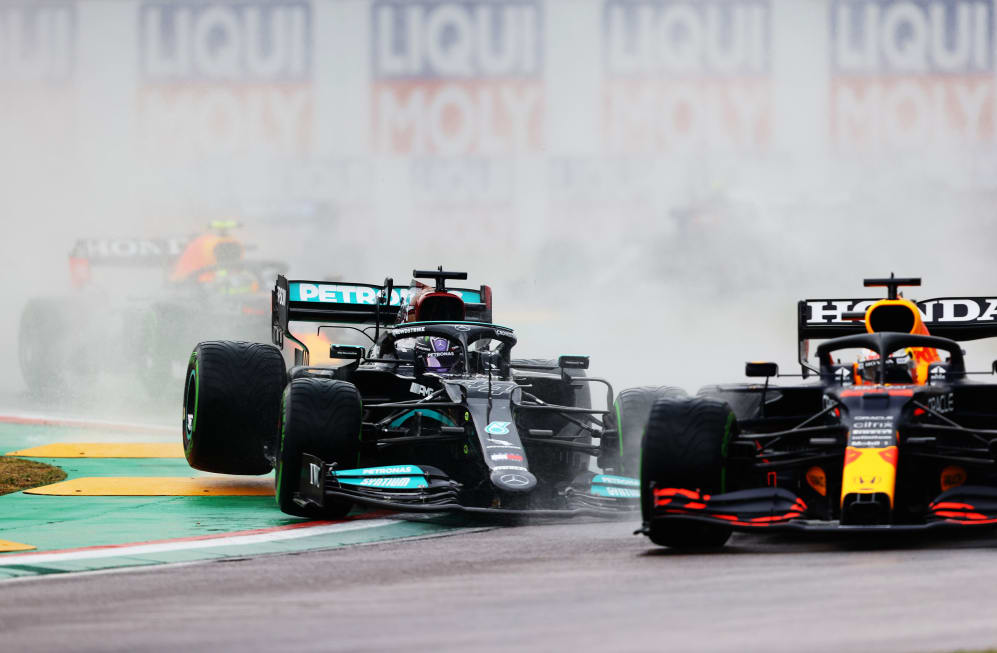 "It's very relaxed, as you can see, when we walk in, we get on very well," said Verstappen. "When you just respect each other and can say to each other when you've done a good job I think that is very important."
He added: "Yeah I think it is exciting and I'm of course looking forward to every single battle out there. With the championship fight, we finally have a car which I think is capable of having good results every single weekend, if that is fighting for first, third, second, it's going to depend on the track, which is a bit difficult to project at the moment.
The Ross Brawn Column: How Verstappen's mindset has changed now he has a real shot at the title
"It's really enjoyable. So far we've had some good results, from my side I'm happy, but things can always go better, but from both sides, from the car and from myself, it's never good enough even if I would have won three races so far."
While the drivers are playing nice so far both on and off the track, there's been a bit more tension between their respective teams, as they do battle on the engine front.
Red Bull are pushing full steam ahead on their own power unit division, building a project from the ground up. And to do so, they've launched a raid on Mercedes' personnel recruiting not one, not two, but six personnel to senior positions in the company. It was quite the coup, but Verstappen isn't surprised by such a situation.
READ MORE: Red Bull recruit more staff from Mercedes for new in-house engine project
"Of course it is interesting but I think it is quite normal that when a team is so dominant for such a long time that you will try to get those kind of people," he said. "It is an interesting new project to be part of from our side so when people are in the same place for a long time I think sometimes they want to seek new challenges and I think that's understandable."
Hamilton didn't bite when asked about it. "I'm really not into the psychological battle that people have," he said. "It's interesting from the outside to see these little squabbles people have, the digs that individuals take.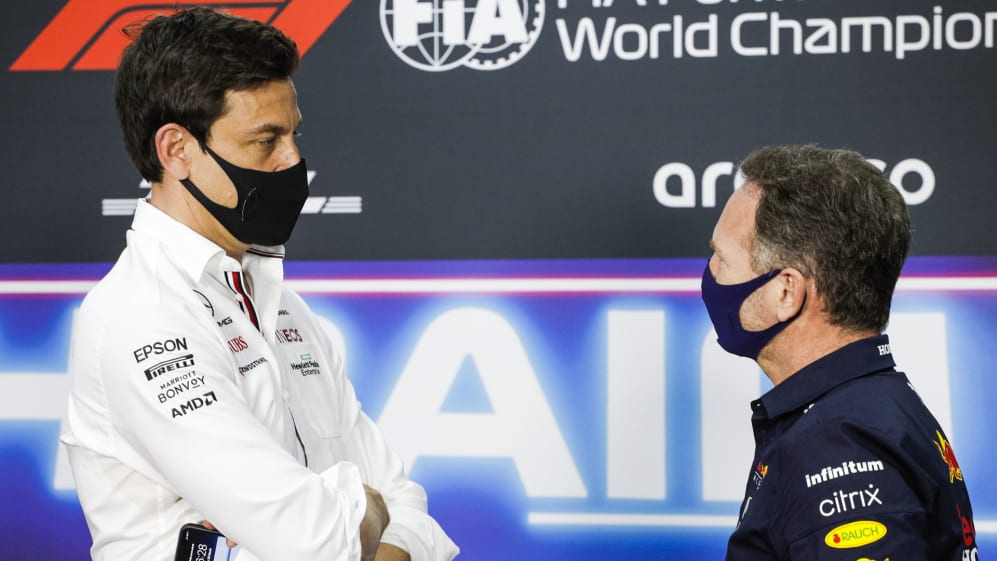 "I'm really just about trying to be the best I can be, I just put all my energy into that and then I can do some great things so I don't think we need to put anyone else off or mess with their heads. My dad always said do your talking on the track so that's what I'm about, that's what I do."
Back to the track, and it'll be one which Hamilton and Verstappen will know well, having clocked up thousands of laps around the Circuit de Barcelona-Catalunya, Formula 1's go-to testing venue. With such an accolade comes great responsibility, with the Spanish venue's combination of low, medium and high-speed corners meaning it is a good barometer for a car's strengths and weaknesses.
Come the end of the weekend, we should have a good read on the true pecking order as well as where teams will likely be strong and weaker as the season goes on. Hamilton triumphed last year, quite comfortably ahead of Verstappen – who took his first win at the track in 2016 – but the chances are that fight will be significantly more competitive this time around.
READ MORE: Horner says track limit rules have been 'brutal' for Red Bull in 2021 – and team must be 'perfect' to beat Mercedes