Hulkenberg 'didn't expect' P3 on the grid – but fears race rustiness could 'hurt' first F1 podium chances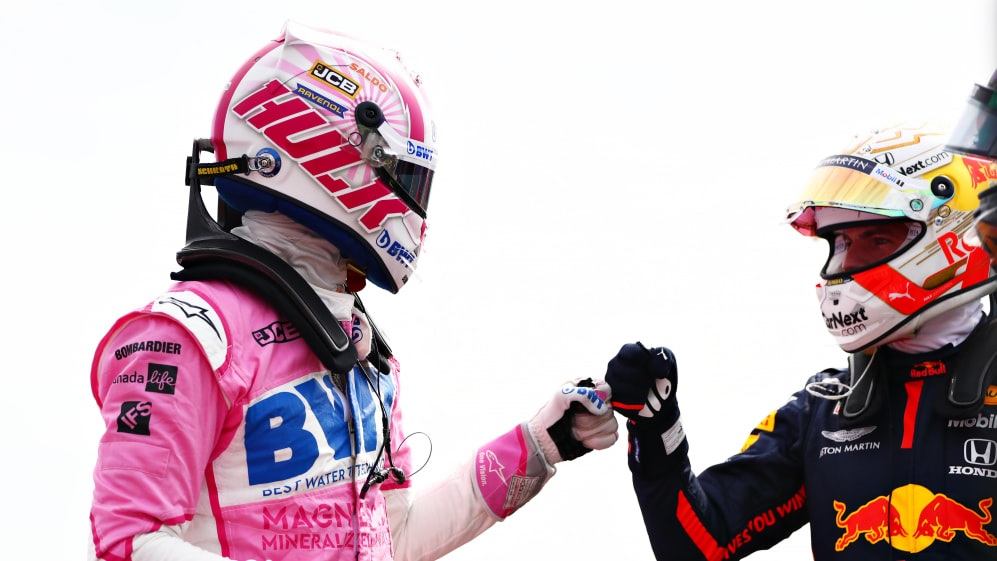 Racing Point super sub Nico Hulkenberg put in a starring performance in qualifying to take third on the grid for the 70th Anniversary Grand Prix, behind only the two Mercedes of pole man Valtteri Bottas and Lewis Hamilton. And having been sat at home with no F1 drive just 10 days ago, the German driver admitted that he'd been shocked to qualify so high up on the grid.
Having failed to start last Sunday's British Grand Prix, before the team confirmed that he would race again in place of Sergio Perez this weekend, Hulkenberg made life hard for himself in Q2, running wide at Chapel on his first flying lap and having to abort it. But his second effort got him through to Q3, while his final push lap of qualifying was good enough for third on the grid, ahead of the Red Bull of Max Verstappen.
READ MORE: Bottas beats Hamilton to take 70th Anniversary GP pole as Hulkenberg stars
"I was trying to squeeze everything out of the car, the tyres, myself – which is also a challenge this weekend!" said Hulkenberg. "And yeah, quite happy to be here.
"Quali was still tricky. In Q2 I made life hard for myself a bit and was scared I damaged the car. And then Q3 it was head down, full beans, whatever I had. A bit surprised to be honest to stand here but obviously a big smile on my face.
"We had always good one lap pace this weekend," he added. "I was pretty confident we could make it into the top 10. But to be third, I didn't really expect that and also, couldn't really think too much about it to be honest. So of course a bit of a surprise, but for today, a nice one to take."
Despite his impressive qualifying, however, Hulkenberg lamented not having taken the start of last weekend's Grand Prix, saying the lack of racing experience would "hurt" his chances, as he sought the podium finish that has so far eluded him throughout his 177 Grand Prix starts…
"That's definitely going to hurt tomorrow, not having last week's experience and not having gone through the motions there with the start and everything," he said. "Because it's still new with this car. We'll do what we can, I'll try to learn fast and to keep the car where it deserves to be.
READ MORE: Why Nico Hulkenberg's British GP comeback was heroic – even if he didn't race a lap
"To be honest it's very difficult and challenging circumstances," added Hulkenberg, when asked about whether he thought he could convert P3 on the grid into that first podium, "but I know I have a fast car beneath me, so it's just making sure to try and do everything right.
"Obviously starting, Lap 1, it's going to be also new for me. But I think I'll just try to get it right with all the experience I have and then we'll race. Obviously I'm a couple of races behind the other guys but I still remember what it feels like. I'll try not to think too much, just keep my head down and have a good race tomorrow."
READ MORE: Hulkenberg confirms talks with F1 teams over full-time 2021 return
Having only driven the Racing Point RP20 for the first time last Friday, Hulkenberg also managed to qualify three places higher, and over three-tenths faster, than incumbent team mate Lance Stroll. But despite having been open about looking for a full-time F1 return for 2021, Hulkenberg said he was more focused on Sunday's race than whether or not his performance had garnered him favour with F1 team bosses.
"It's only Saturday," he said. "There's always Sunday that matters most. It's definitely one of the nice little highlights but it's no time to cheer yet because tomorrow is the big day."