'I was sideways in every corner' – thrilled Gasly explains how he fended off Sainz to seal Monza win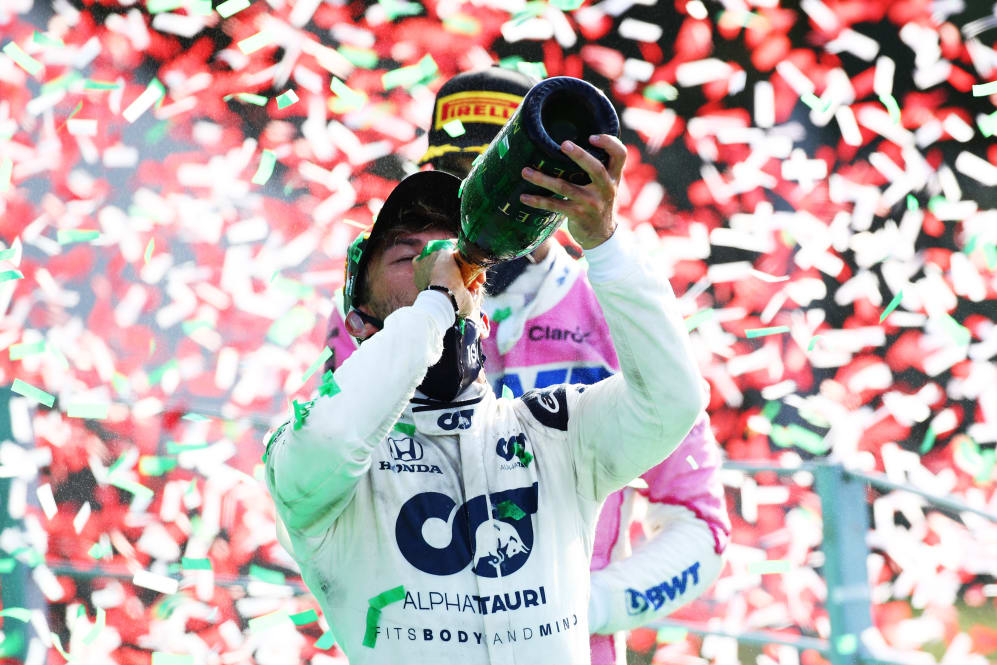 "Oh my god guys we did it again!" And with those words, screamed over team radio, Pierre Gasly summed up both the pure joy and the absolute astonishment of his maiden F1 win – a richly deserved, but hugely surprising victory in a spectacular Grand Prix at Monza.
This was a day when luck was on the Frenchman's side - at the start of the race he survived heavy contact with Alex Albon's Red Bull going into Turn 1 – but also one where he maximised every opportunity that came his way. In a race that saw a safety car, a stop-go penalty for runaway race leader Lewis Hamilton, and a red flag stoppage followed by and second race start, Gasly rose supremely to the front of the field before brilliantly fending off McLaren's Carlos Sainz.
READ MORE: Gasly takes maiden win in Monza thriller from Sainz as penalty leaves Hamilton P7
It gave the Italian AlphaTauri team a second-ever race win, 12 years after their first, which also came on home soil and in similarly surprise circumstances, with Sebastian Vettel in 2008. Little wonder then that the 24-year-old could scarcely believe what had happened when he stepped out of the car.
"Honestly, it's unbelievable - I'm not realising what's happening right now," he said, as his team celebrated wildly in parc ferme. "It was such a crazy race..."
Indeed it was. Gasly started in 10th place but was one of the first to make a pit stop, swapping his softs for mediums on lap 19. It proved an inspired move, for when the safety car was called on lap 20, to deal with Kevin Magnussen's stranded Haas, Gasly found himself in P3 when all the pit stops had shaken out.
Then, after a lengthy red flag stoppage, brought about shortly after the race had gone green again, when Charles Leclerc crashed heavily at Parabolica, Gasly nailed the re-start to jump from P3 into P2 behind Hamilton, which became first when the Briton took his stop-go penalty for changing tyres when the pit lane was closed.
READ MORE: 'It's a blessing there's nobody in the stands,' says Vettel after nightmare Italian GP for Ferrari
All that was left was for Gasly to tick off the remaining laps at the head of the field with the finesse of an old-hand, as Sainz ratcheted up the pressure from behind.
"I have got no words," continued Gasly. "This team have done so much for me; they gave me my first opportunity in F1 [in 2017], they gave me my first podium [at Brazil, last year], now they are giving me my first win.
"After the re-start I think we had 28 laps to go. I managed to pass Lance into Turn 1 and I think this really helped me for the rest of the race. Lewis pitted, I think on lap 1 [after the re-start]. And then after that I was on my own, just reminding me of my Formula 2 days, when you are just leading the race, focusing on your own driving corner by corner.
"I pushed so hard at the start because I wanted to break the tow from the guys behind. I didn't have anyone in front of me so I knew I had to make the time in the corners. And the last five laps were really hard because my tyres were completely gone and I was sideways in every corner. I could see Carlos slowly closing the gap.
"And I know myself, I would have been so pissed at myself if I'd lost that win in the last few laps, so I just gave everything I had. And I'm so happy right now to get my first win in Formula 1.
Gasly's win was also a first for a Frenchman in F1 since Olivier Panis won at Monaco in 1996 – another race with an unexpected outcome.
READ MORE: Olivier Panis on THAT Monaco Grand Prix victory
"That's right!" buzzed Gasly, "Olivier Panis was the last one and I've always said it coming in F1 that's one thing we need to change, it's been so long, but I never expected that it would happen to us with AlphaTauri. We just kept focusing on ourselves since last year working, improving step-by-step. It's crazy, honestly. I'm just so happy."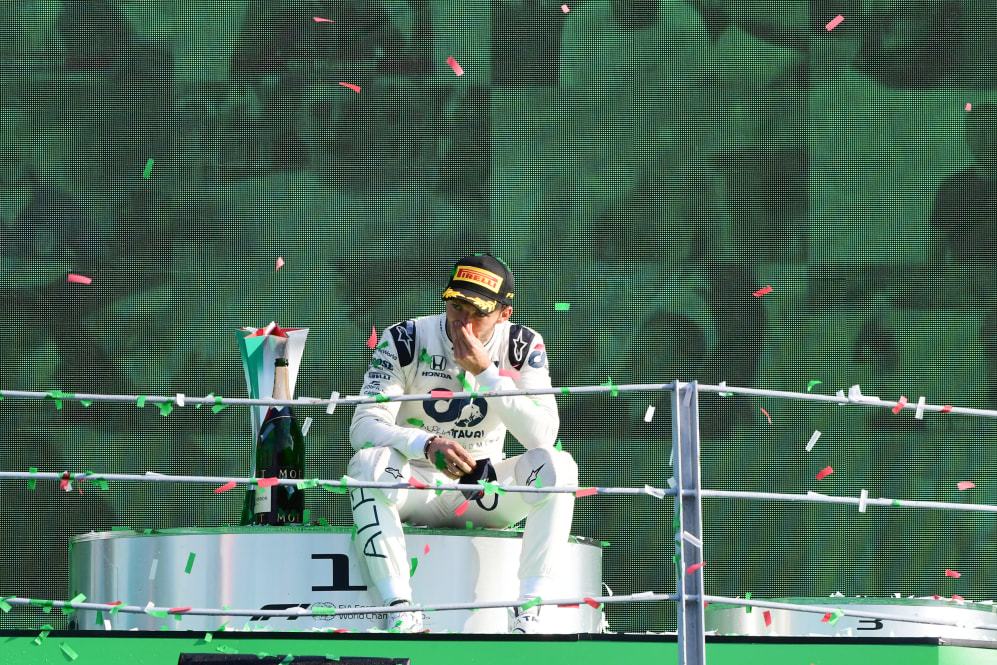 The win comes just a week on from an emotional weekend for Gasly in Belgium, where he took a fine eighth place and driver of the day honours, having begun that weekend laying flowers in honour of late friend Anthoine Hubert – his fellow Frenchman who died at Spa-Francorchamps on the same weekend Gasly returned to AlphaTauri following his disappointing demotion from Red Bull Racing.
Those thoughts were no doubt running through his head as he sat on his own on the Monza podium, after the ceremony had ended.
"I've been through so much in the space of 18 months, my first podium last year, I was already like 'wow' with AlphaTauri and now my first win in Formula 1 in Monza, I struggle to realise," he said.
"I didn't want to leave [the podium]," he added, "because these kind of moments you never know how many times you're going to be able to enjoy these kind of times.
"I wish we could have had all the tifosi and grandstands full of people because it's probably one of the best places to be on the podium. But nevertheless, I just wanted to sit down and take a moment to myself, to go through the stuff that was crossing my mind and just enjoy that moment."
Gasly is F1's 109th different winner, and the first to win from as low as P10 since Daniel Ricciardo in Azerbaijan in 2017 – incidentally the last red-flagged race.