Feature
I was there when… Jolyon Palmer, Will Buxton, Mark Hughes and more reflect on Max Verstappen milestones
Max Verstappen has blazed a trail ever since he was in karting – his light burning brighter than the majority of his rivals', not just because of that famous name, but because of the way he could bend any machine he jumped in to his will.
The life of a motorsports journalist means than many of our writers crossed paths with Verstappen on his journey to being a two-time world champion, both before his F1 debut at the tender age of 17 years and 166 days, and after.
So, with that second title in the bag, we asked a handful of them to reflect on their interactions with Verstappen at different stages of the Dutchman's career...
Will Buxton, F1 Digital Presenter: I raced against Max when he was coming up through the junior ranks
I can't really say I raced Max, given the gulf in our levels of ability, but I was fortunate enough to share a track with him for three races of the Florida Winter Series in 2014, his first competitive single seater championship on graduating karts.
READ MORE: Our writers on Verstappen's best 2022 drives, his 'F1 great' credentials – and how he can get even better in 2023
It was, ostensibly, a winter training school, set up by Ferrari for their juniors. But what was incontestably apparent was that the shining light in the group was not one of the Scuderia's own. The championship featured open data sharing after every session, and the overlays were evidence that even with his lack of experience in comparison to his fellow drivers, Max was doing things the others simply could not.
He got up their noses, frustrating them with his pace and raw, sometimes borderline racecraft, a trait which would create so many early headlines. He was a cut above, and everyone knew it, his consistently improving form and no-s**** – given approach creating a clear target on himself as the coming man. It was a target drawn in indelible ink and one, much to his older and more experienced rivals' chagrin, they were only really ever able to view on his back.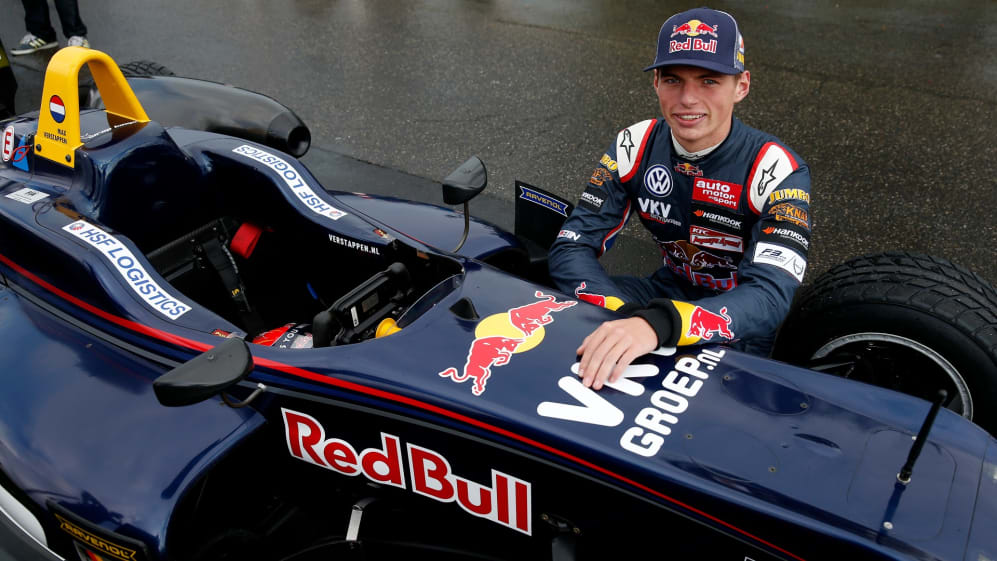 David Tremayne, Hall of Fame F1 Journalist: I met 16-year-old Max when he visited the paddock with his dad – and got called out by Jacques Villeneuve
Imagine the situation… Your 17th birthday is still a month away yet there you are in the paddock at Spa with your dad, former F1 racer Jos, and as it's been announced that you will race for Toro Rosso the following year, you're besieged by journalists hungry for your story. And then a former world champion describes your graduation as "the worst thing ever for Formula 1".
Ever-outspoken Jacques Villeneuve suggested that giving a super licence to a 17-year-old who had been racing cars for only 10 months (but had a brilliant kart career behind him) was "like getting all the presents without deserving anything. You need to pay dues; you need to deserve it because that is only how you will become a man."
READ MORE: 'He's a much more mature driver' – Marko says Verstappen has taken a 'big step' in performance in 2022
Ouch!
I'd always got on well with Jos, and waited until the crush had disappeared before being introduced to his boy. When he'd arrived in the world two days after his dad raced at Tyrrell in the 1997 Luxembourg GP, Joe Saward and I had said that if he ever raced, with a dad like Jos and karting star mum Sophie Kumpen, Max would be a star. We'd both felt smug that weekend, and I may have mentioned our incredible foresight to him…
I remember the most impressive thing about Max even then was how he let all the fuss go straight over his head. He couldn't have cared less what Jacques thought – thanks very much for sharing – and was completely unruffled by it. Not a lot has changed, has it?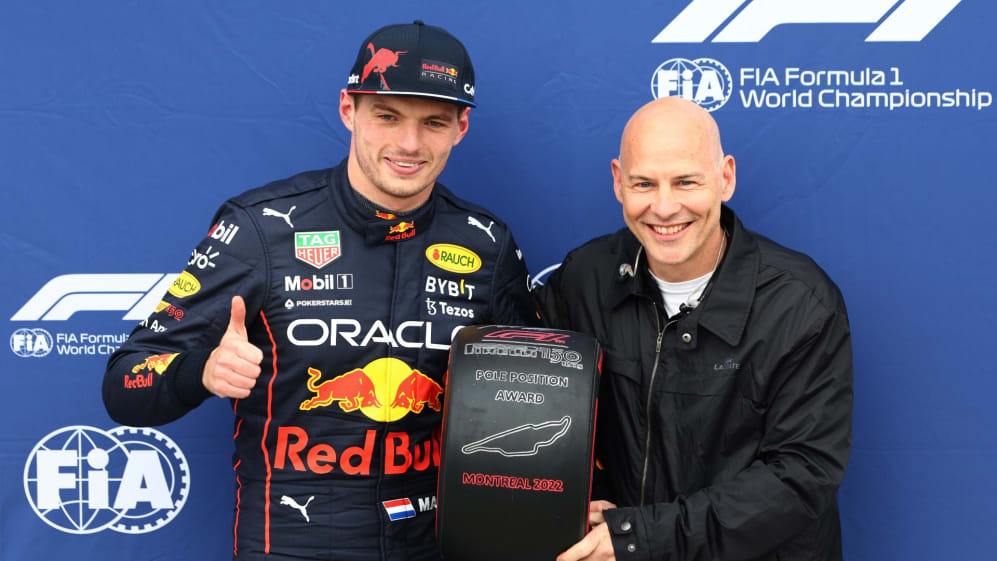 Greg Stuart, F1.com Senior Editor: I interviewed Max in the F3 paddock
My editor Paul Keith at RedBull.com came to me one day back in 2014 with a request: would I fly out to Hockenheim to interview then-European F3 racer Max Verstappen – freshly signed up by Toro Rosso to race for them for the following season.
"What's he like?" I asked Paul, of the driver who would finish third in his inaugural season of slicks-and-wings racing, behind Esteban Ocon and Tom Blomqvist. "Well, apparently he's as tough as his Dad," Paul replied, "but his personality's been softened by his Mum."
IN NUMBERS: The stunning statistics behind Verstappen's dominant title defence
That's exactly how I found him to be as we chatted in the slightly dingy rear of the Van Amersfoort Racing garage – Verstappen endearingly engaging, while making no attempt to hide the steeliness that had led Red Bull to gamble on giving this 17-year-old his F1 shot.
Looking back on the interview today, it's interesting how much of the F3-spec Verstappen has been carried through into the two-time champion. I especially remember earnestly asking him about mental strength, and if he wouldn't find F1 too daunting after just one season of single-seaters.
"I have no problems at all with [mental strength]," he shot back at me. "I'm really relaxed and I don't want to think about mental stress, or how strong you are mentally – because, to be honest, I find it a bit bulls***."
Mark Hughes, F1 technical expert and journalist: I watched Max make his FP1 debut in Suzuka
I watched him from the Esses in his maiden FP1 Toro Rosso appearance as a just-turned 17-year-old. It's one of the most demanding tracks on the calendar: old-school with lots of solid scenery to hit if it goes wrong. He never looked anything other than totally composed.
His progress through the left-right at the bottom of the Esses showed him experimenting with entry approaches, confident enough in his own car control to know he could always rescue himself from anything optimistic.
INTERVIEW: Verstappen opens up on the emotion of his second championship, Red Bull's 2022 dominance and much more
Afterwards, he was calm and almost dismissive of what he had just done. He made a point of saying he was nowhere near his limits, that he chose to drive well within them. That's exactly how it looked.
Lawrence Barretto, F1 Correspondent & Presenter: I hung out with Max in his first season of F1
I was in a hotel bar in Shanghai one evening in 2015 with a colleague when Max Verstappen popped over and bought us a drink. I was only two races into my first full-time season in F1 – and he was only two races into his. I'd met him just three times beforehand.
He leant on the bar and chatted for ages. We talked about racing, Formula 1, life away from the track. He was genuinely interested in learning more about us. It was an easy and amusing chat.
What struck me was how underwhelmed he was by the enormity of what he had achieved in reaching F1 at 17, let alone what he was showing he could do. He spoke of wanting to get promoted to Red Bull and then to win races and then win the title. In Verstappen's mind, he was just doing what he had aimed to do. There was nothing shocking about it. This was always part of the plan. His confidence was secure, there was no sense of arrogance. He was just matter of fact.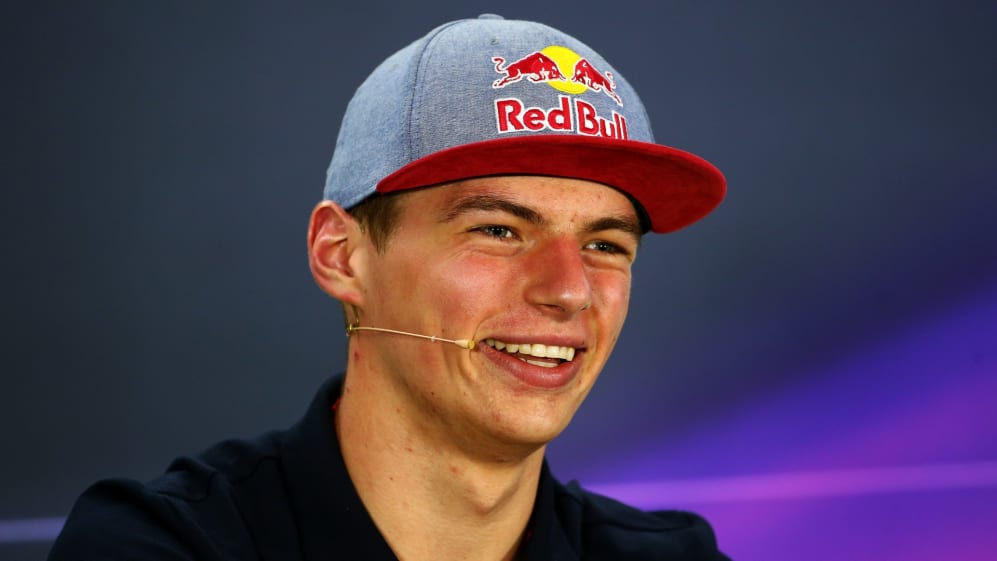 Jolyon Palmer, Former F1 driver and F1.com analyst: I raced against Max in F1
I briefly raced Max on my debut in Australia in 2016. Running in ninth for Renault, I held Max's team mate Carlos Sainz behind me late on, much to the Dutchman's frustration, given he couldn't have a crack at me himself. Finally, Sainz passed and Verstappen came through on the next corner, taking no prisoners. I was sadly shuffled out of the points.
That summed up Max in the years I raced him. Fast, clinical and aggressive. He was so bullish on the radio as well, asserting himself – he didn't care what anybody thought.
READ MORE: Max Verstappen's 2022 Formula 1 title... in his own words
I never truly 'raced' Max again, because a few races later he was promoted to Red Bull. You could see his confidence from his time with Toro Rosso already and it showed when he won under pressure on his Red Bull debut.
Probably the standout from my time racing with him was that Brazil drive in 2016. Conditions were abhorrent – aquaplaning, zero visibility and plenty of incident, myself included.
This was one of Max's great drives, as he remarkably held a half spin on the final corner – one which was catching out everybody that day. His quick-thinking recovery was a cut above the rest who ended in the barriers. His charge after a late pit stop was also superb. To scythe through in those conditions was outstanding. It's easy to forget, that was only his second season, but it was a drive that marked him out as special.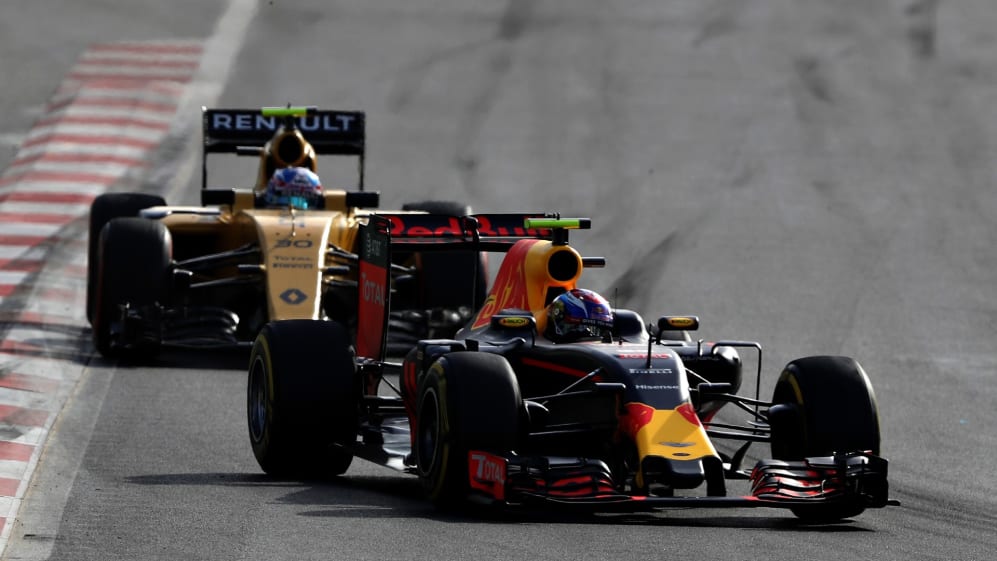 David Tremayne: I watched Max take his first F1 win
This was Imola 2005 all over again, when we had watched Fernando Alonso come of age under huge pressure from Michael Schumacher. The day when another ambitious young man grasped opportunity with both hands.
Max had been promoted to Red Bull for this very race when Helmut Marko demoted a beleaguered Daniil Kvyat. He'd qualified fourth behind the Mercedes of Lewis Hamilton and Nico Rosberg, and his team leader Daniel Ricciardo. But when the Mercs collided spectacularly in Turn 4, Danny Ric was left in the lead from Max and Kimi Raikkonen's Ferrari. But life turns on many little things, and this time it was pit stop strategy.
TREMAYNE: Why Max Verstappen's majestic run to his second title should finally silence his doubters
Red Bull put Daniel on a three-stopper, Max on two. Two turned out to be better. When Daniel pitted on Lap 11, Max became the first Dutchman ever to lead a Grand Prix; later he led from Laps 28 to 33 until his own second stop, but from Lap 44 he was in control, albeit only inches ahead of Kimi. He never blinked once, took brilliant care of his tyres, and as he looked comfortable lap after lap, we knew we were watching some special history being made.
After 66 super-high-pressure laps, Max scored his first GP victory by just 0.616s and looked like it was his 101st. I remember feeling sorry for Daniel and Daniil, but this day belonged to a kid who was only 18 years, seven months and 16 days old, and had just become F1's youngest-ever victor. At the time I suggested that we had just watched one of the next greats come of age. The post-race scenes were hugely emotional, and I remember hugging Jos.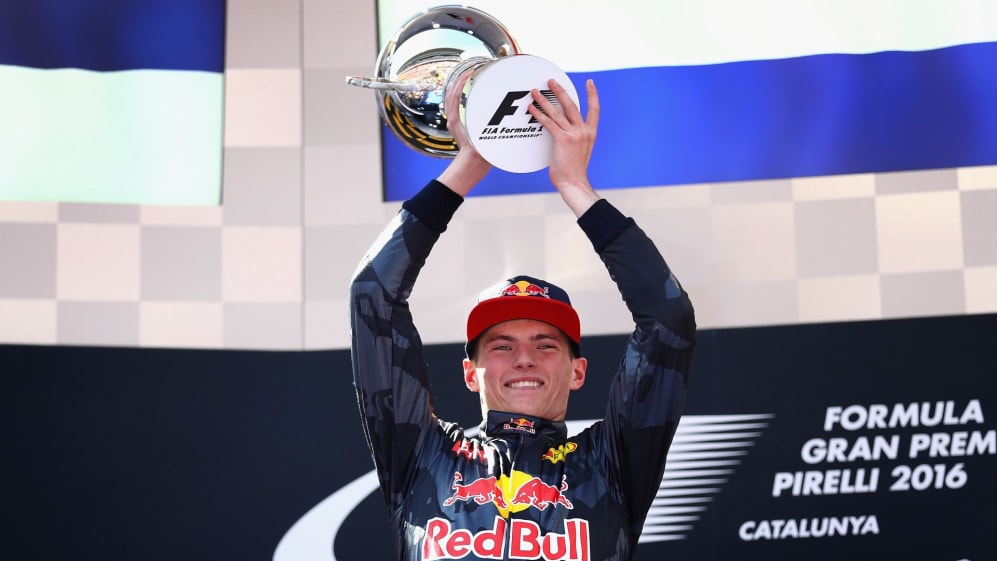 "I have to tell you, the last 10 laps, it was like driving on ice," Max said at the time. "It was all about managing the last sector really; not to slide too much and to get a good exit out of the chicane. I think that's how a lot of races are won here in Barcelona."
But none, perhaps, quite as spectacularly and historically significantly as this one. May 15, 2016 – one of those days to remember.
Will Buxton: I watched Max take his first title
I had two sets of questions, one for Lewis Hamilton and one for Max. None of us knew who would walk up the steps as world champion. Eventually he came, Red Bull cap pulled in place, no bounding triumphalism, a polite shake of hands and with some trepidation, I began.
BUXTON: Why comparisons to Schumacher are inevitable after Verstappen's imperious run to his second title
Max wasn't always the easiest of interviews. His answers could be short, pointed and unemotional. As the season had woven its way through controversial highs and lows, his barriers had risen ever higher. Yet from the first answer he gave, the walls collapsed, as though a lifetime's pressure had suddenly lifted. I couldn't recall a time I'd spoken to him so freely and honestly on camera since his Grand Prix debut six years and nine months earlier.
He spoke of the sacrifices he'd made, the tough love he'd endured as a child to fashion the strength he'd needed to block out the noise, and the heavy emotional toll his path to the top had taken on his mother and sister.
There felt, to me, a deep catharsis in his words and in the realisation of what he'd achieved. We finished the interview and posed for a photograph. "Like the one in Florida," he smiled. "Remember? I guess we haven't changed all that much." Except he had. Grown, learnt, flourished… relaxed. Even since the flag had fallen.
Lawrence Barretto: I watched Max take his second title
When Verstappen crossed the line to win the Japanese Grand Prix, it was mixed emotions. A win is a win – and a 12th win in 18 Grands Prix no less – but with Charles Leclerc second, it wasn't enough to secure the title. He was a little flat when interviewed in Parc Ferme, until he was told by FIA Head of Communications Tom Wood that he was world champion as Leclerc had been handed a five-second time penalty after the chequered flag, demoting the Ferrari driver to third.
VERSTAPPEN: The rise of a double world champion
It was an unusual scenario. But while he was robbed of that ecstasy on crossing the line, Verstappen's personality is such that the way he won doesn't bother him. A title is a title. It was job done. If anything, he found the confusion amusing.
By the time we sat down for the Champion's Interview that goes out to all broadcasters, he'd completed 19 interviews – and between had only had time for a quick team photo and a short call with his father Jos. By now, it was starting to sink in. There was no time to party in Japan, with a flight later that evening whisking him back to Monaco, but he had big plans to celebrate with family and friends in the week before Austin. And he certainly deserved that.