Feature
Is there still hope for Leclerc? We revisit the biggest title comebacks in F1 history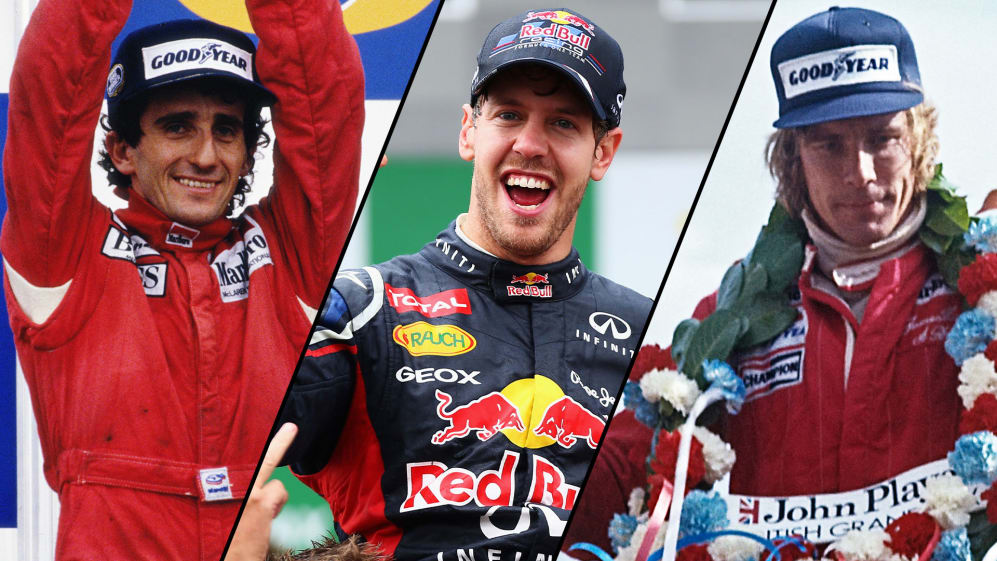 Red Bull's Max Verstappen will head to the Singapore Grand Prix with a championship lead of 116 points over nearest rival Charles Leclerc. Can the Ferrari driver put together a shock recovery run over the final six rounds of the season to turn the tables? Or is another Verstappen triumph a formality? We reflect on some of the biggest title comebacks in F1 history to gauge just what he's up against...
John Surtees: 1964
20 points behind with five races to go (points system: 9-6-4-3-2-1)
John Surtees became the first driver to become the world champion on two and four wheels, having previously won titles on 350cc and 500cc motorcycles before winning the drivers' (and constructors') titles with Ferrari in 1964.
The Briton faced three retirements in the first four Grands Prix but followed that up with P3 at Brands Hatch, which put him seventh in the championship and 20 points behind leader Jim Clark. A win at the Nurburgring brought him closer, but retirement in Austria threatened to remove him from the title fight.
However, triumph in front of the tifosi at Monza, plus P2 finishes in the USA and Mexico – helped by team mate Lorenzo Bandini – meant Surtees won the championship by a single point over Graham Hill.
READ MORE: Life after Ferrari – How have superstar drivers fared after leaving the Scuderia?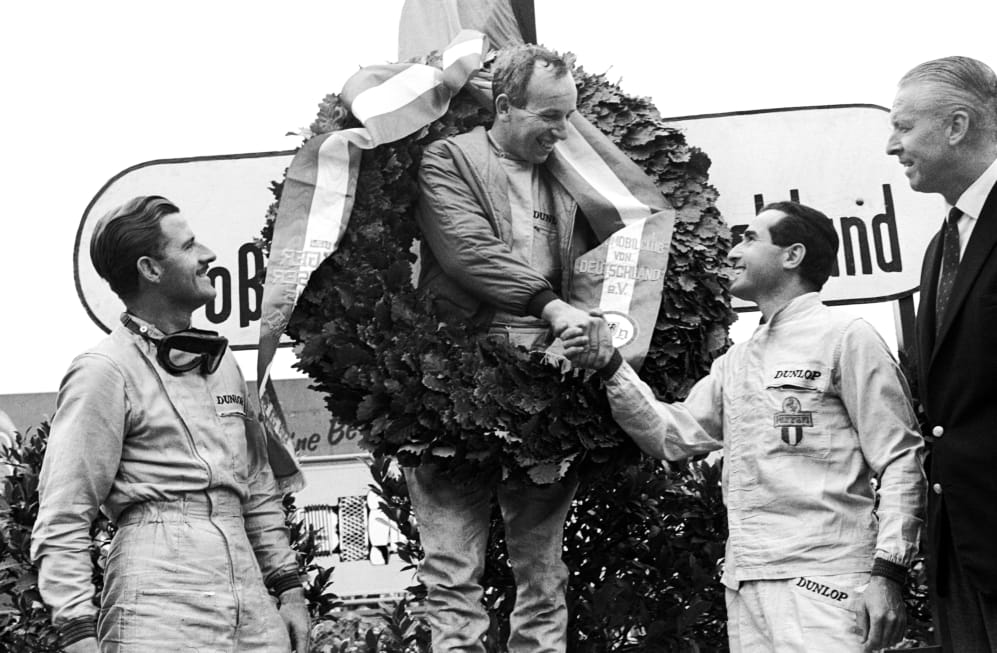 James Hunt: 1976
17 points behind with three races to go (points system: 9-6-4-3-2-1)
The 1976 season was one of the most memorable in F1 history given Niki Lauda's horrifying crash at the Nurburgring, his remarkable recovery and return, and the intriguing way in which the championship unfolded.
Over the first half of the season, Lauda stormed clear of Hunt in the standings to give himself a buffer of more than two race wins. But then came his fiery accident and a two-race spell on the sidelines that all but eradicated his lead. That Lauda returned to action at Monza – just weeks after being given the last rites in his hospital bed – was scarcely believable, with the Austrian doing what he could to keep Hunt at bay.
Ultimately, Lauda's decision to withdraw his car from the season finale in Japan – amid heavy rain – paved the way for Hunt to clinch the title, scoring the points he needed with a hard-fought podium finish.
Keke Rosberg: 1982
16 points behind with five races to go (points system: 9-6-4-3-2-1)
Alain Prost's brace of victories put him in contention for the 1982 title before compatriot Didier Pironi took the lead – Keke Rosberg a distant fifth in the championship with five of the 16 rounds left to play.
A terrible accident at Hockenheim, however, changed everything, with Pironi suffering career-ending injuries. John Watson, who was then second in the championship, didn't score in Germany – but Rosberg did, the Finn following that with P2 in Austria (by 0.05s from winner Elio de Angelis) to pass Watson in the standings. A win for Rosberg at the Swiss Grand Prix – his only triumph of the season – gave him the lead by three points.
A non-score in Italy, however, brought Watson back into the frame, setting up a title-decider at Las Vegas where Watson finished second to Rosberg's P5, giving Keke his first and only championship.
BUXTON: Why Las Vegas will finally get the Formula 1 race it deserves in 2023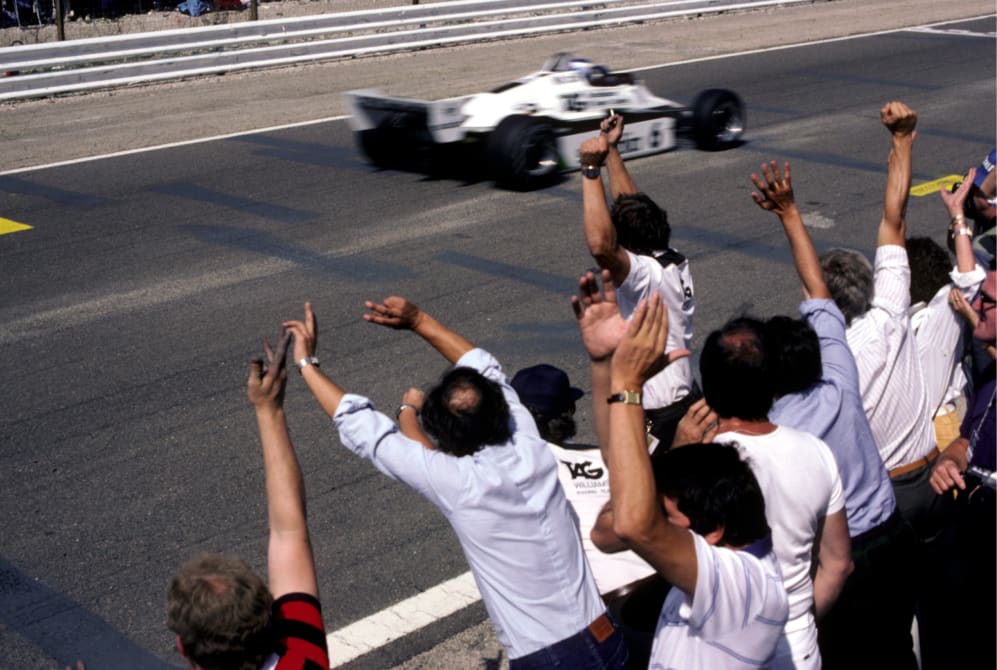 Nelson Piquet: 1983
14 points behind with three races to go (points system: 9-6-4-3-2-1)
Alain Prost looked set to claim overall honours in 1983 until the title race erupted across the final four rounds. After the Renault driver collided with Brabham rival Nelson Piquet at the Dutch Grand Prix, 14 points separated the pair, with Rene Arnoux sitting between them.
Next time out at Monza, Piquet capitalised on a turbo-related retirement for Prost to take the victory, before doubling down at Brands Hatch with another win – moving tantalisingly close in the standings.
Prost still held the lead going into the season finale at Kyalami, but another DNF (again due to turbo trouble) opened the door for Piquet, who pounced by making it onto the podium and grabbing the title. Prost would have to wait two more years to break his championship duck.
Alain Prost: 1986
11 points behind with two races to go (points system: 9-6-4-3-2-1)
Not since 1960 had a driver (Jack Brabham) defended their title, and Prost seemed to be fighting a losing battle in 1986 with two rounds left, Williams' Nigel Mansell having just won the Portuguese Grand Prix over Prost in his McLaren.
Cue another classic as, with P2 in the penultimate round in Mexico, Prost jumped to within six points of Mansell – dropping the other Williams of Nelson Piquet to third in the standings.
The more powerful Honda-powered Williams had the advantage in the final round in Adelaide. But then Mansell's title charge went up in a spectacular shower of sparks, steel and rubber, the astonishment palpable from the microphones of James Hunt and Murray Walker in the video below.
With Piquet pitting to avoid a similar tyre failure, Prost powered to his 25th Grand Prix win and second World Championship in amazing circumstances.
READ MORE: Under the bodywork of 1986's best F1 car, the Williams FW11
Kimi Raikkonen: 2007
17 points behind with two races to go (points system: 10-8-6-5-4-3-2-1)
Kimi Raikkonen defied the odds in 2007 when he scored a maximum 20 points from the final two races to overturn a 17-point deficit.
After the Japanese Grand Prix, it was Lewis Hamilton who led the way, 12 points clear of McLaren team mate Fernando Alonso and a further five ahead of Raikkonen. But a hugely dramatic retirement for Hamilton in China (when he slid off at the pit entry with worn intermediate tyres) turned the situation on its head.
Still seven points down, Raikkonen coolly claimed another victory at the season finale in Brazil – backed up by Ferrari team mate Felipe Massa – while Hamilton had to settle for seventh after encountering early gearbox issues, with Alonso third – meaning the Finn beat them to the title by a single point.
BEYOND THE GRID: 'I wouldn't change a single thing' – Kimi Raikkonen on his career and retirement from F1
Sebastian Vettel: 2010 and 2012
2010: 31 points behind with six races to go (points system: 25-18-15-12-10-8-6-4-2-1)
Sebastian Vettel may have swept 2010-13 for all four of his championships, but they didn't all come easy to the then-Red Bull driver. In 2010, the title came down to a four-way fight between Vettel, Alonso, Hamilton and Mark Webber, with Ferrari's Alonso the favourite.
Red Bull had imperfect reliability that year, while the relationship between Webber and Vettel had soured too, flashpoints flaring in Turkey and Korea between the German's wins in Japan and Brazil. When it came to the finale at Abu Dhabi, Vettel won the race and had to wait until Alonso crossed the finish line in P7 – behind Vitaly Petrov – to be crowned Weltmeister by four points over the Spaniard.
WATCH: Radio Rewind – The story of Abu Dhabi 2010
2012: 39 points behind with seven races to go (points system: 25-18-15-12-10-8-6-4-2-1)
As the 2012 season crept past the halfway mark, Vettel's hopes of defending his 2011 title were fading, and Alonso seemed destined for a third championship given Vettel's retirement in Italy – where Hamilton won from pole.
But when Hamilton's gearbox failed in Singapore, Vettel inherited the win and Japan would be even sweeter (a Grand Slam) as Alonso retired on the first lap. Korea saw Vettel overhaul team mate Webber for victory and then in India, Vettel dominated to lead the championship by 13 points – a lead that he'd retain until the very end of the season – with championship-worthy drives in Brazil and Abu Dhabi.
EXCLUSIVE: Onboard for Vettel's epic, incident-packed first 8 laps of Brazil 2012
Lewis Hamilton: 2017
14 points behind with nine races to go (points system: 25-18-15-12-10-8-6-4-2-1)
While this is far from the greatest comeback in F1 history, Hamilton did have to overturn a points deficit several times en route to the 2017 crown. Vettel made a lightning start to the season by winning three of the first six races and finishing second in the others – sending a clear message of intent.
The battle ebbed and flowed as the campaign developed, spiking with a controversial clash in Azerbaijan, but it was Vettel who entered the summer break as the leader – the then-Ferrari driver 14 points ahead of Hamilton.
However, it all went wrong for Vettel at the start of the final flyaway sequence as he suffered two retirements in three races – including a dramatic collision with team mate Kimi Raikkonen and Red Bull's Max Verstappen in Singapore. From there, Hamilton romped to glory, ultimately finishing 46 points clear.