Feature
It's advantage Verstappen after France but can Hamilton hit back in Red Bull's backyard?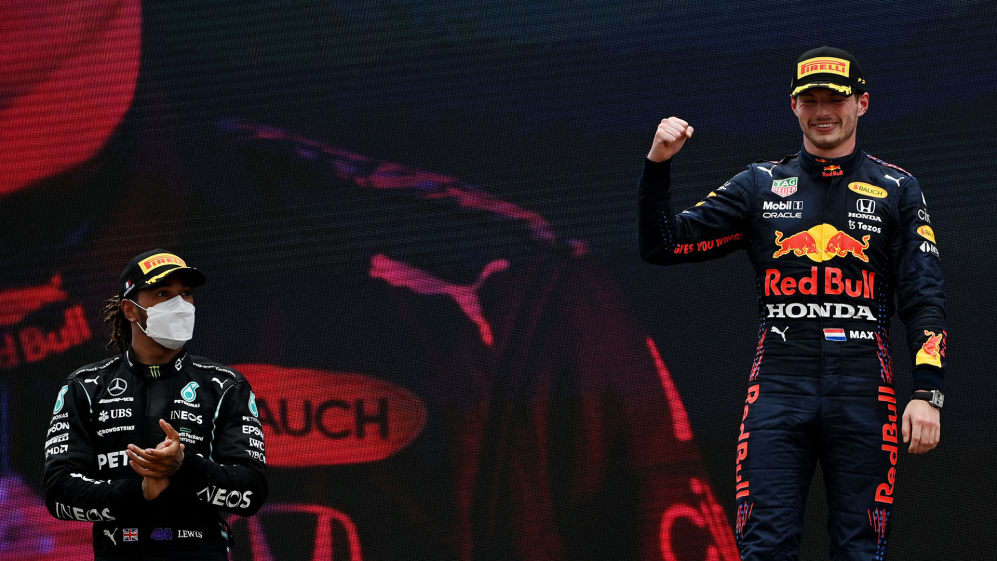 Up until last year, the Red Bull Ring had become a happy hunting ground for the venue's owners Red Bull, with Max Verstappen triumphing in 2018 and 2019. But when they were expected to triumph at the Austrian double header in 2020, they didn't deliver the goods. So what Red Bull can we expect this year? And will Mercedes rebound from their strategic defeat in France?
Red Bull favourites for victory
The paddock is buzzing with excitement about the title battle that is brewing with increasing intensity between Mercedes and Red Bull and Lewis Hamilton and Verstappen. For the first time in years, we are arriving at Grands Prix not knowing who is going to win. It's the holy grail.
Mercedes have long said that Red Bull have the best package this year, and after their defeat to the four-time world champions in France, there's a growing belief that the RB16B – and the way Red Bull are working operationally – is the best overall package. But the margins are fine.
FORM GUIDE: Can Red Bull maintain their advantage at their home track for the Styrian Grand Prix?
That Red Bull were so strong at Paul Ricard – even if they weren't the quickest in terms of outright pace – shows that they mean business this year, and that they have finally put together a car that can compete year-long for a world championship.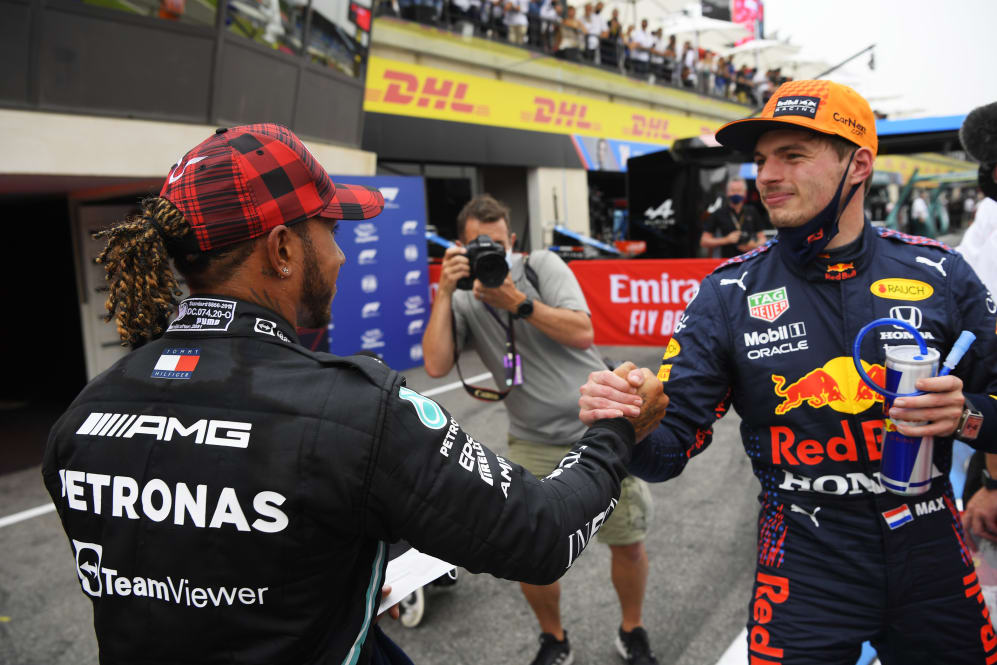 "It was a very important win as it was on a track where before we were not very competitive so to turn it around like that with a very competitive car was very rewarding and of course, a big boost for the team," said Verstappen, who has won two of the last three events.
It bodes well for them that after a shock win in France, their third win on the bounce no less – having not achieved that feat since their championship winning year in 2013 - they head to the Red Bull Ring where the nature of the track should suit their refined racing machine.
GOOD LAP vs GREAT LAP: Lando Norris demonstrates what makes the difference at the Red Bull Ring
Verstappen moved to play down his team's chances, as he did in France – and has done at every other race this year – especially given the weather forecast is looking a bit ropey. But he is emitting a vibe that suggests that he is more confident than his words suggest, even if Mercedes did win both Austrian races last year, with Valtteri Bottas and Hamilton splitting the victories one apiece.
"We had a lot of good races here in the past but it's not a guarantee that it's going to happen again," he said. "We have to make sure that we find a good balance in the car again. Also, check the weather conditions again for the weekend. We are very motivated to try and have a good race here, again."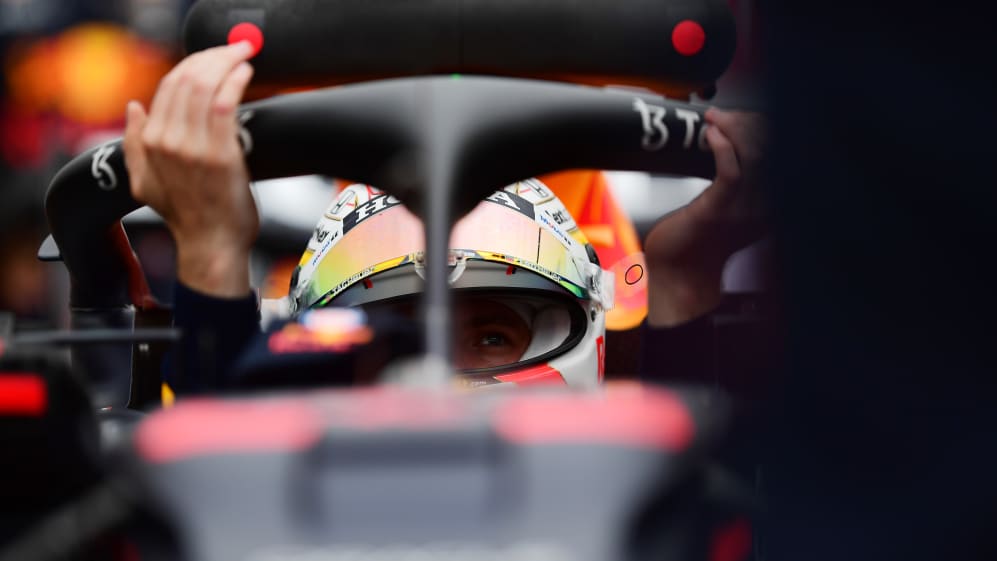 Red Bull have succeeded in finding a good balance early on a Friday, which has helped Verstappen and team mate Sergio Perez accelerate their comfort levels with the car through the weekend so that by the time they reach qualifying and the race, they are feeling pretty good about the machine underneath them.
That is a more impressive feat when you consider that practice time in 2021 has been slashed by 25%, lopping off an hour of running, which puts pressure on teams to find their set-up and balance the car more quickly.
Verstappen's title challenge has been helped by an ever-improving team mate in Perez, who clinched his first victory for the team in Baku. He followed that up with a third in France – a result that was arguably more important given he put himself close to the front and in the window to stop Mercedes having freedom with their pit strategy. That was hugely valuable to Verstappen and played a key role in his third win of the season.
READ MORE: Perez eyeing new Red Bull contract as Verstappen hails his 'great team mate'
"Now we have the car to really fight them and it's super important to be up there with two cars and that's exactly what we have been doing now in Baku and Paul Ricard," said Verstappen. "It's going to be crucial for the constructors' as well to keep this up until the end of the year."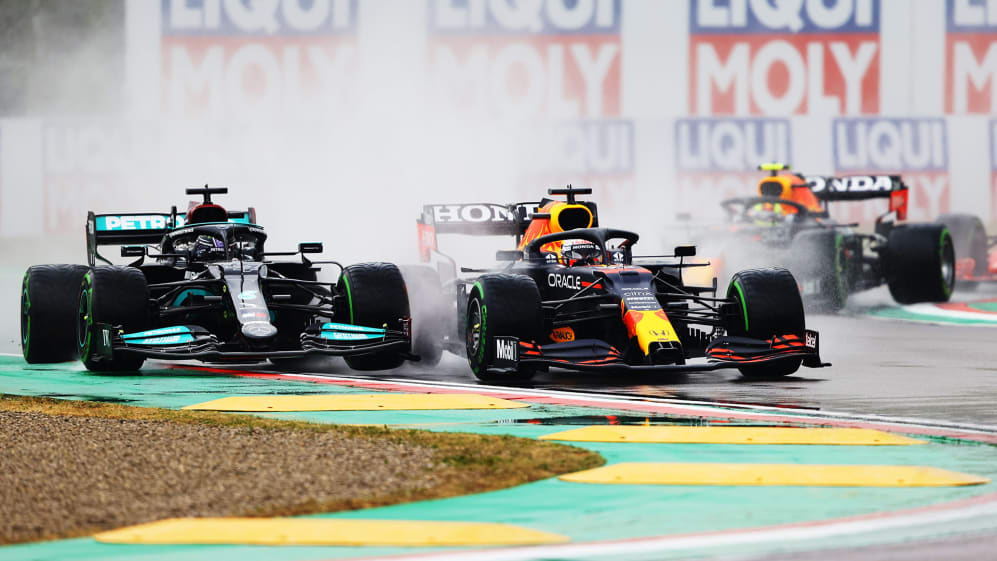 Crucial indeed. While Verstappen leads Hamilton by 12 points in the drivers' championship, Red Bull's advantage over Mercedes is even healthier, with the Silver Arrows trailing by 37 points after seven races.
Work to do for Mercedes
While Ferrari have given Mercedes something to think about in the championship fight over the years since the hybrid turbo era began, that threat hasn't been sustained. Red Bull are pushing Mercedes harder than ever, and that is forcing the Silver Arrows to dig deeper.
Despite the short gap between races – with France on Sunday and the Styrian GP weekend beginning on Thursday – Hamilton was back in the factory inbetween, working with the team to find a way to wrestle back control of a sport they have dominated since 2014.
READ MORE: Strategy games, Ferrari's response, and potential race drama – 5 reasons we're excited about the Styrian GP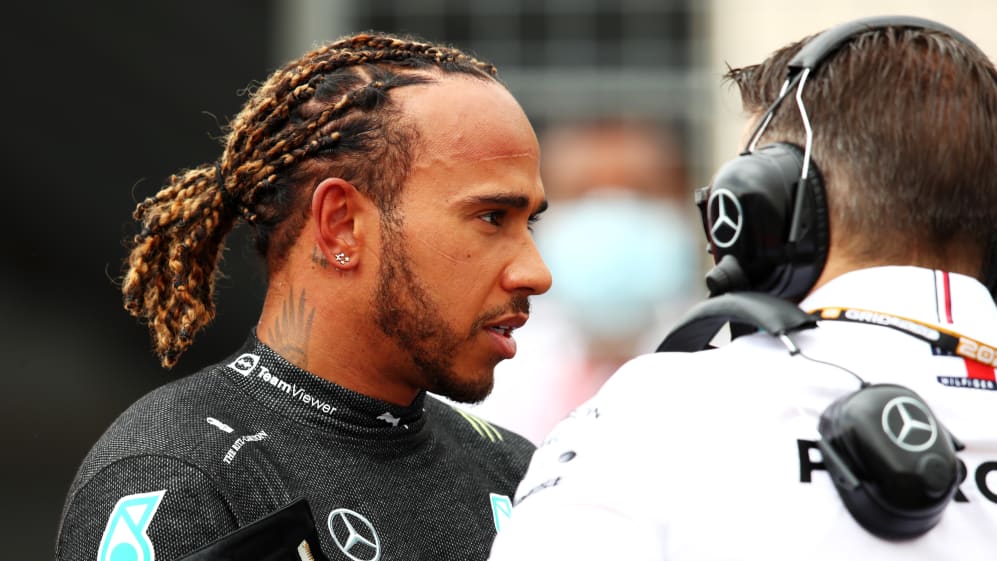 "I've generally been working flat out, in the past few days, and I think day one is always about recovery but there's been a lot of Zooms, a lot of calls," said Hamilton. "Everyone at the team has been really encouraging and it is inspiring to see everyone flat out. Everyone is just leaving no stone unturned.
"I was at the factory yesterday, so again just good to see and speak to the team, and just continue to encourage them to keep pushing as that's what we're doing. We need everyone to bring their A-game to be able to fight these Red Bulls."
Hamilton reckons Mercedes have learned lessons from their defeat to Red Bull in France – but he isn't sure if it's enough to put him in the hunt to win his first Grand Prix since Spain, back in May.
READ MORE: Bottas defends French GP radio outburst – 'We are not in a tea party, we are in an elite top sport'
"I wouldn't say we necessarily get the answers we're looking for, but we have more information coming here," he said. "We'll find out tomorrow, hopefully if it's dry, the things that we find push us in the right direction.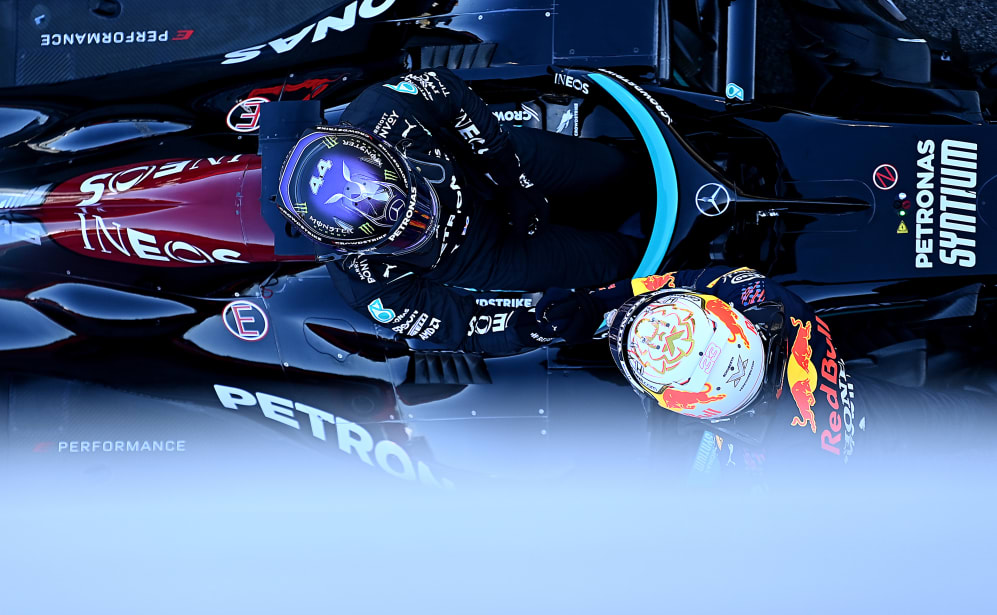 "But it's so many elements, not just one thing, last race there were lots of areas we lost position and if we'd done things differently it potentially could have had a different outcome. We look at our processes and how we communicate and how we deliver, and hopefully we can implement them here."
Dominance in qualifying has been the bedrock of Mercedes' success in the turbo hybrid era, but they have taken just three poles in seven attempts this year. Their performance on race day is more competitive relative to Red Bull, but as their rivals know all too well, maximising that race pace is more challenging if you're not leading the field.
"I don't know if we definitely have better race pace," said Hamilton. "I think we're very close. We're probably stronger than we are compared to qualifying. At the last race we were losing three and a half tenths just in the straight, with engine power, or drag, probably a combination of the two, and it's tyres. It's the fact we've lost a lot of downforce this year."
READ MORE: What's the weather forecast for the 2021 Styrian Grand Prix at the Red Bull Ring?
Hamilton's challenge has been blunted by Bottas' dip in form this year, the Finn down in fifth in the drivers' championship, 25 points behind Perez and 17 shy of Lando Norris in the McLaren. But amid speculation as to who will be in the second Mercedes seat next year, with Bottas seemingly vying with George Russell in a two-horse race, Hamilton was quick to defend his team mate of four and a half years.
"I think we've worked well as a team for many years," he added. "As I've always said, I think Valtteri has been the best team mate overall, and when I say team mate it is not just about driver performance, it is about team morale, how you work in a team mate environment, and we'll continue to improve on our communication and hopefully do better moving forwards."
Contract chatter bubbling away under the surface
While Verstappen has his medium-term future sorted – with a Red Bull deal that runs until the end of 2023 – Hamilton's is uncertain beyond the end of this current campaign. Negotiating a new contract during his toughest championship fight since 2016 is not ideal, which is perhaps why both he and Mercedes are quite keen to conclude things quickly.
READ MORE: Hamilton reveals he has already begun talks on a new contract with Mercedes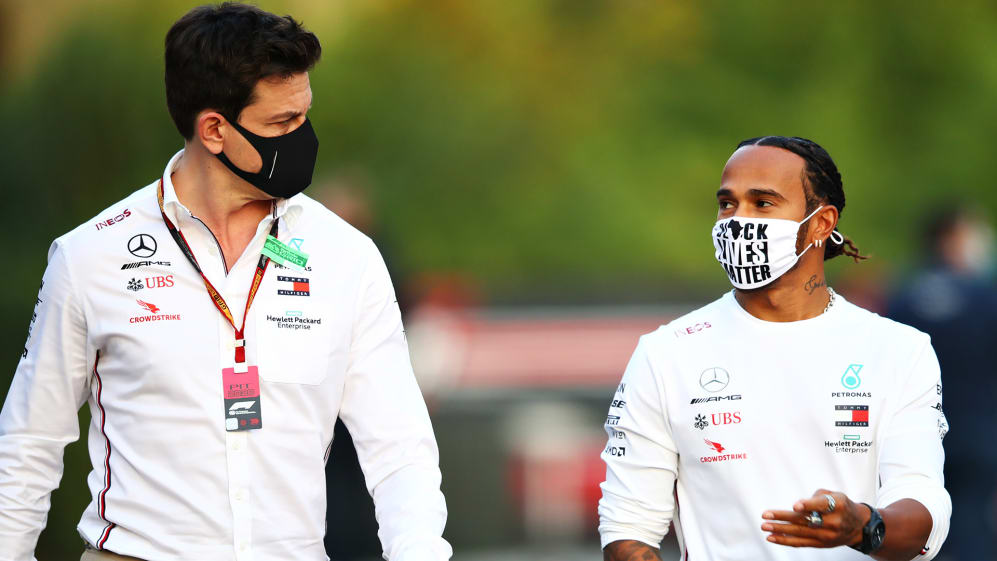 "We are hoping to get it done much faster than we did last time," he said when we chatted on Thursday. "We don't want to fall into the same trap [as last time when he agreed the deal just weeks before the start of this season]. And it's quite chilled as well – we always talked about not wanting to do it mid-season because it would be a distraction – but we've done it in a way that it's light-hearted.
"It's not intense, it's not causing trouble, and good communication as always with Toto [Wolff, Team Principal]. So I hope we have something soon."
A new contract would undoubtedly take some of the pressure off Hamilton's albeit wide shoulders, but for now, his focus is on the next two races and repeating Mercedes' form last year – which was strong in both wet and dry conditions – to get his title challenge back on track. Verstappen, though, will almost certainly have something to say about that.