Feature
James Vowles on a rejection-filled route to F1, half a year as Williams' team boss and his top tips for F1 Manager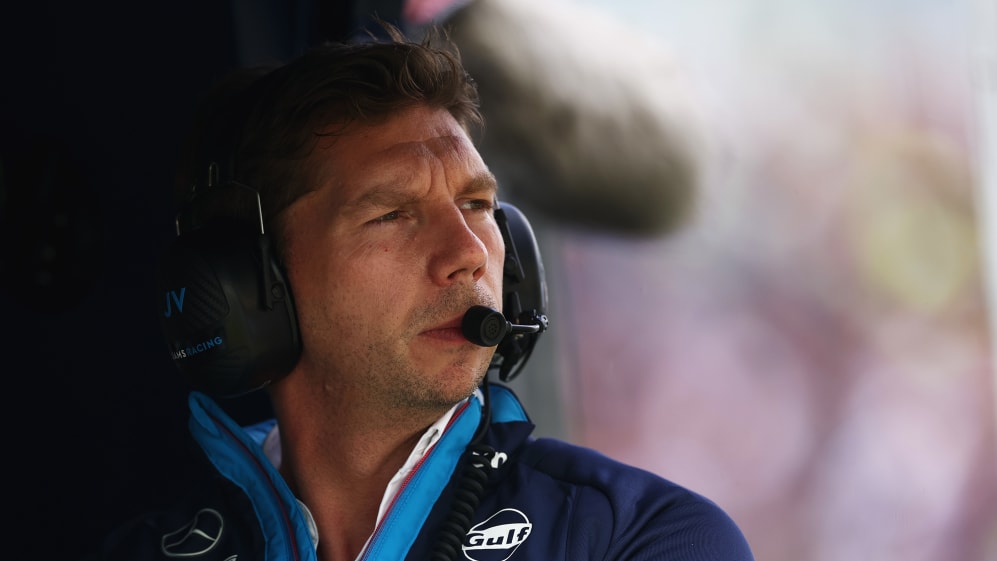 James Vowles is the newest Team Principal on the block in F1, having made the move from strategy guru at Mercedes to head honcho at Williams just before the start of the 2023 season. Almost half a year into his journey with the famous outfit, we sat down with the British engineer at an exclusive event – hosted by F1 Manager – to discuss his past, present and future…
It's a mid-week morning at Williams' factory in Grove and F1.com – along with other select outlets – are busy getting to grips with the latest edition of F1 Manager, including several attempts to turn Fernando Alonso's second-place finish in Monaco into a victory via the new and gripping 'Race Replay' mode (we eventually pull it off!).
HALF TERM REPORT: Williams – Can they continue their 2023 progress after some encouraging signs?
But just as we're making progress as virtual bosses, a real one pops through the door in the form of Vowles, who has taken some time out of a busy schedule to reflect on his journey to Williams, what life has been like at the squad so far and how to inspire the next generation of strategists and team chiefs – F1 Manager having the potential to play a key role.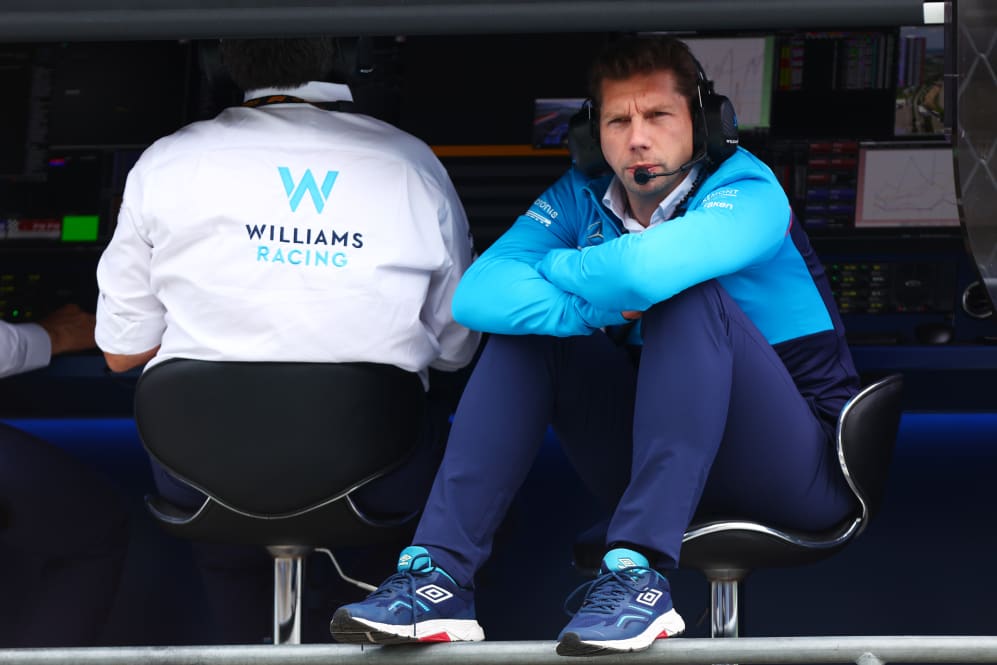 Dealing with rejection from every F1 team
Vowles' journey to those two F1 roles began to take shape at the University of East Anglia (UEA) in the late-1990s, when he decided that the subjects he had chosen to study were not where he wanted his future to lie, thus prompting him to send out application letters to all F1 teams on the grid.
"The reason why I chose those two subjects – mathematics and computer science – was because I was good at them," says Vowles as he goes back to the beginnings of his path to F1. "I had no idea what I was going to transfer them into as a job, I was just simply doing things that I thought gave me scope to do a huge amount in life.
FIRST LOOK: Get the lowdown on F1 Manager 23's exciting new features – and watch the official trailer
"I decided, about a year in, there was zero chance I'd be doing this for 30 years of my life, so I applied to all 11 teams, completely changing direction over where I was going. I got 11 rejection letters back and posted them on the wall.
"That gave me the strength I needed – because I'm a little bit tenacious and annoying that way – to change my career path and go down that direction, so while I was at UEA, I started building up motorsport experience, then went on to do an engineering [degree] at Cranfield University, which then led into F1."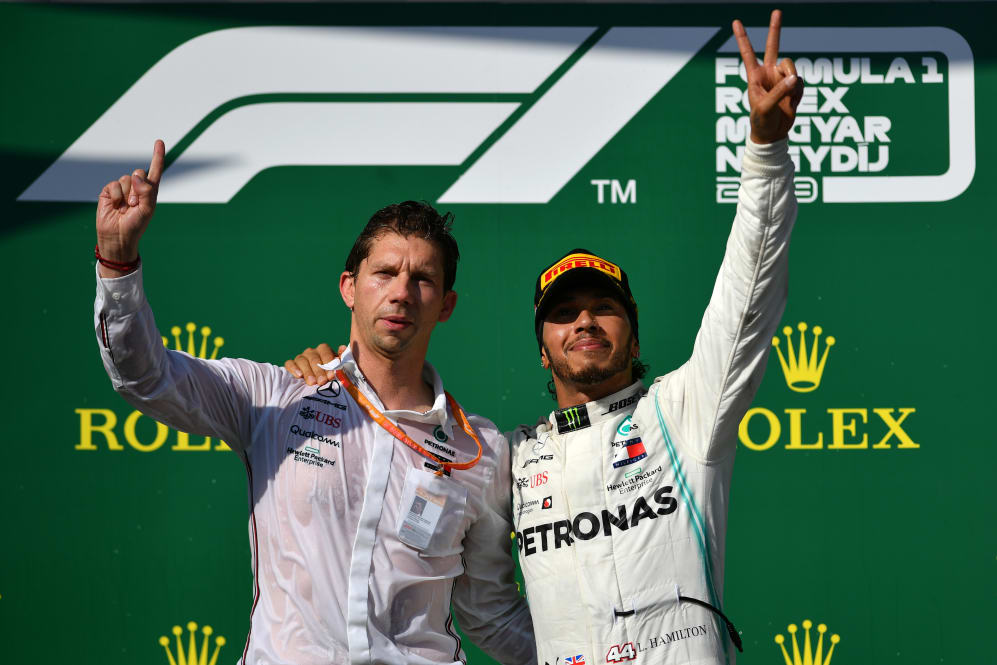 A maiden F1 role that develops into so much more
With his original computer science degree, that master's in Motorsport Engineering and Management and a Prodrive Award of Excellence all behind him, Vowles was snapped up by the Brackley-based British American Racing team in 2001.
It would be the start of a lengthy spell filled with promotions as Vowles stuck with the team through its Honda, Brawn GP and Mercedes guises, bringing a host of race wins, championships and, above all, experience of what it takes to reach the very top in F1.
As the years rolled by, strategy became Vowles' area of expertise. He was the chief strategist for Brawn GP's spectacular title double in 2009 and retained that position when Mercedes made their F1 return the following year, playing a key part in their subsequent, remarkable run of seven straight drivers' titles and eight successive constructors' crowns.
READ MORE: Dave Robson explains how new Team Principal Vowles has 'refreshed' atmosphere at Williams
But by the time he decided to leave Mercedes for the opportunity at Williams – where he is the third team boss in the operation's rich history – Vowles had been promoted to Motorsport Strategy Director, encompassing not only F1 weekend strategy but the brand's wider racing activities, simulator programmes, detailed performance reviews and much more.
"The last four of five years within Mercedes, there was a team of nine, 10 people who were doing all the hard work on strategy," he explains.
"If we take strategy, everyone just sees it pretty much as the decision-making you're doing in qualifying or the race, or in free practice and when you run. It's not really that, or that's not what my job migrated to.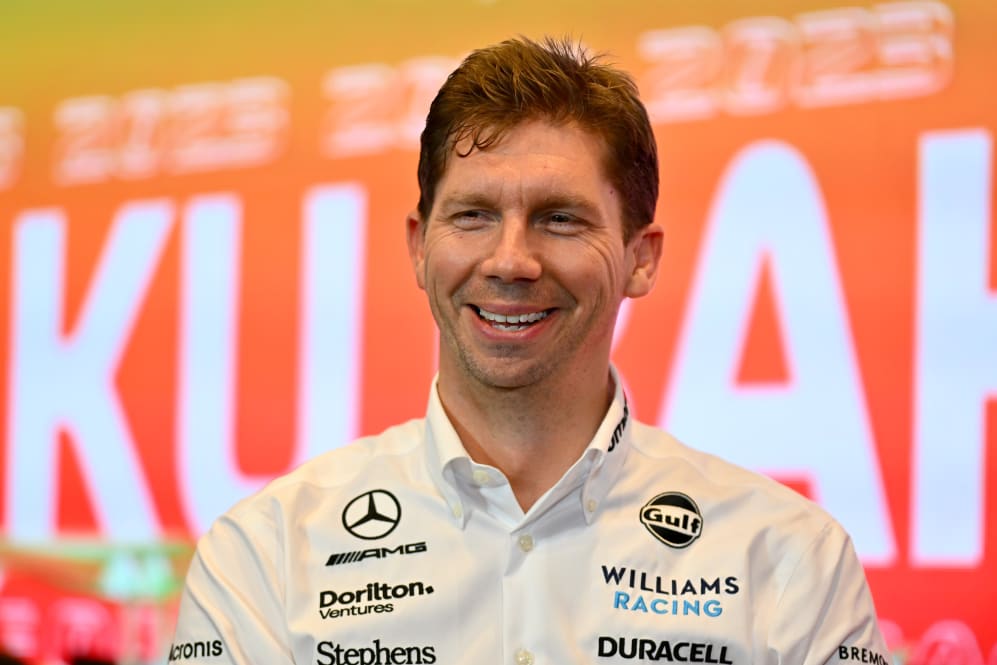 "If you take a step up it's how many power units do you want to run this season and where do you want to deploy them? When are you going to put updates into the season for maximum performance? How do you win against your competitors? Now you're not looking at a race level or a qualifying level, you're looking at season level.
"Take a step back, have you invested in things so that you're winning in one year, two years, five years? How do you work on the regulations and the politics – it's a chess game – in order to get where you need to go, in order to move forward?
DRIVER MARKET: Williams, Haas, Ricciardo and more – Lawrence Barretto on how the grid is shaping up for 2024
"Take another step back, what do you want to do across all of your organisation? In the case of Mercedes, there's GT3, Formula E… Where do you want your strategic element to be to be successful within global motorsport? That's what my job sort of was – it was all of those levels.
"But the final level, which was the decision-making on a race weekend, I was very fortunate to have a very strong team. [The final decision-making was] based on a lot of people doing some very hard work, and it became a very easy decision, really, at that point in time."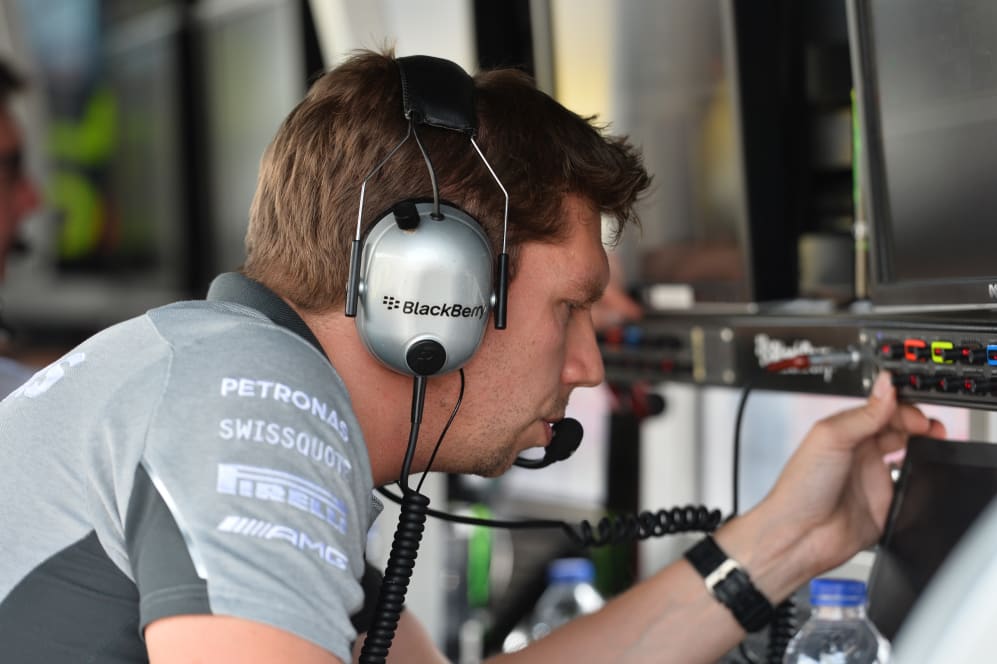 Going from strategy chief to team chief
Vowles' time at Mercedes, and the wider responsibilities he took on, served as the ideal platform for his Williams move, with the 44-year-old now trying to share his invaluable bank of knowledge and experience as the team boss to a similarly passionate workforce.
"I have a very good team of individuals [at Williams]," he continues. "What I'm doing more now, because that's my role, is providing them what I would treat as… You know in a bowling lane you can have buffers up? That's it… My job is to make sure if I seem them going just a little bit outside the remit of where we should be, just ask questions to bring us back on course.
"But the team is solid, and you don't sort of do the decision-making that you do – Montreal [where Alex Albon finished seventh] is a great example of it – unless you're empowered and you have a team that's very confident behind the scenes in order to trust tools and systems."
Coming from a 'no-blame' culture at Mercedes, Vowles then expanded on how he intends to make each and every member of the Williams team feel inspired – and confident enough – to follow him as he attempts to return them to winning ways.
READ MORE: Our writers look back on 2023 so far and predict what's to come in the second half of the season
"I think it's what I would call emotional intelligence, or EQ, if you like," he comments. "Within this organisation [there are] 800 people and you have to form a connection with 800 people, because everyone has to point the right way.
"That's not about intelligence as in IQ anymore, that really is relationship building and understanding what makes every single person driven on the direction of travel, talking to them in an open, honest method, which is my way of doing things.
"There are a few ways of being a boss, you can scare people or you can work with them, and I'm the second of the two – I try and be open, honest, 'This is where we're going and this is why we're going in that direction'.
"I think the really important part of that is if you don't have the human skills involved in that side of things, you won't bring anyone across with you. That's what being a leader is, people look up to you and understand that where you're going is the direction that they want to head in as well."
Vowles' top tips for F1 Manager
Alongside a competent and empowered workforce across the board, Vowles knows Williams need to invest over the coming years to bring their factory and wider infrastructure up to date, with several areas lacking to their direct rivals after a lean period.
It is at this point that, fresh from F1.com getting a hands-on experience of F1 Manager and a host of new-for-2023 features, Vowles bridged the gap between the real and virtual words with some top tips for those wishing to try their hand as a team boss.
WATCH: Get ready for F1 Manager 23 with an action-packed launch trailer
"Normally with these things there's a cheat code, so that's the starting point I would suggest!" Vowles laughed, before offering up some serious suggestions, and drawing parallels to Williams' current situation.
"The main thing is this… You have limited resource. In our case at the moment it's finances and it's also time as a limited resource, and you have to spend it wisely on your journey on the way up.
"Everything that I believe in, which also functions well within that environment, is you've got to stop focusing on tomorrow and start focusing on one month, one year from now – put in place infrastructure and systems that effectively you build up capability at the time rather than short-term gain from things.
"It's the same message I would always say to people, it's very, very easy to get caught up in tomorrow. You have to almost put your mindset into, 'What do I need in one year's time? What infrastructure's missing? What systems are missing? What thought process is missing?'
"That's your focus, rather than what's happening today. It's the same thing, really, in answer to that – don't invest in today when you should be investing in tomorrow."
MY UNTOLD STORY: Six inspirational people share their amazing journeys to working within Formula 1
Inspiring the next generation of F1 talent
Vowles is also eager to see how F1 Manager – in a similar way that sim racing has served as an extra outlet for budding drivers in recent years – opens more fans' eyes to the breadth and depth of roles available across the sport, spanning strategy, engineering, marketing and more.
"I certainly think what you're doing is widening the userbase to individuals that can be at home and exploring an area that perhaps they've seen on TV but didn't fully understand that behind the scenes, it's not just two racing drivers and two cars, but actually a wealth of decision-making that you have to be doing in order to achieve success," he says.
"Clearly, you can't mimic everything. If I look at some of the salaries, I'm asking for the wrong thing in my contract! But, joking aside, it's about really understanding that the sport is a complex being, and you can treat it as simple as you want to or as complex as you want to, and I think that's the whole point of this.
"Also, if you look at sort of who's really interested in the sport and how the sport is growing, it's fantastic… 10 years ago, I'd be worried about where the sport's going in terms of viewership and growth – not today. Actually, we're really getting into where we need to, which is making sure we're attracting younger generations and women, truthfully.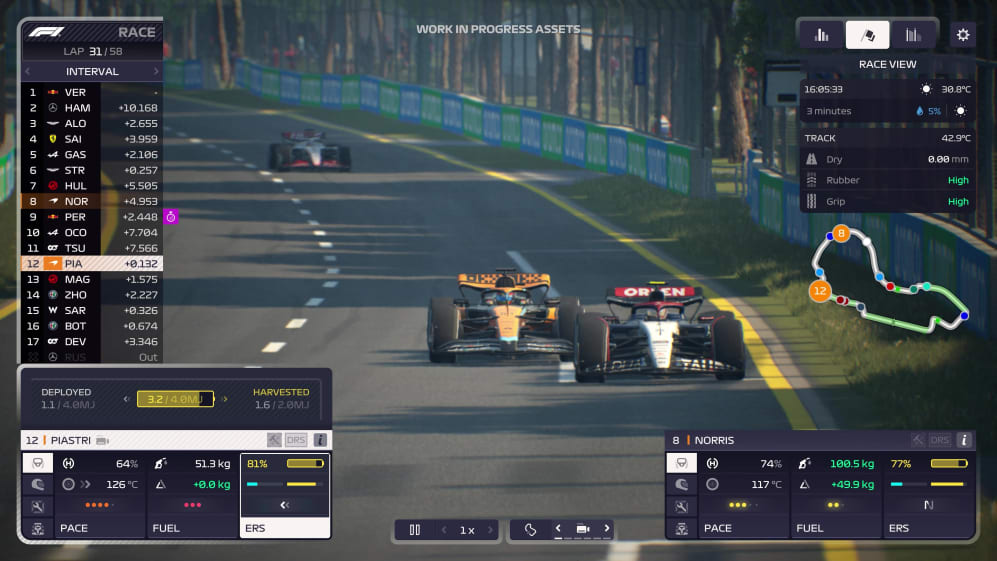 "I think what these applications are allowing, these games are allowing, is people to see, 'Actually, this could be a potential career for me'. If I wind back 25 years ago, when I was watching it on TV… More than that, actually, 35 years ago, I didn't realise that you could even have a job in F1, truthfully.
"You sort of look at it and you can't think that that will be you one day. I hope, anyway, that this opens up the insight that actually it's completely possible, and if it is, this is the journey that might lead you there."
With several months in the role under his belt, and a mixture of backgrounds and CVs up and down the pit lane, what if we were to get F1's 10 team bosses in a room to battle it out for victory?
READ MORE: David Tremayne on how 'people's champion' Nigel Mansell finally tasted F1 title glory
"Are we talking now a UFC-style fight?" Vowles jokes, and then homes back in on F1 Manager. "No, if it's in the game, you can't look back and doubt what [Red Bull's] Christian [Horner] is doing, what [Mercedes'] Toto [Wolff] is doing, is extraordinary – they're winning championships as a result.
"I'm on the beginning of my journey [as a team boss], so I'm not foolish enough to think any different to that, but on the strategic side, I'd hope that I'd be strong!"
F1 Manager 2023 is available digitally on PC via Steam and the Epic Games Store, as well as both physically and digitally on PlayStation 5, Xbox Series X|S, PlayStation 4 and Xbox One. Find out more and order your copy by clicking here.