Feature
Jolyon Palmer: How maiden winner Ocon was inches away from disaster in Hungary chaos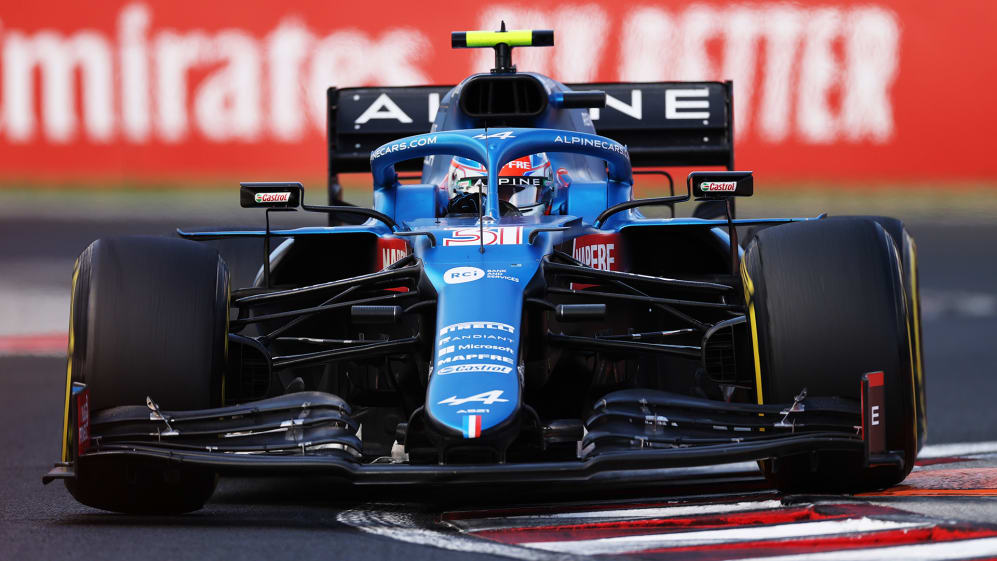 Starting a race in the wet is one of the hardest tasks for a Formula 1 driver.
You spend so much time in a race weekend running through procedures, getting used to reference points for braking, and dealing with the minutiae of handling characteristics to maximise performance through a conventional dry race weekend.
READ MORE: 7 Winners and 6 Losers from the Hungarian GP – Who goes into the summer break on a high?
As soon as it rains, the grip level is seriously reduced, but that's not the major issue – Formula 1 drivers are easily capable of driving with less grip. The real issue is that the grip level is completely unknown, and it is changing lap by lap, corner by corner.
In the Hungarian Grand Prix it was as difficult as it could have been – dry all the way through the weekend, even as the drivers completed their reconnaissance laps to the grid, and then suddenly the rain came down whilst the cars were on the grid, forcing them to start on intermediate tyres.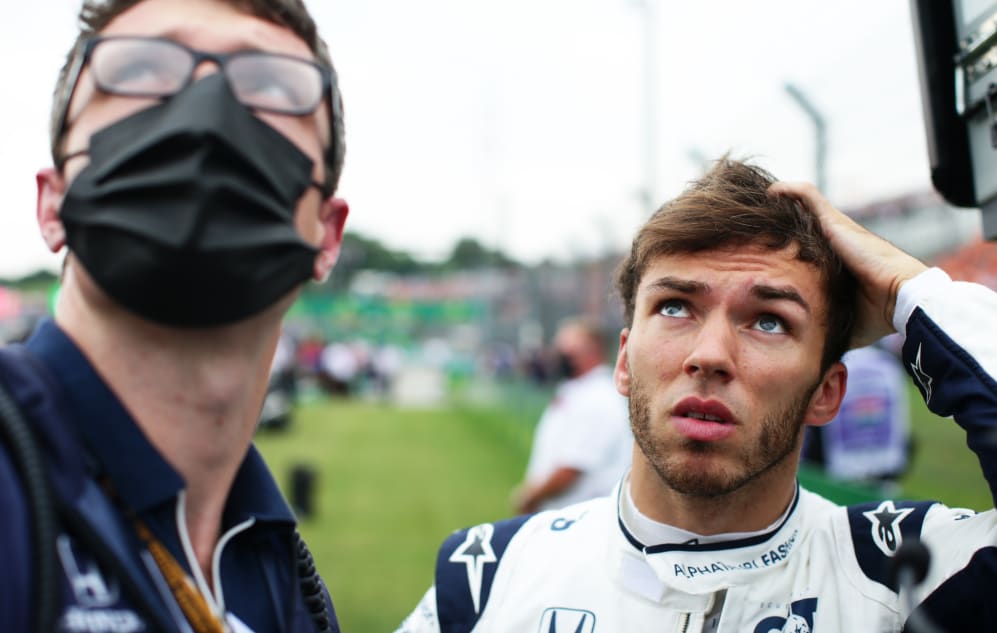 The timing of the rain meant that nobody could get a feel for how their car would handle in slippery conditions, how slippery the conditions even were, or where on earth they would brake on the approach to Turn 1, with 19 other cars closely packed around them.
The only lap they had before the lights went out was the formation lap, which was carried out at reduced speed as usual. Even then you try and hit the brakes until they lock slightly, accelerate until you break traction and steer until you scrub the fronts, just to find the grip level in each phase of the corner, but to correlate what you learn on a low speed formation lap to finding a braking point from racing speed at Turn 1 is almost impossible.
READ MORE: The red flag restart shaped the race – but was the call not to pit REALLY what cost Hamilton the win?
This race start is the sort where you can gain some important ground, but equally you can destroy your race immediately. If you go brave at Turn 1 you can look a hero if you pull it off, but a complete villain if you don't, and that's exactly what happened to both Valtteri Bottas and Lance Stroll at Turn 1.
In fact I'm not even sure Bottas was going brave, it seemed to me he was distracted after a wheel-spinning start and slight pincer move by Perez and Norris on either side.
As Norris passed him on the inside, he cut left in front of Bottas with little margin, and I think momentarily this distracted Valtteri at a critical moment. He got back to throttle briefly and then braked too late, which combined with dirty air from the McLaren ahead, meant he rammed Norris and created a first corner pile-up.
While Norris, Verstappen and Perez ahead of Bottas were understandably cautious on the brakes at Turn 1, Bottas misjudged his brake point – from the moment he hit the pedal it was too late. There's nothing you can do once you've made the initial mistake, you can't slow the car down any more than you are already trying to, and time almost goes in slow motion as you realise what is about to unfold.
F1 NATION: Hungary Turn 1 chaos, Ocon's win, and the inside story on that spiky Verstappen press conference
From his position on the inside you have to be more cautious as well, because there is no room for error. If you go straight on you are guaranteed to wipe somebody out as they turn into the corner, while from the outside you have more margin to escape into the run off area.
That's exactly what Lance Stroll found out as well, in the second of Turn 1's collisions.
Stroll actually braked at a similar point to Fernando Alonso as they ran side by side down towards turn 1 – both drivers overcooked it in the damp conditions.
But while Alonso could afford to release the brakes, not panic, and end up in the run off, Stroll was destined to smash into a rival ahead, and indeed he did, taking out Charles Leclerc, who then hit Daniel Ricciardo.
Unlike Alonso's luxury of outside space and a get out of jail card, if you start running to the outside from a braking position on the inside, you are fairly well guaranteed a collision in the mid pack at Turn 1.
READ MORE: Bottas and Stroll handed five-place grid drops for Belgian GP for triggering Turn 1 crashes in Hungary
Getting the braking point right is down as much to guess work as it is feel of grip at the start. You have no reference at all for it, but it often pays to be cautious in these situations.
That's exactly what the likes of Leclerc, Norris and Perez were bemoaning after the Bottas and Stroll collisions.
Norris actually got one of the best starts in the field moving from sixth to be fighting for third into Turn 1 and would have been set for another strong Grand Prix. Perez had done well on Saturday to qualify with the other big guns despite not having a second lap in Q3, while Leclerc saw it all open up for him after Bottas' mistake, only to suffer from another car effectively making the same mistake.
Ironically anyone that had either a poor qualifying or a poor start ended up reaping the rewards after the start, simply by minding their own business and letting most of the top 10 wipe each other out in a Turn 1 demolition derby.
READ MORE: Shock winner Ocon reveals how advice from Lance Stroll helped him take maiden victory in Hungary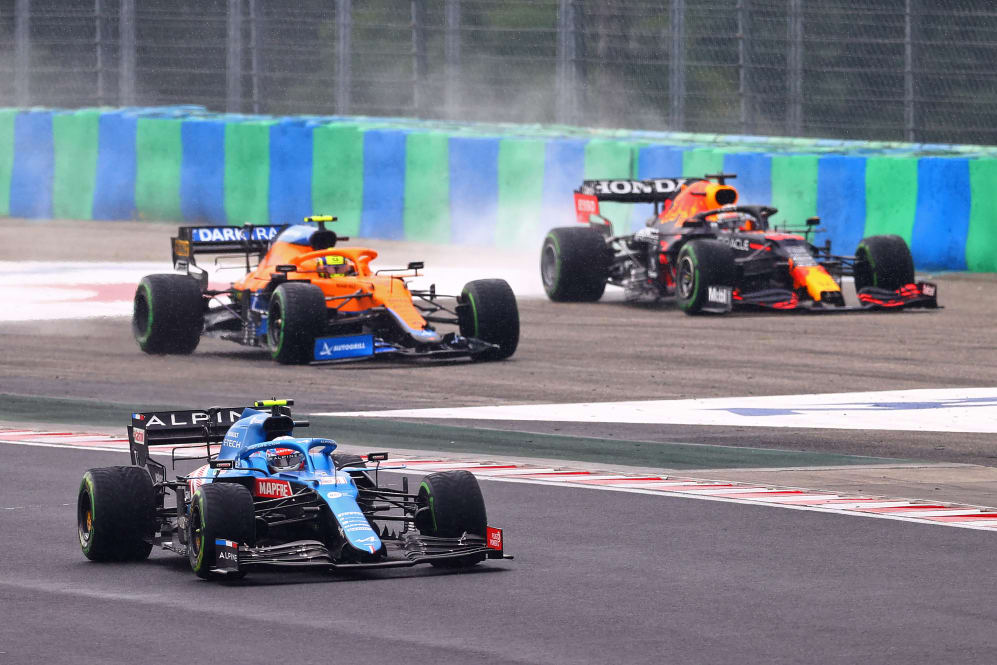 As you can see below, Ocon was lucky to not be nerfed by Stroll who chose to take to the grass and hit Leclerc instead, in a race defining split-second decision, whilst Vettel and Sainz came through from a poor start and a poor grid position to emerge in third and fourth.
READ MORE: 'For a moment I thought I got through' – Ricciardo says Turn 1 crash damage was behind race struggles
It's one of those magical moments for the underdogs where you exit the first corners and can't quite believe you are suddenly near the front. I've had a couple of those in my career, but never quite to this extent. You get a wave of excitement as you realise there could be a special result on the cards, and that it might just be one of those days.
It still takes a lot of composure to make the most of it though and bring the car home under the new, more intense pressure – as Esteban Ocon managed brilliantly to take a maiden Grand Prix victory.
Oops! Error retrieving Twitter post