Feature
Jolyon Palmer: Why the French GP was Ricciardo's most convincing race yet with McLaren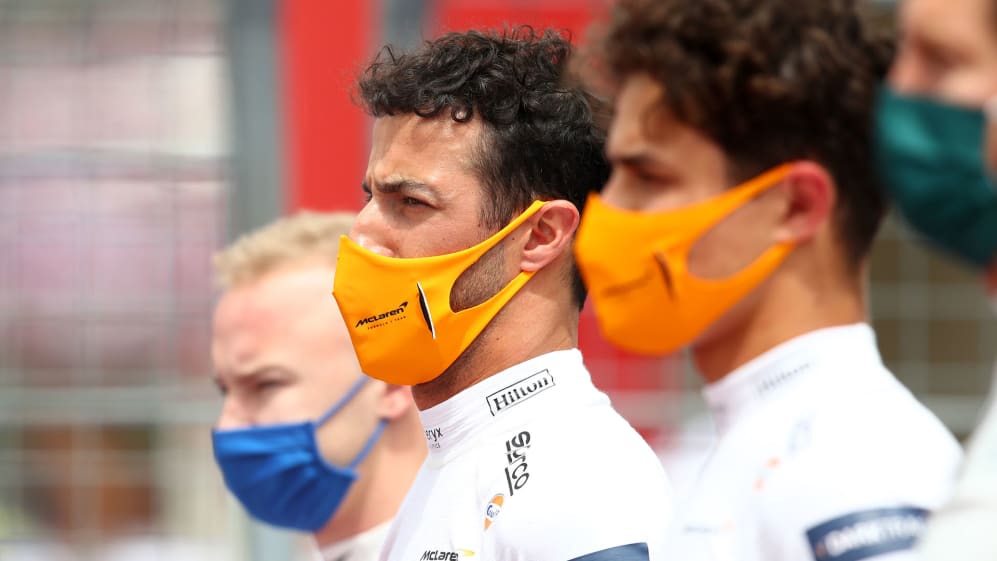 Max Verstappen and Red Bull might have made the big headlines at the French Grand Prix – but behind the top four, there was a terrific scrap for 'best of the rest' at the Circuit Paul Ricard, which had its own twists and turns throughout the weekend.
Ferrari and McLaren are both enjoying decent seasons in 2021, and are embroiled in a battle for third in the constructors' championship. And while Ferrari couldn't continue their pole position heroics on Saturday in France, they still did a good job, particularly with Carlos Sainz who was on form all weekend, qualifying fifth ahead of Charles Leclerc in seventh.
READ MORE: 6 Winners and 5 Losers from the French GP – Who brought their A-game to Paul Ricard?
The McLarens, meanwhile, started down in eighth and 10th, with Lando Norris ahead of Daniel Ricciardo in what looked to be a position with limited opportunity on Sunday, with everybody ahead starting on the same medium tyres as them, and drivers behind having a free choice of starting tyre.
But race day was a completely different story.
Ferrari, who have been so strong in qualifying recently, have struggled more in race trim, as proven in Baku, where Leclerc slipped from pole position down to finish fourth, behind an Aston Martin and an AlphaTauri.
In France, their struggles were heightened even more, with terrible front tyre graining completely derailing their race.
In the early laps, all seemed to be okay, with the Ferrari drivers holding position. But as the McLarens started charging through the field with good race pace, Leclerc became the first driver to pit, indicating his Ferrari was suffering worse than anyone with degradation.
READ MORE: Binotto says Ferrari's Paul Ricard struggles stemmed from issues 'two years ago that we should have addressed'
Pitting on Lap 14 meant it was always going to be impossible to make it to the end for him – but when the tyres are degrading badly, sometimes there is little other option than to switch strategy to a two-stop.
Everybody was caught out by the overnight rain which caused a very 'green' track, as the rubber which had been deposited throughout qualifying and practice was washed away. That left the track more slippery than expected, in turn bringing the degradation level up as the cars slid around more.
On top of that, the track temperature was significantly lower than it had been earlier in the weekend and the wind was gusty. That made conditions quite tough, contributing to drivers complaining of a lack of balance early on, and causing more damage to their tyres.
Ferrari have struggled all season with a more narrow temperature window with their tyres – and on Sunday in France they clearly just couldn't get the fronts to stay in the right window.
READ MORE: 'We went backwards' – Sainz and Leclerc shocked by lack of pace as Ferrari fail to score in France
While Leclerc made good headway after his early stop, undercutting the rest of the midfield, it was short lived, as he immediately grained up his hard tyres as well and fell back through the field.
Graining occurs when the tyre isn't at the correct operating window, and as it slides or scrubs against the track surface, it balls the rubber up into grooves and you therefore lose grip from the tyre. As there are plenty of long, fast corners at Paul Ricard, the front tyres are put under a lot of stress and front degradation is a more limiting factor, which added to Ferrari's woes.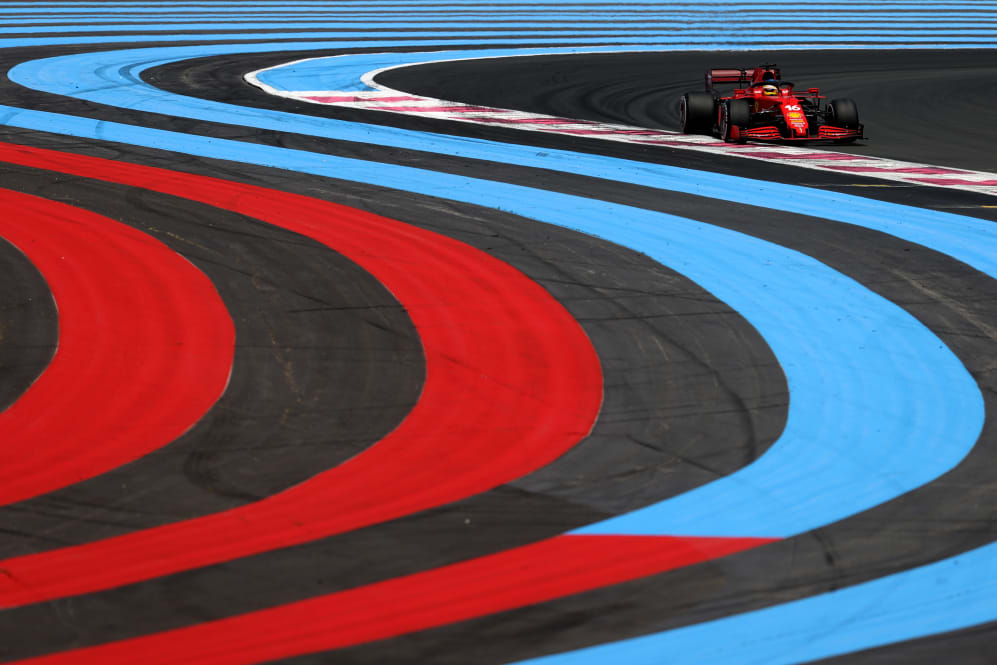 On the flip side, McLaren had excellent pace on Sunday, ending up fifth and sixth with storming, attacking drives from both Lando Norris and Daniel Ricciardo.
They clearly had a car that looked after its front tyres a little better, and while they didn't qualify as well as they would have liked, their consistency throughout the race enabled them to charge through, and it also allowed Norris to extend his first stint more than the other flailing midfielders, which proved pivotal to his race.
READ MORE: Norris calls out Gasly over 'harsh' Turn 11 move after taking strong P5 finish in French Grand Prix
After a poor start Norris was on the fringes of the top 10 early on. But while his midfield rivals pitted for fresh rubber, Lando stayed out for a full 10 laps more than Leclerc's Ferrari and eight laps more than his team mate Ricciardo. Because his tyres were holding on better than most, he was able to keep up a sensible pace compared to those who had pitted earlier.
He also benefitted in this time from having clear air, while all those who pitted had to overtake a string of cars who were yet to stop, and were therefore consistently losing time.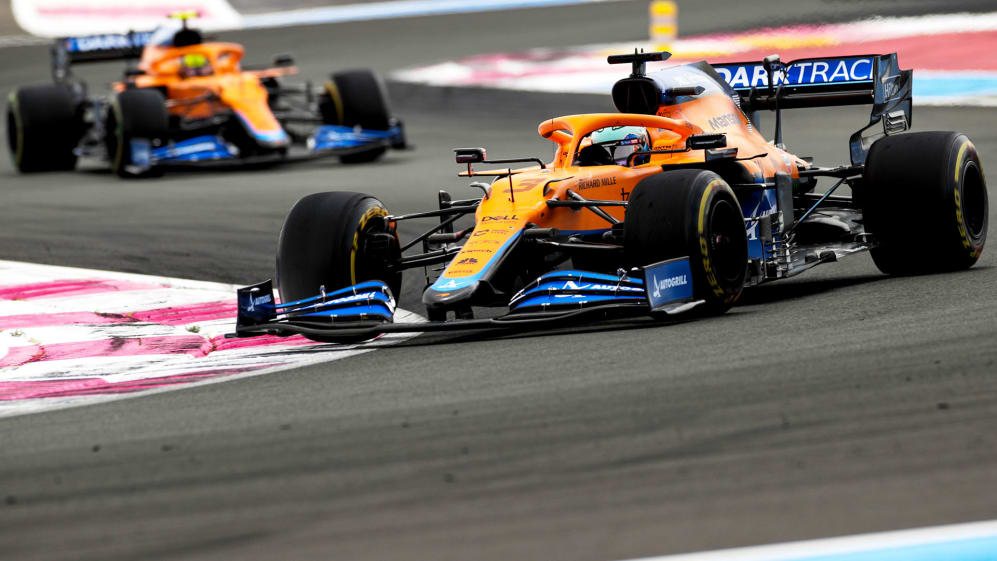 Once Norris pitted, he came back out a few seconds adrift of the pack he was fighting in before the pit stop phase. As a driver, it's frustrating to look up and see the ground you've lost through the pit stops. Things can look bad when you can see people you had already passed ahead of you, and you realise you have to do the hard work on track again.
But for the same reason as the undercut was powerful to overtake, the longer first stint also proved pivotal for the rest of the race – as we saw with Sergio Perez's late charge to P3 as well.
READ MORE: Paul Ricard weekend 'wasn't as good as I hoped' says Perez, despite second straight Red Bull podium
Norris just had to bide his time in the long second stint and wait for the others around him to struggle with their tyres. In this instance, it's a waiting game, because with the degradation being higher than anticipated it was always going to favour Lando by the end.
He maximised it with some good overtakes to finish fifth, fighting back from an average qualifying and poor start, to continue his brilliant 2021 campaign.
More good news for McLaren came with Ricciardo's sixth place result. This was a race where Ricciardo was closer to his best again. He seemed to have confidence in the car, and we were getting the old Ricciardo radio messages indicating he was right up for the fight.
READ MORE: Ricciardo relishes 'fun' run to sixth in France, as McLaren car 'starts to feel more like home'
Ironically, because he was the first McLaren in the opening stint, he ended up having arguably the tougher race, doing more overtaking early on as Norris followed him past Fernando Alonso, and Leclerc pitted before Norris had to overtake him.
Ricciardo's charge also prompted his own early stop as he undercut Pierre Gasly, forcing him into a longer, more perilous final stint. But he managed it to perfection, with his most complete drive for McLaren thus far.