Paul Ricard weekend 'wasn't as good as I hoped' says Perez, despite second straight Red Bull podium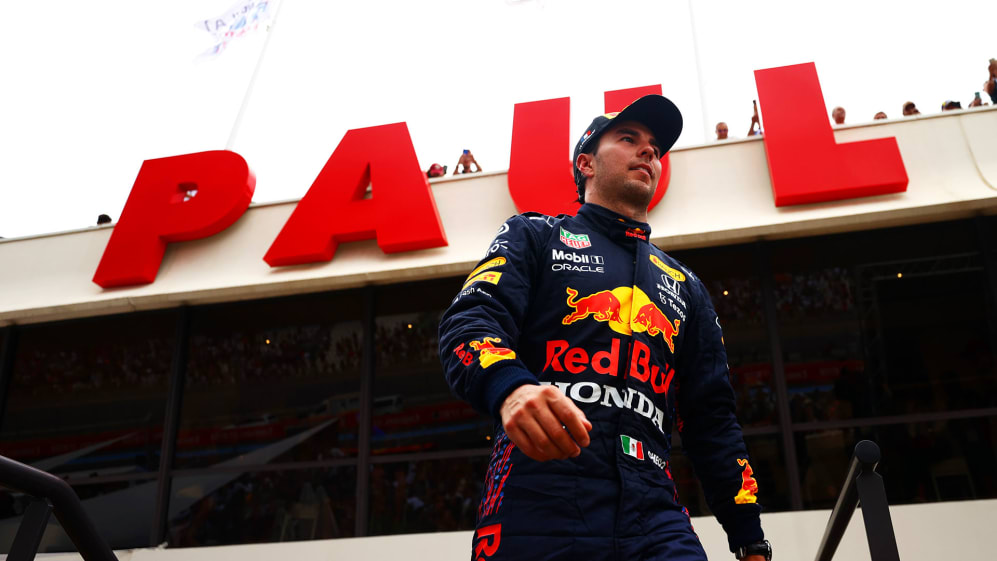 A strong final part of the French Grand Prix saw Sergio Perez jump the struggling Mercedes of Valtteri Bottas to grab P3, for his second straight podium with Red Bull. But after the highs of winning in Baku, Perez admitted he'd hoped for more ahead of the Paul Ricard weekend.
Perez hadn't looked on the pace of team mate and eventual winner Max Verstappen all weekend, but still managed to take an important P4 on the grid, behind Verstappen, Lewis Hamilton and Bottas. But the early stages of the Grand Prix saw the Mexican fall away from the front three, with Perez explaining after the race what had been going on.
READ MORE: Verstappen triumphs over Hamilton after late pass in scintillating French Grand Prix
"The first five or 10 laps, the car was undriveable with the wind," said Perez. "We obviously ran less downforce today so it was pretty hard to keep up behind. But then the wind was getting calmer and the track was getting better and I started to pick up my rhythm."
With Red Bull opting to keep Perez out to Lap 24 as most other drivers stopped before Lap 20, he then worked his way gradually back towards the front trio, and on Lap 49 of 53, was able to pounce on Bottas – struggling on his hard tyres after stopping seven laps earlier than Perez – to claim the third place that he'd hold onto till the flag.
It meant that Red Bull ensured their first double podium of the Perez/Verstappen era. But Perez admitted that he hadn't been fully satisfied with his weekend's work in Paul Ricard – adding that he would at least have appreciated a few more laps to catch eventual second-placed finisher Hamilton.
"If you take the first laps and the last five laps of my first stint [away], I think it was a great race," said Perez.
"But unfortunately not as good as I would have liked it to be. I think when it rained, it really reset the track, and we paid a bigger price for running the smaller rear wing on the car. That did hurt a bit, but it's part of the game… We lacked a couple of laps to get Lewis as well, but all in all it's a good result for the team.
READ MORE: 'I could have been fighting for the win' – Bottas left furious by Mercedes' one-stop strategy