Mazepin apologises to Schumacher after Haas pair clash again at Monza
The latest in a growing list of on-track scuffles between Haas drivers Nikita Mazepin and Mick Schumacher took place at the Italian Grand Prix – with Mazepin admitting after the race that he'd been at fault, after turning Schumacher around at the Variante della Roggia.
After the Safety Car period following Lewis Hamilton and Max Verstappen's sensational crash, Schumacher and Mazepin found themselves racing at close quarters on Lap 32 of 53, with Mazepin, running behind his team mate in P16, getting a tow off Schumacher through Curva Grande and launching an attack into Monza's second chicane.
READ MORE: Ricciardo leads stunning McLaren 1-2 after Verstappen and Hamilton collide at Monza
The move didn't come off, however, with Schumacher spun around, and the stewards handing the Russian a 5s time penalty. And although in the aftermath, Mazepin claimed over team radio that Schumacher had "absolutely turned into me", he was more conciliatory when he faced the media, having retired with a power unit issue on Lap 42.
"He braked very early going into Turn 4 and I just put my nose there, and obviously he needed to make the corner and turn in, so I'm sorry it happened," said Mazepin, who was forced to rebut criticism from the Schumacher family relating to the pair's on-track clash at the Dutch Grand Prix coming into the Monza weekend.
"It was my fault, but like a racing incident," Mazepin added. "Sometimes you put your nose there and the driver in front has to turn in, but you've got half a car there. So fully my mistake, but I think it was obvious that I wasn't happy… that it happened. I was very sorry due to the front wing that was missing due to that."
Asked to explain his retirement, meanwhile, Mazepin said: "We had an engine failure, from what I believe, I just lost all the power, and I think it was dangerous for the whole unit to continue… and to not be able… to recover it completely, so the team said just stop the car immediately."
READ MORE: 'Deep down I never lost faith or belief' says Ricciardo after taking first win since 2018
For his part, Schumacher appeared to be philosophical about the contact, telling the press after finishing the race in P15: "I think in my case, it's really tight, we're fighting, and obviously low downforce. I haven't seen it. I have to see, but again for me, I felt this race was good, and I don't think it would really have changed anything to our end race position."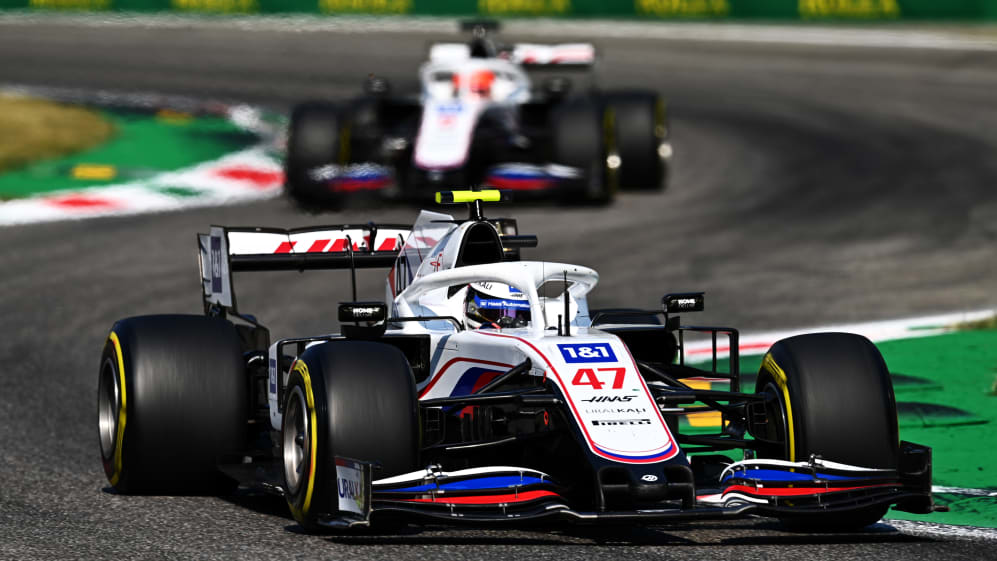 The pair's tone was markedly different compared to a week ago at Zandvoort, where Mazepin and Schumacher clashed in both qualifying and the race, before publicly making their grievances known. And Haas Team Principal Guenther Steiner seemed pleased by the "progress" in his drivers' dynamic.
"Obviously, again we had a run-in between the two drivers," said Steiner afterwards, "but they cleared the air about it. What was said was said and they are good. We're making progress on that side and hopefully we can keep it like this.
READ MORE: The Hamilton-Verstappen crash changed the face of the Italian GP – but would Ricciardo have won regardless?
"I think our two guys learned from the last races," he added. "Now try to move on and try to take onboard the suggestions that we as a team give them and hopefully we have less of this coming in the future, even if today it happened. If you are clear about it, it's good, it's part of learning and fortunately the car was not badly damaged."