McLaren chief Brown hits back at Szafnauer's 'historic racing' barb in tense press conference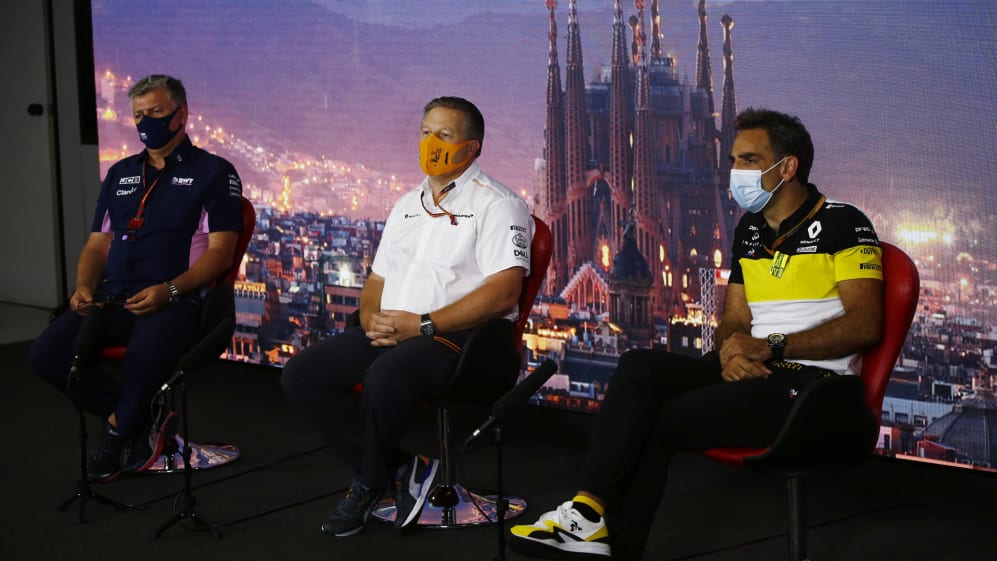 The Racing Point brake duct issue has been one of the biggest controversies of the 2020 season so far, and the row raged on at the Spanish Grand Prix as Racing Point Team Principal Otmar Szafnauer, McLaren CEO Zak Brown and Renault Team Principal Cyril Abiteboul discussed the issue in a tense press conference on Friday.
This week it was announced that Renault and Ferrari would be officially appealing the stewards' ruling on the RP20's rear brake ducts – deemed to be not of the team's own design. McLaren, meanwhile, will not be appealing, but have voiced dissatisfaction over the severity of the punishment handed down to Racing Point, with Brown saying at Silverstone last week that claims from Racing Point that the car had been designed via photographs of the 2019 Mercedes alone were "BS".
READ MORE: Racing Point's RP20 and the Mercedes W10 are similar, but not identical – here's where they differ
In response to Brown's comments, Szafnauer said: "He's got no idea what he's talking about. Zero. And I'm surprised at how little he knows about the rules of F1. It seems to me he knows more about historic racing than he does about F1."
And at the press conference at the Circuit de Barcelona-Catalunya after FP1 on Friday, the tension was palpable as Brown was asked for a response on those comments by Szafnauer.
"I thought a lot of what Otmar said was accurate," he said. "I'm not an engineer. I don't know the rulebook, first page to the last page, but as CEO you have a racing team and it's their job to know the rulebook and regulations."
READ MORE: Racing Point to appeal verdict in brake duct case
And referencing the punishment dished out to Racing Point by the stewards for the brake duct issue, he said: "In my time here leading McLaren I've never been fined a dollar let alone $400,000. I've never been docked points. Otmar thought it was seven-and-a-half points until Sky television pointed out it was 15 points.
"And as far as historic racing, people that know me know I'd enjoy historic racing and I'd invite Otmar to come join me because he's got a historic car that he's currently racing," added Brown, glibly referencing the suggestion that the Racing Point RP20 is very similar to Mercedes' 2019 W10.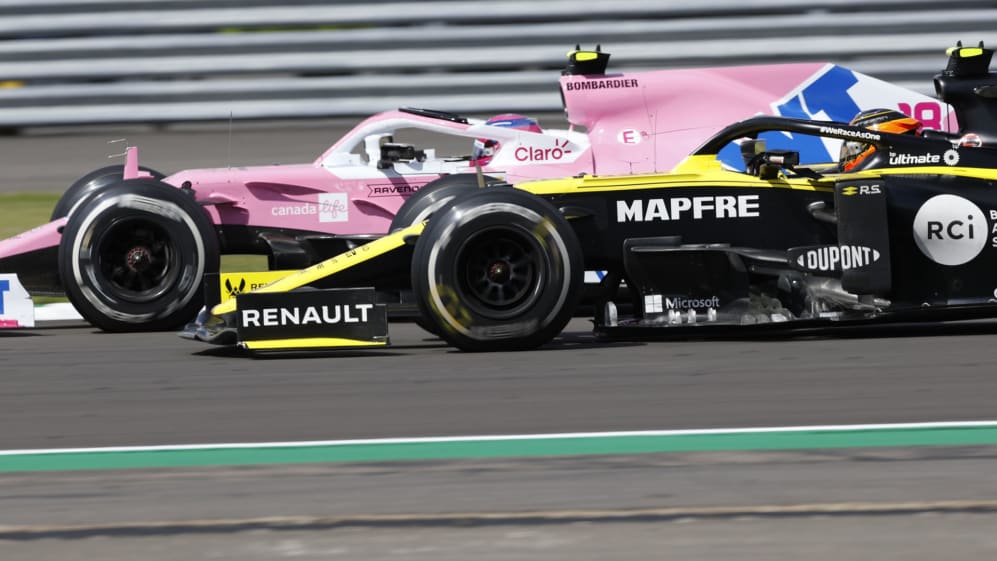 Renault Team Principal Cyril Abiteboul also weighed in on the controversy. He said he wants "closure" and consistency, and cited Renault's sporting penalty at the 2019 Japanese Grand Prix that left them disqualified from the event, comparing it to Racing Point's 15-point drop and €400,000 fine.
"We were expecting a consistent sanction [for Racing Point] with other sanctions we've seen in the past, the most recent one being the one that we accepted last year after Suzuka when we were found in breach of the sporting regulations, and not the technical regulations, discredit from that event and we therefore lost all our points," explained Abiteboul before adding that Renault will continue to protest the RP20's legality and push for a bigger penalty.
READ MORE: FIA to amend 2021 regulations to prevent car copying, following Racing Point case
"There was no discount for Renault; I don't know why there's a discount for Racing Point? It should be all the points of the events that we have protested. We are also going to be in a bit of a strange situation where after every single event, Otmar will be called to the stewards, his brake ducts will be found similar to what they were and unchanged and he will again receive a reprimand.
"We think it's a bit awkward, we would like some closure about that if possible," he concluded.
The case rumbles on, with the next stop the International Court of Appeal.