McLaren happy to have got through first races without major incident says Seidl, as teams feel cost cap bite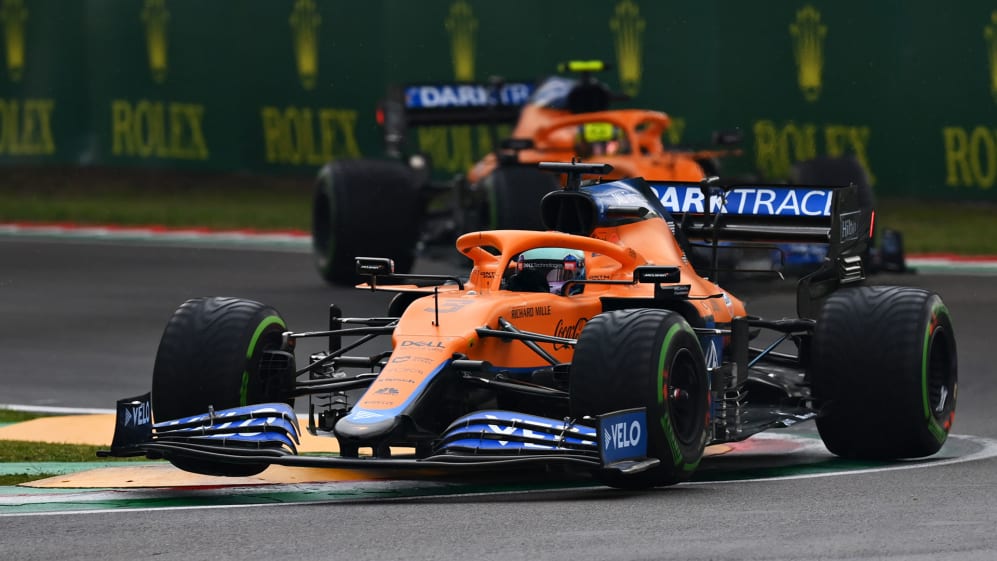 Lando Norris' podium-grabbing performance at the 2021 Emilia Romagna Grand Prix might have been the main cause for celebration for McLaren, but the team were celebrating another, more minor win after the first two races of the year – simply still having two undamaged cars.
With teams operating under a cost cap in 2021 for the first time in F1 history, Mercedes were outspoken in the aftermath of the Emilia Romagna Grand Prix about the strain Valtteri Bottas' crash with Williams' George Russell had placed the team under – while adding that the collision could have a knock-on effect on the development of their W12 this year.
READ MORE: Norris has 'made the next step as a driver' after Imola podium performance, says Seidl
And McLaren Team Principal Andreas Seidl admitted after the race that he was thankful that both Norris and Daniel Ricciardo had avoided any major incidents so far this year – while adding that the cost cap wouldn't change McLaren's approach to racing in 2021.
"It's a challenge that we are aware of on the financial side," said Seidl, regarding the effect of the cost cap on teams' mentalities this year. "But that is not something that we have in mind when they go into a race weekend or into a qualifying session or into a race.
"We always try, together with our drivers, to be sensible and reasonable on track," he added. "But at the same time, we are ambitious and want to go for good results. In order to do that you need to push these cars to the limit. Therefore I am happy that we got away without any major incidents so far this season."
Good results is something McLaren have had plenty of so far this year, meanwhile, with the team currently holding onto the third place they finished in last season, seven points up on resurgent rivals Ferrari.
And with Norris having claimed third place at Imola – the fourth podium taken by McLaren since Seidl's stewardship began in May 2019 – the Team Principal said he was pleased with his squad's progress, while warning that there was still a long way to go before McLaren can challenge for wins and podiums on a consistent basis.
READ MORE: 'Just a matter of a few more race weekends' before Ricciardo is up to speed at McLaren, insists Seidl
"I definitely would say that it is a well-deserved podium," said Seidl, speaking after the race at Imola. "If you look at the two guys who have been in front of us [Red Bull's Max Verstappen and Mercedes' Lewis Hamilton], they are the reference in the sport, together with their teams at the moment. Therefore it was very good to finish in P3, but… it's important to not get carried away with this result.
"If you look at how quickly Max can drive away in his last stint, then we see that we still have a lot of work to do. But overall it was very encouraging to see yesterday in qualifying and today in the race that it is a great confirmation for us that the entire team together with our colleagues from Mercedes over the winter did a great job."
2021
Constructors' standings post-Imola
POSITION
POINTS

1

Mercedes

60

2

Red Bull Racing

53

3

McLaren

41

4

Ferrari

34

5

Aston Martin

7