McLaren's Seidl praises 'great teamwork' from Sainz that allowed Norris to storm to fifth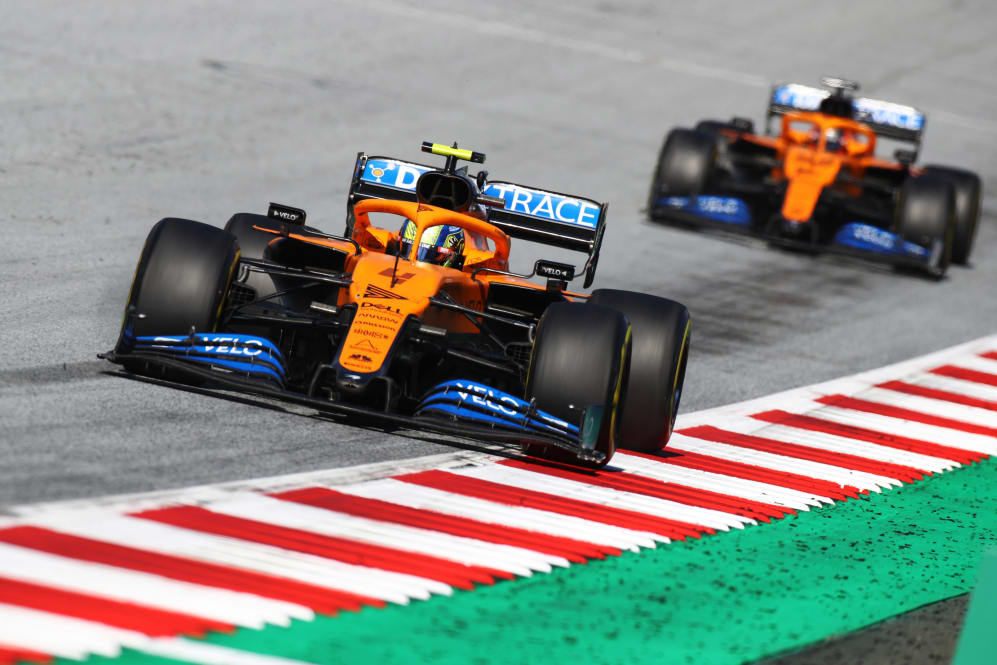 Ahead of the 2020 season, Lando Norris had predicted some tense moments in his relationship with team mate Carlos Sainz this year, as the pair fought for higher race positions with the improving McLaren team. But Norris and Sainz's mutual respect was firmly in evidence at the Styrian Grand Prix, as Sainz obeyed team orders to let his team mate by, allowing Norris to finish P5.
Having stopped seven laps after Sainz for medium tyres on Lap 39 of 71, Norris was showing better pace than his eighth-placed team mate, as he closed up to Sainz with around 10 laps to go. But just as the pair started to squabble, the team intervened, with Sainz ordered to let Norris by at Turn 4.
'We got it wrong when it counted' – Sainz regrets loss of 'easy P5' in Styrian Grand Prix
This he duly did, with Norris waving an appreciative hand as he passed and thanking his team on the radio, before repaying them with a swashbuckling final few laps that saw him shrug off the chest pains that had blighted his weekend to climb from eighth up to fifth by the flag – while a despondent Sainz made a second pit stop for soft tyres, using them to take the bonus point for fastest lap, as Norris had done last week en route to his maiden F1 podium.
"Great teamwork between the two drivers swapping on track when it was needed," said McLaren Team Principal Andreas Seidl after the race. "Carlos didn't give up and did a great job securing the fastest lap – the second time in a row for us.
"Lando showed he's a fighter despite the pain he suffered during the weekend. He continued to perform and stepped up when it really mattered, especially in the second half of the race and again with some exciting final laps."
READ MORE: Norris hails 'best race in F1' after passing both Racing Points on final lap for P5
Seidl also took the opportunity to apologise to Sainz, who was stationary in his first pit stop for 7.2s with a sticking left-rear wheel nut.
"We want to apologise to Carlos for the issue we had at his first pit stop, which made his race more difficult than it should've been. The delay cost him several track positions and we sent him into heavy traffic, which ruined his tyres and didn't allow him to fight for the position he deserved to be in today."
Seidl has now watched his two drivers start from third on the grid in two successive races, after Sainz secured a sensational P3 in Saturday's wet qualifying for the Styrian Grand Prix. And on top of a third place, two fifths and a P9 from the opening two Grands Prix of the season, the McLaren Team Principal was hopeful of seeing his squad's strong performance continue at the next round at the Hungaroring.
"In dry and wet conditions, we have a car that can fight with the competitors around us, which is obviously very encouraging moving forward," said Seidl. "It will be very interesting to see if we can now carry this performance and momentum into Hungary and to other tracks with different characteristics.
"We'll take away a lot of positives from these first two weekends, but at the same time we'll focus on all the areas we have to improve. As always, we'll use the time next week to analyse in detail what happened, try to learn from it and come back stronger in Budapest."
2020
Constructors' standings after the Styrian GP
POSITION
POINTS

1

Mercedes

80

2

McLaren

39

3

Red Bull Racing

27

4

Racing Point

22

5

Ferrari

19

6

Renault

8

7

AlphaTauri

7

8

Alfa Romeo Racing

2

9

Williams

10

Haas F1 Team