Mercedes duo 'much happier' at Imola than in Bahrain - but wary of Red Bull threat
Having been behind the curve throughout practice in Bahrain, world champions Mercedes looked much more on song in Friday's practice sessions at Imola, as Valtteri Bottas led Lewis Hamilton to top the times in both FP1 and FP2. Afterwards the Finn was far more content with the performance of his W12 than in the desert heat of Sakhir – but he and Lewis Hamilton remain wary of the threat of Red Bull after their chief rivals encountered problems on day one.
Bottas left Bahrain frustrated at Mercedes' strategy calls as, after qualifying nearly 0.6s off Max Verstappen's pole sitting Red Bull, he finished a distant third behind the Dutchman and race winner Lewis Hamilton. Here at Imola however, Bottas has started on the front foot and said after the sessions that the improvements were clear to see.
FP2: Bottas quickest as Verstappen stops on track and late Leclerc shunt halts second practice early
"If I compare it to Bahrain, how the car's feeling, it's definitely feeling better so that's nice," said Bottas. "It is a different track and different type of circuit and surface and grip level, but at least the weekend started in a positive way and the car really wasn't far off in the sense of the set-up.
"There are still things to be tuned but overall the balance, we're a lot happier with the car now than three weeks ago," he added.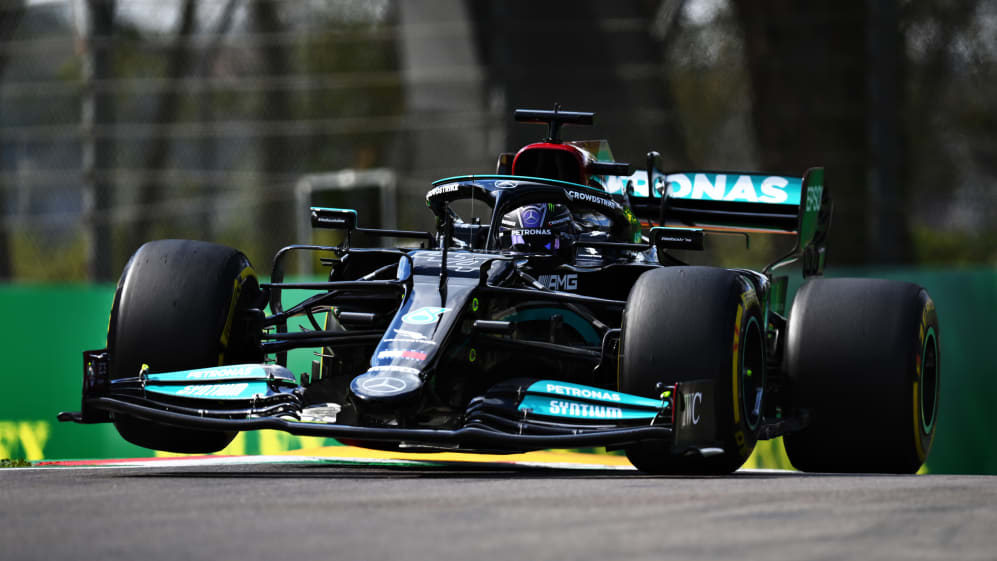 Team mate Hamilton, runner up in both sessions, explained that a combination of Mercedes' hard work and Imola's layout – plus lower temperatures than in Bahrain – have worked in their favour.
"I think the team have definitely worked really hard to try and understand what happened in the last race where we were weak and see if we can try to tweak the car a little bit better with set-up, but I think the track has also come a little bit in our direction," he said.
FP1 HIGHLIGHTS: Watch all the action from the opening practice session in Imola
"It's way better. When it's this cool, I mean it's obviously a nice day, but the last place we were at in Bahrain it's so warm so when you go out already the temperatures are going up, they're overheating throughout from entry to middle to exit of each corner. Here, you're kind of in a nice sweet spot with temperature, so it's not so bad."
Rivals Red Bull didn't enjoy the smoothest day, as Sergio Perez clashed with Alpine's Esteban Ocon in FP1 before Verstappen stopped 10 minutes into FP2 with a driveshaft issue. Regardless, the Silver Arrows drivers remained guarded about Red Bull's pace.
"The whole grid, the midfield and the front end, looks really close and yeah we definitely didn't see the best out of Red Bull today," said Bottas, "we're going to see that in Q3 tomorrow. But not a doubt that they're going to be fast – we still don't think we're going to be the fastest car; we really need to prove that on Saturday."
READ MORE: Stewards take no further action over Ocon-Perez FP1 clash that triggered red flags in Imola
Hamilton echoed his team mate's comments and said: "I don't think we've seen the best from the Red Bulls yet. I think they look like they've had quite messy sessions with traffic and that, so it'll be interesting to see tomorrow just how quick they are."
That sets up an absorbing qualifying contest as Red Bull hope to make up for lost time and take top spot off Mercedes on Saturday.