Mercedes reveal true cause of Bottas' 'tough' Eifel GP retirement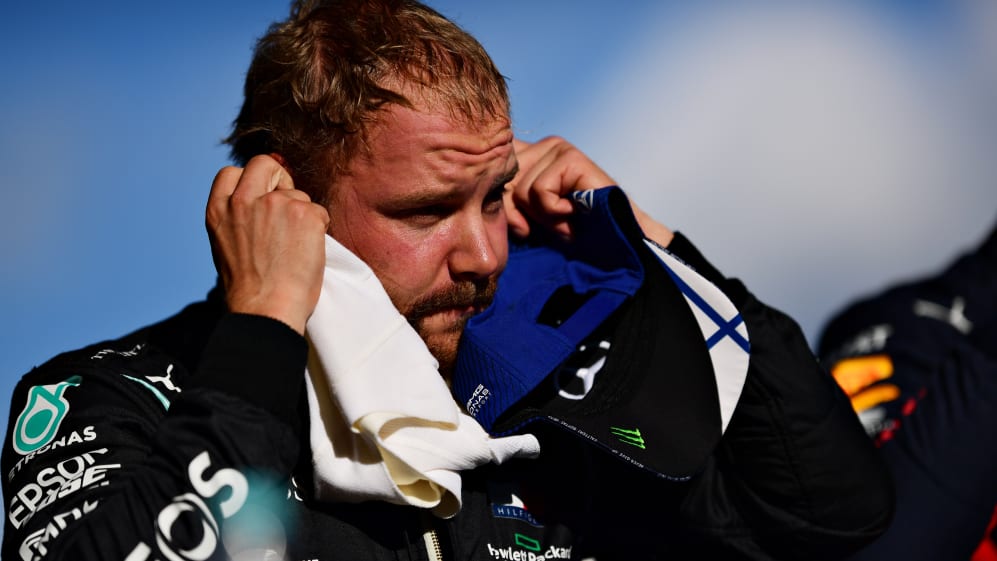 Valtteri Bottas' retirement from the Eifel Grand Prix was initially attributed by Mercedes to an issue with his MGU-H system. But in the run-up to the Portuguese Grand Prix, the team confirmed that it had in fact been a Control Electronics issue on the Finn's W11 that had ruled him out of the race – and left him with a mountain to climb to get back on terms with his team mate Lewis Hamilton in the title fight.
Bottas was forced to retire out of contention for victory at the Eifel Grand Prix after reporting a loss of power, with the team's Chief Strategist James Vowles initially reporting: "We could see on the data that the MGU-H, the hybrid element that produces electricity but also turbo control, wasn't working correctly."
FORM GUIDE: Who is best-placed to conquer the new-to-F1 Portimao circuit?
However, further investigation by the team revealed that the root cause had actually been related to the Control Electronics unit on Bottas' car.
"We have identified a failed electrical component in the Control Electronics as the cause of the problem," said Mercedes Team Principal Toto Wolff in the build-up to the Portuguese Grand Prix, "and the evidence suggests that swift action in retiring the car prevented mechanical damage to his power unit."
The failure on Bottas' car, as Hamilton romped to a record-equalling 91st victory, has left the Mercedes pair now separated by 69 points in the drivers' championship, with just six races left to run this season. But Wolff backed his driver to bounce back on F1's first visit to Portimao.
"[For Valtteri], going from pole position to a DNF and a significant points loss for him in the drivers' championship… was undoubtedly a tough blow at this stage of the season," said Wolff. "A DNF is always tough for a driver, but one of Valtteri's biggest strengths is his resilience and his ability to bounce back, so I'm sure he'll be eager to hit the track in Portugal.
TRENDING TOPICS: A new track for F1, driver moves, and more talking points ahead of the Portuguese GP
"Portimao is the second completely new circuit of the season, which adds some variability to the potential performance picture. We had an exciting race at Mugello, the first new venue this year, and since then we have focused on preparing in the best way possible for the other new circuits and maximising the rate of learning when we go to a new track – something that will be especially important during the two-day weekend in Imola next week."
Mercedes stand an outside chance of wrapping up their seventh straight constructors' championship at Portimao, meanwhile, with the team currently 180 points clear of rivals Red Bull – and needing to be 220 points up the road by the end of the weekend to retain their title.