Feature
Why Hamilton's Hungarian GP win wasn't as straightforward as you might think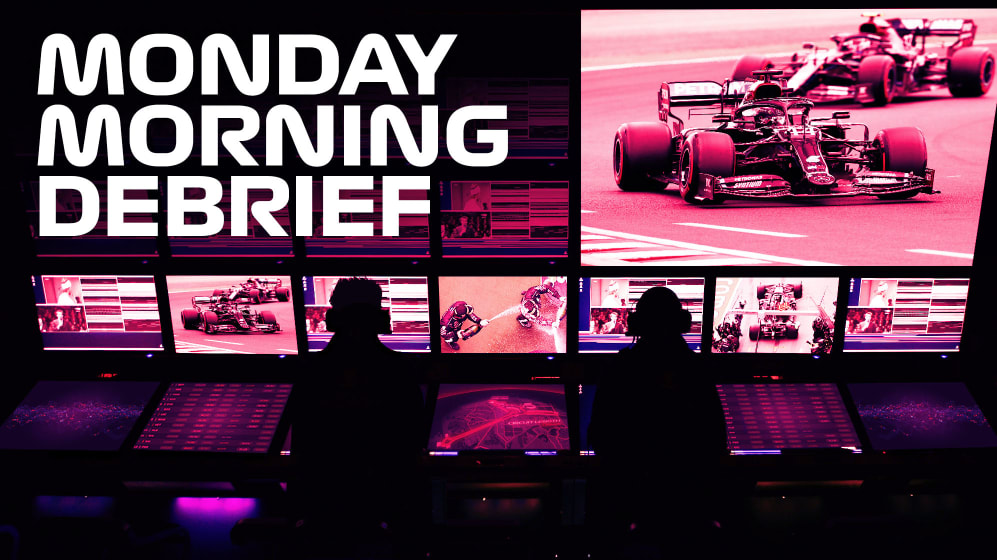 Lewis Hamilton's Hungarian Grand Prix victory was built upon the foundation of the W11's massive performance superiority and Hamilton's brilliance in the wet opening phase, when he pulled out 8s over the field in three laps.
But that still left the Mercedes team with many key tactical decisions to make. Most of these revolved around how to help Valtteri Bottas recover from his bogged-down start, which sank him from the front row to sixth at the first corner. But Hamilton's race also needed managing.
Here's how those key calls were made.
READ MORE: Last-gasp fastest lap on way to victory was 'crucial risk' says Hamilton after 86th career win
Coming off inters onto slicks
The track was rapidly drying at the race start. So much so that some further back – the two Haas drivers and Alpha Tauri's Daniil Kvyat – favoured not even taking the grid but coming into the pitlane from the formation lap and getting straight onto slicks. Haas put that plan into action but Alpha Tauri couldn't quite brave it and Kvyat came in at the end of the first lap.
As the Haas sector times were monitored by everyone and found to be quite respectable, there was a choice to be made. Come in immediately, minimising time lost on track, or wait a lap to take advantage of the free space the pitters had created.
Hamilton's 3s gap at the front allowed Mercedes the luxury of attending to Bottas first – as he was the one needing the most help, thanks to his poor start. He was brought in at the end of Lap 2. Hamilton's gap and his pace meant stopping a lap later cost him nothing. He emerged from the stops still comfortably leading.
READ MORE: Magnussen praises 'amazing call' from Haas that helped him to first points of 2020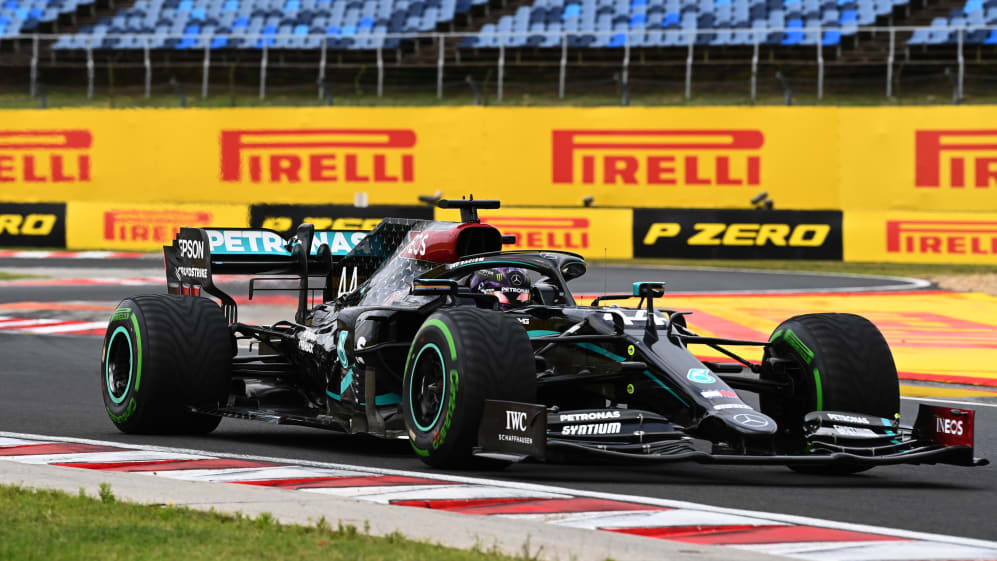 Which compound?
The soft is not a good tyre around the long turns of the Hungaroring. It blisters its left front, especially in cool conditions. Mercedes wished to avoid it at all costs and had used the mediums for Q2 so as to avoid having to start on it (which the rain made irrelevant, as things turned out). Its range would have been no more than 12 laps, which in a dry race would have pretty much have forced you onto the slower two-stop strategy.
But the softer the compound, the more quickly it gets up to temperature, which can be a very important issue with an early stop on a cool, damp track. The hard tyre was probably the best over a stint. But it had the disadvantage of taking two or three laps to reach working temperature – which could have been costly when pitting so early with so little field spread.
So the medium tyre suggested itself as the best compromise, even though the left-front would need a lot more managing than with the hard. Both Bottas and Hamilton were fitted with it.
READ MORE: 'There's lot of work ahead of us,' says Leclerc after mixed day for Ferrari
By contrast, Ferrari – with little to lose – were prepared to gamble with the soft. Sebastian Vettel overruled them from the cockpit, Charles Leclerc acquiesced. Vettel's race was thus rescued and Leclerc's ruined. But Leclerc was directly ahead of Bottas as they left the pits – and he would delay him terribly for the next seven laps. This would prove very costly for Bottas and ultimately delay his arrival onto the tail of Max Verstappen's second place Red Bull.
Timing of the second stops
As the race approached the halfway point Hamilton's lead over Verstappen stood at around 19s. The longer he could keep those tyres alive, the bigger his tyre advantage would be in the next stint. So there was no hurry to pit him.
Bottas however, having been delayed getting past both Leclerc and the out-of-phase Magnussen, could find no way past Lance Stroll's Racing Point. Mercedes were hoping they could apply undercut pressure, tempting Stroll in and then staying out, using the Merc's greater pace to overcut past.
But Racing Point weren't falling for it, wanted to maximise Stroll's stint length. So eventually Mercedes accepted it had to undercut Bottas past. This happened on Lap 33.
READ MORE: Strategy gamble lost Racing Point chance of podium, says Stroll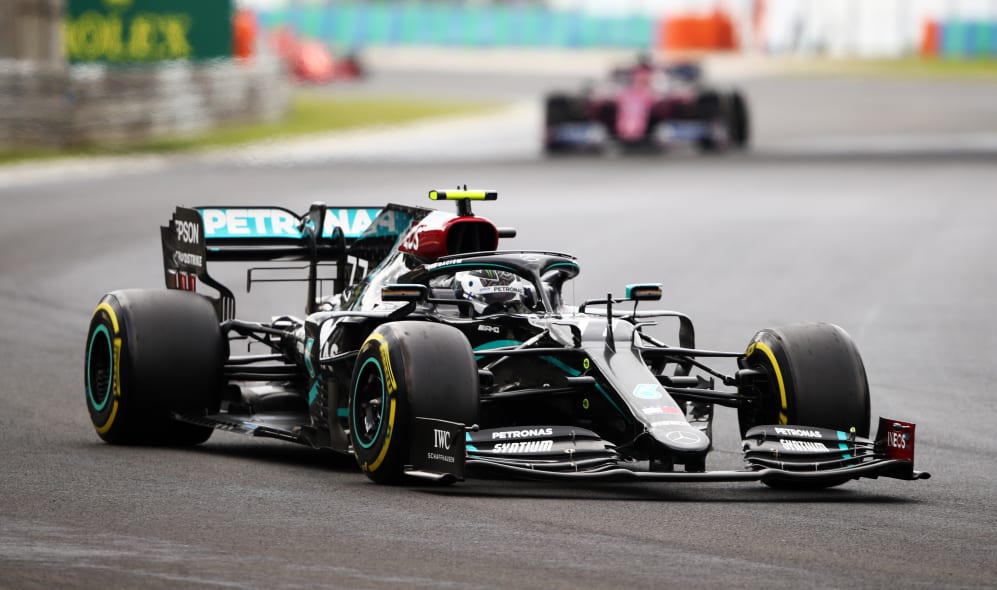 For the very same warm-up reasons, the medium tyre was again chosen. The risk of the hard was that it wouldn't have come up to temperature quickly enough to have allowed Bottas' out-lap to be faster than Stroll's old-tyred in-lap.
The timing of Hamilton's stop was determined purely by when Red Bull brought Verstappen in. Coming in before the Red Bull would have made Hamilton vulnerable to a Safety Car for as many laps as Verstappen stayed out. As soon as Verstappen pitted – on Lap 36 – Hamilton was then vulnerable again, if a Safety Car had come after Hamilton had passed the pit entry (as had happened in the Styrian Grand Prix). So he was pitted on the very next lap.
The medium tyre was again chosen for Hamilton, just because of its better performance in the damp – and this was at the time the forecasted shower was expected. Red Bull chose the hard for Verstappen. Bottas had now cleared Stroll but was 8s back from Verstappen, his next target.
READ MORE: Bottas blames lights on steering wheel dash for race-wrecking bad start
Third Stops
Both Merc drivers made third stops, though this had not been the plan.
The Merc was much faster than the Red Bull and Bottas had quickly caught Verstappen. He was within DRS reach by the 45th lap. But there was no way past. His left-front medium could not be leaned on hard enough to give him the required speed onto the pit straight. Verstappen's hard tyres were still in great shape.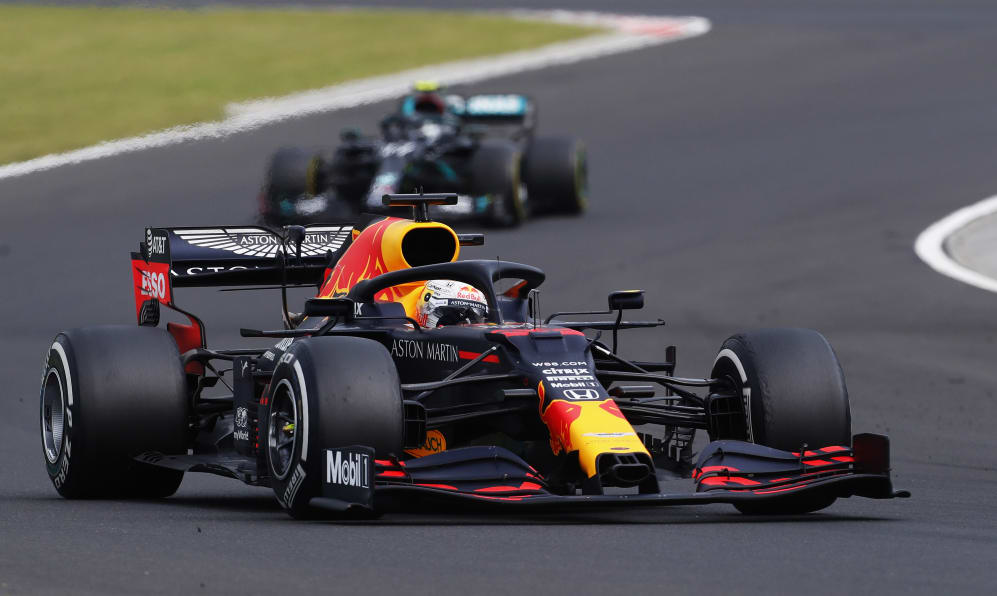 Just like last year with Hamilton and Verstappen, Mercedes decided to bring Bottas in for a fresh set of tyres (hards), reckoning there was enough time left to make the 20s pit stop loss back up before the end, hopefully with enough extra grip over the old-tyred Verstappen that he'd be able to overtake. Traffic delays and a great turn of late speed from Verstappen foiled that plan ultimately – and it created a further dilemma. On his fresh tyres Bottas had set the race's fastest lap.
READ MORE: 'Second feels like a win' says Verstappen as he recovers from pre-race crash to podium
Hamilton, with more than a pit stop's-worth of gap over Verstappen, was on old tyres that could have made him vulnerable on a restart if there was a Safety Car. Wy not use that gap to get him on fresh tyres? The plan was hards. "Why not softs?" Hamilton asked, clearly with a view to beating Bottas' fastest lap.
Why not indeed? He'd built the gap up, why should he not be given the opportunity of using it to go for the extra point? Hence his stop was delayed until just four laps from the end, when the fresh softs indeed allowed Hamilton the final flourish of fastest lap.