More podiums possible for McLaren in 2020, reckons Sainz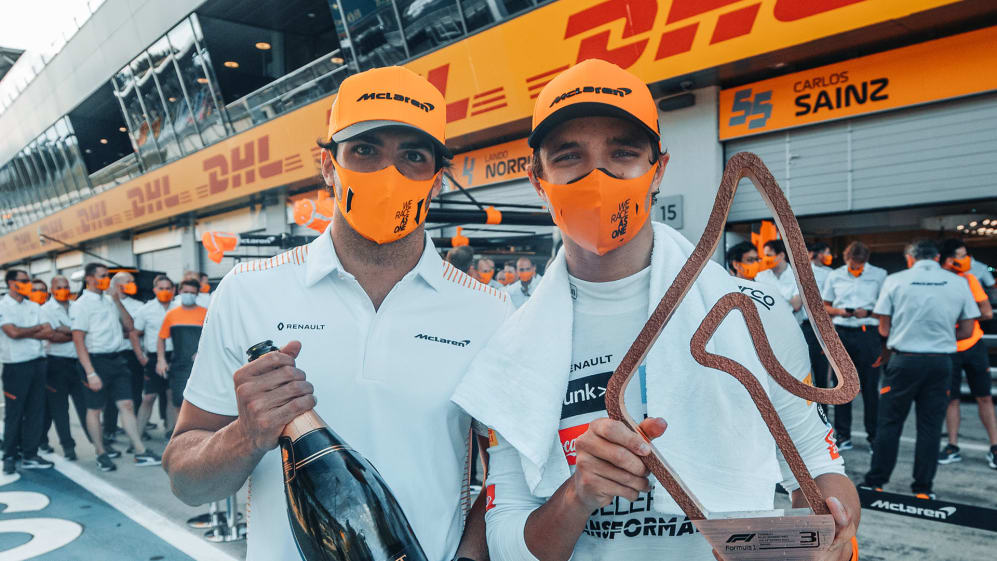 McLaren have now scored two podiums in the last three Grands Prix stretching back to Brazil last year. And although at the 2020 Austrian Grand Prix it was Lando Norris rather than Carlos Sainz doing the rostrum honours, Sainz was predicting more top three finishes for his team this season if they can maintain their impressive race pace.
With Norris having started the Austrian Grand Prix in P3, after both his best ever F1 qualifying and having benefitted from a grid drop for Lewis Hamilton, the McLarens fought each other early on in the race before a strong finish from Norris saw him climb to fourth by the flag. That became third when Norris once again benefitted from a Hamilton penalty, while Sainz came home fifth.
READ MORE: 'Speechless' Norris thought he'd 'fudged' chance of maiden podium finish
"First of all very happy for the team, very happy for Lando," said Sainz, who started the race in P8 but finished just three seconds adrift of his team mate. "I think he deserves this great result after a very strong weekend for him. He was very fast all weekend but also for me, I had a very strong race to be able to fight with Lando towards the last few laps.
"It means that we're having very strong Sundays and if the races continue to be like this, this is not going to be the only chance for a podium this year. So we'll keep our heads up, very strong start for the team and we might see other podiums this year, maybe."
WATCH: Norris's emotional radio message after his maiden podium – and McLaren's joyous reaction
Sainz and Norris' combined score of 26 helped McLaren to their biggest weekend points haul since the 2014 Australian Grand Prix. And with the team now sitting second behind Mercedes in the constructors' championship, Sainz felt that there had been a fundamental closing up of the grid for 2020.
"We have to take these opportunities," said Sainz, "but I feel like this year with the grid how it is, we are going to have opportunities. We are closer to the podium when the others do a mistake, we are closer on pace. Hopefully it's not only in this track and we can have it in other tracks."