Feature
NEED TO KNOW: The most important facts, stats and trivia ahead of the 2023 Canadian Grand Prix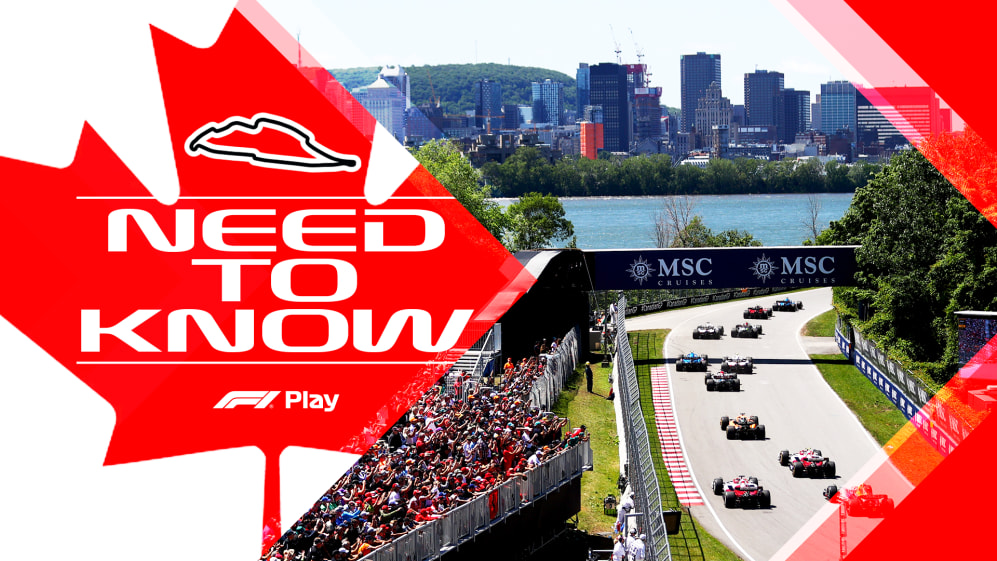 Formula 1 takes a detour from Europe for the next round of the season with a hop across the Atlantic to Canada. Ahead of the weekend, Need to Know is your all-in-one guide with stats, trivia, insight and much more. You can also see how fans have voted using our F1 Play predictor game.
The first two practice sessions at the Circuit Gilles Villeneuve will take place on Friday, June 16, followed by final practice and qualifying on Saturday, June 17 and the Grand Prix itself on Sunday, June 18.
IT'S RACE WEEK: 5 storylines we're excited about ahead of the 2023 Canadian Grand Prix
Vital statistics
First Grand Prix – 1967 (Mosport)
Track Length – 4.361km
Lap record – 1m 13.078s, Valtteri Bottas, Mercedes, 2019
Most pole positions – Michael Schumacher and Lewis Hamilton (6)
Most wins – Michael Schumacher and Lewis Hamilton (7)
Trivia – Canada played host to the longest race in F1 history in 2011, with the clock stopping at four hours, four minutes and 39 seconds
Pole run to Turn 1 braking point – 186 metres
Overtakes completed in 2022 – 51
Safety Car probability – 50%*
Virtual Safety Car probability – 50%*
Pit stop time loss – 18.37 seconds
*From the last six races in Canada
FAN VIEW: Max Verstappen holds a clear advantage here in the F1 Play voting, with very few gamers believing he won't pick up another win this weekend. The Red Bull star is polling at around 90% right now, while interestingly, more like Mercedes rival Lewis Hamilton's chances than those of his team-mate, Sergio Perez.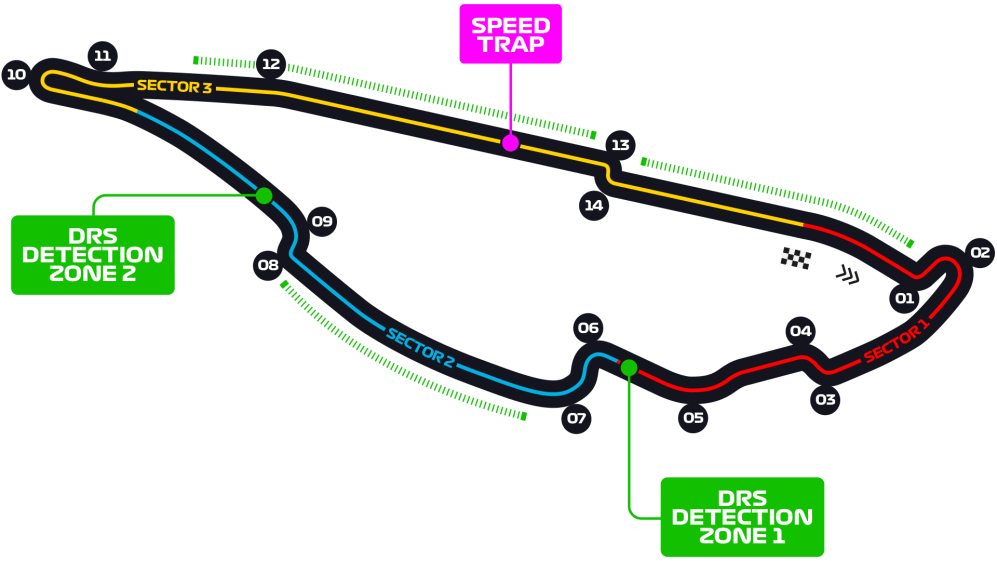 The driver's verdict
Jolyon Palmer, former Renault F1 driver: Canada is a really nice track to drive and you get a sense of atmosphere going around it. Overhanging trees give it the feel of a park and it feels like a street circuit – in essence, it is.
There are a lot of slow-speed corners, the walls are very close in a lot of places, but it's a great racetrack. You need a good front-end to get your car turned into the chicanes, which are pretty much everywhere.
THE FIRST WIN: David Tremayne remembers the magical day in Montreal when Lewis Hamilton became a Grand Prix winner
Then there's the hairpin, which launches you into an overtaking area at the final chicane. If not there, maybe you'll have a little sniff of something into Turn 1. Turns 1 and 2 are pretty tricky because you're approaching Turn 1 very, very fast, arcing to the right as you're braking, and then hurling speed to the left.
If you have any sort of moment coming to Turn 1, you're really off-line or cutting the corner down towards Turn 2. And tyre warm-up sometimes isn't ideal here, particularly on chillier days in Montreal.
Last five Canadian GP pole-sitters
2022 – Max Verstappen (Red Bull)
2019 – Sebastian Vettel (Ferrari)
2018 – Sebastian Vettel (Ferrari)
2017 – Lewis Hamilton (Mercedes)
2016 – Lewis Hamilton (Mercedes)
Behind the scenes with Pierre Gasly: The Alpine racer on football, fans and frustration in Spain and Monaco
Last five Canadian GP winners
2022 – Max Verstappen (Red Bull)
2019 – Lewis Hamilton (Mercedes)
2018 – Sebastian Vettel (Ferrari)
2017 – Lewis Hamilton (Mercedes)
2016 – Lewis Hamilton (Mercedes)
FAN VIEW: Verstappen dominates the F1 Play polling to be fastest over a single lap in Montreal. The Dutchman has around 75% of the early votes, with Perez now a very distant second. There is support too, though, for Hamilton and the resurgent Mercedes.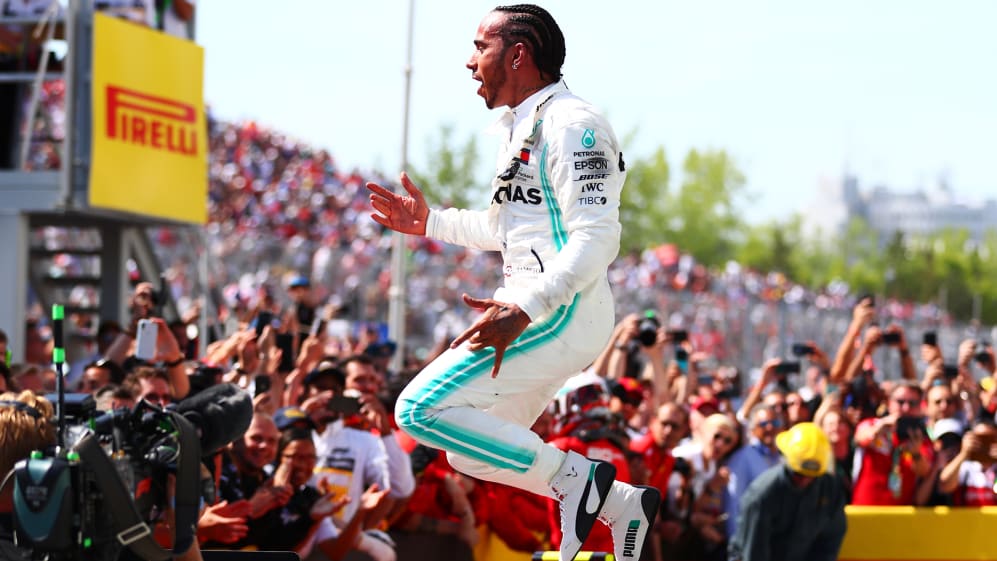 Strategy and set-up keys
Bernie Collins, former Aston Martin F1 strategist: Canada is an outlier in the 'European season' to allow the event to be held in more favourable weather conditions and involves teams reverting to flyaway set-ups after several events in their normal motorhomes.
That said, very variable weather has hit the Circuit Gilles Villeneuve in previous visits, and it's common to see cold and wet days followed by hot and sunny ones – meaning a wide range of operating conditions to get to grips with.
READ MORE: Inside the secret warehouse that's home to a treasure trove of historic McLaren F1 cars
The long straights combined with low-speed corners promote a low downforce set-up requiring high straight-line speed. With this in mind, many teams have taken a new power unit to this event in the past due to the benefits of running fresh components.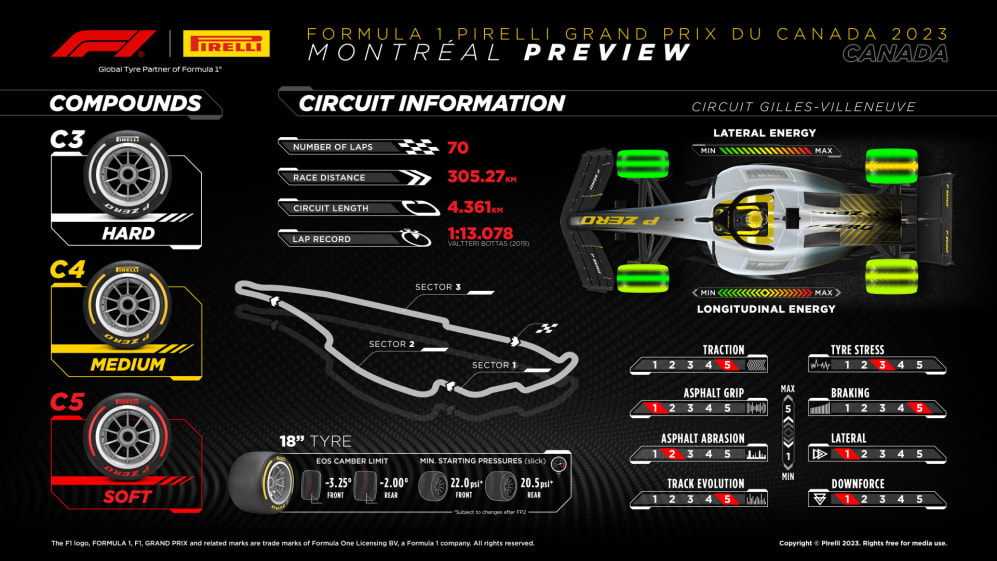 In 2022, one Safety Car and two Virtual Safety Cars led to many drivers pitting twice, but the race is typically a one-stopper using the hardest compounds. It is generally quite difficult to overtake here, with tyre degradation low, while a related key trait is that the track features the shortest pit lane loss of the season.
Another point for consideration is the high-speed approach to the pit entry, which sits alongside the final chicane, meaning drivers attempting an undercut while running close behind a rival car are likely to be forced to brake too early coming into the pit lane – a few tenths that could make all the difference as strategies play out.
CANADA 2011: Torrential rain, a Safety Car record and Button's charge – the longest F1 race remembered by those involved
FAN VIEW: The big thing to note here is that Hamilton has gone from being a podium outsider so far in 2023 to a virtual lock for Canada. He has more F1 Play votes than Fernando Alonso in the race to join the Red Bulls in the top three this weekend. Ferrari stars Charles Leclerc and Carlos Sainz are both seen as long shots.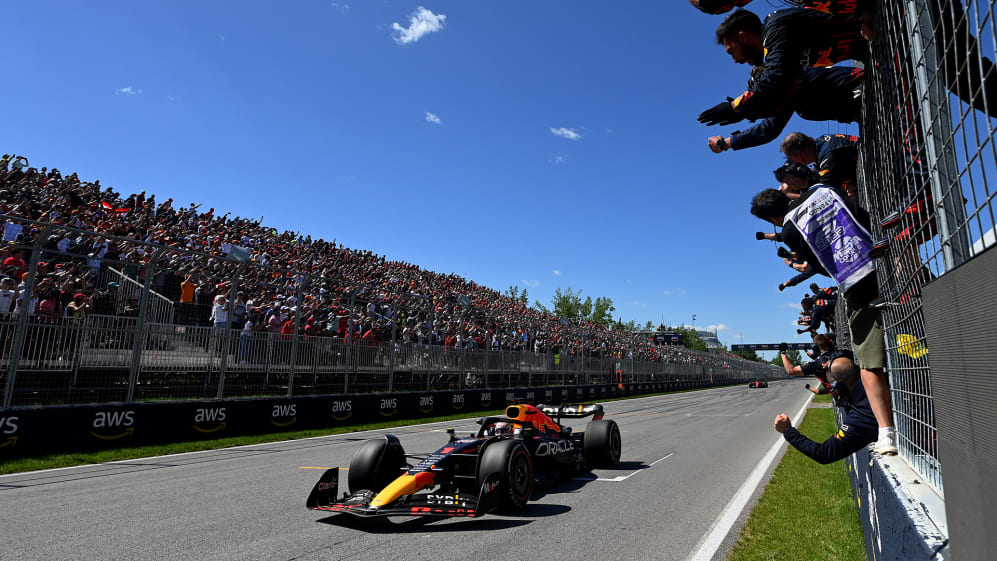 Current form
Red Bull maintained their 2023 unbeaten run as Verstappen cruised to victory in Spain – the team sitting 135 points clear of Mercedes in the constructors' standings and the Dutchman 53 points up on team mate Perez in the drivers' battle.
However, it was Mercedes' first double podium finish of the season last time out that elevated them to P2 as Red Bull's nearest rivals, with the upgraded W14s – no longer featuring the 'zero-sidepod' concept – showing plenty of early promise.
READ MORE: Hamilton points to 'something in the pipeline' for Mercedes as he eyes Red Bull fight by end of season
Aston Martin, though, will be looking to strike back with their own update package this weekend, with Ferrari also looking to get more out of their recent developments and Alpine pushing to keep their upward trajectory going.
But in what has been a tightly-packed field so far this season, McLaren, Haas, Alfa Romeo, AlphaTauri and Williams have also shown flashes of pace, highlighting the importance of hitting the ground running each weekend, settling on an effective set-up direction and not making any mistakes...
FAN VIEW: The Alpines of Esteban Ocon and Pierre Gasly, and the McLarens of Lando Norris and Oscar Piastri, are all fancied to go well again this weekend in Montreal via F1 Play. There is also good support for Alfa Romeo's Zhou Guanyu – he was in the points in Spain and produced an excellent P8 finish in Canada last year.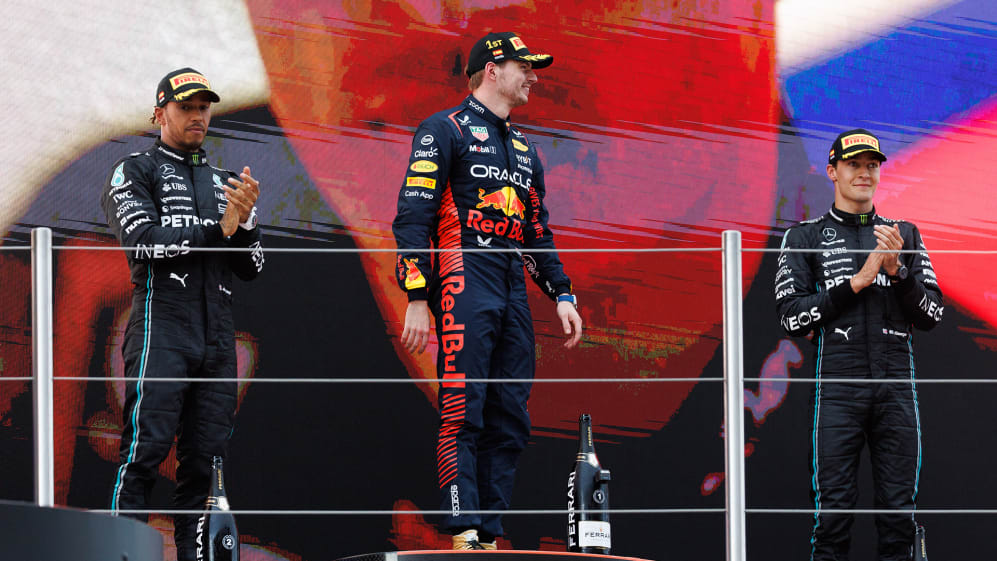 Iconic moment
Robert Kubica was involved in a terrifying crash at the 2007 Canadian Grand Prix, experiencing an impact so big that it forced him to miss the next round of the season in the United States, where future four-time world champion Sebastian Vettel made a point-scoring F1 debut.
But the Pole's next visit to Montreal was much more enjoyable as he grabbed a spot on the front row of the grid and took advantage of drama around him – including an unusual collision between Lewis Hamilton and Kimi Raikkonen in the pit lane – to emerge victorious.
DRIVING STYLE: Zhou Guanyu reveals his style icons, his golden fashion rules – and why he needs a bigger wardrobe
It would go down as Kubica's one and only Grand Prix win, with his and BMW Sauber's challenge for 2008 title glory fading as the year went on and rival teams out-developed them, but it remains a memorable moment for himself and his home country.
Watch how it all unfolded in the video player below...