Feature
NEED TO KNOW: The most important facts, stats and trivia ahead of the 2023 Japanese Grand Prix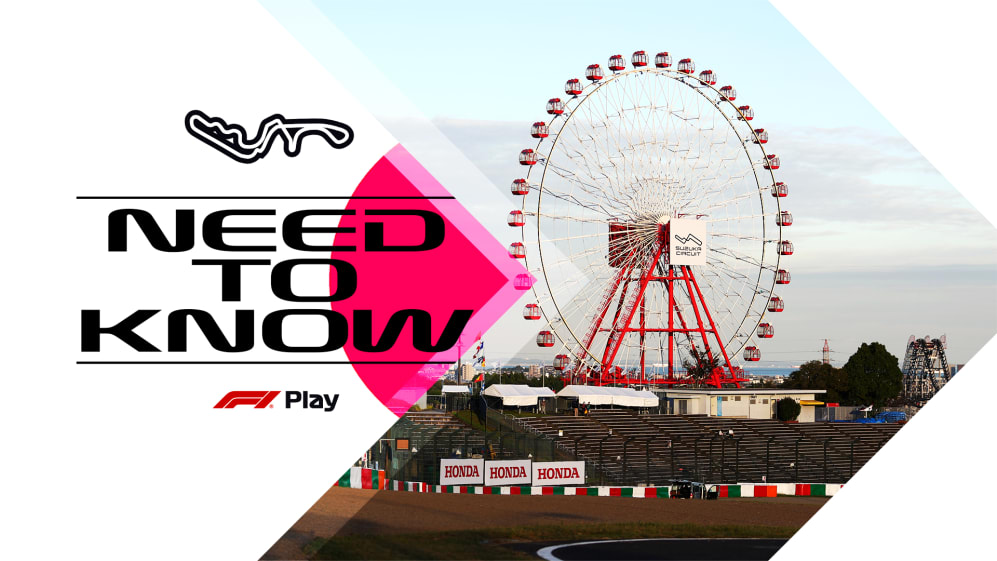 Formula 1 travels straight from Singapore to Suzuka for the Japanese Grand Prix this weekend. Ahead of the event, Need to Know is your all-in-one guide with stats, trivia, insight and much more. You can also see how fans have voted using our F1 Play predictor game.
The first two practice sessions at the historic circuit will take place on Friday, September 22, followed by final practice and qualifying on Saturday, September 23 and the Grand Prix itself on Sunday, September 24.
IT'S RACE WEEK: 5 storylines we're excited about ahead of the 2023 Japanese Grand Prix
Vital statistics
First Grand Prix – 1987
Track Length – 5.807km
Lap record – 1m 30.983s, Lewis Hamilton, Mercedes, 2019
Most pole positions – Michael Schumacher (8)
Most wins – Michael Schumacher (6)
Trivia – Suzuka is the only figure-of-eight track on the F1 calendar
Pole run to Turn 1 braking point – 277 metres
Overtakes completed in 2022 – 69
Safety Car probability – 50%*
Virtual Safety Car probability – 33%*
Pit stop time loss – 22.1 seconds
*From the last six races in Japan
FAN VIEW: Max Verstappen once again heads the F1 Play voting when it comes to victory chances this weekend, but it's significantly closer than recent races. No longer is the champion elect polling at more than 90% – instead it is down in the 60s. Ferrari star Carlos Sainz made a fairly big impression with that Singapore win, and he currently has around 25% of gamers on his side.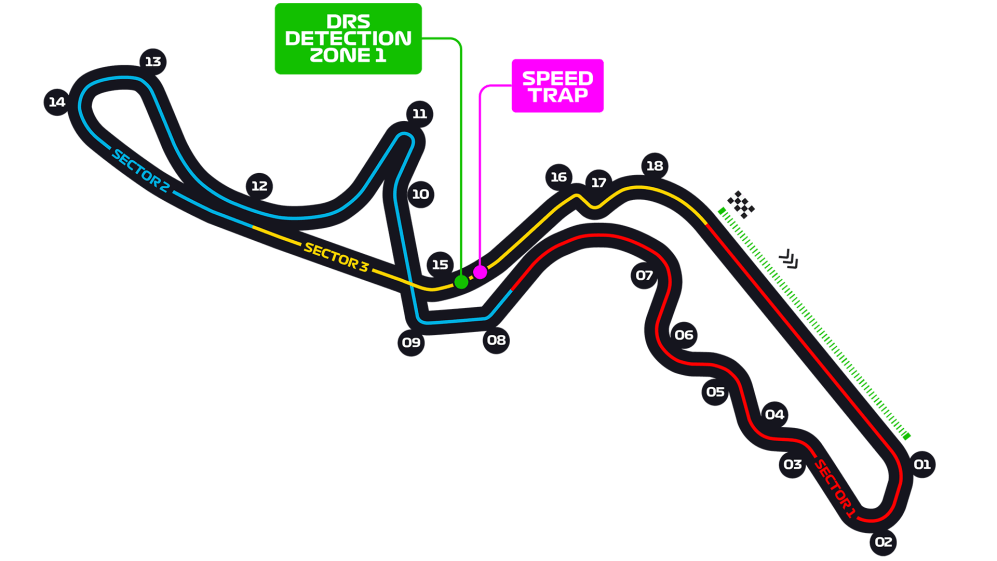 The driver's verdict
Jolyon Palmer, former Renault F1 driver: Suzuka is another drivers' favourite and another one that's a lot about flow. Across the first sector in particular there's no real reference points after you ping it into Turn 1.
It's all based on feel from Turns 2 to 7, just gauging the grip and balancing the car right on the edge through all the 'S' bends which culminate at Turn 7.
SAY WHAT?! Godzilla returns, Red Bull turn the airwaves blue and traffic chaos – the best team radio from Singapore
After that it's the Degners, which are mistake inducing. If you carry too much speed into Degner 1 you will struggle to stop for Degner 2. The hairpin that follows is not so bad; you're braking a bit for the right hander, so you've got to be careful on peak brake pressure.
The second part of Spoon I found tricky, as you're desperate to get on the throttle, and if you go too early it can draw you out onto the kerbing or beyond, and you have to back out and lose time.
130R is easy peasy, and then the chicane is a bit like Spa, maybe a little less dramatic, but you have to round out the lap with a tight sequence, lump a bit of kerb, and it's all about the braking.
Last five Japanese GP pole-sitters
2022 – Max Verstappen (Red Bull)
2019 – Sebastian Vettel (Ferrari)
2018 – Lewis Hamilton (Mercedes)
2017 – Lewis Hamilton (Mercedes)
2016 – Nico Rosberg (Mercedes)
READ MORE: F1's use of DHL biofuel-powered trucks reduces carbon emissions by an average of 83%
Last five Japanese GP winners
2022 – Max Verstappen (Red Bull)
2019 – Valtteri Bottas (Mercedes)
2018 – Lewis Hamilton (Mercedes)
2017 – Lewis Hamilton (Mercedes)
2016 – Nico Rosberg (Mercedes)
FAN VIEW: As touched on, Verstappen now goes into a race week looking to bounce back from a defeat, the most unusual of scenarios in a record-breaking 2023 for the Dutchman. He has more than 60% of F1 Play votes to be fastest over a single lap at Suzuka, but there is support for others – notably Lewis Hamilton and Sainz.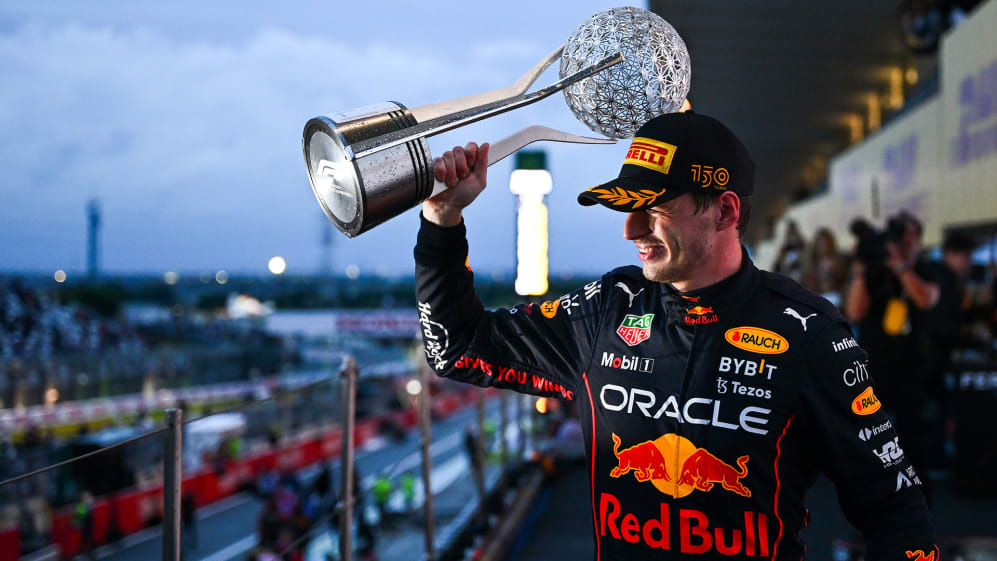 Strategy and set-up keys
Bernie Collins, former Aston Martin F1 strategist: Suzuka is an all-round test for F1 cars with a figure-of-eight track layout – the only one of its kind on the calendar – that offers up a mixture of high, medium and low-speed corners, and plenty of lengthy straights.
The particularly high-speed first sector is often difficult for drivers to get right, with changes in wind direction having a big impact on performance, especially through the technical, snaking 'S' Curves that push cars and drivers to the limit.
THE STRATEGIST: Did one split second decision cost Ferrari a 1-2 in Singapore?
In general, the frequency of high-speed corners leads to high-downforce set-ups being adopted by the teams, which in turn leads to high tyre demands and degradation – often pushing the race towards multiple pit stop strategies.
Rain can be a factor here, with typhoons hitting the track and disrupting the action in previous years, but abnormally warm temperatures are expected on Saturday and Sunday this time out, which could add to the tyre-related challenge.
Pirelli's C1, C2 and C3 compounds will be available across the weekend, and on Friday, all the teams will get the chance to test a new version of the C2 compound, with a view to homologating it for next season.
Finally, while the event is one of the toughest when it comes to jet lag, especially off the back of the 'European time' weekend in Singapore, the amazing support from the fans creates a buzz around the track – they even stay after the race to watch the teams pack up!
FAN VIEW: It's difficult to identify true podium 'outsiders', with four teams having legitimate chances of putting drivers on the rostrum in Japan. George Russell has significant support via F1 Play to atone for that late blemish in Singapore, while Ferrari's Charles Leclerc and the aforementioned Hamilton are also well fancied.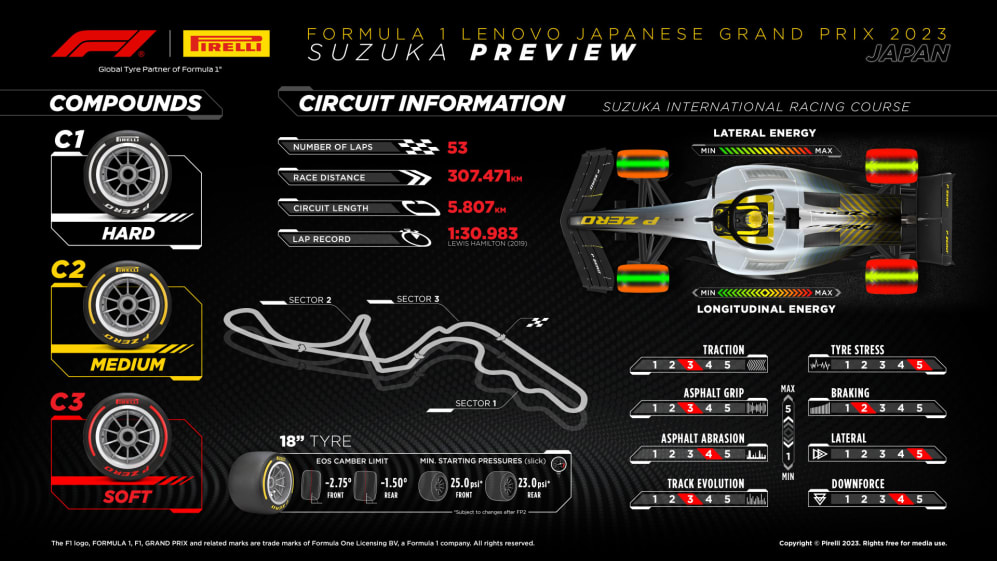 Current form
After 15 race victories in a row for Red Bull, and 10 on the bounce for Max Verstappen, the longest winning runs for driver and team in the history of F1 finally came to an end last time out in Singapore.
With the RB19 struggling to tame the Marina Bay streets, Ferrari, McLaren and Mercedes rose to the fore in Red Bull's absence and ultimately produced a thrilling, four-car scrap for victory that left fans on the edge of their seats.
POWER RANKINGS: One driver shines under the lights as the judges scores come in from Singapore
As we move swiftly on from Singapore to fast, flowing Suzuka circuit, many in the paddock are anticipating normal service to be resumed this weekend and that Red Bull – who are on the brink of securing the constructors' title – will return to their previous level of competitiveness.
But Ferrari in particular appear to have made significant progress with their car over recent events, after a set-up breakthrough at Zandvoort, notching up the last two pole positions at two very different tracks.
If there are any more slip-ups from Red Bull then the Scuderia, McLaren and Mercedes have all shown that they are ready to step in and pick up the pieces, while Aston Martin will also be fired up to recover from a below-par Singapore weekend and get back in the mix.
READ MORE: Yuki Tsunoda was a DNF in Singapore, but he's strongly fancied by F1 Play gamers to bounce back with a points-scoring finish in Japan this weekend. Those voters are probably buoyed by the P9 achieved by his AlphaTauri team mate Liam Lawson. Kevin Magnussen (Haas) is another strong fancy to score points.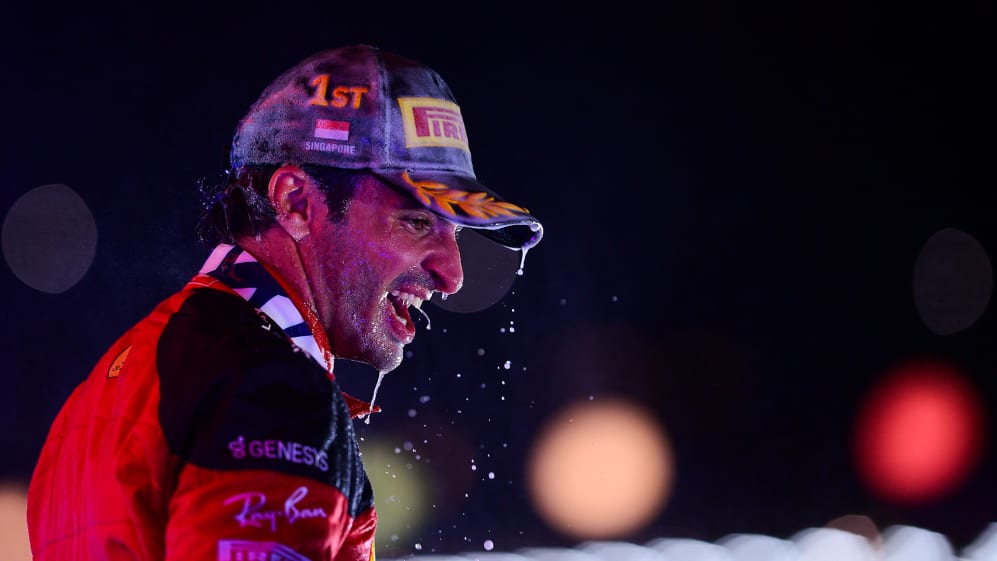 Iconic moment
F1's visit to Japan in 1989 yielded one of the most dramatic moments the sport has ever seen, with title rivals and McLaren team mates Alain Prost and Ayrton Senna banging wheels as they fought over the lead.
Reigning world champion Senna entered the weekend knowing he needed to win at Suzuka and the season finale at Adelaide to have any chance of retaining his world title, with Prost leading the way by 16 points.
DRIVER MARKET: Ricciardo, Tsunoda and Lawson – a three-way tussle for two AlphaTauri seats
Starting from pole position, Senna fell behind Prost as the lights went out and spent the early exchanges trailing by several seconds, but the balance of power shifted as the race developed and a tense battle brewed.
Senna eventually got close enough to attempt a move on Prost, hugging the sister McLaren through the high-speed 130R left-hander and lunging down the inside into the chicane, only for the two cars to make contact.
While Prost was out on the spot, Senna managed to continue, pit for a new front wing and regain the lead. However, after crossing the line to take victory, the stewards disqualified him for missing the chicane as he rejoined the track.
Relive the drama, and the fallout from the infamous incident, in the video player below...