Feature
NEED TO KNOW: The most important facts, stats and trivia ahead of the 2023 Las Vegas Grand Prix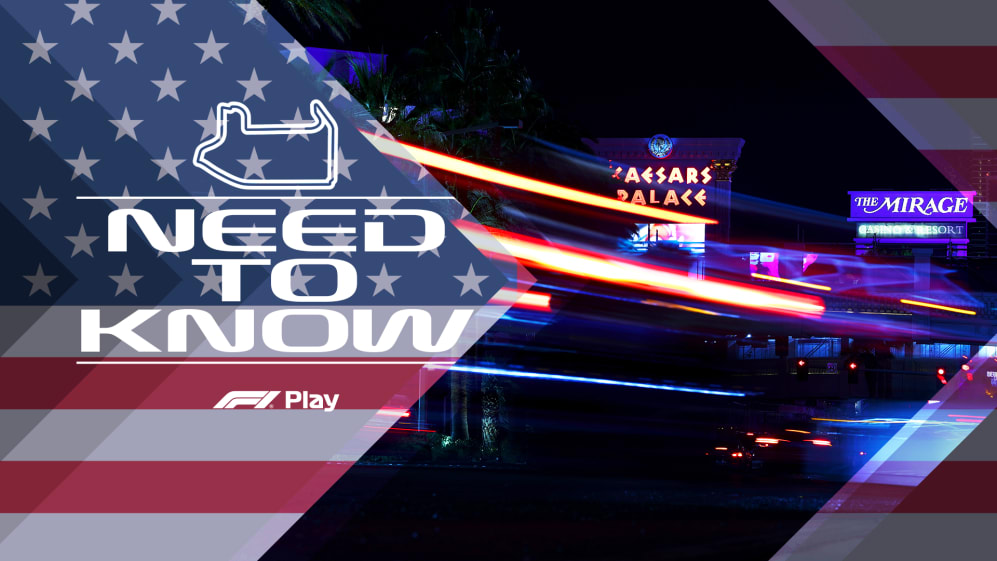 Formula 1 is set to deliver a spectacular show under the lights this weekend as the sport heads to Las Vegas for an all-new experience along the Strip. Ahead of the event, Need to Know is your one-stop guide with stats, trivia, insight and much more. You can also see how fans are predicting the weekend's action using our F1 Play predictor game.
Running to a night-time schedule, the inaugural practice session at the Las Vegas Strip Circuit will take place during the evening of Thursday, November 16, followed by second practice at midnight, with final practice and qualifying running to a similar schedule on Friday, November 17 to Saturday, November 18, and the Grand Prix itself starting at 2200 local time on Saturday night.
IT'S RACE WEEK: 5 storylines we're excited about ahead of the 2023 Las Vegas Grand Prix
Vital statistics
First Grand Prix – 2023
Track Length – 6.201km
Lap record – N/A
Most pole positions – N/A
Most wins – N/A
Trivia – F1 previously staged two races in Las Vegas in the early 1980s under the Caesars Palace Grand Prix moniker
Pole run to Turn 1 braking point – TBC
Safety Car probability – N/A
Virtual Safety Car probability – N/A
Pit stop time loss – TBC
FAN VIEW: Max Verstappen, already crowned world champion for a third consecutive year, is favoured again to be fastest over a single lap as F1 hits Las Vegas this weekend. He has around 70% of F1 Play votes so far, with only McLaren's Lando Norris (18%) polling double digits in opposition.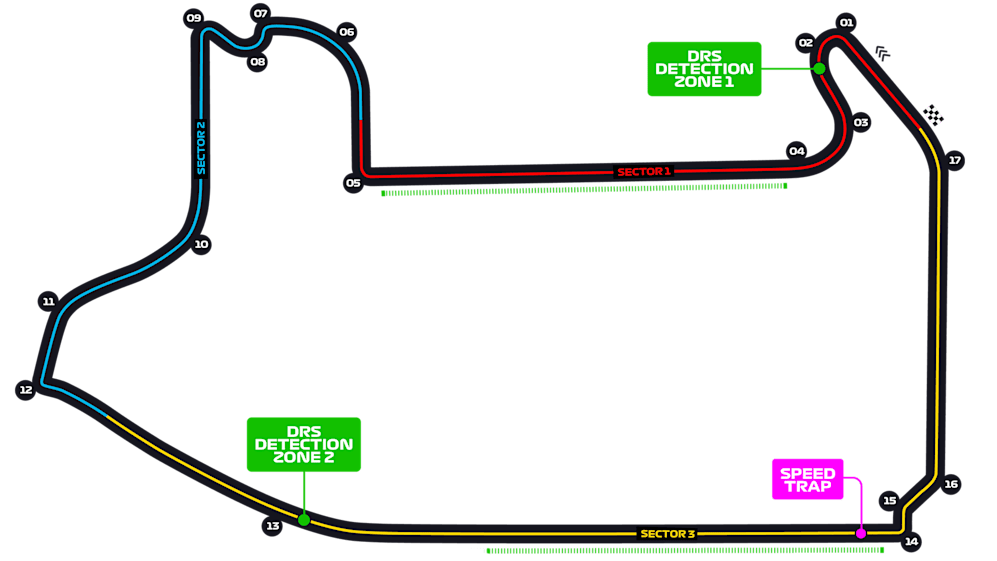 The driver's verdict
Jolyon Palmer, former Renault F1 driver: The track comprises long straights and slower corners. The long straights will necessitate slashing the downforce levels so the cars will feel inherently skittish before you even factor in the cool temperatures. Building and maintaining tyre temperatures will also be tricky.
Turn 6 into 7 looks to be the toughest braking zone, accelerating through a long left-hander before hitting the brakes for 7 – it'll be easy to lock the inside front here.
PALMER: How do F1 drivers prepare for an all-new race like Las Vegas?
Turn 12 will also be crucial as it punctuates two long straights. Finding the balance between braking well and preparing the exit will be tough, and mistakes here will be punishing.
Having good braking ability and traction will be the key and, in general, corner exits will be crucial onto the long straights.
FAN VIEW: As usual, the Verstappen dominance is even stronger when we look at race pace, thanks to that RB19 rocketship he gets to drive. The flying Dutchman is currently backed by around 90% of F1 Play gamers to top the podium on the Strip on Saturday, with Norris (5%) a very, very distant second place in the voting.
Strategy and set-up keys
Bernie Collins, former Aston Martin F1 strategist: With Las Vegas being an all-new venue, pre-event simulator work and the pre-weekend track walk will be even more important than usual, with plenty for the teams and drivers to learn about the layout and set-up demands.
A new track also often leads to issues on the first day of running, including slower car recovery and longer red flags, with a high risk of stoppages during the initial practice sessions and Safety Cars during the race.
THE STRATEGIST: How do the teams plan for a new race like Las Vegas with no historic data?
There should be a significant improvement in track conditions throughout practice, partly due to the circuit cleaning up and partly due to drivers learning, though there will be the added challenge of temperatures dropping as night sets in, and potential changes in light conditions.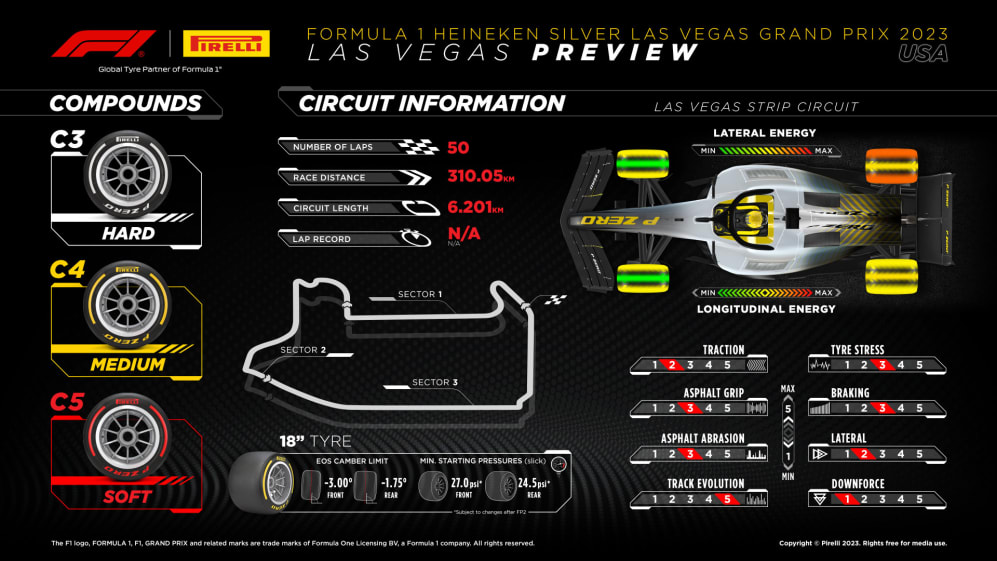 Pirelli are bringing the softest three compounds to Vegas, which should cope best with the cooler conditions. It will still be a challenge under any prolonged Safety Cars, while with no support series and the track opened to normal traffic outside of sessions, conditions may reset in terms of grip across each day.
Being a night race, teams will try to sleep during the day. As per Singapore, the goal will be to get to the hotel before sunrise; however, the sessions in Las Vegas are two hours later. Teams will also have to adapt to the offset schedule that sees the race start on Saturday night, rather than Sunday.
READ MORE: Steiner says Las Vegas will 'set the standard' for sport as he looks ahead to final Haas home race of 2023
Other factors for consideration are wind being funnelled between the various iconic buildings and the high-speed straights that could lead to a sizeable pit lane time loss, but the layout should also lend itself to overtaking potential.
FAN VIEW: With Verstappen and Norris strongly fancied for the top two spots on Saturday night, the battle for third is a competitive heat. Lewis Hamilton heads the F1 Play voting, followed by Verstappen's Red Bull team mate Sergio Perez. There is also good support for Ferrari's Charles Leclerc and Aston Martin's Fernando Alonso.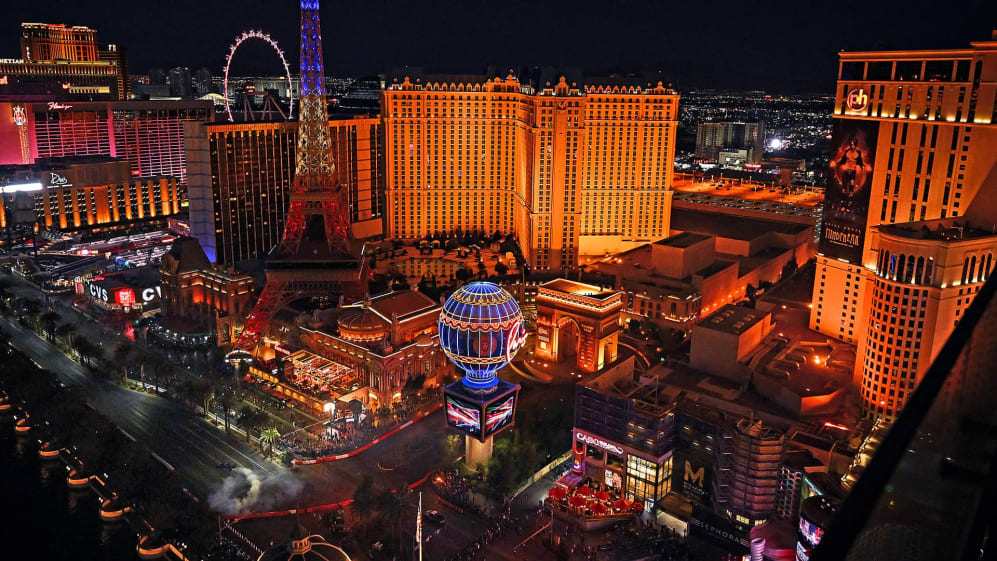 Current form
Max Verstappen notched up his 17th victory of the season, and fifth in a row, at the Sao Paulo Grand Prix last time out, with the 26-year-old showing no signs of slowing down after securing world title number three.
But could there be hope for his rivals at the new Las Vegas Strip Circuit? It appears so, if his post-race comments at Interlagos are anything to go by...
READ MORE: Lambiase reveals his 'biggest fear' about Verstappen relationship going forward
"I still need to go on the simulator," he began. "I still don't even know the track, to be honest. The last time I tried it on the F1 game, I think I hit more walls than I was going straight. So, let's hope that's not the case when I start driving there!"
On a more serious note, it would take a brave person to bet against the Verstappen and Red Bull combination coming out on top once more, with plenty of lengthy straights for the RB19 to stretch its legs and, amongst many other strengths, display its enviable straight-line advantage.
That said, the ever-improving McLaren have given Verstappen and Red Bull something to think about at recent events, with Lando Norris taking second place at four of the last six races, and finishing within 10 seconds of victory last time out.
Meanwhile, Aston Martin made a welcome return to the podium in Brazil via Fernando Alonso's epic scrap with Sergio Perez, taking advantage of trouble for Mercedes and Ferrari, who remain locked in a battle for second in the constructors' standings.
FAN VIEW: Leclerc's Ferrari team mate Carlos Sainz along with Oscar Piastri of McLaren are both strongly expected to be in the points, while there is good support for Aston Martin's Lance Stroll following his excellent fifth-place finish in Sao Paulo last time out. Daniel Ricciardo is also attracting plenty of F1 Play votes.