New kerb and tyre barrier added at Silverstone after late tyre drama and Kvyat crash in British GP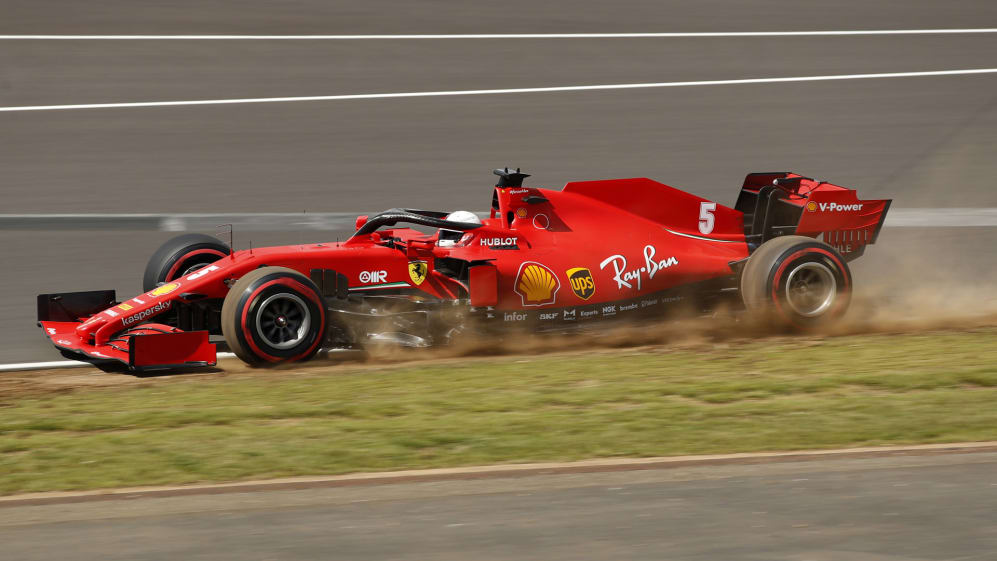 The drivers might be racing at Silverstone for the second week in a row this weekend – but there'll be some subtle alterations to the track in time for the 70th Anniversary Grand Prix, centred around Silverstone's iconic Maggotts-Becketts sequence.
Following on from Daniil Kvyat's big shunt on Lap 13 of the British Grand Prix, the organisers have extended the tyre barrier in the run-off area in Maggotts-Becketts – while similarly, on the exit of Becketts going into Chapel, an extra bit of kerbing has been added after concern was raised that debris might have been trapped in the kerb and contributed to the dramatic late tyre failures that affected race-winner Lewis Hamilton, as well as Valtteri Bottas and Carlos Sainz.
READ MORE: Long final stint and 'biggest forces ever seen on tyres' led to failures in British GP, say Pirelli
"We're in a unique situation here," said FIA Formula 1 Race Director Michael Masi ahead of the 70th Anniversary Grand Prix weekend, "obviously unlike normal where there's only one event at a venue, having two events consecutively where we can make changes between events, with the support of the Silverstone Circuit here and the management.
"First of those is the installation of the tyre barrier where Daniil Kvyat had his incident last weekend, and we've installed that there in Turn 10 through Turn 11 at the back of the run-off.
"And additionally, where the viewers would have seen a whole lot of rubble and dust being brought up at the exit of Turn 13 going into the apex of Turn 14, we've extended that kerb back approximately 30 metres in total to try and remove that issue, which was something that we discovered.
"There was some more bitumen there from last year that had been removed, and now we've installed a proper kerb in the same style. Speaking to a couple of the drivers, they think that will be a huge improvement for this weekend's event."
DATA ANALYSIS: How impressive was Hamilton's performance on three wheels?
Speaking about the addition of the kerbing, Mario Isola, Pirelli's Head of F1 and Car Racing, hailed the move as a "good action", after Hamilton, Bottas and Sainz all suffered tyre issues at the British Grand Prix – which Isola felt may have been exacerbated by running over the kerb.
"The fact about the kerb: probably some of the cuts [in the tyres] were caused by that, and by the fact that some debris was trapped in the kerb and causing obviously some cuts in the tyres," said Isola after the British Grand Prix.
"[The organisers] are working around that. It's a good action, a good idea to have this small modification that is helping the situation."