No sign we've closed gap to midfield says Russell, as he predicts 'yo-yo' 2021 for Williams
There were some encouraging signs for Williams over the three-days of 2021 pre-season testing in Bahrain, the team posting the sixth-most laps of any team, while George Russell finished the final day with the sixth fastest time overall. But despite that, Russell said there was no concrete evidence that Williams had yet closed the gap to the midfield teams.
Russell spent just one day in Williams' new FW43B, running the whole of Sunday after first test driver Roy Nissany, and then Russell's team mate Nicholas Latifi, had clocked up 215 laps between them on Friday and Saturday. And with Russell taking over for the final day, the Briton put in a mammoth stint of 158 laps as he looked to get up to speed with his new challenger.
SEASON PREVIEW: The hopes and fears for every Williams fan in 2021
"I think it was the longest day I've ever spent in an F1 car!" said Russell on Sunday evening. "Eight hundred and fifty kilometres would get you quite a long way around Europe probably, so I'm feeling pretty knackered now to be honest. But I think the team did a really good job these last few days. The car's reliable, we got through the test programme, and lots to analyse."
Russell's best time on Sunday was a 1m 30.117s, just 0.092s shy of the fastest lap in testing managed by Lewis Hamilton in the new Mercedes W12 – albeit that the Silver Arrows appeared unhappy with their car's performance throughout testing.
But despite Russell's impressive lap, and some other "good signs" as he put it, Russell said that the Bahrain test had exposed the weaknesses of the Williams FW43B – and added that he didn't expect Williams to be fighting it out in the midfield battle just yet.
READ MORE: 'We're just not quick enough' – Hamilton admits Mercedes have 'lots of work to do' before first race
"I think we knew coming into this season, and it was sort of confirmed today, that we believe our car is very sensitive to the wind, as most teams' are," said Russell, "but [testing] sort of highlighted our issues, which has been positive in a way, to give us a chance to dig into the data. That was interesting and made it difficult, but nevertheless there are some good signs.
"But equally it's still early days. Kimi [Raikkonen in the Alfa Romeo] is looking very, very fast, no doubt, and the midfield guys are looking fast, so we'll have to wait and see… There's no signs as yet that we've closed the gap.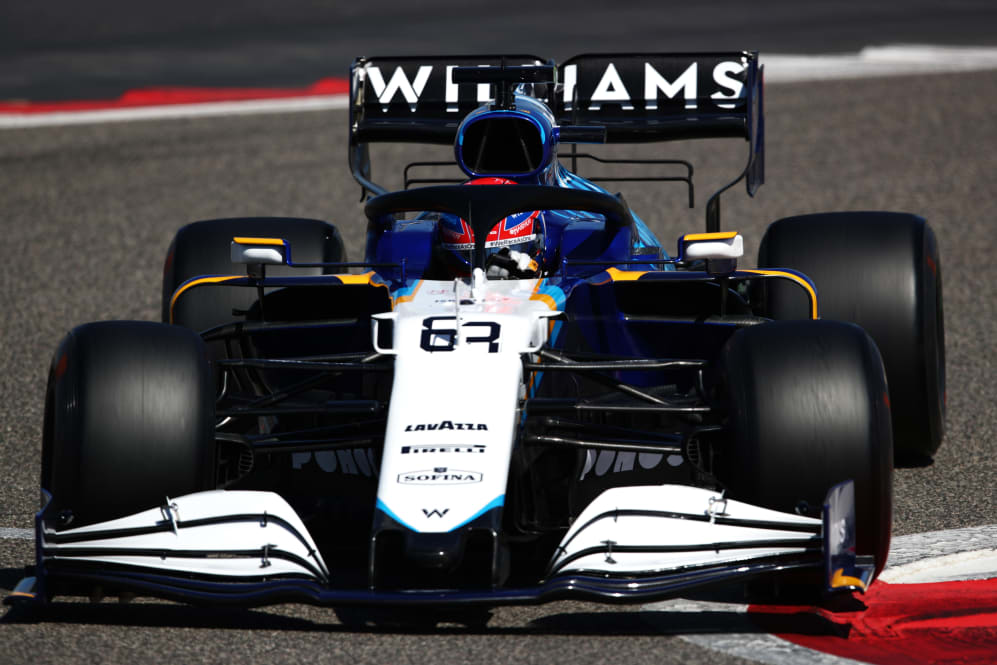 "I think there will be a big swing for us," he added. "I think you'll see quite a yo-yo effect for us this season; I think we'll be fast at some events and slow at others, and… these conditions these past few days are sort of the worst conditions we would like to see for our race car."
READ MORE: 6 Winners and 6 Losers from 2021 F1 pre-season testing
Russell and Williams will be back on track on March 26, as preparations begin for the opening race of the season, the Bahrain Grand Prix, on March 28.