Norris says Hungary DNF blotted 'almost perfect' first half of season as he prays for rain in Spa
Lando Norris's Hungarian Grand Prix was over almost as soon as it began, after he was taken out by Mercedes' Valtteri Bottas. But the young British driver has vowed to bounce back from the incident as soon as possible and try to get his "almost perfect" season back on track, starting this weekend at the Belgian Grand Prix.
Norris went to the Hungaroring on a field-leading 15-race streak of points. But the McLaren driver – who's podiumed three times already this year – was unlucky to get hit by Bottas after passing the Finn at the race start, a collision that was made all the more frustrating on a day when the likes of Alpine's Esteban Ocon was able to claim a maiden win, and Aston Martin's Sebastian Vettel finished second on the road.
READ MORE: 'No news to share yet' – Russell and Bottas tight-lipped over 2022 plans as they vie for Mercedes seat
"After almost a perfect first half to the season, it ended the way it did, but I moved on," said Norris, speaking at Spa-Francorchamps. "It wasn't anything I could have done, anything I could have changed. I did my job well, good qualifying, good start to the race, it just didn't end the way we wanted it to. We'll try again this weekend."
Despite the hiccup, Norris still sits third in the drivers' standings ahead of the Belgian Grand Prix – with the Briton looking to get back in the "rhythm of scoring good points" this weekend, as he prayed for rain at the Ardennes track to provide him with an opportunity of consolidating his P3 in the standings.
"We had a very good first half to the season – we're very capable of scoring good points every now and again, capitalising on mistakes from the Red Bull and Mercedes cars ahead of us," said Norris, whose McLaren team are tied on points with Ferrari in the constructors' standings. "But there are a lot of very quick cars behind, the Ferrari being one of them, and AlphaTauri, Alpine were fast here last season.
READ MORE: Vettel calls Hungary disqualification 'bitter' but vows Aston Martin will have more big chances in 2021
"We'll wait and see [this weekend]," he added. "The weather could play a big part. I'm hoping for a bit of rain, it makes it exciting. Just trying to get back into the rhythm of scoring good points will be key."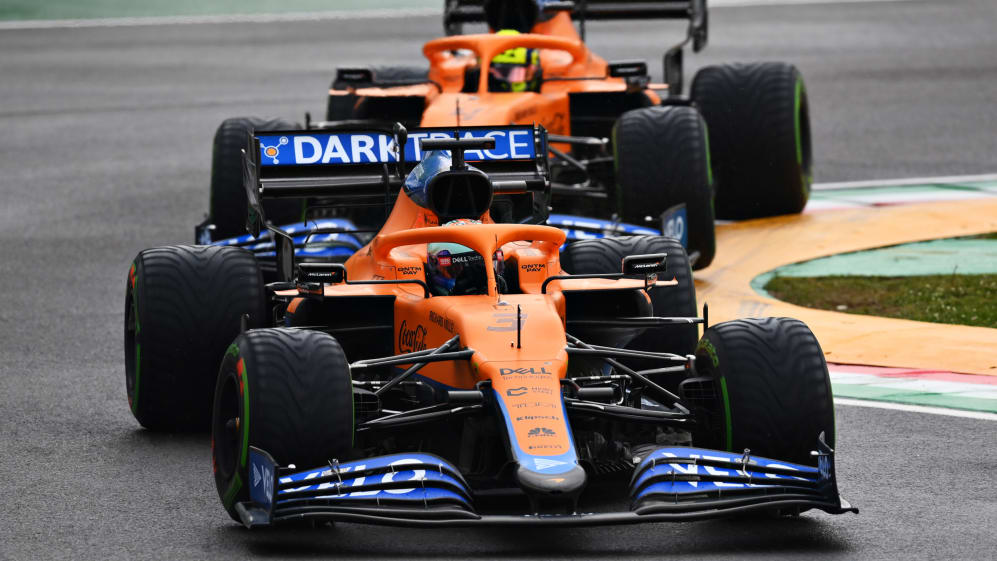 While Norris has flourished in 2021, the going's been harder for team mate Daniel Ricciardo. But the 2014 Belgian Grand Prix winner said he was going into his 200th F1 start this weekend with an open mind – as Norris prepares to make his own 50th start.
"It hasn't been all roses," admitted Ricciardo of his 2021 so far. "The results haven't been what I would like.
FORM GUIDE: Who's set to come out on top as battle resumes in Belgium?
"[This weekend] I'm kind of not really looking ahead as far as, what result are we going to get, are we going to get a podium, this or that. I think I'll arrive at each race just excited. Spa's an awesome track – it's one of the few tracks which is awesome on a Saturday and a Sunday. It's a real racers' track, you can overtake; if you've got a good car, you can really make a race of it.
"So I'm just kind of excited and hopefully the end result is a good one, but I'll just kind of take each day as it comes and enjoy being at one of the cool circuits."