Feature
FORM GUIDE: Who's set to come out on top as battle resumes in Belgium?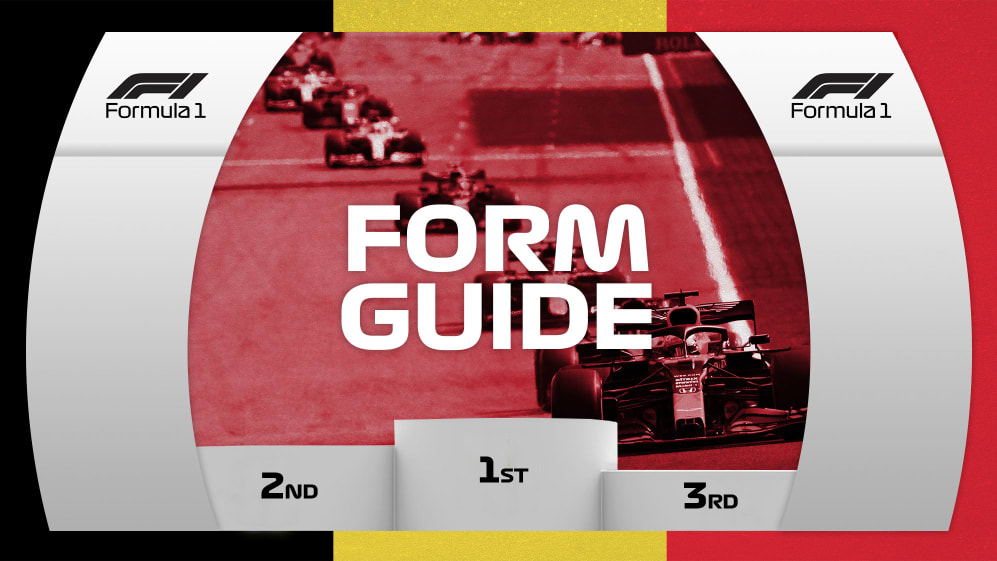 Break time's over, and it's time to go racing again – and what a track to go racing at! Let's look at the form ahead of the 2021 Belgian Grand Prix at Spa-Francorchamps, as we evaluate the favourites for points, pole, podiums and victory – and see how you're voting on F1 Play.
Vying for pole
Barring Charles Leclerc's 2019 pole position for Ferrari, pole at Spa has been an exclusively Mercedes-dominated affair since 2013 – Lewis Hamilton with five in that time (and six in total), while Nico Rosberg grabbed two in 2014 and 2016.
Hamilton was also fastest in 'qualifying' at the previous two Grands Prix heading into the summer break – although he didn't earn pole at Silverstone, owing to the introduction of F1 Sprint – with the Mercedes seemingly responding well to the upgrades put on the car for the British Grand Prix.
READ MORE: The resumption of the title fight and a possible decision on Mercedes' line-up – 5 fascinating storylines ahead of the Belgian GP
Still, 2021 has opened up a brave new world of Red Bull competitiveness, with Max Verstappen having technically taken pole at four of the last five Grands Prix. And given that Spa – along with the following race at Zandvoort – is a home Grand Prix for Verstappen, he'll be keen to assert himself as part two of his title battle with Lewis Hamilton commences, especially given that Verstappen has scored just five points from the last two race weekends.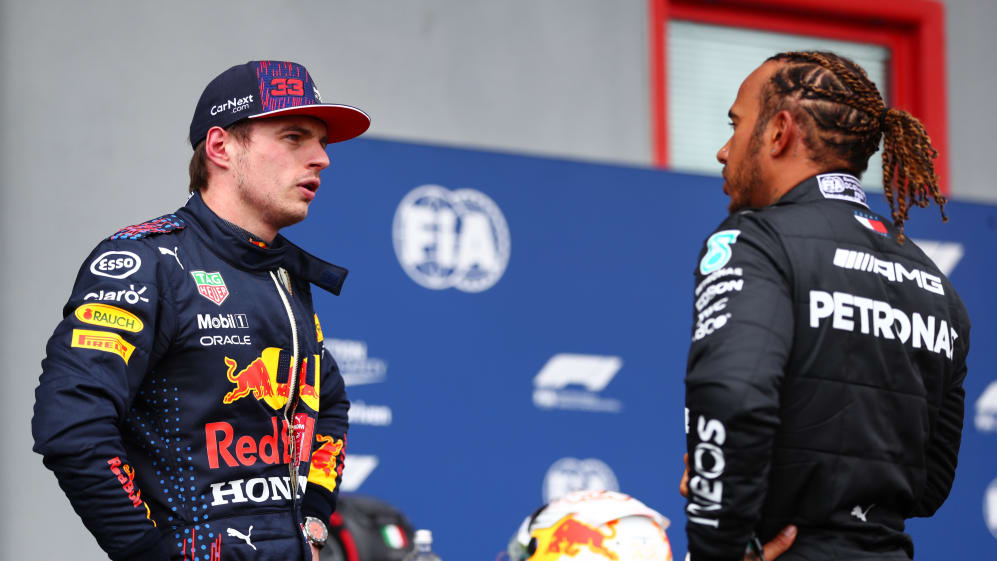 Outside of Hamilton and Verstappen, Valtteri Bottas most certainly won't be on pole, given that he's got a five-place grid penalty carried over from Hungary, while Verstappen's Red Bull team mate Sergio Perez has produced some impressive qualifying performances here over the years, three times taking P4 on the grid, most recently in 2018.
HEAD TO HEAD: How do 2021's F1 team mate pairings compare at the half-way point of the season?
Nota bene, though, that the pole-sitter has won five of the last six Belgian Grands Prix – with the exception being Sebastian Vettel's win from P2 in 2018.
Pole positions in the last five years:
2020 – Lewis Hamilton (Mercedes)
2019 – Charles Leclerc (Ferrari)
2018 – Lewis Hamilton (Mercedes)
2017 – Lewis Hamilton (Mercedes)
2016 – Nico Rosberg (Mercedes)
FAN VIEW: Max Verstappen is the favourite on F1 Play to take pole at Spa. The Dutchman leads the voting with 43% of the vote over Mercedes' Lewis Hamilton (31%), with the two title rivals ready to square off for the first time since the mid-season break.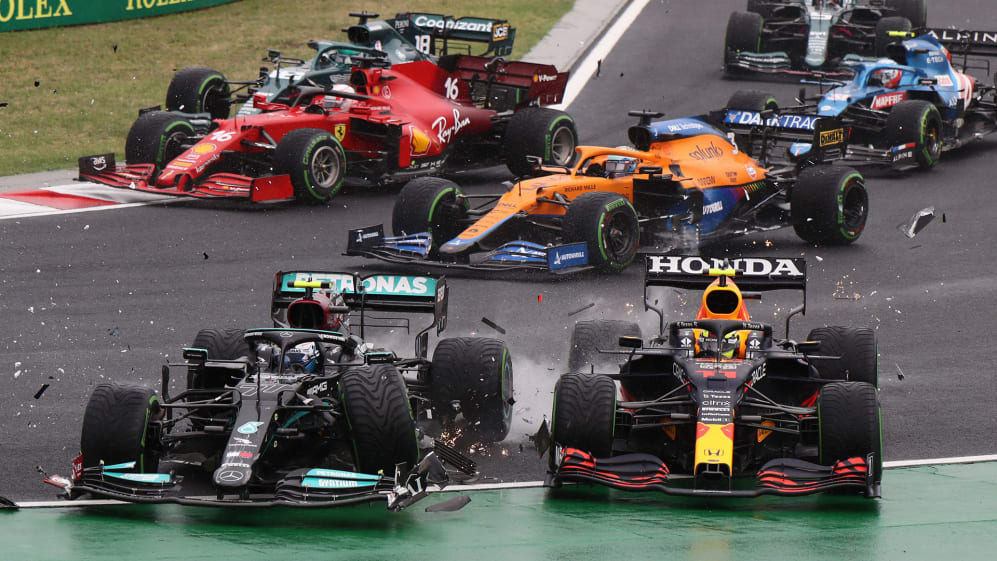 In the mix for victory
Nine of the 11 wins so far this season have been taken by Verstappen or Hamilton – Verstappen 5-4 up on his Mercedes rival, although the Dutch driver now hasn't won a race since the Austrian Grand Prix on July 4.
While Daniel Ricciardo may have taken victory for Red Bull at Spa in 2014, the Belgian circuit has traditionally not played to the team's strengths thus far in the hybrid era, with Verstappen having never finished higher than third here.
However, given Red Bull and Mercedes' nip-and-truck performances so far in 2021, victory this weekend looks to be within reach for Verstappen, and could come down to factors ranging from set-up optimisation – always a compromise around Spa, with low downforce ideal for Sectors 1 and 3, while high downforce is best for Sector 2 – to the weather, with rain currently forecast for all three days in Belgium.
TECH TUESDAY: How wing levels could decide the 2021 title fight between Red Bull and Mercedes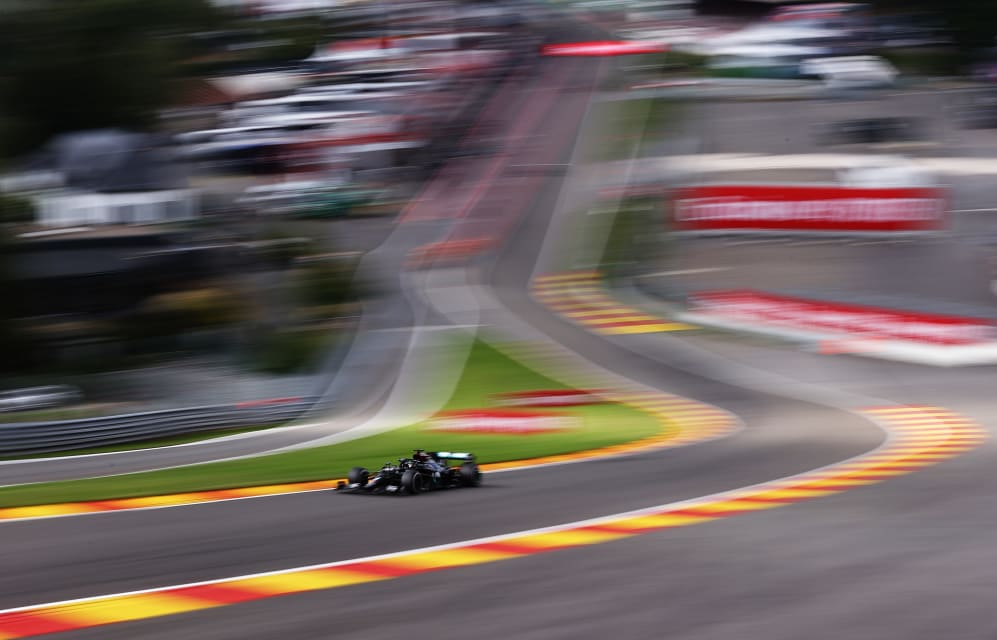 Championship leader (by eight points), Hamilton has a strong record in Belgium, meanwhile, with four victories here (although he has as many DNFs). Elsewhere, Bottas might find the going hard starting from P6 at best while Perez will be bursting for a strong result, having not now graced the podium since Paul Ricard.
READ MORE: Perez eyeing new Red Bull contract as Verstappen hails his 'great team mate'
Wins in the last five years:
2020 – Lewis Hamilton (Mercedes)
2019 – Charles Leclerc (Ferrari)
2018 – Sebastian Vettel (Ferrari)
2017 – Lewis Hamilton (Mercedes)
2016 – Nico Rosberg (Mercedes)
FAN VIEW: F1 Play gamers see the Belgian Grand Prix as a two-horse race between Red Bull's Max Verstappen and Mercedes' Lewis Hamilton. 54% of voters have the Dutchman standing on the top step of the podium come Sunday afternoon with Hamilton tallying at 40%.
Podium outsiders
The last five years have seen only Red Bull, Mercedes and Ferrari drivers occupy the podium at Spa – but Valtteri Bottas for Williams in 2014 and Romain Grosjean for Lotus in 2015 have proved that 'midfield' podiums are possible in the turbo-hybrid era. And with seven out of 10 teams on the grid having rostrumed so far in 2021, perhaps another midfield podium this weekend is not beyond the realms…
Let's start with a special mention for Ricciardo, who as mentioned won here for Red Bull in 2014, podiumed here in 2016 and 2017 and drove to an excellent fourth last year for Renault, a result which set off a sterling run of form. True, this season has not gone to plan for the new McLaren recruit, but Ricciardo's been in the sim ahead of the weekend, and will be looking to flex his muscles in Spa and show he's made progress in the MCL35M.
LISTEN: 'Max will be looking at this weekend thinking I need to win again' – The F1 Nation crew preview the Belgian GP
There've been no such issues on the other side of the garage for Lando Norris, with the Briton having taken three podiums this year – while fans will remember how close he came to an excellent P5 in 2019 before a last-lap failure. Norris, like Verstappen and Lance Stroll, can also boast home support via his Belgian mother, which might help in his bid for a fourth podium finish in 2021.
Ferrari, meanwhile, are confident about the work they've done on their SF21 since their humbling French Grand Prix performance back in June.
READ MORE: Ferrari explain how they were able to cure tyre troubles – and what the compromise was
And with Charles Leclerc having come within a whisker of winning Silverstone, the 2019 Spa victor would love to get back on the Belgian podium this weekend – while team mate Carlos Sainz will look to overcome his Spa curse, that's seen him take a best finish here of just 10th, while Sainz hasn't completed a lap of the track since 2018, after a first lap DNF in 2019 followed by a galling DNS last year.
Podiums in the last five years:
Mercedes – 8
Red Bull – 4
Ferrari – 3
FAN VIEW: Behind the top two on the grid, voters have once again gone with Hamilton's team mate Valtteri Bottas to make it onto the podium, closely followed by the McLaren of Lando Norris. Red Bull's Sergio Perez is next, with Ferrari's Charles Leclerc also expected to challenge in the eyes of the F1 Play gamers.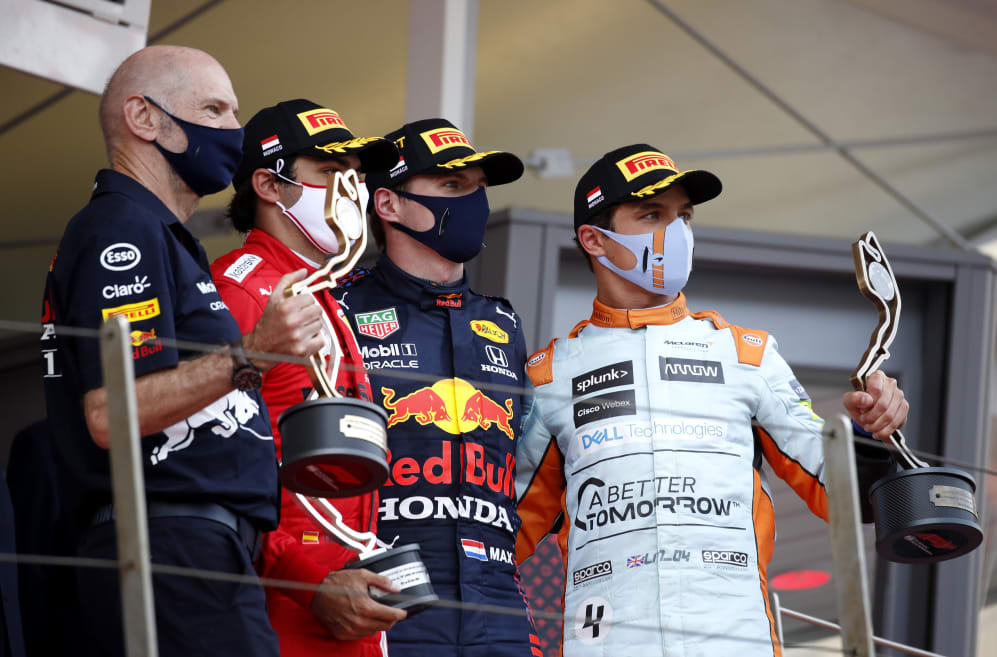 Points potential
We've yet to mention Formula 1's newest winner, with Esteban Ocon having earned himself a satisfying summer break after his victory in Hungary. The Alpine driver will be looking forward to Spa, too, given he qualified a sensational third in 2018, while he's finished in the points here every year since 2017 – with Ocon well-placed for that run to continue.
Sebastian Vettel was ultimately stripped of his own second place (behind Ocon) in Hungary, and will be eager to fight back at a circuit where he's won three times, and where his Aston Martin squad, in their various guises, have always gone well traditionally.
Look out for the AlphaTauris this weekend too. The team are the only one to have scored in every race so far this year, Pierre Gasly has never failed to score at Spa, while Yuki Tsunoda won the F2 Feature Race from pole last year (following a penalty for rival Nikita Mazepin) and is feeling keen to steady the ship after a "very inconsistent" start to life in F1.
READ MORE: Tsunoda looking to build momentum in second half of 2021 after 'very inconsistent' season start
Williams finally broke their points duck at Hungary after more than two years of trying. Mercedes power units helped the team to the podium in Spa with Bottas in 2014, while they took points in 2015, 2016 and 2017 too. The going's been fruitless since, but taking their first consecutive points finishes since the end of 2017 would be a welcome break for the team.
And finally, how nice would it be for Mick Schumacher to break his own duck, 30 years on from his father Michael's F1 debut with Jordan in 1991 at the same track, and on the back of Schumacher's commendable drive at the Hungarian Grand Prix? Haas would certainly welcome the points, with the team currently facing the prospect of finishing 2021 as the only point-less squad in the field.
READ MORE: Schumacher looking to 'put my mark' on Spa track where father debuted 30 years ago
Points in the last five years:
Mercedes – 181
Ferrari – 103
Red Bull – 81
Racing Point/Force India – 54
Renault – 35
Haas – 16
AlphaTauri/Toro Rosso – 15
McLaren – 12
Williams – 9
Alfa Romeo/Sauber – 1
FAN VIEW: Ferrari's Carlos Sainz, McLaren's Daniel Ricciardo and AlphaTauri's Pierre Gasly are expected to be challenging for points according to the F1 Play voting. Add to that list the Alpine duo of Esteban Ocon and Fernando Alonso, the Aston Martin duo of Sebastian Vettel and Lance Stroll as well as Williams' George Russell.