Norris says 'many good surprises' in strong Sprint pace as he looks to make gains in Sao Paulo Grand Prix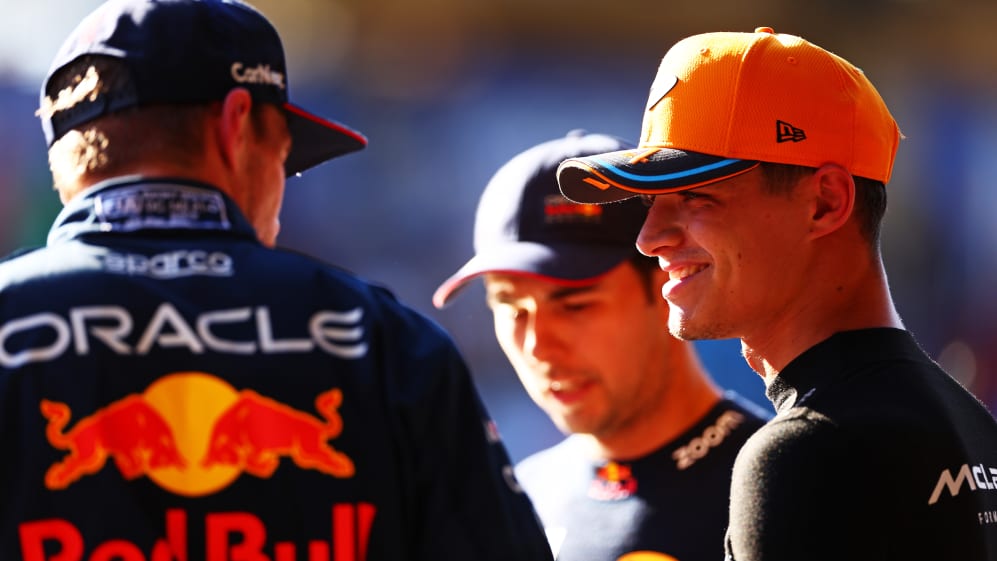 Lando Norris may not have converted P1 on the grid for the Sao Paulo Sprint into a first F1 victory in any format on Saturday. But by running Max Verstappen close throughout the 24-lap encounter, the Briton said he'd amped up his confidence ahead of Sunday's Sao Paulo Grand Prix.
Norris lost out off the line to Verstappen when the Sprint got under way, with his friend and rival George Russell rubbing salt into the wounds by claiming P2 off him later in the lap.
READ MORE: Verstappen clinches victory from Norris and Perez in thrilling Sao Paulo Sprint
Looking back on his start, Norris – who was annoyed at missing out on the Grand Prix pole on Friday, only to take P1 in the Sprint Shootout on Saturday morning – reflected: "I have to review it, it's something to look back into.
"My initial start was good, but the second phase of the launch, maybe I was just a bit conservative – I don't think I had any wheelspin, I was just a little bit on the safe side. So things to improve for tomorrow, but nevertheless, I got caught sleeping a little bit with George on Lap 1, but the pace was strong after and I tried to go after Max, but just didn't have enough. But it was good fun."
Asked if he'd been concerned by the fact that Verstappen seemed to have been managing his pace, Norris – who is set to start P6 in the Sao Paulo Grand Prix after Russell was handed a two-place grid drop for impeding – countered: "I'm not concerned. If anything encouraged a lot with how good our pace was today.
FACTS AND STATS: AlphaTauri grab their first ever Sprint points as Tsunoda bags brilliant sixth
"We're not fighting necessarily Max; I think we're talking about competing against one of the best drivers in one of the best cars that's ever been in Formula 1. We're not going to be suddenly fighting a Red Bull on a track where we almost didn't expect it to be as good it has been.
"So many good surprises and a lot of positives for us. Tomorrow I'll try again and perhaps a little bit more overtaking."
Oscar Piastri is competing for the first time at Interlagos. And despite being in the thick of the action in Saturday afternoon's 100km dash, the Qatar Sprint-winner ultimately came home point-less, having passed compatriot Daniel Ricciardo for P9 on Lap 14 of 24 only to lose the place back to the AlphaTauri driver on Lap 22, eventually coming home P10.
"It was very eventful of course," said Piastri. "I had a good start, then tried to make it even better at Turn 4, then outdid myself a bit, lost a bit of the progress I gained! But definitely eventful, and a lot of things learnt for tomorrow from a racing point of view, from a tyres point of view. So definitely a lot to look over tonight and we'll see what we can do tomorrow.
"I'm starting in the same position [as I finished the Sprint]," he added, "but the cars around me are quite different tomorrow. We'll see what we can learn tonight and hopefully make tomorrow a bit more successful."
Meanwhile, Norris's seven points in the Sprint moved him to within seven points of Fernando Alonso in the battle for P5 in the drivers' standings.