Feature
On the frontline: How Pirelli F1 tyre chief Mario Isola is helping fight coronavirus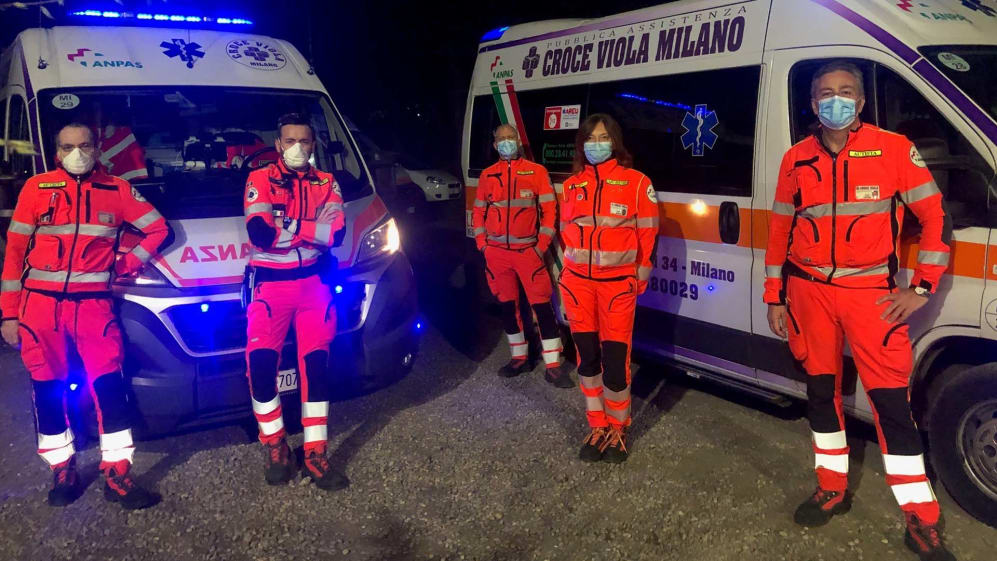 Two weeks after returning from the Australian Grand Prix that never was, Pirelli tyre chief Mario Isola was back on the frontline – as he has been for 30 years – in his role a volunteer ambulance driver and paramedic. Only now, the stakes were higher.
The coronavirus pandemic has taken a vice-like grip on the world, with Isola's native Italy one of the worst affected areas. With Milan's health authority under significant pressure, the volunteer medical service Croce Viola Milano, which Isola is part of, is crucial.
READ MORE: The amazing secret life of Pirelli's F1 tyre chief
There are around 150 volunteers signed up to help, each taking a shift at least once a week to ensure the service of ferrying patients from their homes to hospital can operate 24 hours a day.
As Isola explained when we first spoke about his amazing night missions last January, he can't fulfil that quota because he travels the world covering Formula 1, so makes up for it as best he can when he's back in the country, clocking up a series of shifts in quick succession.
There was no question in his mind that he would not be back on the front line once he had cleared two weeks of isolation on returning from Melbourne, despite the risks involved of contracting the virus. He completed his first shift on April 5 and since then he's done four more, each around 10-12 hours that run overnight between his day job, meaning he makes do with just an hour or two of sleep in that period.
READ MORE: F1 CEO Chase Carey - Target is to begin season in Austria on July 5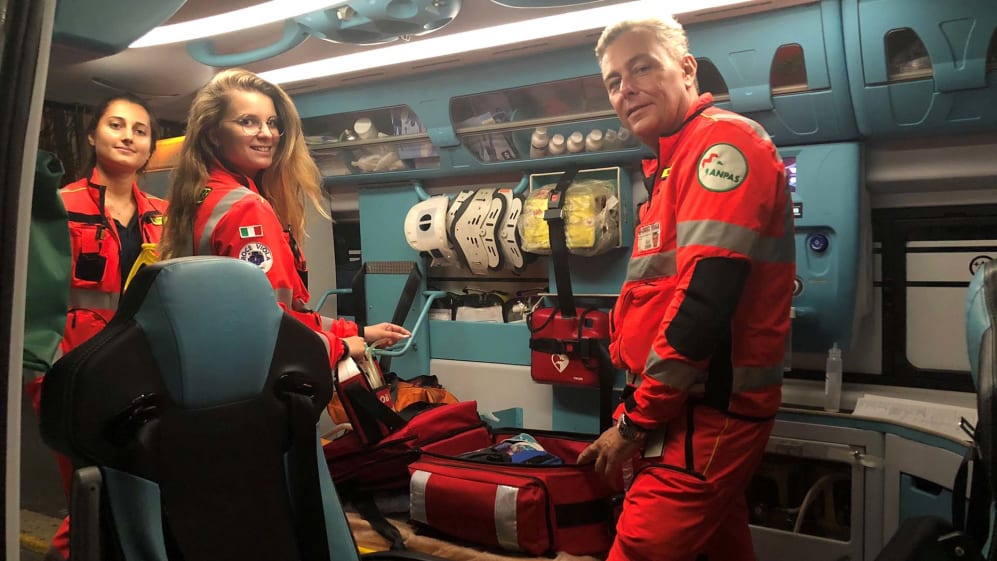 "It's tough," says Isola when we speak via video call from his home in Milan. "This virus is more critical because there is an invisible enemy. We follow additional procedures to prepare us to do our jobs, including wearing suits, gloves, glasses and masks for every mission.
"Sometimes, we know we are visiting a COVID-19 patient, other times we don't know. We also don't know if others in the house have contracted the virus, so as a precaution we wear all the protective gear for every mission.
"We also spend at least 30 minutes between every mission cleaning the ambulance to sanitise it so we don't risk other patients contracting the virus. Shifts in the last couple of weeks have been tough because of the hot weather.
"It can be difficult to breathe with the mask and physically challenging when you have to carry patients down several flights of stairs because they cannot walk themselves."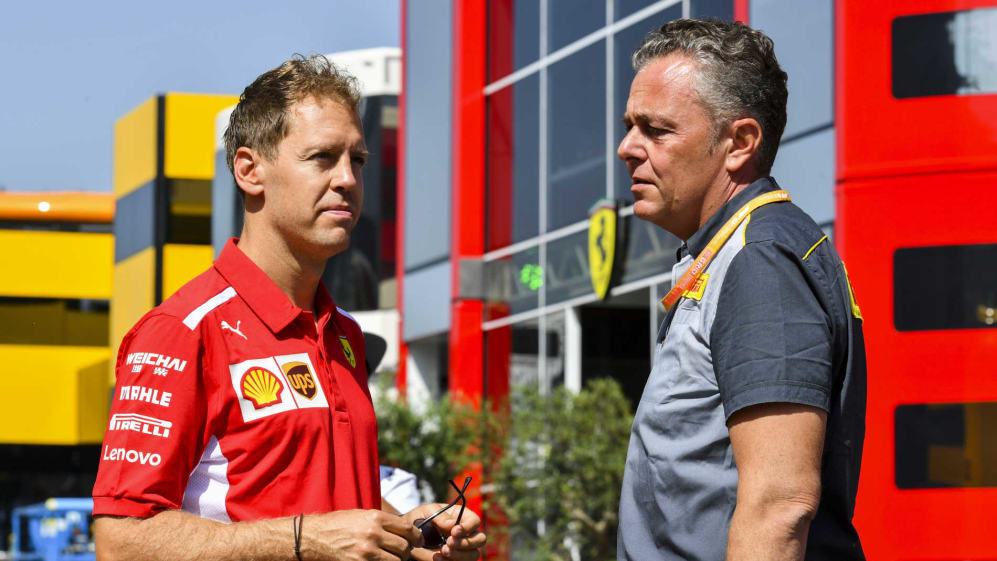 Typically, Isola completes nine missions across a shift. He mostly fulfils the role of ambulance driver, as they have a shortage of drivers in the programme, but is qualified to do all the roles including team leader.
It's a demanding job, both physically and mentally, the latter especially in the current crisis as some patients are gravely ill and relatives are unable to travel with their loved ones as per rules trying to stop the spread of the virus.
"There is a psychological impact," he says. "You have to try not to be involved too much, even if it is difficult. We try to understand the situation with the family who are with the patient, especially if it's quite serious.
"If it's not too serious, you try to give some comfort and be positive. It is different when the situation is serious.
READ MORE: How Bahrain, Silverstone and Melbourne F1 tracks are helping coronavirus fight
"A couple of shifts ago, our first mission was with an elderly lady. She was 80+ with high fever and breathing difficulties, so it was 90% sure a COVID 19 case.
"To take this grandmother from the family, you don't know what to say. You try to support them but you don't want to lie. You don't want to say something that is not true or give them hope so it's very difficult."
It's just another example of how the Formula 1 family is doing what they can to help the world fight this virus. Teams have worked together to produce ventilators and breathing devices, others like Pirelli have donated money to charity while various drivers are working on projects to raise cash too.
Even those no longer in F1 are getting involved, with former McLaren chief Ron Dennis providing meals to the NHS and Italian newspaper La Gazzetta dello Sport reporting former Ferrari boss Maurizio Arrivabene has joined a taskforce to help the local economy in northern Italy recover from the impact of the virus.
READ MORE: Organisers confirm 2020 French Grand Prix will not go ahead
Oops! Error retrieving Twitter post
When Isola is not driving ambulances or focusing on his day job with Pirelli working with F1, the FIA and teams to be prepared to supply tyres for when the 2020 season eventually gets under way, he is fundraising for Croce Viola Milano to provide social support to those who are struggling to make ends meet in this crisis as well as providing training via video calls to potential ambulance drivers.
"I cannot take a managerial role in [Croce Viola] like in the past because once the championship starts, and hopefully that will be soon, I have to travel and give priority to my job," he says.
"We have very good people in those roles, and I support them, such as finding additional financial support. We have a project called People aid People to spend where money is really needed. For the first time in my life I see baskets on the windows around Milan because people have no money to buy food, so hope people put food in the basket.
READ MORE: Guenther Steiner on difficult decision making, Haas's future and the impact of coronavirus
"I'm also talking with an association in the red zone Codogno [the epicentre of Italy's coronavirus crisis] as they are in a really difficult situation, with the pressure. They need training for drivers and to have more people, so we are trying to organise this via video conferencing."
You may say "I'm not a hero," Mario, but we reckon you are.