Perez hails Racing Point's 'best Friday' after update delivers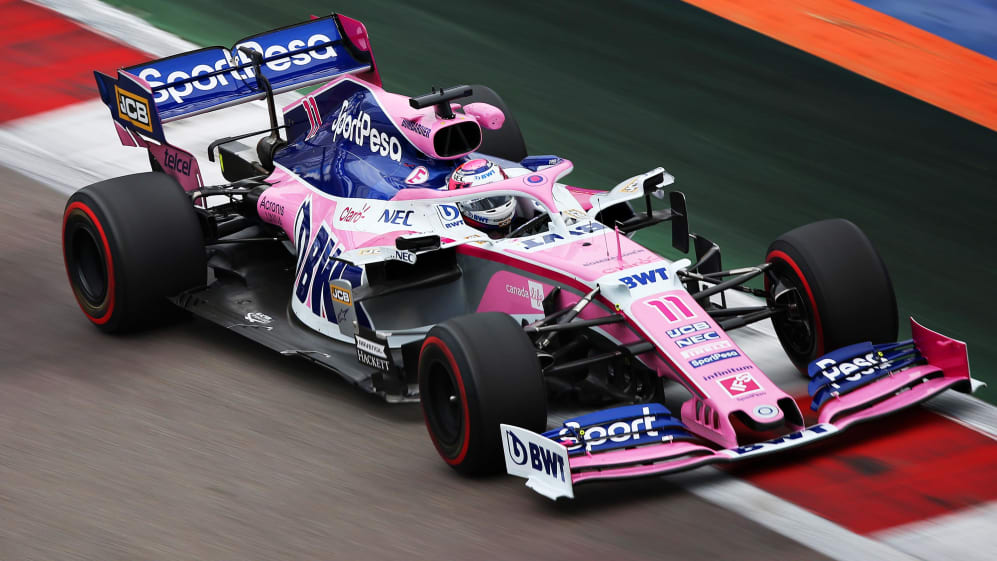 Sergio Perez says Racing Point have made impressive progress after upgrades first introduced last time out in Singapore led to their "best Friday of the season" in Russia.
Perez praised the team's practice pace at the Sochi Autodrom as he secured top-10 finishes in both 90-minute sessions, with Lance Stroll joining him in FP2.
And it could set up an excellent race for the team in pink as they came so close to a double-points finish in Singapore – before their race suddenly unravelled. Here in Sochi, Perez was wearing an immovable grin.
"It's been our best Friday of the season in terms of understanding, in terms of progress," surmised the Mexican.
"I'm very pleased with the day and now just looking forward to tomorrow and Sunday. The conditions can change at any time so we just need to work very hard, try to find a couple of tenths tonight and we should be fighting for a great position on Saturday."
However, with Sochi's surface notoriously slippery and rain looming, Perez is expecting a challenge as drivers get to grips with the track – not only on Saturday, but as the rubber washes away for Sunday's race.
Ferrari 'improving at a serious rate' says Hamilton after day 1 in Sochi
"I think the race pace is looking good, we did some good work with understanding the tyres but for now the main risk is where the track is going to go with the change of conditions," he said.
Team mate Stroll agreed, adding: "We seemed quite competitive, it's very close in the midfield and tomorrow anything could happen; a bit of rain in the mix."
Verstappen: Red Bull feels 'alive' again in Russia after Singapore struggles
The Canadian also said the car is "definitely" better than the one he raced in Singapore, where Racing Point first brought the update.
With penalties for their rivals Toro Rosso, Racing Point could leave Russia with a valuable points haul. It's just the small matter of a resurgent Renault, and a marauding Max Verstappen, that they'll have to contend with.