Perez shrugs off Ricciardo pressure and reveals his target for 2023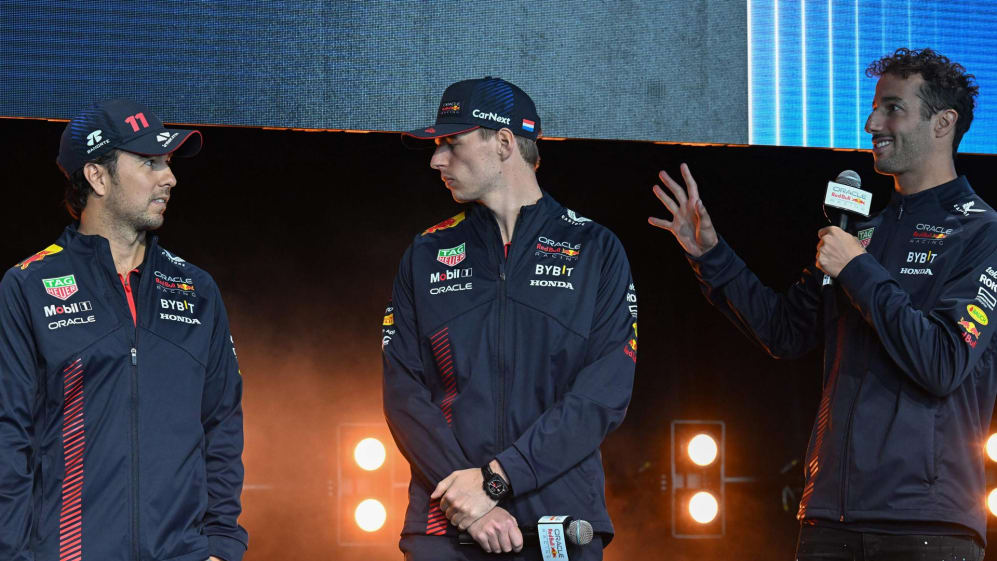 Sergio Perez insists the appointment of eight-time race winner Daniel Ricciardo as Red Bull's reserve driver won't pile extra pressure on the Mexican to raise his game in 2023.
Perez is gearing up for his third season with Red Bull, who won both the drivers' and constructors' title in 2023 – with Perez himself having taken two victories and nine more podiums last year. But with Ricciardo rejoining the team as third driver for 2023, Perez was asked whether he's under extra pressure this season.
READ MORE: 'We go racing responsibly' – Ford insist money pot isn't 'bottomless' ahead of Red Bull engine tie-up
"No, when you are at Red Bull Racing you have got to perform at your best; it doesn't matter whether Daniel is here or not, Red Bull can pick pretty much any driver they want on the grid," said Perez at the team's season launch event in New York.
"I think we are very fortunate to have Daniel," he added. "The level of experience that he has, and to be able to have him back at the factory with the engineers – when we are talking about the car he will really understand what we are talking about.
"I think it's great to have someone like him around and I think on weekends he will be a massive help."
After a strong start to last season, including a win in Monaco, Perez suffered retirements in Canada and Austria and took just one podium from the five-race stretch from France to Italy. The 33-year-old, who has made no secret of his own title aspirations, was asked whether he can become the drivers' champion in 2023.
"That will be my target and I will try everything I can together with my team to get onto that," he said, adding, "I really got a nice break. Now I'm fully recharged and looking forward to this new season.
READ MORE: 'He's one of the greatest drivers ever' – Verstappen expecting Hamilton renaissance in 2023
"I am certainly going to work a lot on the consistency to be able to have a nicer platform, one that can work pretty much on every circuit."
There was a flash point at last year's Sao Paolo Grand Prix when Perez's team mate Max Verstappen refused to allow the Mexican past him on track to aid Perez's push for P2 in the championship. But the former Racing Point driver insists that's now all in the past.
"It's important to work as a team, I think in that regard it's very clear, we want to maximise the team effort," Perez said. "It's not all about Max and myself, it's about the team.
"We have so many people back in the factory giving everything for us so we have to respond in that regard. I'm working very hard on my side with the engineers to make sure we are able to go to the next step."