Feature
Q&A: Mercedes' Head of Strategy Rosie Wait on how the champions make key mid-race calls in the heat of battle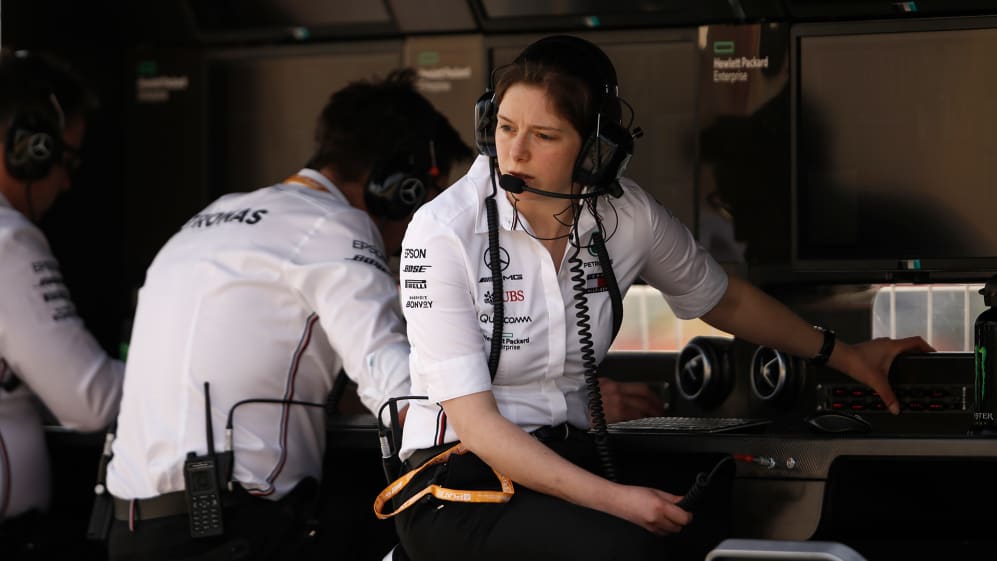 F1 strategy is not confined to the two hours after lights out on a Sunday morning. Making the right decisions across a Grand Prix weekend can make the difference between glorious reward and pained regret. And making those hard calls begins weeks before the cars hit the track, as Mercedes' Head of Strategy, Rosie Wait explains…
Q: You're Head of Race strategy at Mercedes, what does that mean across a race weekend?
RW: I run the strategy department, looking after a team of about four or five people, and as a team we get involved in lots of different aspects of that process, both the race strategy – getting recommendations of what the race team should do and when to do it up to my boss [Strategy Director] James Vowles on the pit wall – and also a broader view, such as deciding how to use tyres during a race weekend or helping to direct efforts at the factory.
We also get involved in a lot of competitor analysis, understanding where we're strong or weak compared to other teams. My role as head of department is to manage and coordinate all of that. I'm predominantly factory-based. In a normal season I go to around six races and I'm with my team in the Remote Support Room (RSR) at the factory for the rest.
READ MORE: 'You don't always say the best things' – Hamilton admits regrets over Mercedes criticism in Monaco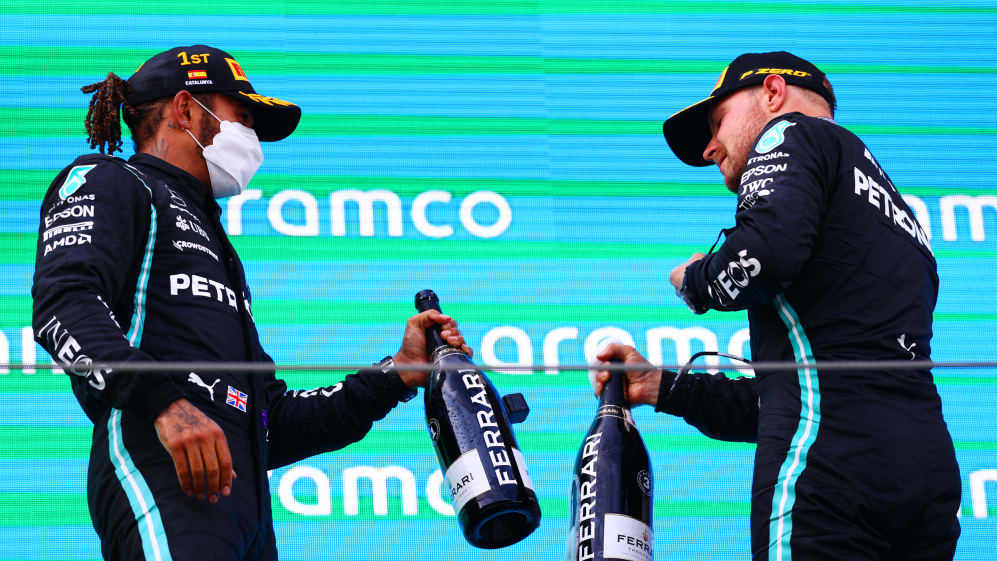 Q: How does it work in the build up to a race weekend?
RW: About two weeks out we'll start to get an initial view on the strategy for the coming race weekend. We pull together simulations out of all of the data we have on the circuit, as well as what we know about our rivals' pace to give us a picture of what will be the big questions for the weekend.
Together with Race Engineering we'll use that information to decide how we use the tyres, what the run plans are going to be and we'll start to set out our priorities for Friday's practice sessions. We'll then do more detailed work, making sure we've got the key numbers at our fingertips.
WATCH: Relive Valtteri Bottas' well-deserved victory in the 2019 Azerbaijan Grand Prix
Our next big milestone is set-up day where we're getting all of our systems ready to go and reminding everyone, including the drivers, how the weekend is likely to map out and what we need from them on Friday.
Once we get into practice sessions, we'll be looking at all the timing and GPS data and giving live feedback to the pit wall to help the engineers and drivers get themselves in the best position on track and to build a picture of the performance: are we fast, are we slow, what are our key strengths and weaknesses compared to the competition?
We try to work out the most difficult scenario — what do we really not want to happen — and then we plan for that
Q: Once qualifying is over and you know where you're starting from, how difficult is it to clarify your thoughts and to choose a direction?
RW: Saturday night is our busiest time outside of sessions. For the rest of engineering, parc fermé means you can't do very much apart from get a good night's sleep, but we've got two separate issues to focus on.
The first is some really detailed and intense strategic discussions, working through lots of possible scenarios: what if we're faster than we think we are, or not as fast? What if we have a better start or a bad start? What if the tyres have more or less degradation? We go through all of the possible permutations.
READ MORE: Azerbaijan Grand Prix Form Guide: Will we see another mixed-up podium in Baku?
We'll spend a lot of time trying to work out what's the most difficult scenario – what do I really not want to happen tomorrow – and we'll plan for that, so that if we're in that situation, we've got something we can go to.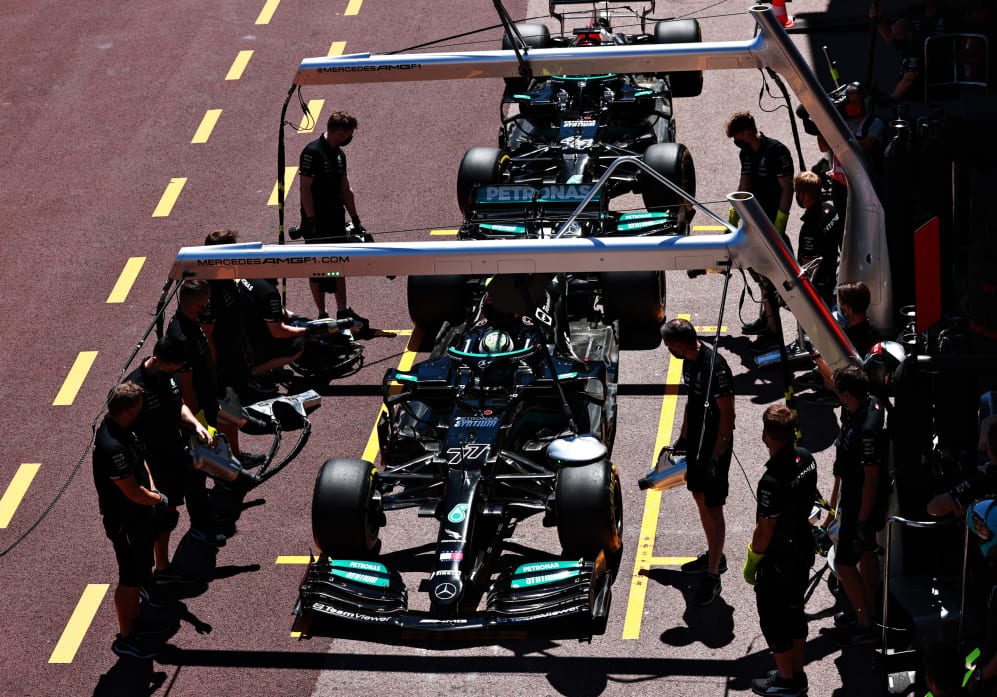 The other thing we do on Saturday night is prepare plans to go through with senior management and the drivers. For them, you don't want to go to the nth degree with all of these hundreds of different scenarios, you need to deliver the key information so the drivers know how to approach the race.
Let's say one of them had a poor qualifying, they'll want to know what's a good target in this race and what do they need to do to achieve it. Even if qualifying has gone as predicted, they need to understand what the key parts of the race are likely to be and where they need to focus.
READ MORE: 'Weekends like Monaco keep you coming back for more' says Wolff as Mercedes look to bounce back in Baku
Q: What part does driver feedback play in building that plan?
RW: It's enormously valuable. There are so many things we can guess at but which they can give us great feedback on. Valtteri, on Sunday in Spain, was saying he thought the stints we were looking at were going to be difficult to deliver and he was bang on. Come the race, their feedback is really important.
Strategy is awesome is because you get to make really big calls live, but you also get to do a lot of simulation and modelling
We can see quite a bit in the data but ultimately they're the ones really feeling it and experiencing it, so they give us huge amounts of information.
Communication between us and the drivers and linking in what the drivers are telling us with what we can see in the data is hugely important.
Q: How good are Lewis and Valtteri at doing that?
RW: Very good, yeah. Also, they have the challenge of providing that information while also driving incredibly fast.
READ MORE: After Bottas, Hamilton and Verstappen, which other trios have shared an F1 podium most often?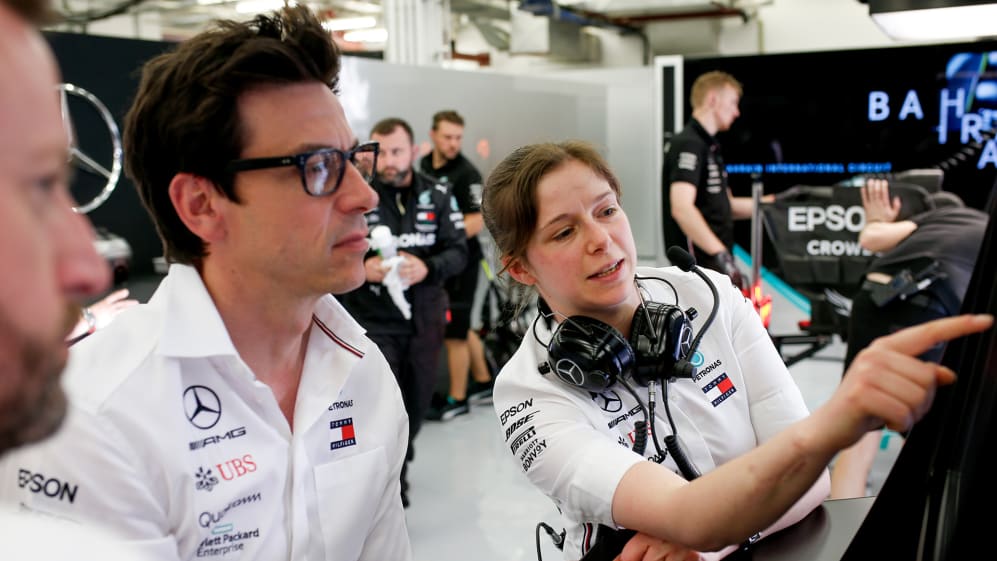 Q: It must be very satisfying when your strategy plays out correctly but what about the low moments, where the plans end up in disarray?
RW: Monaco 2018, I think [Hamilton was third and Bottas fifth], and Mexico, I want to say 2018 but it may have been 2017. Those were two races where the tyre performance was very difficult and we were particularly bad. At those times you just find yourself in this horrible spiral. Whatever you try to do, you just go backwards… it's a nightmare.
If I tell them to push, they'll destroy the tyres, but if we don't push, we'll be nowhere. They're horrible races where you feel very out of control. The most rewarding? For me, Budapest 2019 was amazing, I was on the pit wall and we were coming off the back of what had been a difficult race [in Germany].
READ MORE: Flexi wings, Ferrari's form, and a quirky Baku record – 5 fascinating Azerbaijan GP storylines
I felt quite a lot of pressure on the team as whole and on my team's shoulders especially. We converted to a two-stop race strategy, which was a really difficult call because it's not easy to overtake in Budapest. But we pulled it off and had such a strong race.
It was an amazing feeling and being there, seeing it happen, made it even better.
Q: You're one of a number of female senior strategists in Formula 1, along with Ruth Buscombe at Alfa Romeo, Bernie Collins at Aston Martin and Hannah Schmitz at Red Bull Racing. Why are there so many female strategists?
RW: The easy answer is I don't know, maybe it's the multitasking… we're good at that! As for me, I didn't come into F1 with my eyes set on being a strategist, I came into F1 as a vehicle analyst and it was simulation and modelling that I really liked.
I think strategy is awesome is because you get to be on the coalface, making really big calls live, which is really good fun, but you also get to do a lot of simulation and modelling and be a bit of a jack of all trades.
In terms of performance, you've got people in Vehicle Dynamics who are doing all the simulation and modelling, which is really cool, but you've also got Race Engineering, which is also great, but if you want to do both, that doesn't really exist, whereas in strategy it's kind of analogous of being able to do both. So, that's why I like it.
This feature originally appeared in the official Azerbaijan Grand Prix Race Programme, which you can see for free by tapping here.