Feature
Azerbaijan Grand Prix Form Guide: Will we see another mixed-up podium in Baku?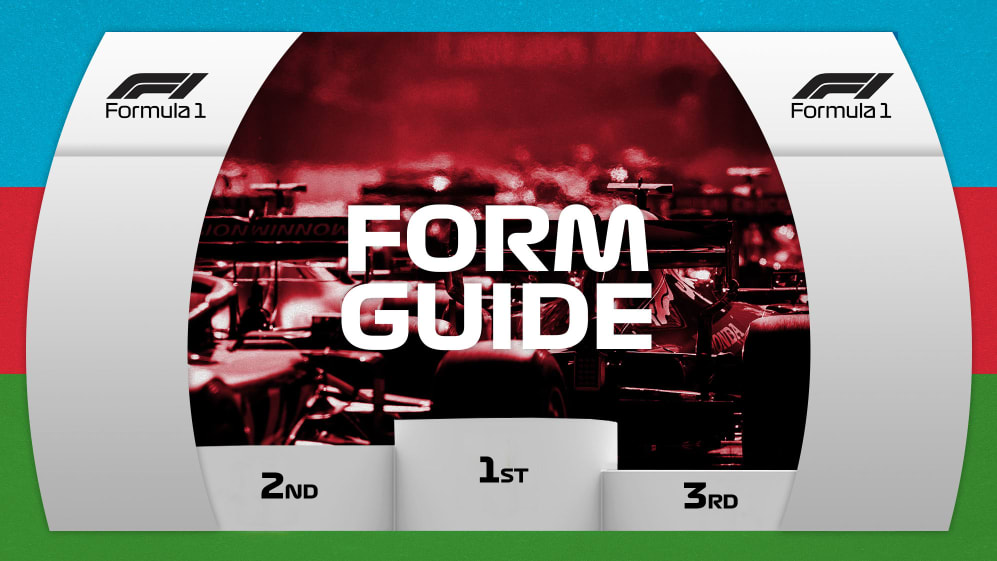 It's time to return to Baku for the first Azerbaijan Grand Prix since 2019. A lot's changed in the F1-o-sphere since then – so who's looking good to score pole, podiums, points and victory this weekend based on both current and historic form? Let's take a look at the favourites, as well as checking who you think is going to do the business via your votes on F1 Play.
Vying for pole
With a 2.2-kilometre main straight (if you count all the wobbly bits from Turn 16 down to Turn 1), it won't surprise you to know that the Baku City Circuit is a power-sensitive track, with Mercedes having taken three out of the four poles here since the track was first used for the European Grand Prix in 2016.
However, when it comes to power in 2021, there's little to choose between the Honda unit in the back of the Red Bull and the Mercedes one in the, er, Mercedes, meaning that – after the vagaries of Monaco – those two teams are back to being favourites for pole this weekend.
READ MORE: Title lead after Monaco win a 'great boost' for Red Bull says Verstappen, as he eyes Baku success
Pay particular attention to Valtteri Bottas, who excels at tracks with lots of 90-degree corners (see also: Sochi) and took pole and the win last time out in 2019 (Lewis Hamilton having taken just one pole and victory here since 2016) – while if Red Bull are on the pace, expect Max Verstappen to be the man to convert the pole for them, with Sergio Perez admitting he's yet to feel 100% at ease in the RB16B on Saturdays.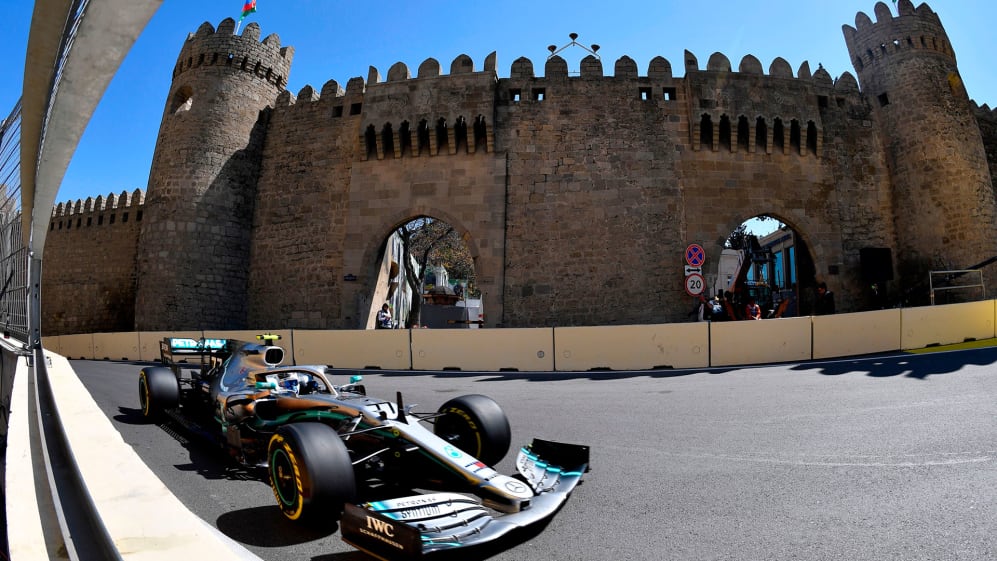 Ferrari shocked everyone with their pace in Monaco. But while a repeat of Charles Leclerc's pole from two weeks ago is an outside bet, keep a look-out for Lando Norris in the McLaren. Carlos Sainz has previously described the MCL35M as a "rocket" – and with Norris having come close to front row starts several times this season, he could be well positioned to pull off a little surprise in qualifying in the Mercedes-powered McLaren.
READ MORE: 'We can't afford another weekend like Monaco' says Hamilton after losing championship lead
Pole positions 2016-2019:
2019 – Valtteri Bottas (Mercedes)
2018 – Sebastian Vettel (Ferrari)
2017 – Lewis Hamilton (Mercedes)
2016 – Nico Rosberg (Mercedes)
FAN VIEW: Lewis Hamilton and Mercedes had a miserable weekend in Monaco, qualifying well off the pace. And our F1 Play gamers again fancy flying Dutchman Max Verstappen to nick pole position in Azerbaijan. But only by a whisker, with the pair accounting for a massive percentage of the votes cast so far.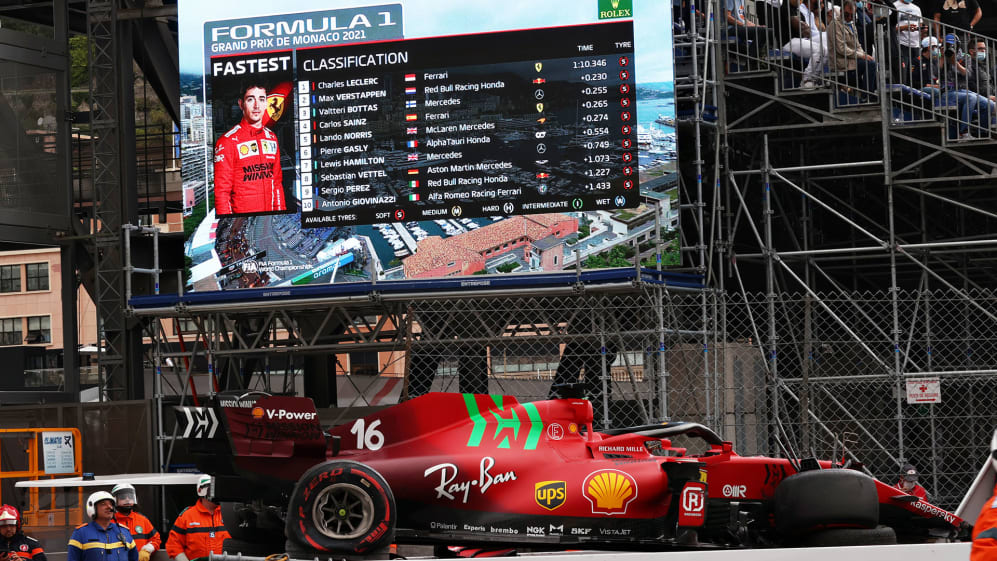 In the mix for victory
We've had four different winners in Baku previously to go with the four different polesitters – Mercedes again with three out of the four. Once again, though, special commendation has to go to Bottas, who would have won the last two editions of the race had debris not punctured his tyre in 2018 three laps from victory.
Given his agonising Monaco retirement from a promising P2, and lack of win so far this year, Bottas will doubtless be keen to get back in the game – the Finn now with less than half the points of championship leader Verstappen.
READ MORE: Flexi wings, Ferrari's form, and a quirky Baku record – 5 fascinating Azerbaijan GP storylines
While we're here, let's discuss Verstappen. Baku has never been his nor Red Bull's happiest hunting ground (despite Daniel Ricciardo taking a slightly lucky win in 2017), with Verstappen's best finish fourth here in 2019 – and he and Ricciardo having infamously crashed into each other the year before.
But Verstappen has already reversed his bad fortune at tracks like Bahrain, Imola and Monaco this year – and should be expected to be in the hunt this weekend.
Similar to Verstappen, Baku is not a track that Hamilton has flourished at over the years. But after a bizarrely off-key Monaco showing, you'd have thought the seven-time champ would at least be back in the fight in Baku.
Meanwhile, although Verstappen has yet to appear on the podium in Baku, his team mate Sergio Perez has done so twice in four Grands Prix here – an astounding record. And with Perez saying after Monaco that he's starting to feel at ease with the Red Bull on race days, can the Mexican make it three podiums in five in Baku, and maybe even secure his first Red Bull win into the bargain?
READ MORE: Red Bull leading both championships 'beyond expectations' says Horner – but Mercedes will 'bounce back fast'
Wins 2016-2019:
2019 – Valtteri Bottas (Mercedes)
2018 – Lewis Hamilton (Mercedes)
2017 – Daniel Ricciardo (Red Bull)
2016 – Nico Rosberg (Mercedes)
FAN VIEW: We have ourselves a bona fide title race in 2021, and the F1 Play voting reflects that as we head to Baku. Some 93% of gamers have voted for either Lewis or Max, with the reigning World Champion just edging it so far by 48% to 45%. There are votes for Valtteri Bottas and Charles Leclerc, but the big two dominate.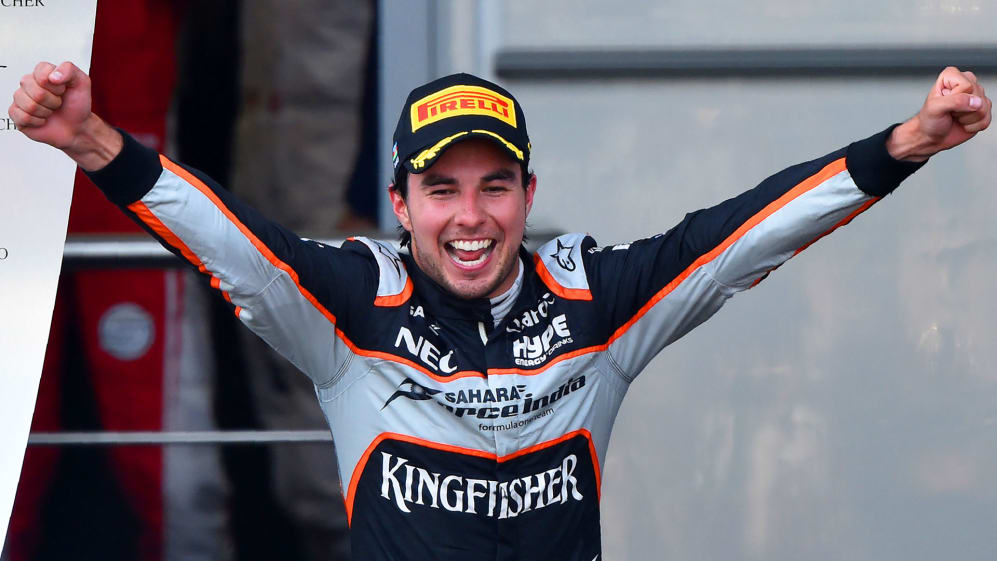 Podium Outsiders
Behind Red Bull and Mercedes' drivers, it looks once again like McLaren and Ferrari are the teams most likely to make the podium if the opportunity prevents itself.
Ferrari flew on the high-downforce Monaco track. But with Baku "probably around Monza downforce" levels in the words of this week's F1 Nation guest Daniil Kvyat, McLaren could reasonably be expected to come back to the fore with their Mercedes grunt, Lando Norris having finished eighth here on his first and only outing in 2019 – while after a horrible Monaco weekend, Ricciardo will be looking to restore some confidence at the track he won at in 2017.
READ MORE: Sainz says Norris and McLaren should be excited about Baku prospects with 'rocket' of a car
If Ferrari can find some performance, however, both drivers have form in Baku, Carlos Sainz having finished every race here in the points bar his 2016 retirement, while Charles Leclerc was an incredible sixth here for Sauber in 2018, before dominating the 2019 weekend… right up until he stuffed the car in the wall at Turn 8 in Q2 (before recovering to P5 in the race).
Podiums 2016-2019:
Mercedes – 5
Ferrari – 3
Force India – 2
Red Bull – 1
Williams – 1
FAN VIEW: It's probably a bit of a reach to call Lando Norris an outsider for a podium spot after claiming two in five races so far, and he's again strongly fancied by F1 Play gamers to push Mercedes and Red Bull in Azerbaijan. Leclerc is also coming in for good support after throwing the Ferrari onto pole in Monaco before that late quali crash.
Points potential
The demanding, and in parts treacherous, nature of the Baku City Circuit means that races here often have high attrition rates, opening up opportunities for teams lower down the grid to get their hands on some points – while a Safety or Virtual Safety Car has appeared at three out of the four Grands Prix in Baku.
Potential good news then for the lower-order teams like Williams and Alfa Romeo – the latter having taken their first point last time out in Monaco, the former still yet to score since the 2019 German Grand Prix.
READ MORE: The rear wing choice Red Bull face for F1's return to Baku
It's worth mentioning Aston Martin at this point, who in their previous guises as Force India and Racing Point accrued more points than Red Bull in the four Grands Prix they contested in Baku. And with Sebastian Vettel never having finished a race lower than P4 here, and Lance Stroll having netted his maiden podium finish in 2017, keep your eye on the improving team in green.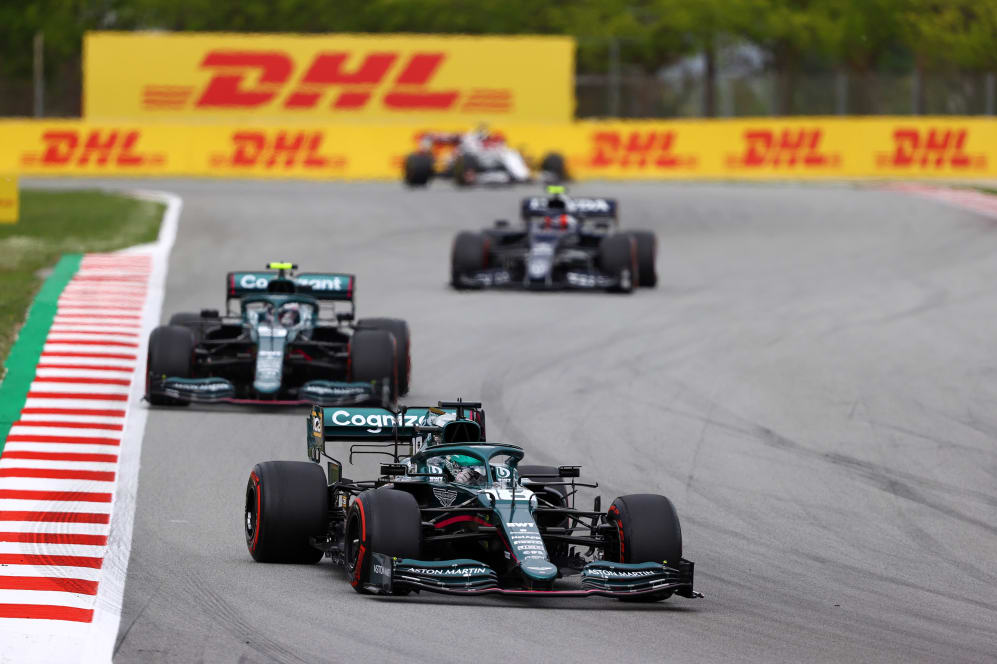 With Monaco something of an outlier, meanwhile, Alpine will be keen to re-find their Spanish Grand Prix pace this weekend after their Monaco blip, Fernando Alonso having taken an impressive P7 in Baku for McLaren in 2018, while the in-form Esteban Ocon has never started lower than seventh here.
READ MORE: Ferrari say it's 'not a given' that they'll repeat Monaco podium success in 2021
Points 2016-2019:
Mercedes – 131
Ferrari – 98
Racing Point/Force India – 50
Red Bull – 47
Williams – 28
McLaren – 20
Alfa Romeo/Sauber – 10
Renault – 10
Haas – 6
AlphaTauri/Toro Rosso – 5
FAN VIEW: Sebastian Vettel is the story here – he's attracting votes from a tonne of F1 Play gamers after that renaissance in Monaco brought him an excellent fifth-place finish. Vettel's Aston Martin team mate Lance Stroll is also well fancied, while Carlos Sainz for Ferrari is confidently expected to take points once again.