Qualifying cooling issue 'another problem on the list' says frustrated Sainz
McLaren's Carlos Sainz cut a brooding figure in the paddock after failing to make it out of Q2 for the 70th Anniversary Grand Prix, the Spaniard lamenting more bad luck this season after a cooling issue forced him to run with a compromised aerodynamic set-up around the high-speed Silverstone circuit.
Having started P7 at the British Grand Prix a week ago, Sainz qualified 13th for this weekend's race – although that became 12th after a penalty was handed to Esteban Ocon. But with Sainz having had to protect an overheating issue on his power unit by running a different specification of bodywork, the Spaniard was left unhappy by what he felt was another dose of bad luck in 2020.
"We had a problem with overheating of the engine," said Sainz. "We had to run a super-open bodywork and it was costing us quite a lot down the straight and the drag. So I'm frustrated because that's another little problem to add to the list.
READ MORE: Bottas beats Hamilton to 70th Anniversary GP pole as Hulkenberg stars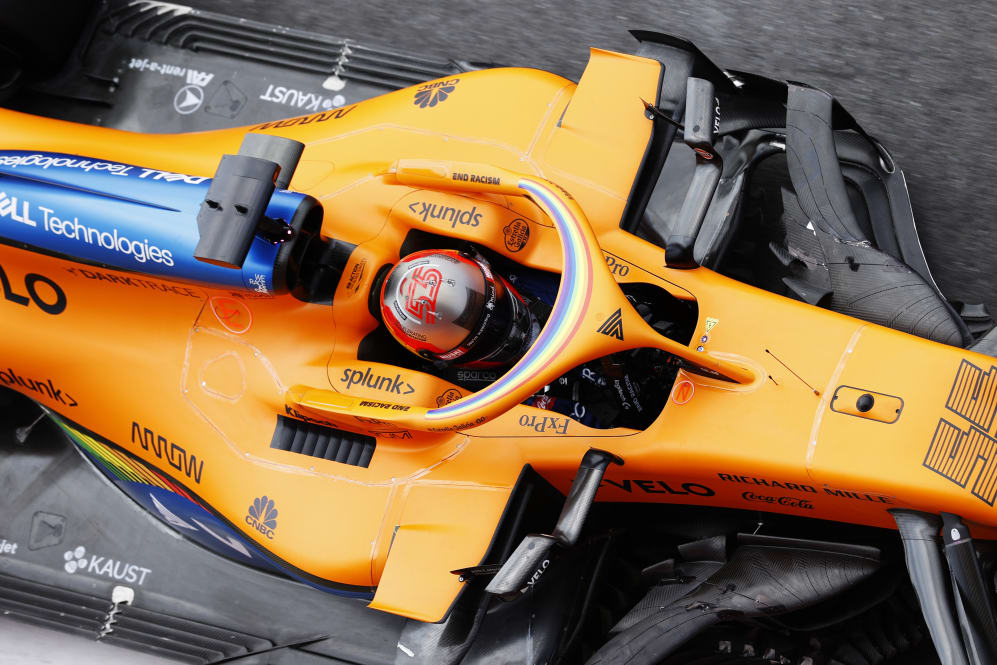 "My car, I don't know why, is running hot on temperatures and we know going into a race, if we have traffic, we're not going to be able to push through the race. So we took it easy, we opened up the bodywork, ran another bodywork specification, which is costing us quite a bit of drag down the straights and lap time of course, but we had to do it if we wanted to put up a fight tomorrow.
"Unfortunately I will be carrying this deficit into tomorrow which is frustrating, I'm not going to lie… During qualifying, I had to look for tows to try and compensate with a bit of tow around this high-speed track. I have to swallow it and expect that tomorrow hopefully can go better. But I still think we have some options… [and] going into tomorrow, I think that we're still in a decent position to fight for points."
READ MORE: 'He did a better job' – Hamilton praises polesitter Bottas as he focuses on making amends in race
Sainz's frustrations appear to be mounting, with a tyre failure having cost him a potential P4 at the British Grand Prix last week, while pit stop issues in both Styria and Hungary scuppered chances for stronger results at those races. On the other side of the McLaren garage, however, team mate Lando Norris made it through to Q3 at Silverstone, before declaring himself satisfied with his "realistic" P10.
READ MORE: Ricciardo says 'on the fly' race strategy will be key to capitalising on P5 grid slot
"I'm reasonably happy," he said. "I don't think there was a lot more in the car. Of course it's not as good as maybe the last few weekends, but like I've basically said every weekend, I think a lot of the times we've done exceptionally well and better than we should have done and were ever expecting, and when the other drivers do the job that they should do and put the lap together with a car that's better than ours, then they're ahead of us.
"So I don't think we're shocked with P10… I think it's where it should be, it's realistic, so I'm happy with it.
"It's going to be difficult [in the race]," he added, having finished P5 at the British Grand Prix last time out. "I think we just have to wait and see and make the most of it. But as we've seen in every weekend so far this season, anything can happen right up until the last lap, so we just need to be there for when it counts and try and make the most of every opportunity."