Racing Point reveal issue behind pole-sitter Stroll's plummet down the order at Turkish GP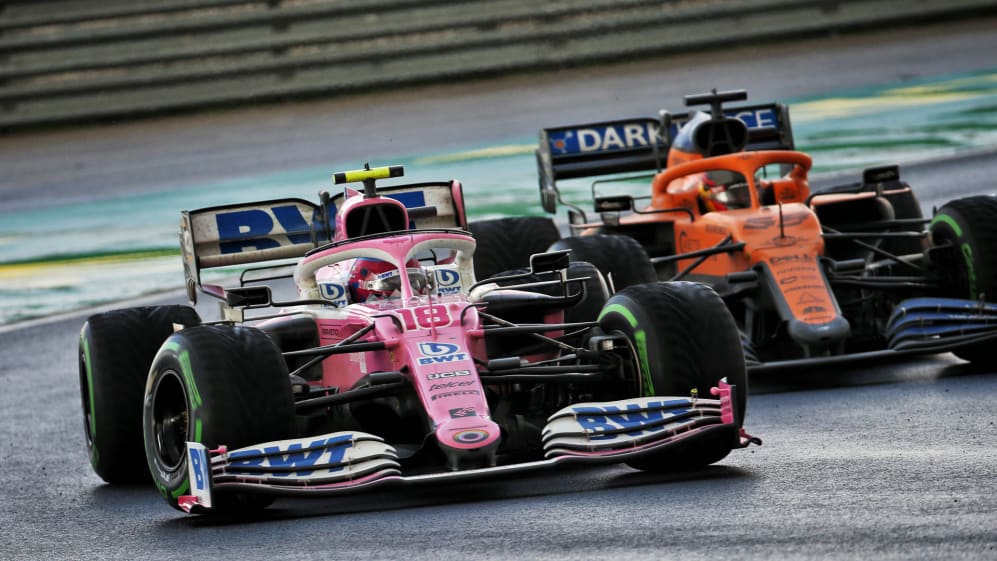 Lance Stroll admitted to being dumbfounded by his lack of pace at the Turkish Grand Prix, which saw him go from leading 32 of the 58 laps in Istanbul to finishing P9. But according to Stroll's Racing Point team, unseen damage to the Canadian's front wing had been the contributing factor behind Stroll's tumble down the order.
Having taken a superb maiden pole position on Saturday, Stroll was then imperious at the start of the race on his wet-weather tyres, building his lead to the point where he was 10s clear of second-placed team mate Sergio Perez after the field had pitted for intermediate rubber.
From there, though, his race unravelled, Stroll's pace dropping consistently as he struggled with graining on his green-walled tyres, as he eventually came home a distant ninth – with Racing Point providing an explanation after the race.
READ MORE: 'It was pretty terrible' – Pole-sitter Stroll perplexed by tyre struggles that left him P9 in Turkish GP
"During the team's routine post-race car set down, we discovered damage to the underside of Lance Stroll's front wing that was a significant contributor to the graining issues he experienced during his 2nd and 3rd stints on the intermediate tyres," the team wrote on Twitter.
"One of the strakes on the underside of the front wing had come loose and lodged itself in such a way that the blockage caused a significant loss of front downforce. The resultant loss of front downforce contributed to increased levels of graining.
"It was only after the race, when the car returned to the garage, that the damage and blockage to the underside of the front wing was discovered."
The revelation will be a comfort to Stroll, who had no explanation for his pace loss after the race, having seen his team mate Sergio Perez take second place, behind winner and newly-crowned seven-time champion Lewis Hamilton.
READ MORE: 5 winners and 5 losers from the Turkish Grand Prix
"I don't know what happened… I don't understand," a confused Stroll had told the media. "We had so much graining on the first set of intermediates that we decided to pit because we were just losing seconds a lap. I just don't know where that graining came from, it just happened instantly.
"It's just frustrating when you're in the lead by 10 seconds and then all of a sudden, you finish ninth," he added. "It was pretty terrible today."