Feature
From Interlagos to Silverstone – Ranking Hamilton's best wet-weather drives, from 10 to 1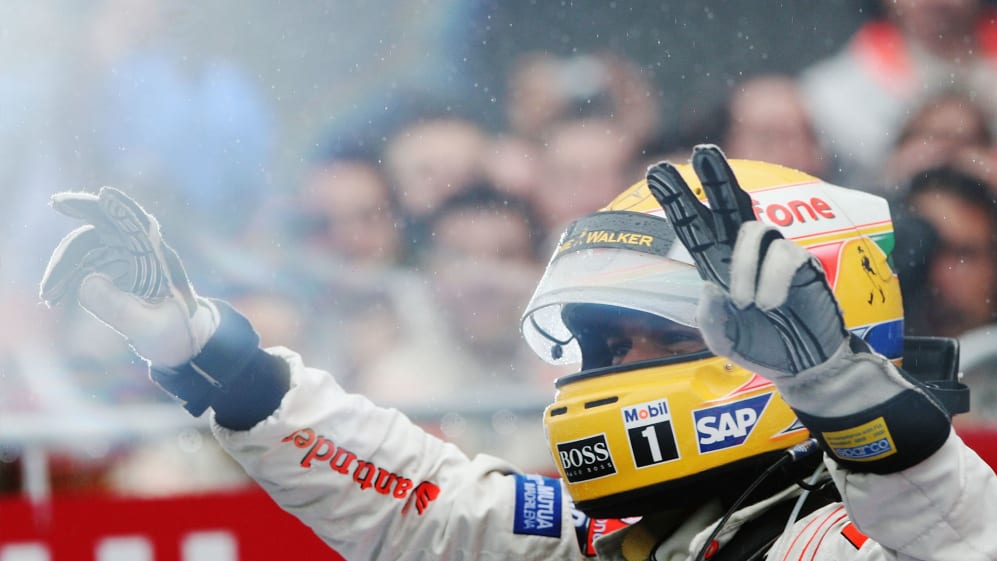 Lewis Hamilton clinched a record-equalling seventh World Championship with a brilliant drive to victory in the rain in the Turkish Grand Prix, and to mark the occasion, we decided to rank the Briton's top-10 wet-weather performances. Where do the likes of Turkey 2020, Great Britain 2008 and Brazil 2008 rank?
Scroll down to vote for which race you think is Hamilton's best wet-weather drive!
10. 2008 Brazilian Grand Prix
Surely the most memorable modern title decider, Hamilton entered the 2008 Brazilian Grand Prix at Interlagos ahead of Felipe Massa in the standings, so this one was always going to end in tears for one of them.
If Hamilton finished sixth or lower, Massa would take the title if he won the race. And, come Lap 70 when the rain was pouring down, Massa was in the lead and Hamilton sixth having run wide.
READ MORE: I was there… for Senna's emotional home victory in '91
Massa took the chequered flag at his home race having driven brilliantly, and then he had to play the waiting game.
But Hamilton hadn't given up hope, and on the final lap he passed slick-tyred Toyota driver Timo Glock for P5 on the final corner. The championship was his, and in the most dramatic and last-minute way possible.
This wasn't Hamilton's most assured performance in the wet (nor even his best wet race of 2008) but it deserves a spot in this list for the incredible drama that played out on that day in Sao Paulo, and because it clinched his first world championship title.
9. 2016 British GP
Not the soggiest skirmish at Silverstone by any means, but still wet enough for a drivers to start the race crawling, begrudgingly, behind the Safety Car.
Pole-sitter Hamilton's only mistake that day was an off on slick tyres when the track had almost dried, late in the race. Before that he was doing his utmost to prove to Mercedes team mate Nico Rosberg that his lead was untouchable.
READ MORE: 2016 British Grand Prix report and highlights
Rosberg tried to in vain catch up, and later had a gearbox problem that was compounded by a 10s penalty for a radio communication breach. Exuding confidence throughout the weekend, Hamilton breezed to victory.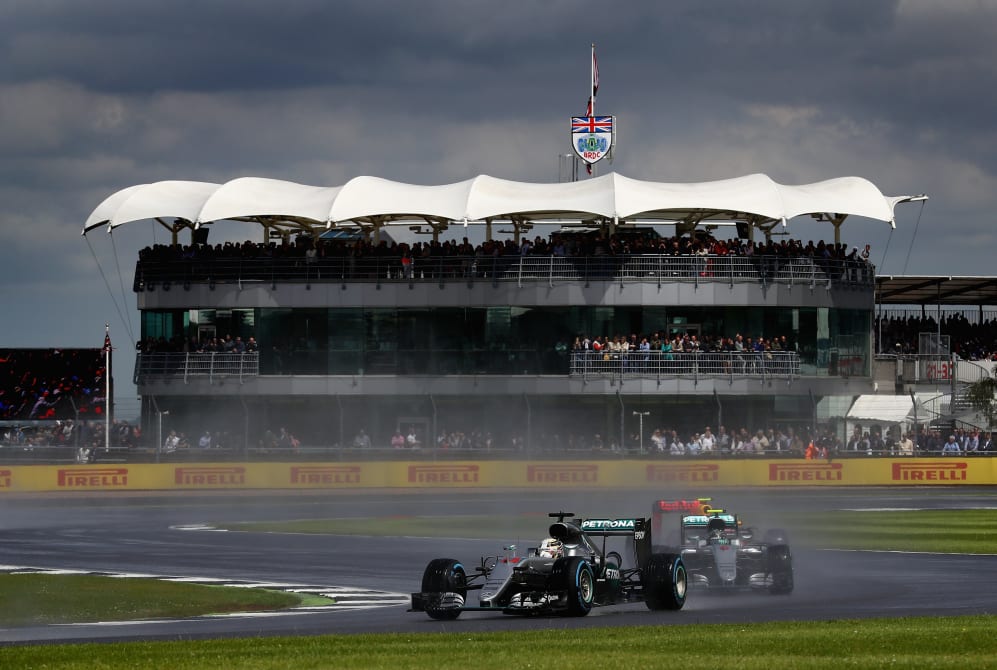 8. 2018 German Grand Prix
An improbable victory on an unforgettable day.
Fourteenth on the grid thanks to a hydraulic problem in Q1, Hamilton was behind Sebastian Vettel in the championship, and the German was starting from pole in his home race at Hockenheim.
READ MORE: Hamilton takes sensational win as Vettel crashes amid Hockenheim downpours – 2018 German Grand Prix
Vettel was leading in his Ferrari into the last quarter of the race, when rain began peppering the track, and he slid off at Turn 12 and straight into the barriers in a heartbreaking moment for the home crowd.
Hamilton, having nursed a set of soft tyres, pitted just once (on Lap 42) and batted away a brief challenge from team mate Valtteri Bottas in slippery conditions to inherit the lead he would keep to the flag for a win that had looked distincly unlikely when the lights had gone out to start the race.
7. 2017 Chinese Grand Prix
This Grand Prix wasn't strictly held in the rain, but earlier showers rendered parts of the circuit damp and, much like the last race in Turkey, grip was at a premium.
Hamilton had grabbed pole by two-tenths from Vettel with a masterful lap in qualifying, and in the race he led away as others spun off on intermediate tyres, including Sauber's Antonio Giovinazzi.
READ MORE: The GOAT? Our writers on whether Hamilton is the greatest, if 2020 is his best season, and more
As the likes of Vettel, Kimi Raikkonen, Max Verstappen and Daniel Ricciardo sparred behind, Hamilton stretched his legs in front. He made winning look easy; though judging by the mirror-like tarmac, it definitely wasn't.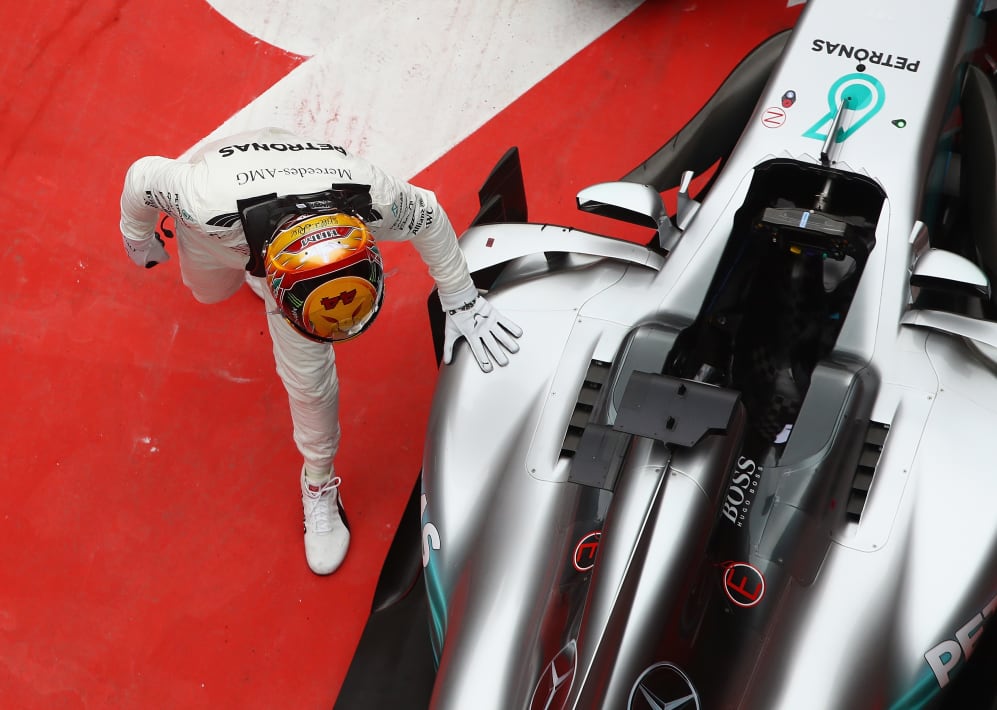 6. 2008 Monaco Grand Prix
In a race that brought to mind Danny Sullivan's legendary 1985 Indy 500 'spin and win', Hamilton recovered from a mistake of his own to win at the most famous Grand Prix of them all.
After starting third on the grid behind the two Ferraris of Massa and Raikkonen, the turning point came when Hamilton hit the barriers at Tabac, leading to him pitting. He changed to slicks, and as the rain fell, he stayed out as others pitted for wets.
READ MORE: Wet weather mastery and Monaco magic: The most iconic of Hamilton & Schumacher's 91 wins compared
It looked like the youngster – then in just his second season of F1 – had made two massive mistakes.
But the track soon began to dry rapidly and race leaders Massa and Robert Kubica lost their advantage. Hamilton found himself at the front as those two pitted, winning by just three seconds over Kubica at the flag in a remarkable show of confidence for the coming man of the sport.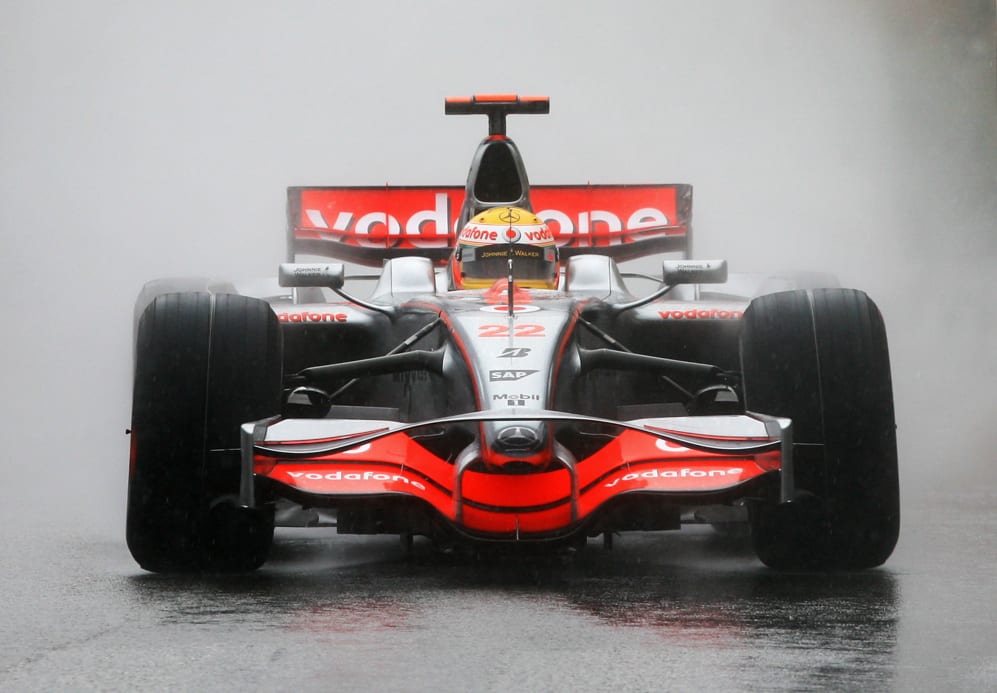 5. 2015 British GP
Races can be won and lost in one lap, and at Silverstone in 2015 Hamilton produced one such lap to ensure victory for Mercedes.
Falling to P2 from pole position, he was sandwiched by the competitive Williams of Massa and Bottas while conditions remained dry, but he made light work of them with a brilliant undercut strategy – his outlap on Lap 20 was the fastest of the race, and put him into the lead.
READ MORE: Hamilton says he's 'only just getting started' and is motivated to stay in F1
Around Lap 35, rain began to fall and grip quickly fell away. Nico Rosberg in the other Mercedes was bearing down on Hamilton but, on Lap 43, the Briton made the gamble for intermediates – which coincided with the rain coming down.
In another terrific home performance, the home hero went on to win by 11 seconds over team mate Rosberg.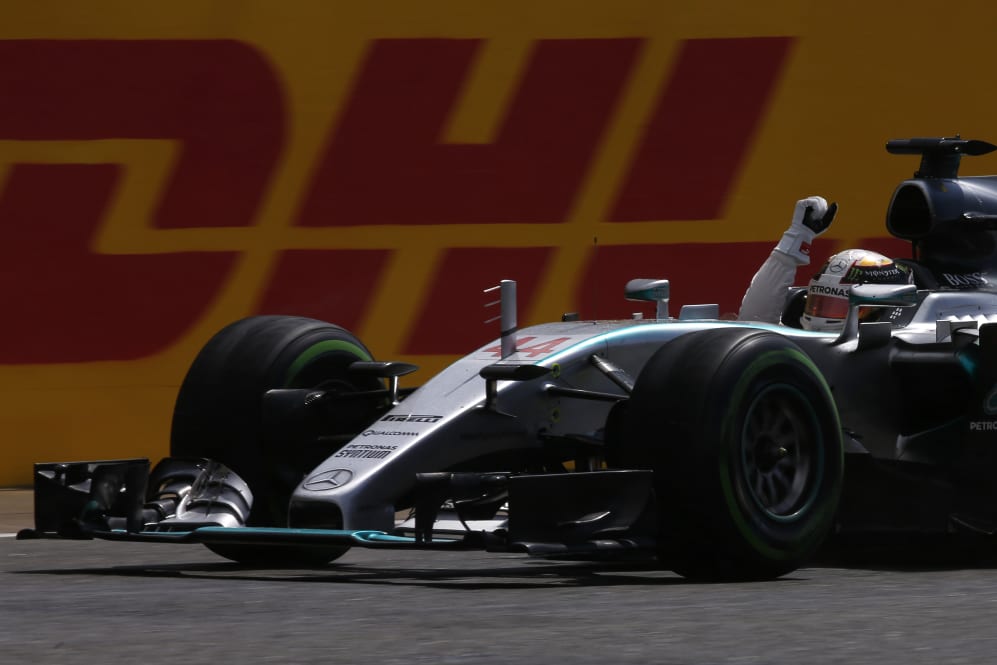 4. 2016 Brazilian Grand Prix
Five Safety Cars and two red flags left the tyres cold and the drivers shivering at Interlagos in 2016.
Plaudits rightly went to Max Verstappen after he spun 360 degrees – but somehow kept it out of the wall – on the way to a sensational drive for P3, while Kimi Raikkonen showed how treacherous conditions were with a high-speed crash.
READ MORE: Verstappen's Brazil 2016 drive earns Senna/Schumacher comparisons
Through it all though, Hamilton seemed almost unaffected by the rain. He had taken his 60th pole position the day before, and went on to win by over 11 seconds on a special day that took his championship battle with team mate Rosberg to the season finale in Abu Dhabi.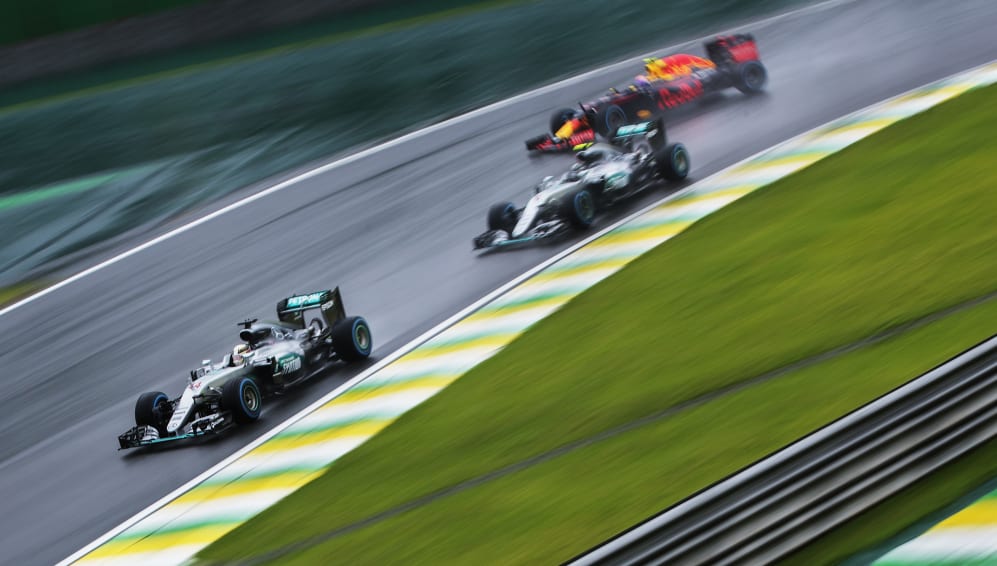 3. 2020 Turkish Grand Prix
Conditions in the dry at Turkey's first Grand Prix weekend since 2011 were likened to an ice rink thanks to a recent resurfacing of the race track. And to top it off, on Saturday and Sunday, rain battered the already slippery surface.
READ MORE: Hamilton seals historic 7th title with peerless wet-weather victory in Turkey
On a drying but incredibly slippery track, Hamilton was a passenger as he slid at Turn 9 on Lap 1. But he kept going and soldiered on, watching others including his team mate Bottas wrestle with the conditions.
As other drivers spun, over-used their tyres, or simply couldn't find the pace, Hamilton picked his way through the race, avoiding trouble, managing his rubber and finding grip where others found none, to take a fittingly impressive victory in the race where he clinched his seventh championship.
READ MORE: How Hamilton was able to turn around a 5-second qualifying deficit to win in Turkey by 30 seconds
2. 2007 Japanese Grand Prix
A quintessentially old-school wet race, conditions at Fuji evoked memories of the epic title showdown at the same track between Niki Lauda and James Hunt in 1976. On that day, Lauda had decided it was too dangerous and had pulled out of the race. In 2007, safety was the priority, and the first 19 laps were spent behind the Safety Car.
With Fernando Alonso right on his (rooster) tail, Hamilton mastered the race start. Alonso then made a mistake on his outlap after pitting, while Hamilton was flawless, and emerged in the lead after his stop a lap later.
READ MORE: 5 shock moments from Japanese GP history
Soon after, Hamilton and Kubica collided but Hamilton hung on. Alonso was pushing harder and harder to catch up, and crashed heavily. He was out, and Hamilton took the win.
The rookie had proved, in his debut season, that he could pull off a peerless win in the wet, even when up against a competitor as talented and ruthless as Alonso, who was the reigning double world champion at the time.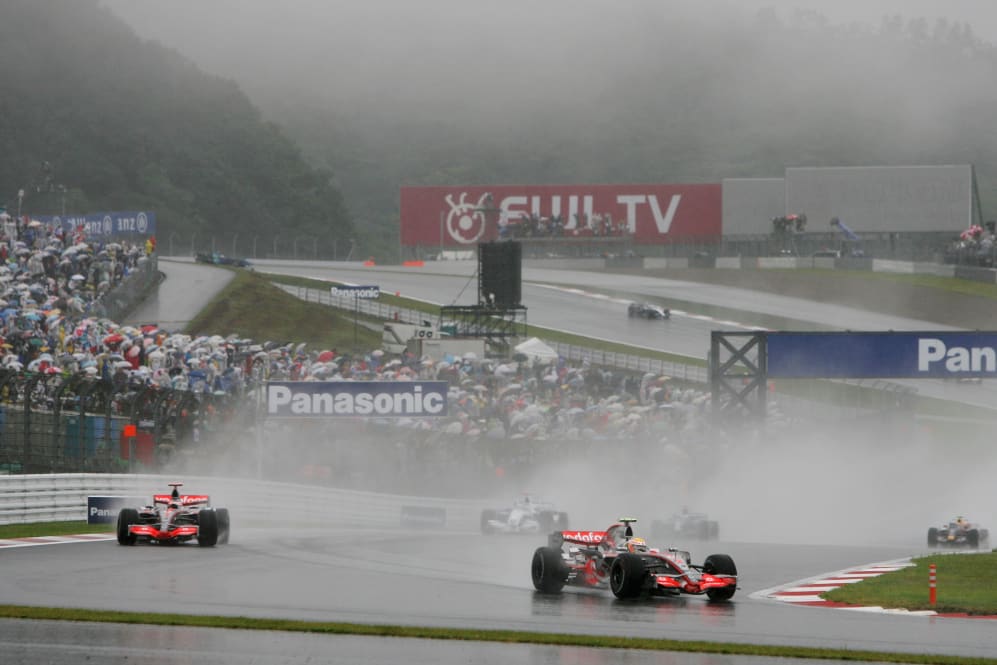 1. 2008 British Grand Prix
Races like this are where championships are won and lost, and the 2008 British Grand Prix is not just Hamilton's finest wet weather drive, but one of his finest victories ever.
The sophomore F1 driver created a league of his own at Silverstone that day, though he started on the back foot, from P4 on the grid, in wet conditions.
READ MORE: F1's Best Drives #8 – Hamilton's wet-weather masterclass at Silverstone
Halfway through the race, the home hero braved torrential rain while the likes of Felipe Massa and Robert Kubica pirouetted, crashed, and struggled.
Hamilton emulated his idol Ayrton Senna's heroics at Estoril and Donington to crush the opposition and earn his stripes as a rainmaster.
Famously, only Rubens Barrichello could overtake Hamilton that day… to unlap himself.