Feature
Wet weather mastery and Monaco magic: The most iconic of Hamilton & Schumacher's 91 wins compared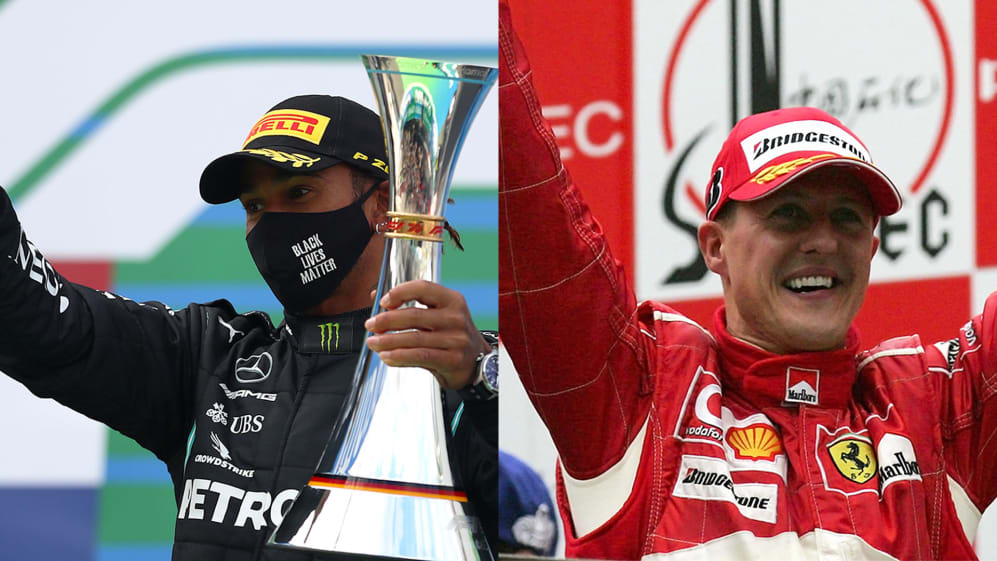 Lewis Hamilton finally matched the 91 Formula 1 victories record of Michael Schumacher – the man he'd replaced at Mercedes back in 2013 – at the Eifel Grand Prix. And with that remarkable landmark achieved, what better time to compare the stand-out wins from the careers of the two most successful F1 drivers of all time? And if you want to re-live the key moments from those triumphs, click on the links below to watch the races on F1 TV.
1. Their first victories
Schumacher – 1992 Belgian Grand Prix
Twelve months on from his Formula 1 debut at Spa with the Jordan squad, Michael Schumacher would become a Grand Prix winner at the very same track.
Following that debut with Jordan, some quick deal-making had seen Schumacher transferred into the Benetton team for the following race at Monza – and it was with them that he won at Spa, Schumacher timing a switch from wet weather tyres to slicks to perfection to finish over 30s clear of the all-conquering Williams-Renaults of Nigel Mansell and Riccardo Patrese, as he became the first German F1 winner in 17 years.
READ MORE: 'Michael is, and always will be, a legend' – Hamilton 'humbled' to equal Schumacher's win record
Hamilton – 2007 Canadian Grand Prix
It took just six Grands Prix for Lewis Hamilton to take his first F1 win. He'd built up to it with a third place on his Australian debut followed by four consecutive P2s.
But then at the Canadian Grand Prix, Hamilton took his maiden pole position – by nearly half a second from McLaren team mate Fernando Alonso, and at a Montreal track he'd never driven at before – before following it up with his maiden victory, leading for 67 of the 70 laps and surviving four Safety Car periods – including the one after Robert Kubica's enormous crash – to claim victory #1.
2. Their Monaco masterpieces
Schumacher – 1997 Monaco Grand Prix
Schumacher's first Monaco visit as a Ferrari driver in 1996 hadn't gone well, after the two-time champion had crashed out on the very first lap of the race. He more than made amends a year later, though. Having jumped polesitter Heinz-Harald Frentzen off the line, Schumacher then showed immense control on slicks in the greasy mixed conditions early on – the German over six seconds clear of the field at the end of Lap 1 – before stretching his advantage as the rain really came down.
His lead over Rubens Barrichello's Stewart was over 75s by Lap 53, with Schumacher so dominant that he had time to out-brake himself at Sainte Devote, calmly spin his Ferrari around as though he were driving an FP1 session, and still cross the line 53.306s to the good, having lapped everyone up to P4.
Hamilton – 2019 Monaco Grand Prix
If Schumacher's 1997 Monaco win was about dominance, Hamilton's in 2019 was about resilience. Rocked by the death of Mercedes' Non-Executive Chairman Niki Lauda before the race, an unsettled Hamilton – in a Lauda tribute helmet – railed furiously to the team about the state of his tyres, as he was forced to withstand 62 of 78 laps where the gap between him and Max Verstappen never grew beyond 1.318s.
Withstand he did though, and after resisting the Dutchman's lunge two laps from the end, Hamilton held on for his third Monaco win – and one that Lauda surely would have appreciated.
READ MORE: 'I fought with the spirit of Niki' says Hamilton of 'hardest ever' race win
3. Their wet weather masterclasses
Schumacher – 1996 Spanish Grand Prix
The 1996 Ferrari F310 was no match for the might of the Adrian Newey-designed Williams FW18. But heavy rain on race day at the 1996 Spanish Grand Prix levelled the playing field – and created an opening for Schumacher to display his absolute brilliance in the wet, and claim his first ever Ferrari win.
Starting third, Schumacher quickly romped into the lead, overcoming an engine misfire to win out from the Benetton of Jean Alesi by over 45s – with the Frenchman and Williams' Jacques Villeneuve the only two drivers on the same lap as Schumacher by the end.
F1's Best Drives #10 – Schumacher walks on water in Spain
Hamilton – 2008 British Grand Prix
All had not been going well for Hamilton going into his home race in 2008, the Briton arriving at Silverstone on the back of a tricky pair of races in Canada and France. Hamilton's McLaren team mate Heikki Kovalainen then added to his pain by taking pole for the British Grand Prix, as Hamilton could only manage fourth.
Off the line, though, Hamilton quickly jumped to second behind Kovalainen, before passing the Finn brilliantly at Stowe on Lap 4, and holding on to win from BMW Sauber's Nick Heidfeld by over a minute, Hamilton triumphing in appalling conditions that saw his title rival Felipe Massa spin no less than five times.
F1's Best Drives #8 – Hamilton's wet-weather masterclass at Silverstone
4. Their most controversial wins
Schumacher – 2002 Austrian Grand Prix
If there was ever any doubt that Ferrari favoured Michael Schumacher over Rubens Barrichello, that doubt was eradicated at round six of 17 of the 2002 season, the Austrian Grand Prix. Despite Barrichello being very much on course for a much-needed victory – for him, at least – the Brazilian received a call from Ferrari instructing him to hand the win over to Schumacher, with Barrichello slowing in the final metres and crossing the line 0.182s behind his team mate.
Schumacher may have pulled the Brazilian onto the top step and handed him the winner's trophy – but the pair were booed by the grandstands, booed by the press room, and handed a fine by the FIA. Team orders, meanwhile, would be banned for the following season.
Hamilton – 2018 Russian Grand Prix
The above ban on team orders was rescinded in 2010 – and at the 2018 Russian Grand Prix, that suited Mercedes just fine. There'd already been hints of Valtteri Bottas being, er, discouraged from attacking Hamilton that season, most notably when he was called off the attack of his team mate at the German Grand Prix.
But at the Russian Grand Prix, Bottas was ordered aside from what would have been a comfortable win to favour Hamilton in his title fight with Ferrari's Sebastian Vettel. "Honestly, it's the strangest day I can remember having in the sport," said a demur Hamilton at the end of the race. "Valtteri was an incredible gentleman today."
TEAM ORDERS: Brawn and Coulthard on the strategy that's in F1's DNA
5. Their greatest team mate battles
Schumacher – 2004 United States Grand Prix
Two years on from the Austrian Grand Prix debacle, Barrichello was in inspired form at the 2004 United States Grand Prix, and clearly hungry for his first victory in what had been a consistent, but thus far winless, season.
In the laps leading up to his second pit stop, the chasing Barrichello had gained a full 13 seconds on race leader Schumacher, meaning that on Lap 52 he was in a position to make a move into Turn 4. Schumacher, though, was typically robust, swooping in front of his team mate's nose and holding on to win by 3s from Barrichello – although there were dark hints afterwards that Barrichello had received an instruction to hold station…
LISTEN: Rubens Barrichello on being pranked by Senna and almost signing for McLaren
Hamilton – 2014 Bahrain Grand Prix
The PR-ing of Hamilton and Nico Rosberg's partnership at Mercedes for 2013 had been a dream, the two karting buddies from different sides of the tracks now paired together at the Silver Arrows. Which was all fine until the following year, when they were both handed the predominant car of 2014, Mercedes's W05 – and in Bahrain, the gloves properly came off.
In a race since labelled the 'Duel in the Desert', the two Mercedes drivers scrapped bitterly for the victory, Hamilton using every defensive trick in his arsenal – including unceremoniously dumping Rosberg off the track at one point – to hold out for a win that would arguably herald the beginning of the deterioration of the pair's friendship.
ALTERNATIVE HISTORIES: What if Hamilton hadn't joined Mercedes?
6. Their win from furthest back on the grid
Schumacher – 1995 Belgian Grand Prix
A crash in practice for the 1995 Belgian Grand Prix left Schumacher 16th on the grid. But at a Spa track he loved, Schumacher then put in one of the finest displays of his career. In the lead by Lap 16, the slick-shod Benetton driver was then forced to defend in mixed conditions from the wet weather-tyred Williams of Damon Hill, who'd been lapping some six seconds per lap faster than Schumacher when he caught up to him.
Schumacher's defensive tactics were right on the limit – slightly over, actually, as he earned a suspended one-race ban – but he held on to take an unbelievable victory from an enraged Hill.
TOP 10: Moments of Michael Schumacher brilliance
Hamilton – 2018 German Grand Prix
A wildly scruffy moment in qualifying for the 2018 German Grand Prix likely contributed to a hydraulics issue on Hamilton's Mercedes W09 that saw him forced to pull up at the side of the track in Q1. Starting the race from P14, a 42-lap first stint allowed Hamilton to pass the midfield cars, leaving him seemingly set to pull off what would have been a solid recovery.
But then the rain started coming down, race leader Vettel crashed out of the race, and suddenly Hamilton was leading at the Safety Car restart – with his stupendous victory then ensured when Mercedes' Chief Strategist James Vowles called Bottas off the hunt of his team mate with his meme-worthy "Valtteri, it's James…" message.
7. Their 91st victories
Schumacher – 2006 Chinese Grand Prix
Schumacher couldn't have known at the time that his 91st F1 victory would be his last. But given the Schumachery-ness of his win at the 2006 Chinese Grand Prix, it was strangely appropriate. After qualifying sixth, the mixed conditions on race day played perfectly into Schumacher's hands, as he managed his tyres to perfection, while title rival Fernando Alonso's race was compromised by Renault's strategy, leaving him to come home second.
Schumacher's 91st F1 in put him level on points with Alonso with two rounds to go – but he'd ultimately come up just short that season, allowing Alonso to claim his second title, as Schumacher took his first retirement from the sport at the end of the year.
READ MORE: Schumacher and Hamilton 'more similar than you might believe', says Mercedes' Shovlin
Hamilton – 2020 Eifel Grand Prix
Schumacher had been forced to battle for his 91st victory – so it seemed only right that Hamilton should have to as well. Decidedly miffed after being outqualified by a full 0.256s by Bottas on Saturday, Hamilton was then aggressive into the Nurburgring's Turn 1 at the race start, easing Bottas off the track before the Finn struck back hard to maintain the lead.
Thirteen laps later, though, Bottas got it all wrong into Turn 1, handing Hamilton the lead – while the Finn's retirement six laps later left Hamilton with a relatively easy run to his own landmark 91st victory. As Mick Schumacher, Michael's son, handed Hamilton one of his father's helmets in parc ferme, and the momentousness of the moment appeared to dawn on Hamilton, there wasn't a dry eye in the house…
READ MORE: 'I can't respect his efforts enough' – Vettel, Verstappen and more praise Hamilton as he matches Schumacher's 91 wins