Opinion
Ranking Sergio Perez's podiums from 10-1 ahead of his 2021 Red Bull move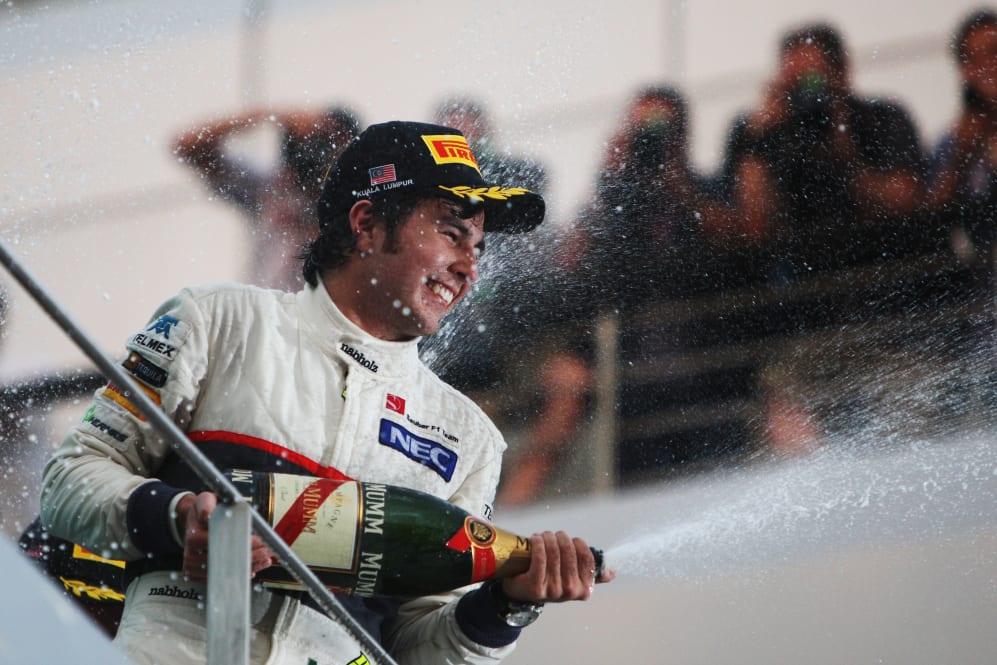 As Sergio Perez prepares to join Red Bull in 2021, we look back at his 10 podiums for Sauber, Force India and Racing Point – and take on the tough task of ranking his appearances on the rostrum, including that stunning maiden win at Sakhir.
As usual, you can vote for your favourite Sergio Perez podium in the poll at the bottom of this article!
10. 2018 Azerbaijan Grand Prix
This dramatic battle at Baku devolved into chaos almost immediately.
On Lap 1, from P8, Perez's car was tapped into Kimi Raikkonen's Ferrari – leaving the Force India driver heading to the pits for repairs, with a five-second penalty to boot during the Safety Car period.
READ MORE: Why did Red Bull opt for Perez – and what now for Albon?
Rapid lapping ensued and Perez was up to P7 by Lap 39. Then, the Mexican was given a lifeline as disaster struck for Red Bull, when Max Verstappen and Daniel Ricciardo crashed spectacularly.
Cue a huge lock-up for Sebastian Vettel and puncture for leader Valtteri Bottas after the final Safety Car restart, and Perez had somehow taken a second Azerbaijan podium.
9. 2015 Russian Grand Prix
A nightmare start for Force India as Nico Hulkenberg crashed at Turn 1 meant all hopes were on Perez in Russia. In P6 at the following Safety Car restart, he went on to complete a smash-and-grab at Sochi.
Perez pitted on Lap 12, before any other driver bar Verstappen and Grosjean, and it was to be a one-stop race for the Mexican. After a flurry of pitstops from others around Lap 30, Perez was running third.
IN DEPTH: Sergio Perez reflects on his time with Racing Point after seven years with the team
The Force India's pace wasn't quite enough for P3, but when Kimi Raikkonen and Valtteri Bottas collided late on having passed the Mexican, Perez found himself with one of the most unlikely podium finishes on a day in which he and the team would have settled for points.
8. 2012 Italian Grand Prix
One race prior to this, Perez, Hamilton and Alonso were taken out in a first-corner pile-up at Spa-Francorchamps.
At Monza, the trio finished on the podium.
Perez qualified 12th and had free choice of tyres, so he played to his strengths and began the race on hards as most others plumped for mediums. In a caution-free race, Perez watched as others pitted and briefly led, pitting from P2 on Lap 29.
REVEALED: F1's team bosses choose their Top 10 drivers of 2020
On new tyres, he made light work of the likes of Kimi Raikkonen and Felipe Massa, gaining more places as the Mercedes pitted.
With life left in his tyres, Perez took P2 off crowd favourite Fernando Alonso, passing the Ferrari with seven laps left to finish just four seconds off McLaren's Lewis Hamilton – in a Sauber.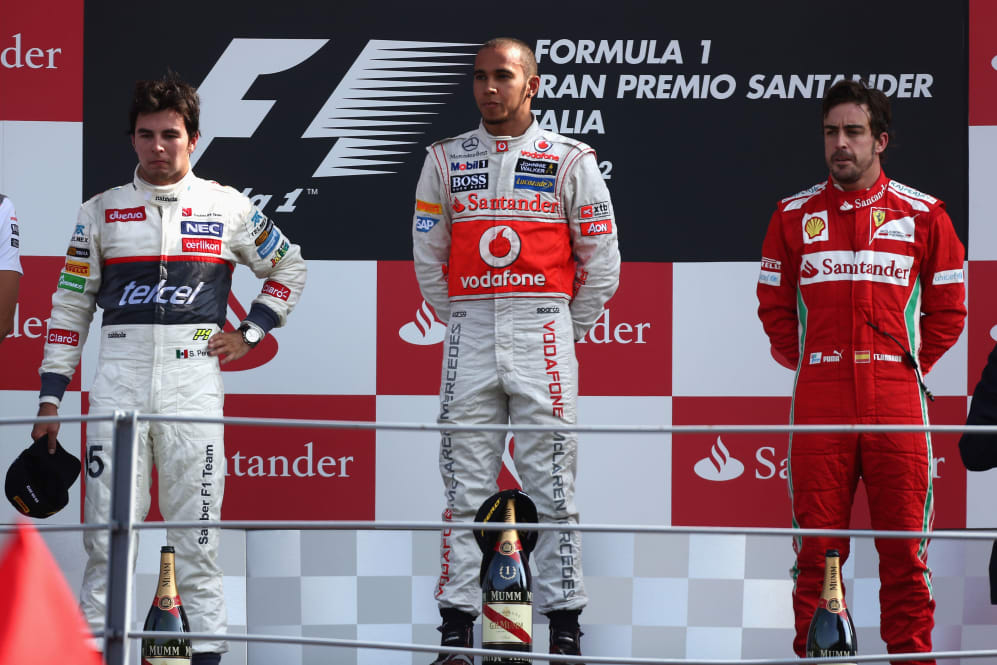 7. 2014 Bahrain Grand Prix
An ill-timed and short-lived McLaren move meant podiums didn't materialise for Perez in 2013, so as the new era of turbo-hybrid F1 cars beckoned, Perez moved to Force India.
Best known as the 'duel in the desert' for that brilliant Rosberg vs Hamilton bout, one could easily forget Perez's performance.
READ MORE: 'We'll come back stronger as Aston Martin' says Racing Point boss Szafnauer after 'a year of missed opportunities'
Starting fourth, Perez hounded Williams' Valtteri Bottas for P3 and then held off team mate Nico Hulkenberg, both Williams, and, at the end of the race, the Red Bulls for Force India's second-ever podium.
More than a show of talent, this was a show of resilience from Perez, who shrugged off a disappointing 2013 season to bounce back in Round 3 of 2014.
6. 2012 Canadian Grand Prix
Perez hadn't yet earned his 'tyre king' status by the seventh round of 2012, but he certainly showed his prowess on Pirellis at Montreal.
The Sauber star qualified 15th, pulled off an incredible 41-lap stint on soft tyres to start the race and pitted for super softs from P7. As Mark Webber, Nico Rosberg and Felipe Massa lost time, Perez was in P5.
READ MORE: Wolff to continue as Mercedes team principal for further three years, as Ineos become one-third equal shareholder of team
Lewis Hamilton then had to pit a second time and, almost by magic, Perez was in the running for a podium.
His gentle approach on the super softs paid off; Perez swiped P3 from none other than a slowing Fernando Alonso with three laps remaining for a second stunning Sauber podium.
5. 2016 Monaco Grand Prix
Starting seventh in Monaco meant Perez wasn't expecting a podium on his sixth F1 race in the Principality; not since 2012 had a driver achieved a podium starting outside the top three, when Fernando Alonso finished third from fifth on the grid.
The race began under Safety Car on the damp Monaco streets, a VSC coming out for Jolyon Palmer's crash at the start.
READ MORE: 'Monaco 2016 haunted me for two years' admits Ricciardo – 'It was just pure rage'
Perez played to his tyre-nursing strengths here: he stayed out on intermediate tyres to jump ahead of team mate Nico Hulkenberg and Ferrari's Sebastian Vettel. Vettel hounded him in the middle of the race and Perez pulled off an undercut, taking soft tyres on Lap 30 of 78, to gain track position and stay ahead of the German – and compatriot Nico Rosberg.
Vettel closed in with about 10 laps remaining but Perez hung on for a surprise podium in a fabled setting – on a day infamous for Daniel Ricciardo's pit stop heartache...
4. 2016 European Grand Prix
Azerbaijan's first Grand Prix was set to take place on the narrow streets of Baku, winding around the old town. Who expected Baku to host such barnstormers back then?
Perez's weekend began on the back foot as he crashed in FP3 then had a five-place grid penalty dropping him to seventh at the start, thanks to a new gearbox. That still meant he set the second-fastest lap in qualifying...
Cue a blistering sequence of opening laps from Perez, as he was fifth by the end of Lap 1 and, as Daniel Ricciardo had to pit twice, he climbed another place.
He found himself holding off Lewis Hamilton and battling Kimi Raikkonen for P3, passing the Finn on the last lap in a stunning, stylish recovery drive.
3. 2012 Malaysian Grand Prix
The odds on Sauber's youngster becoming a Ferrari driver at the expense of Felipe Massa were significantly shortened thanks to this incredible battle against Fernando Alonso.
From P9, Perez made a brave call by pitting for wets before the rest and was up to P3 when the race was red flagged on Lap 7, leading briefly before his second stop on Lap 15.
READ MORE: A mistimed McLaren move, and missing out on Mercedes and Ferrari – what might have been for Sergio Perez
As the track dried, race leader Alonso pitted for used mediums on Lap 40; Perez for new hard tyres on Lap 41, and the chase was on. Perez's pace was superior but an off at Turn 14 - in the heat of battle - scuppered his chances.
Regardless, Perez had made his mark with an almost flawless David vs Goliath performance, and it wasn't just Ferrari, but McLaren who were watching...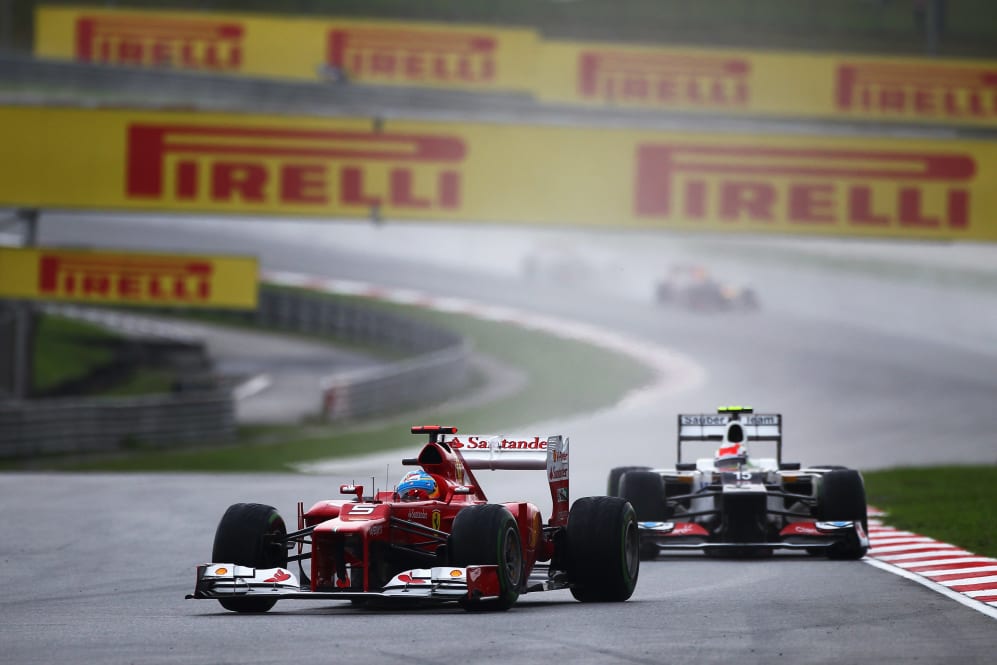 2. 2020 Turkish Grand Prix
So polished and prepared had Perez been in 2020 that it's shocking that he only had three podiums, driving the formidable Racing Point RP20.
In Turkey, Perez lost out on provisional pole to team mate Lance Stroll and Red Bull's Max Verstappen late in a chaotic Q3 session.
Starting third and gaining P2 off Verstappen at the start, Perez managed a mammoth 48-lap stint on intermediates having pitted from wets on Lap 10. He kept his cool when Verstappen approached and the Red Bull driver spun at high speed in an attempt to pass him for P2.
From then, it was an assured drive in the most trying conditions the grid had faced in years.
Only at the end, with two Ferraris behind him, was Perez properly tested on his heavily worn tyres. Charles Leclerc tried to sweep past and locked up heavily, while Sebastian Vettel finished just 0.327s off the cool, collected Racing Point driver at the flag.
An incredible drive from Perez – in treacherous conditions – that could only be bettered by his win at Sakhir.
1. 2020 Sakhir Grand Prix
With two races of the 2020 season left, Perez is without a drive for 2021 and onlookers are left on tenterhooks, hoping to see the Mexican race next season.
Perez himself is determined to push on, regardless of his future, and qualifies fifth on this new, high-speed layout of the Bahrain International Circuit.
But the race seems to be over for Perez as he's tapped into a spin on Lap 1, forced to pit, and emerge last.
Give it 19 more laps and Perez is into the points, and he's up to third just after the halfway point having swept past Lance Stroll and Esteban Ocon. Remarkable comeback: done.
But there's more, as Mercedes' ill-fated double-stack pitstop, during the second Safety Car period of the evening, jeopardises their chances on Lap 62. Race leader George Russell is put on the wrong tyres and Valtteri Bottas is kept on worn tyres.
Perez is in the lead, but Russell is determined to win on his Mercedes debut. And then, disaster for the Mercedes again: Russell pits again with a puncture.
It seemed too good to be true as close calls and near misses seemed to punctuate Perez's 10-year wait for a F1 win. Yet, it was true, and the 190-race wait for a victory was over for the Mexican after a miraculous last-to-first comeback. Cue tears. Lots of them.
Now, Perez is gearing up for a stint with Red Bull in 2021. Surely, we'll see him on the rostrum again...