Red Bull braced for grid penalties after Honda confirm Verstappen and Perez have both lost engines to crash damage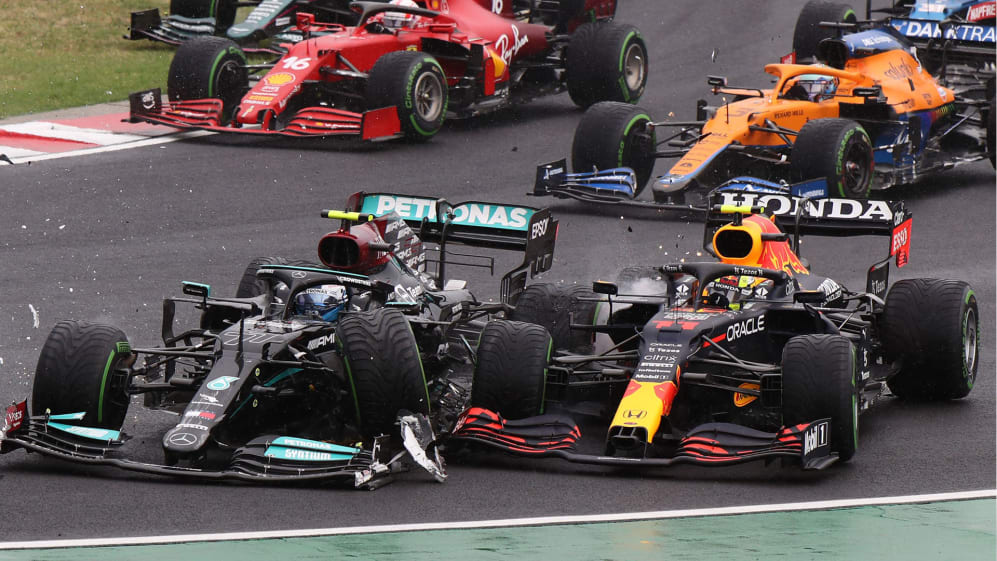 The last two races have been disastrous for Red Bull, after they scored just five points at Silverstone and Hungary. And the team are bracing themselves for more pain in the upcoming races, after Honda confirmed to F1.com that both Max Verstappen and Sergio Perez have lost the use of their second internal combustion engines of the season, making grid penalties for future power unit changes almost inevitable.
Verstappen's 51G impact into the Silverstone barriers after colliding with title rival Lewis Hamilton cost him his second ICE, with Red Bull fitting a third for the Hungarian Grand Prix last time out.
READ MORE: Verstappen insists Hamilton's experience won't give him an advantage in the title race
But with team mate Sergio Perez caught up in Lap 1 carnage in that race, Honda have confirmed that damage to the Mexican's second internal combustion engine of the season after his DNF had forced him to take on a third one for this weekend's Belgian Grand Prix.
With drivers allowed three penalty-less ICE changes per season, neither Verstappen nor Perez's changes have resulted in grid drops at this stage.
But with the majority of the field still only on their second ICEs of the season – and with a maximum of 12 races still to run in 2021 – Red Bull were preparing themselves for grid penalties in the future as a result of power unit changes, something Team Principal Christian Horner had already been braced for in the aftermath of the Hungarian Grand Prix.
"Very little, I'm afraid," replied Horner, when asked at the Hungaroring how likely Red Bull's chances were of avoiding grid penalties, "and that is hugely frustrating for Honda as it's not due to reliability; it's due to accidents that we haven't caused. So they are feeling the brunt of this, as we are on the chassis side and it's not to be underestimated on the cost cap side.
READ MORE: Hamilton predicting even tougher fight with title rival Verstappen in second half of season
"We've had some hugely bad luck in the last couple of races," added Horner. "It's been pretty brutal in parts, in damage, in engines. But you know we'll brush ourselves down and we'll come out fighting in the second half of the championship."
Red Bull, meanwhile, will now prepare to race at Belgium on the back foot, having lost the lead of the constructors' fight to Mercedes after Hungary – while Lewis Hamilton sits eight points clear of Verstappen in the drivers' standings.