Red Bull performance at unfavoured Bahrain shows they are 'leading the pack', says Wolff
Bahrain hasn't been a happy hunting ground for Red Bull in the hybrid era – with 2013 marking the last victory for the team at the circuit. But having come so close to winning the 2021 race, Mercedes Team Principal Toto Wolff was nervous about the sort of performance Red Bull could unleash at some of their stronger tracks this season.
Wolff's Mercedes team may have struck the first blow in the 2021 championship fight by taking victory over Red Bull's Max Verstappen in Bahrain. But it had required all of seven-time champion Lewis Hamilton's guile and defensive driving genius to win by just 0.745s from the Dutchman – leaving Wolff in no doubt as to who was in the stronger position at the start of the year.
READ MORE: Wolff calls for clearer track limit guidance as he compares Bahrain Turn 4 rules to 'a Shakespeare novel'
"Bahrain was always not the strongest race for Red Bull and also they haven't been particularly good out of the blocks [at the start of seasons] and this weekend shows that that is not the case anymore in 2021," said Wolff. "So I have no doubt that they are extremely difficult to beat. They are the ones that that are leading the pack.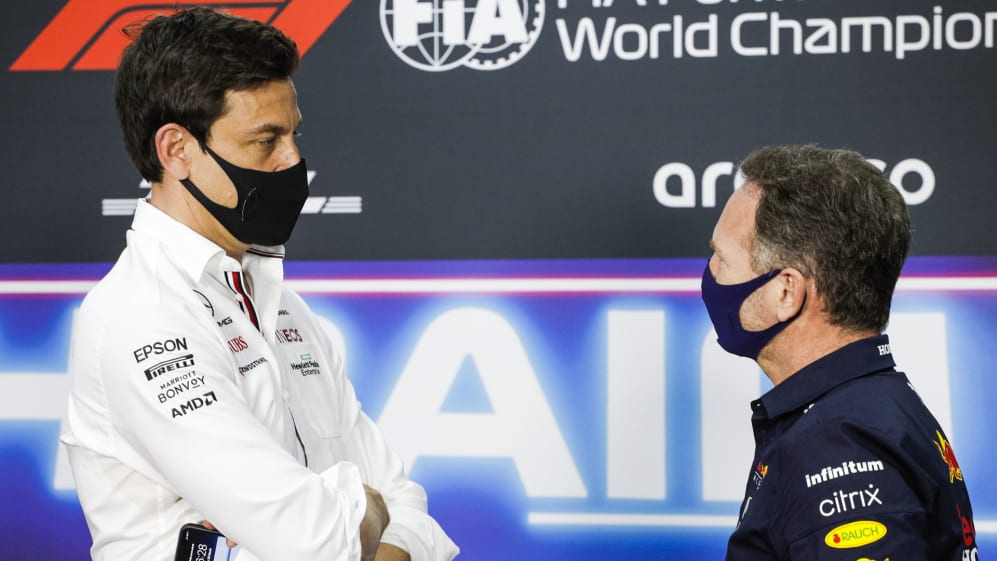 "The racing gods were on our side, and that's why [we won]," he added. "It's not that we have found suddenly some awesome performance. It was a combination of great strategy, a solid race car, and then just being fortunate at the end."
Despite his concession that Red Bull were the stronger team currently, Wolff added that Mercedes were nonetheless still "definitely competitive". But with Verstappen having taken pole from Hamilton in Bahrain by nearly four-tenths – roughly reversing the advantage Hamilton had over Verstappen at the 2020 race a few months ago – Wolff said the team's job was now to recover ground to Red Bull performance-wise in the coming races, particularly over one lap.
READ MORE: The brilliant Bahrain battle between Hamilton and Verstappen shows we could be in for an epic season, says Brawn
"We were four-tenths off in qualifying and that's quite a gap and very difficult to recover," said Wolff. "We are still lacking pace in qualifying and quite a bit.
"I think we were competitive. We are definitely competitive… and we recovered well from the test," added Wolff. "But to give you 100% honesty, we are still lacking pace in qualifying – and quite a bit."
Lacking pace they may be – but Mercedes still left Bahrain at the top of the constructors' standings, with a 13-point advantage over Red Bull.