Wolff calls for clearer track limit guidance as he compares Bahrain Turn 4 rules to 'a Shakespeare novel'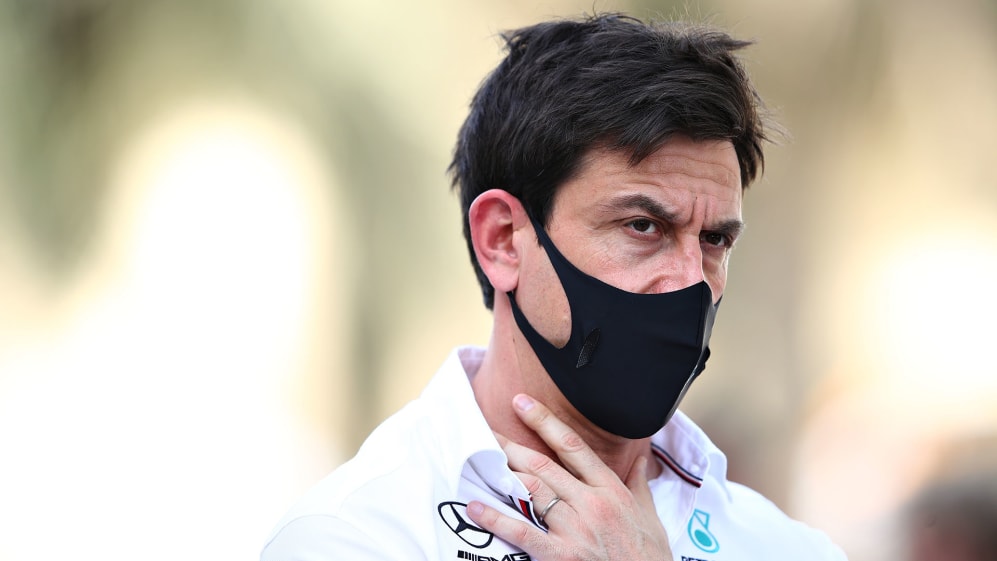 One of the biggest talking points to come out of the Bahrain Grand Prix was the enforcement of track limits at Turn 4 – with Mercedes Team Principal Toto Wolff saying he'd like see clearer instructions handed out to teams on what they could and couldn't do going forward.
Wolff's driver Lewis Hamilton was the eventual winner of the Bahrain Grand Prix, triumphing after Red Bull's Max Verstappen attempted a move around the outside of Turn 4 three laps from the end but ran off track, before being instructed to give the place back and allowing Hamilton to claim his 96th F1 victory.
READ MORE: Masi insists track limits rules didn't change mid-race, despite Hamilton-Verstappen controversy in Bahrain
Prior to that, Hamilton had been clocked 29 times using the advantageous off-track line at the exit of Turn 4 – with the stewards eventually threatening a black and white flag if he continued to do so.
But although FIA Race Director Michael Masi said that "nothing changed" in his policing of track limits at the corner – which teams were told would not be monitored during the race regarding lap time, but where competitors would be required to not gain a lasting advantage from running off the track, as per the Sporting Regulations – Wolff admitted to being perplexed by the rules after the race.
"I'm equally confused like you," Wolff told the media. "At the beginning of the race it was said track limits in Turn 4 wouldn't be sanctioned. And then in the race suddenly we heard that if you continued to run wide, it would be seen as an advantage and could cause a potential penalty. Which we debated with the Race Director but there's nothing we could have done.
"But then at the end that decision actually made us win the race," he added. "Max ran wide in the definition of the Race Director, gaining an advantage. He had to give back the position and that saved our victory."
Wolff may have benefitted from the rules in this instance. But the Mercedes Team Principal joined his Red Bull counterpart Christian Horner is calling for clearer guidelines for the next race.
READ MORE: 'We need a consistent situation' – Horner frustrated by track limits 'grey area' in Bahrain GP
"They need to be clear, they need to be sacred and not a Shakespeare novel that leaves interpretation," said Wolff. "We need to be consistent in which messages are being given… I think the learning of this is it needs to be simple, so everybody can understand it and they don't need to carry the document in the car to read it and remind themselves what actually is allowed and what not."
Hamilton's victory, along with Valtteri Bottas' third place, ensured Wolff's team left Bahrain at the head of the constructors' standings, Mercedes' 41 points giving them a lead of 13 over Red Bull.