Red Bull plan to make power unit decision before end of 2020, says Horner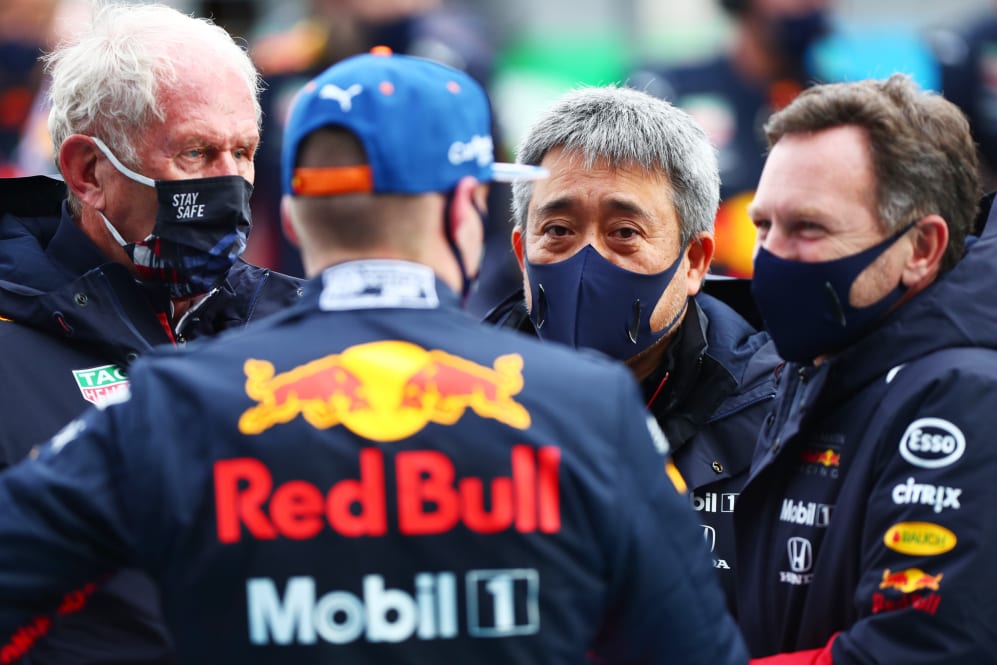 With a huge rule change on Formula 1's horizon, Red Bull's Christian Horner has said he'd like to select the power unit his team will use from 2022 onwards before the end of this season, following Honda's decision to withdraw from Formula 1 at the end of 2021.
Honda announced ahead of the Eifel Grand Prix that, having returned to Formula 1 in 2015, they would leave the sport after the 2021 season, leaving both Red Bull, and sister team AlphaTauri, in need of a power unit supply for 2022 – when F1 cars will undergo a radical aerodynamic transformation intended to ensure closer racing.
READ MORE: From a Renault return to building their own – Horner on Red Bull's engine options
And asked at the Nurburgring when he'd like to make the decision on power unit suppliers, Horner replied: "Ideally by the end of the year because of course, the engine forms an integral part within your 2022 design, so ideally by the end of this year, so the design team go into next year with a clear set of parameters."
As to who that power unit supplier would be, Horner admitted to having conversations with all three of Formula 1's other current suppliers, Mercedes, Ferrari and Renault, over the Eifel Grand Prix weekend – although Mercedes' Team Principal Toto Wolff said he wouldn't want to supply Red Bull, while Renault and Red Bull went through an infamously rocky breakup at the end of the 2018 season.
READ MORE: Wolff doubts Red Bull will have to rely on Renault or Ferrari engines as he rules out Mercedes deal
"They're obviously the three current suppliers remaining past the end of 2021, so it's only natural that we will engage in discussions with those parties," said Horner. "We've got a bit of time on our side to evaluate all the options, so inevitably there is always going to be a discussion about engines when you're without one for the 2022 season.
"I think Toto, in his early conferences, obviously made it clear that Mercedes are not keen to supply an engine, so that limits your choice to therefore two current suppliers in the sport. And as I say, we need to take the time to do our due diligence.
"We want to compete and we want to win world championships. That's the reason that Red Bull is in the sport, that's what it's here to do and we can only do that with a competitive power unit and that's where we need to take our time to, as I say, do the necessary investigation and due diligence."
Another suggested avenue for the team has been finding a way to continue using and developing Honda's power units themselves. But whether or not that plan comes to fruition, Horner confirmed that whatever Red Bull do, AlphaTauri would do too.
READ MORE: Ricciardo says there's no reason Red Bull and Renault couldn't rekindle successful partnership
"I think it's very much a two-for-one scenario," he said, "so due to our synergy project, due to integration of the drivetrain, then it's inconceivable to think that the two teams could operate on different power units and that introduces all kinds of complexities, particularly with IP [intellectual property] etc from the different suppliers. So it would be far from ideal to put teams on different power unit solutions."