Ricciardo: I don't fear for Hulkenberg's future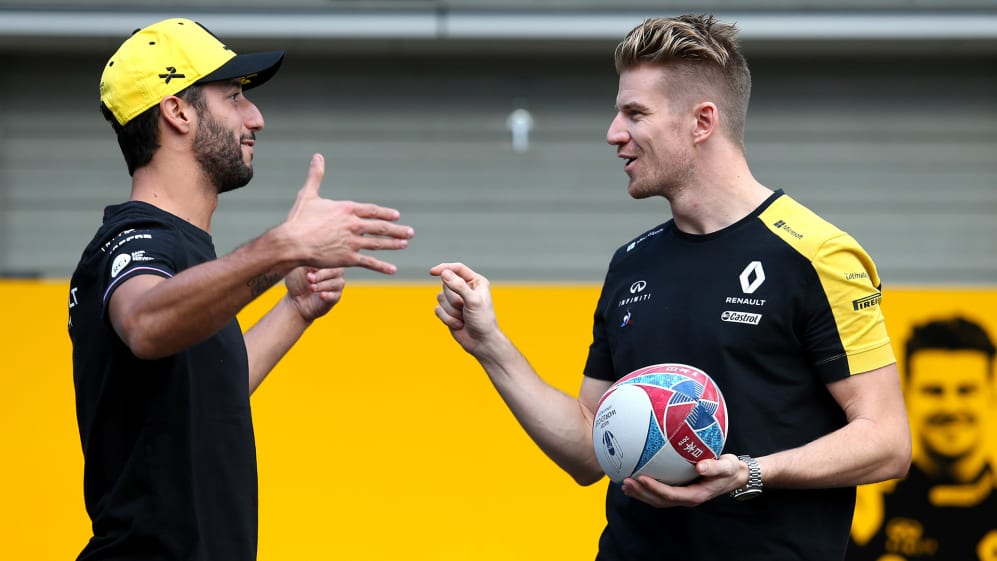 Daniel Ricciardo has sung the praises of outgoing Renault team mate Nico Hulkenberg, who is without a seat on the F1 grid in 2020, and anticipates another cohesive relationship with the German's replacement, Esteban Ocon.
Hulkenberg will make way for Ocon at the end of 2019 after three seasons with the Enstone squad. Ricciardo had no doubts, however, that Hulkenberg has the talent to return to F1 – or go beyond, if he so pleases.
READ MORE: Ricciardo 'proud' of Brazil fightback to P6
"He's cool," said Ricciardo. "I certainly think he still has time in the sport if he wants it. His ability is certainly there to do it. I don't fear for him if he doesn't come back to F1. He's a pretty switched on kid, he's quite business savvy so if he goes on to do other things he'll be okay," said Ricciardo.
Ricciardo has spent just the 2019 season with Hulkenberg and explained that his team mate made the transition from Red Bull to Renault much smoother.
MUST-SEE: Onboard for Leclerc, Ricciardo and Norris's epic first-lap battle in Brazil
"Yeah it's been pretty easy-going," he added. "He has been easy to work with, does what he has to do and doesn't really kick up a fuss.
"Also I do believe coming into the season we both had respect for each other and I think that helps, as far as we don't feel the need to do anything weird. I don't want to say I've had that in the past, I haven't had that, but it made the transition of me coming into this team quite easy.
READ MORE: Reserve or development F1 role 'not an option' says Hulkenberg
"Pre-season, we had a bit of a laugh, after the races we might go see each other and have a drink at a party."
While Ricciardo and his former team mates at Red Bull – Brazilian GP winner Max Verstappen and, before that, Sebastian Vettel – tangled on track a couple of times, he spoke of the "respect" he had for both.
With Max, yeah, we were competitors but I respected his talent, his ability, and I think he did the same
"I guess I'm pretty easy going," he said. "Yes, I'm a competitor on the track.
"With Seb as well I think there was just respect and with Max, yeah, we were competitors but I respected his talent, his ability, and I think he did the same, so I think if you have the respect then I think that's really the main thing to keep everything together.
He expects the same with incoming team mate Ocon next season, too.
"With Esteban, no concerns, no fears, no doubts," he added. "I do respect him as a competitor.
READ MORE: 'Champagne!' – Ricciardo sets clear target for 2020 season
READ MORE: Managing Ocon-Ricciardo relationship will be a 'challenge' – Abiteboul
"I'm sure he does respect me, but will he want to come in and set himself up in the team? Absolutely," he said.
"Again there'll be that competitive respect, as long as there's that: I want to beat him, he wants to beat me, we're not silly. We've done this thing once or twice before, but as long as there's respect for each other that's what we need.
"We don't need to be best mates either but we'll get on with it and try to get it going."
Hulkenberg gears up for his last race with Renaul, the 2019 Abu Dhabi Grand Prix at Yas Marina, with a two-point lead over Toro Rosso's Daniil Kvyat in the fight for 13th in the standings.
2019
Drivers' standings after Brazil
POSITION
POINTS

13

Nico

Hulkenberg

Renault

37

14

Daniil

Kvyat

Toro Rosso

35