Russell sets his sights on Leclerc at the start as Hamilton approaches Italian GP with 'glass half full' from P19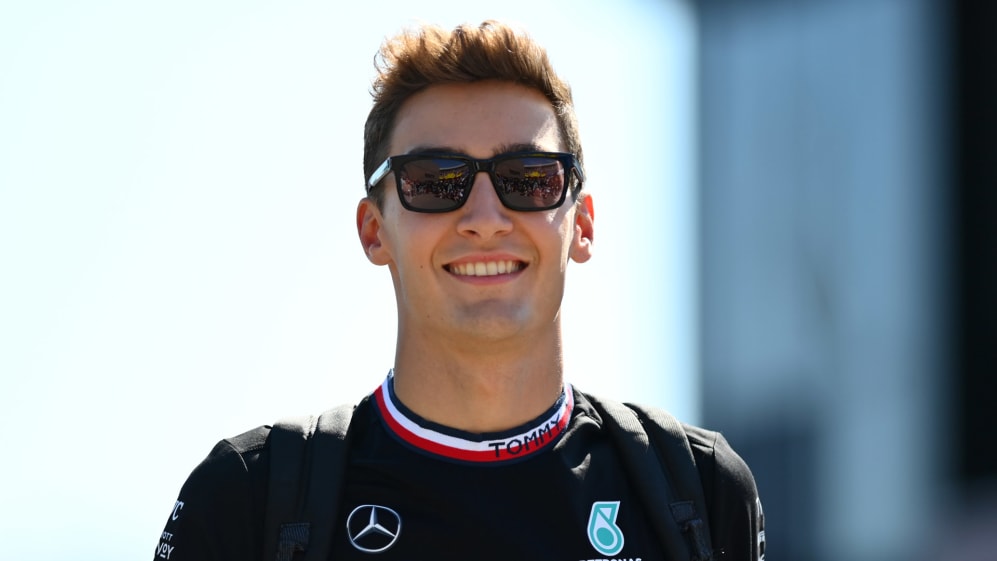 George Russell is hopeful of taking the fight to Charles Leclerc at the start of the Italian Grand Prix but reckons achieving victory will be a tall order – tipping Max Verstappen to be in a "league of his own".
Russell will join Leclerc on the front of the grid for Sunday's race at Monza, gaining spots due to a host of engine and gearbox penalties for the likes of Verstappen, Carlos Sainz, Sergio Perez and Lewis Hamilton.
READ MORE: Leclerc takes pole position for the 2022 Italian Grand Prix with Russell to join him on front row
While Sainz and Hamilton fall to the very back, Red Bull pair Verstappen and Perez will drop five and 10 places respectively – and Russell doubts he or Leclerc will have the pace to fend off the reigning World Champion.
"We knew it was going to be the case that we couldn't battle with Red Bull or Ferrari today, and we just needed to ensure that we have a good race car and qualify ahead of the midfield," commented Russell, adding that he and Mercedes "achieved our targets".
"I will do my best to try to jump Charles at the start, but Max is going to be in a league of his own – we probably won't put too much focus on him. I think Charles is where our race is at. We [also] need to see how quickly Checo [Perez], Lewis and Carlos come through the pack."
Hamilton is due to start all the way back in 19th position – AlphaTauri's Yuki Tsunoda the only driver behind him – having taken on a new power unit after picking up damage in his collision with Fernando Alonso at the Belgian Grand Prix.
Nonetheless, the seven-time World Champion vowed to embrace the challenge ahead, saying: "You just always have to try and approach it – regardless of the situation – with the glass half full.
READ MORE: Leclerc eyes another memorable Monza win after 'putting everything together' for pole position
"I have no idea what we can do tomorrow. It could be – in the worst-case scenario – [being] stuck behind and following everybody for the whole race. The best that can happen is we get into the top 10 and get some points – that's got to be the goal.
"I made the mistake that's put me in this position to have to have a new engine and I'll use the experience to just work on my race craft – it needs work! I'm gonna brush off some of those damn cobwebs and get some good overtaking moves tomorrow if I can."
Since 2014, Mercedes have managed at least a podium in every Italian Grand Prix bar 2020 – with their last win at Monza having been delivered by Hamilton in 2018.