Sainz handed three-place grid drop for Perez block as McLaren drivers rue Q2 tyre gamble
Carlos Sainz has been handed a three place grid penalty for Sunday's Turkish Grand Prix after he was found to have held up Sergio Perez during qualifying at Istanbul Park.
The McLaren driver had a frustrating day and was knocked out in Q2 after posting the 13th quickest time. But after the session was over the stewards said Sainz had been guilty of impeding Racing Point's Perez through Turns 2 and 3, and through subsequent corners.
"While extraordinary track conditions clearly impacted the situation, radio communications from the team clearly warned Car 55 that Car 11 was behind him," the stewards said, after handing him a three place grid penalty, and a penalty point on his super licence.
HIGHLIGHTS: All the action from a thrilling qualifying session as Stroll takes brilliant maiden pole
Sainz himself said the incident was simply down to the treacherous wet weather conditions on track.
"We are all trying to warm up the tyres or different run plans, and I think in the wet, the stewards need to be a bit more conscious of that," said Sainz after qualifying. "We are all struggling to stay on track and if I impeded, it's because I'm slow – it's not because I am trying to impede anyone."
Meanwhile both Sainz and team mate Lando Norris were left frustrated after an early switch to intermediate tyres in qualifying failed to work, seeing them both go out in Q2 as McLaren failed to get a car into Q3 for the first time this season.
With treacherous conditions at Istanbul Park having led to two red flag stoppages during Q1, the McLaren pair raised eyebrows when they were the only two of the 15 drivers in Q2 to leave the pits on the intermediate tyres.
READ MORE: Stroll takes scintillating Turkish GP pole in dramatic, rain-hit qualifying
But with the track still extremely slippery and the best lap times coming from drivers on the extreme wet tyres, McLaren called off the experiment and switched to those tyres, but it was too late – with Sainz left only 13th quickest and Norris 11th, with both drivers over four seconds adrift of segment leader Max Verstappen's pace at the front.
"It's very disappointing," said Sainz. "I've never been so far off in the wet. Normally it's the conditions I love and I tend to do very well but today, it was just impossible to warm up the tyres.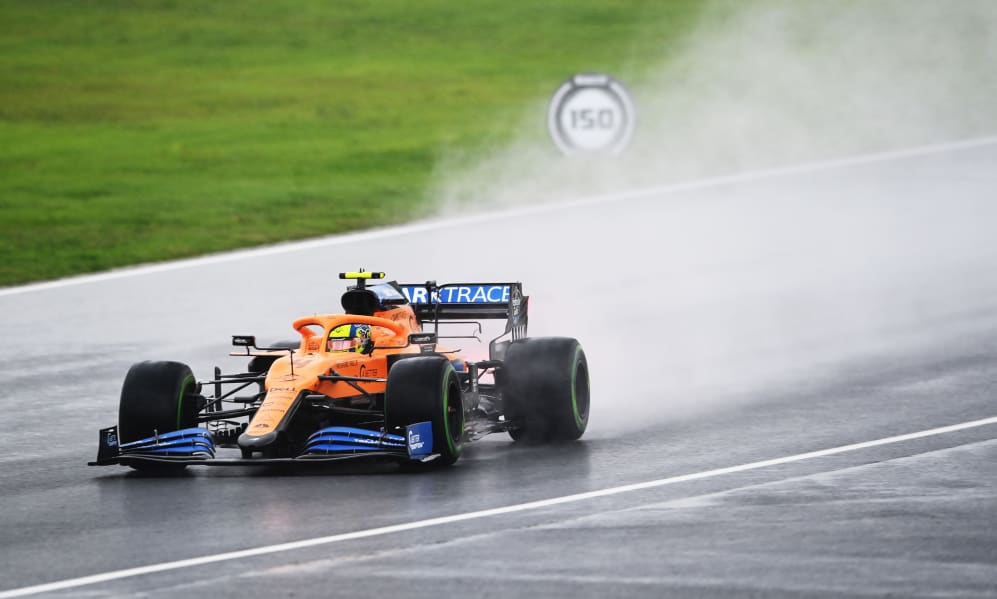 "Just towards the end we were finally starting to feel some grip, but we just went to the wets too late; we gambled on the inters and it simply didn't work and by the time the temperature was coming up on the wets, the session was over.
"A shame. I'm very upset about it, I'm not going to lie. It is what it is and let's see tomorrow… what we can do."
READ MORE: 'First time I sit here upset this season' says Verstappen as he questions Q3 tyre switch
Team mate Norris was more upbeat, however, insisting that McLaren hadn't been "miles off" despite Norris' best Q2 time being a full 0.667s away from what was needed to reach Q3 – while the Briton admitted he was hoping for a dry race on Sunday, having spent all of Friday in the top 10 at the slippery Istanbul Park circuit.
"It was good fun, just very difficult," said Norris at the end of qualifying. "It's a good, big challenge for us and for everyone on track, especially Q1 when it was so wet, but still Q2 – it was difficult enough to drive in the dry, so when you put a bit of water on it, it becomes extremely tricky, and today we just didn't quite do a good enough job.
READ MORE: 'I did everything I could with what I had' – Hamilton says P6 was best Mercedes could do
"We struggled a bit for pace considering we were both out and we both didn't have the pace to get into Q3. Maybe some things we need to work on with the car in these conditions and with this tarmac to make it a bit nicer and easier to drive. But I don't think we were miles off.
"Tomorrow, hopefully it's dry because I think we have better pace," he added. "But if it's wet then it's going to be a tricky race."
Norris could also yet in be trouble with the race officials after he was summoned to the stewards for an alleged non-respecting of yellow flags in Q1.