Sainz says Monaco podium 'good boost' for Ferrari – but not expecting repeat in Baku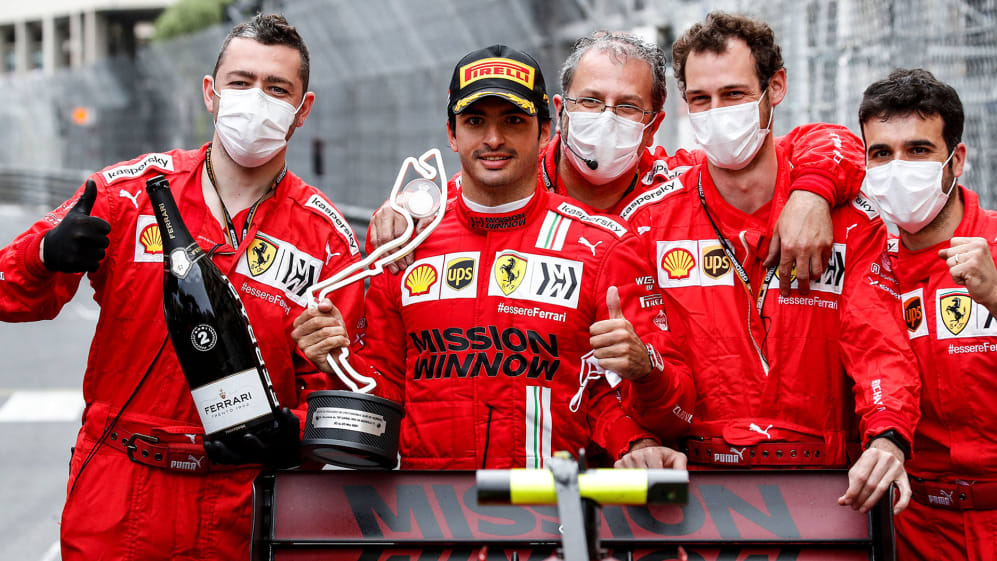 It took Carlos Sainz just five races to become the 58th Ferrari driver to stand on the podium in F1 history, after his second place at the Monaco Grand Prix. But while Sainz said that the rostrum appearance had lifted the spirit of the whole Ferrari team, he isn't expecting a repeat performance at the Azerbaijan Grand Prix this weekend.
Following their off-key 2020, Ferrari showed pack-leading pace around the high-downforce Monaco circuit this year, Charles Leclerc claiming pole position – securing it with a Q3 crash that prevented others from improving – while Sainz then converted his P4 on the grid to P2 at the chequered flag, for his third career podium, and first as a Ferrari driver.
READ MORE: Flexi wings, Ferrari's form, and a quirky Baku record – 5 fascinating Azerbaijan GP storylines
"It's been good," said Sainz of the reaction at Ferrari's Maranello HQ to his podium. "I mean, you can see in everyone's faces, in everyone's spirits that it was a good boost for everyone, not only for the podium, just in general the speed we had that weekend was quite encouraging to see.
"Monaco is a high-downforce circuit, you need mechanical grip, you need a good balance and to see that we were one of the best, if not the best at that, it was definitely encouraging and you can feel it in the atmosphere in the team and it's good to see."
In the circumstances, you might have expected Sainz to have been overjoyed with finishing second to championship leader Max Verstappen at Monaco. But he admitted in Baku that it had taken him several days before he'd got over the disappointment of not having been in a position to challenge for pole and the win, following Leclerc's Q3 mishap.
"At the beginning, particularly on Sunday, I didn't get much of a buzz," said Sainz. "I didn't get to enjoy it as much as I probably should have. I was still pretty angry about Saturday and I was still regretting not being able to be in the front row at least of that qualifying due to what happened and the circumstances.
READ MORE: Azerbaijan Grand Prix Form Guide – Will we see another mixed-up podium in Baku?
"So on Sunday, I still felt like second was a bit not enough for the pace we had that weekend. But it was a bit of a relief at least to score the podium, to finish second, give the team a good result and then as the days started to pass, I started to reflect a bit more on it and I started to be a bit more proud, a bit more happy of the weekend in general."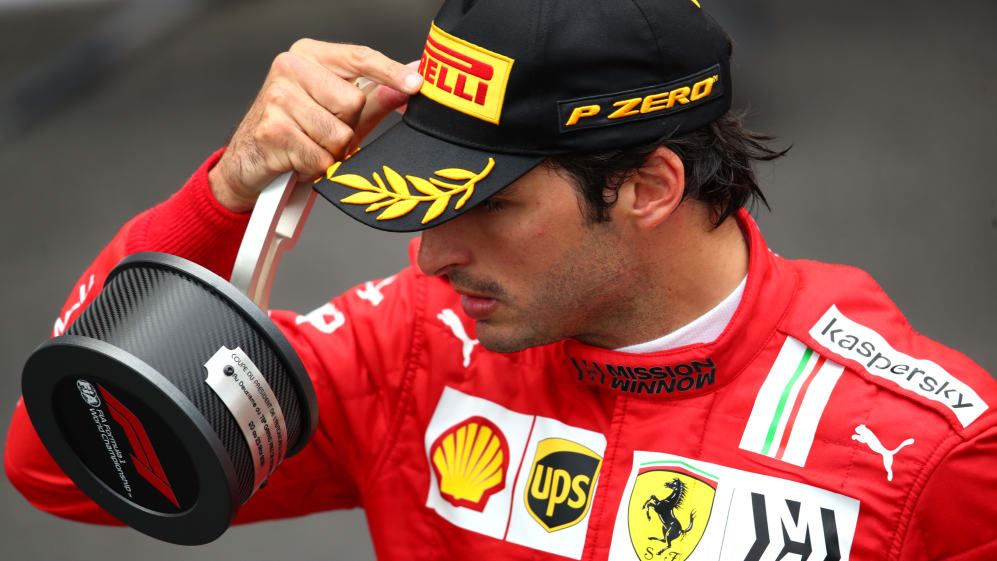 Sainz will now prepare to race at a Baku track where he's finished in the top eight at every race bar the 2016 European Grand Prix, which he retired from. And although the Spaniard was doubtful about the chance of repeating his Monaco podium exploits this weekend, he still believed that Ferrari's slow-speed dominance from Monte Carlo could translate into a healthy points haul in the Azerbaijan Grand Prix.
READ MORE: Sainz says Norris and McLaren should be excited about Baku prospects with 'rocket' of a car
"It's another street race but it has completely different characteristics. Baku is so tricky. You have all these very long straights. I think we spend two kilometres flat-out. We know that that is still a bit of a weakness for us in terms of top speed and acceleration, so we know that that is going to put us immediately a bit on the back foot going into the weekend.
"But at the same time, if we manage to get the car working well in the slow corners like we did in Monaco, we can still maybe be decently competitive – nothing close to Monaco, because Monaco I think it's a bit of a one-off, a bit of a special case scenario, but we're still going to try and score some good points this weekend and keep improving as a team."
Ferrari head into the Baku weekend just two points adrift of third-placed rivals McLaren in the constructors' standings, with 78 points to McLaren's 80.