Feature
Secret aero details and a new focus for Hamilton: 5 takeaways from Mercedes' 2021 launch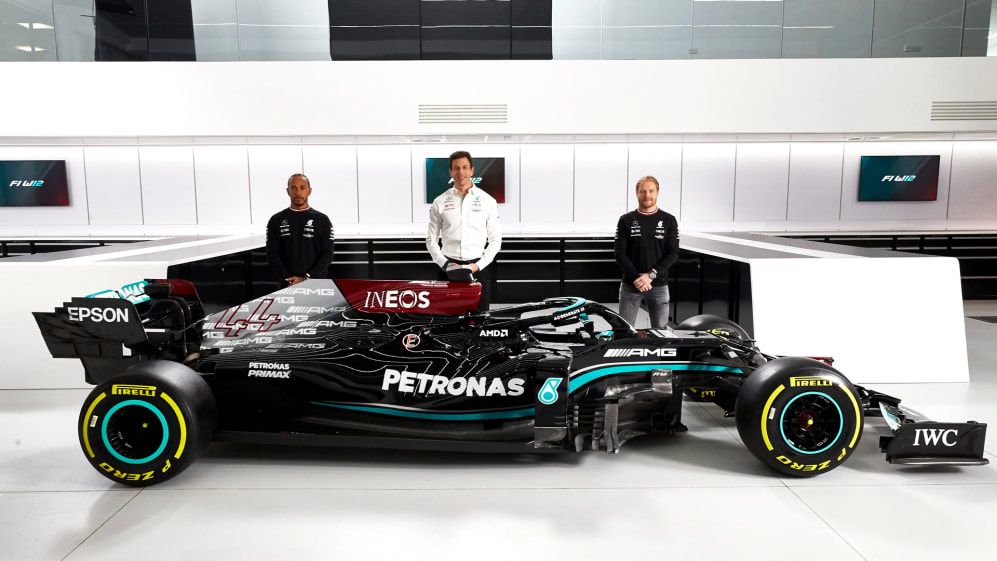 Somewhat secretive and ruthlessly efficient. That's the best way to describe Mercedes' 2021 season launch, the reigning world champions running a live feed from their shiny new race bays in their Brackley HQ to reveal their black and silver W12.
For the seventh successive year, the Silver Arrows head into a F1 campaign as the ones with a target on their back. But have they done enough over the winter to keep their place at the top of the pile? Here are our five takeways from the champions' launch...
1. They are keeping their cards close to their chest
Mercedes have been the trailblazers in the hybrid turbo era, both in terms of power unit and chassis. So finding not only the motivation but also performance gains becomes a bigger challenge year on year.
READ MORE: Mercedes retain black livery as they unveil Hamilton and Bottas' new F1 car for 2021
That might by why, then, they have taken a very secretive approach to their 2021 pre-season. Yes, they rolled out a 2021 car with some cool innovations, including reprofiled sidepods and a bulge in the engine cover, perhaps to aid engine changes.
But there was plenty they kept hidden. For a start, they chose not to reveal how they spent their two development tokens – "That'll become clear in good time," said tech chief James Allison – while the floor, which is the area that has seen the biggest regulation change in a push to cut downforce – was the old one, with Mercedes keeping the new one a secret until testing.
It could be Mercedes simply tricking their rivals into thinking they have something revolutionary, or they might have really done something really special – and they have form in this area having unleashed the innovative DAS system at testing last year.
2. They aren't doing a shakedown this year
Traditionally, Mercedes hold their launch at Silverstone, running it in tandem with their shakedown – which counts as one of their two permitted filming days - where they can let Lewis Hamilton and Valtteri Bottas get their first run in new machinery.
This time, they've opted against a repeat and will not hit the track until the pre-season testing, which begins on March 12. "It always rains in Silverstone so we decided that we don't want to stand in the freezing rain again!" joked Mercedes boss Toto Wolff. "We will be doing the filming day on the Tuesday after the Bahrain test. This I think is more representative and better pictures to be utilized than we could probably get at Silverstone."
READ MORE: 'We can talk if we want to do more' says Hamilton as he explains why he only signed a one-year contract
Not shaking down the car hints Mercedes are immensely confident with the package they have – and are hopeful they can hit the ground running in a shortened test, which is just three days this year.
It also suggests they have pushed their developments, such as the floor, to the absolute maximum in terms of completing production of parts as they look to gain an edge over their rivals. One thing is for sure, Mercedes are certainly not getting complacent.
3. Reliability a big focus on the engine side – but there's performance pushes too
Mercedes regained their position as the class-leading power unit last season, with previous frontrunner Ferrari dropping to the bottom of the pack – however, they didn't get through the year without issues.
That's why a huge focus has been placed on reliability, headlined by a new MGU-K which caused such headaches last year. There are tweaks to the Energy Recovery System (ERS) and the engine block – they've introduced a new alloy, too.
RAPID REACTION: Mercedes show off new W12 car – but what are they hiding, and why?
They've also cracked on with pushing for performance gains, with engine chief Hywel Thomas talking up "some completely new innovations" including to the turbocharger area for this year.
Good news not just for their works team but also new customers McLaren as well as Williams and Aston Martin who were already in the Mercedes power unit stable.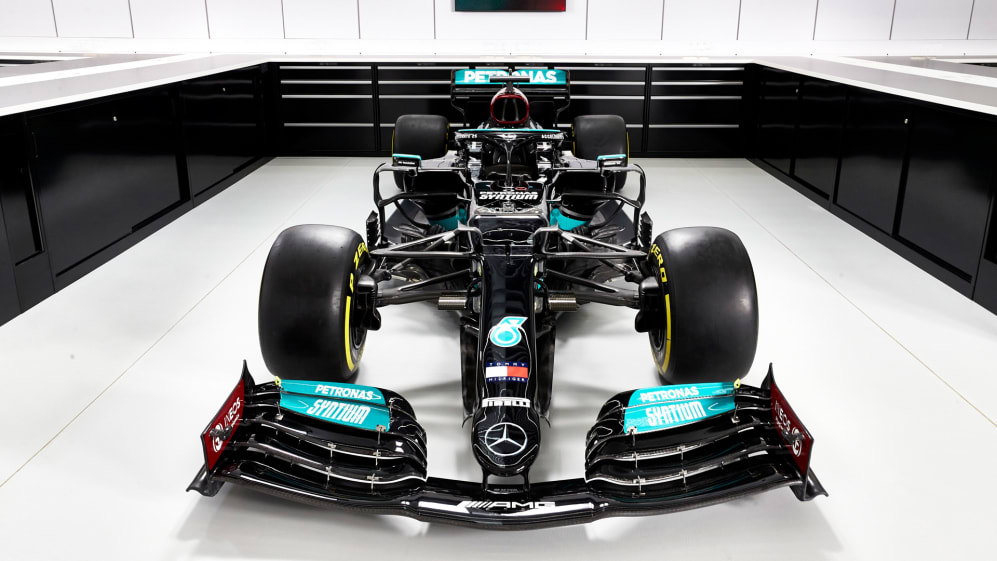 4. Hamilton excited to fight on multiple fronts again this year
Lewis Hamilton cut a very relaxed figure at the 2021 launch, the seven-time defending champion looking back to his best after fighting Covid-19 late last year.
It speak volumes about the confidence in his own ability and comfort of his current position in life that he has only signed a one-year deal and is happy to just add a year each time if they choose to extend.
READ MORE: Mercedes tech chief cagey over where team have spent development tokens on 2021 car
For Hamilton, his sole aim is no longer to just win the world championship, but rather to effect meaningful change when it comes to fighting racism and improving diversity and inclusion in motorsport.
He gave a further insight into his mindset when he admitted that whether or not he wins a record eighth world title this year will not define what he does in F1 in the future.
The Briton is clearly in a great place right now – and remains not only in the driving seat for what will be a record breaking title win but also his own destiny which includes both on-and-track success.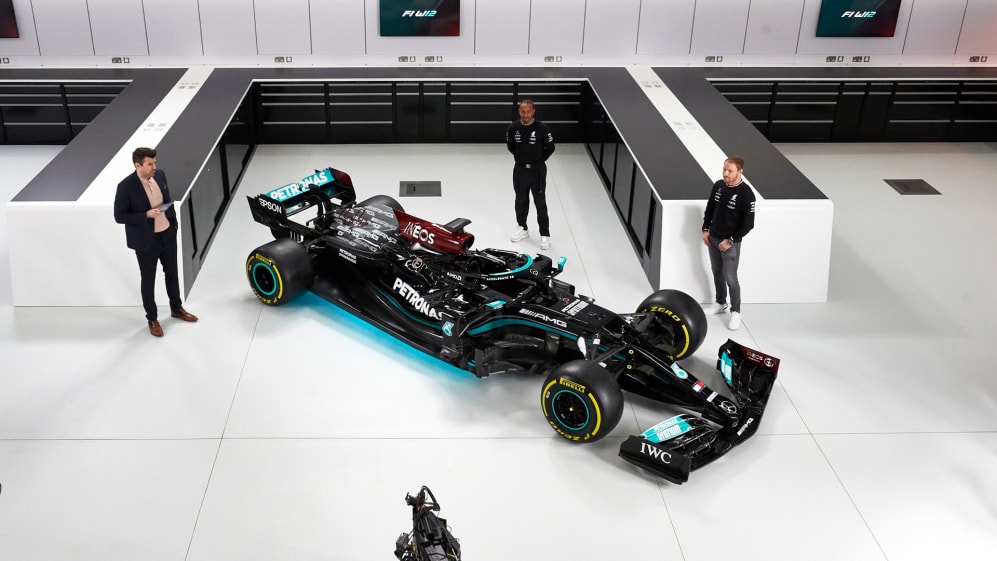 5. Bottas is up for the fight
Valtteri Bottas has rebooted himself over the winter and says he has come back stronger not just physically but mentally as well.
There were points last year where the Finn was incredibly strong and a match for Hamilton, while at other times, he even had the slight edge. But there also too many times where he was way off, and thus a genuine title challenge failed to materialise.
Bottas still has the belief that he can win the title, and he has no intention of playing second fiddle to Hamilton this year. To avoid that happening, he needs to put some pressure on Hamilton in the standings early on and iron out those odd weekends where he is not match for the Briton.
It's easier said than done, but on the basis of Bottas' body language at the launch, he's up for the fight.