Seventh title 'hasn't sunk in', says Hamilton as he reveals plan to use last three races as tests for 2021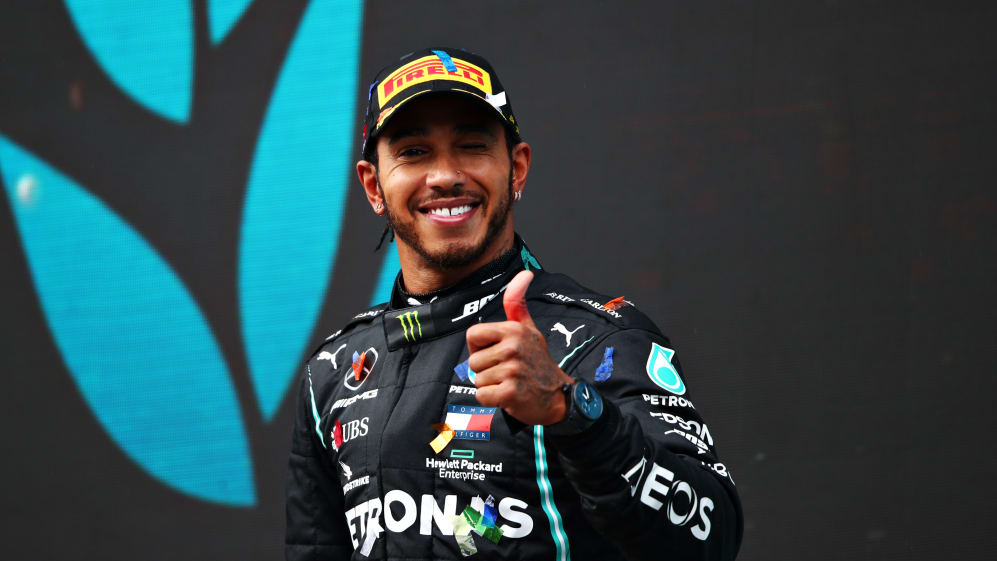 Lewis Hamilton may have already secured his record-equalling seventh drivers' title, but according to the Mercedes driver, that's not going to stop him pushing on the final three races of 2020 as he looks to gain an early advantage for his title defence next season.
Hamilton claimed his seventh title – and his sixth in the past seven seasons – with a sterling drive from P6 to victory at the Turkish Grand Prix. But speaking ahead of the Bahrain Grand Prix, Hamilton had to confess that he hadn't yet managed to process the significance of that achievement – or even process his fan mail, for that matter…
"I've generally just switched off," said Hamilton of the two-week period since claiming his championship. "It's been really bad in the sense that I've got a lot of messages and I'm trying to catch up now.
LONG READ: 'Every year I write down where I'm not great' – Hamilton on his journey from boxing ring to F1 record breaker
"I'm super-grateful for all the messages I got but people are probably wondering why I've not got back to them just yet. I heard there were lots of positive reports back home in the UK, but I'm just focused on trying to be present and enjoy the period of time.
"It was definitely a lot different compared to other years when we've been successful because you can be around people," Hamilton added, "but nonetheless I'm still grateful for it. I don't think it's sunk in yet, probably because we're still racing and still keeping one eye on the job."
There's little left for Mercedes to fight for in 2020, with the team having also secured their seventh consecutive constructors' title at the Emilia Romagna Grand Prix. But asked why he was still motivated to win the final three Grands Prix of the season, Hamilton replied that it was "how I'm wired" – before adding that Mercedes now had the luxury of treating those final three races as a testbed for next year's car.
"It's in my DNA, it's how I'm wired," said Hamilton of his motivation to triumph in the last three rounds. "I love that challenge.
READ MORE: Hamilton's ex-race engineer reveals how the 7-time champ had a 'eureka moment' in 2012
"We're coming into three races where the pressure is different but the focus now – yes, it's getting the best performances out of these weekends, but it's how can we extract a little bit more, how can we learn more from these weekends, almost use them as test races, so that we can apply what we learn in these three particularly, and what we've learned this year, into next year's car?"
Asked, meanwhile, if that would mean trying some far-out set-ups on his Mercedes W11 at Bahrain this weekend, Hamilton joked: "I would like to do that – but our engineers don't like doing too much experimenting in that respect..."