Feature
LONG READ: 'Every year I write down where I'm not great' – Hamilton on his journey from boxing ring to F1 record breaker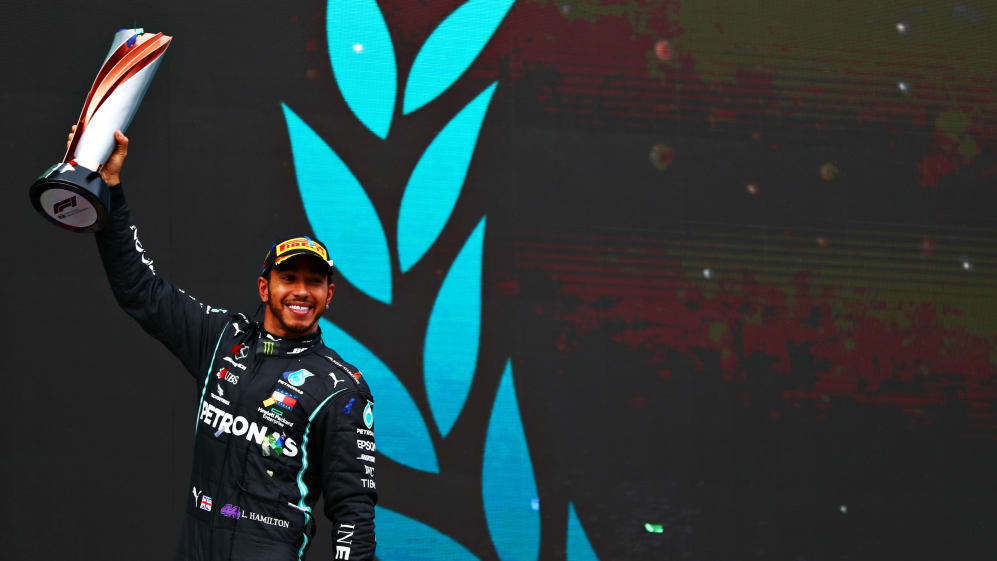 Newly-crowned seven-time world champion Lewis Hamilton had spoken to Martin Brundle in Parc Ferme. Then to Mark Webber on the podium. Next up was a string of TV interviews, followed by a press conference with the world's written press. Only then was it time to sit down with me, for an interview that would be sent out to broadcasters.
It was a lot of media to deal with, in the immediate aftermath of his championship win, in what was one of his greatest ever victories. Aside from the brief moment to leap into the arms of his mechanics after climbing out of the car at Istanbul Park, and a chance to mull what he achieved while listening to the national anthems on the podium, Hamilton was on the move and in action.
There was not enough time to absorb what had just happened. There wasn't even a chance to call his family.
READ MORE: From Interlagos to Silverstone – Ranking Hamilton's best wet-weather drives, from 10 to 1
So before we sat down, Hamilton took a moment. He paced up and down the press conference room, head down, eyes transfixed on his shoes, away with his thoughts. He then moved over to the stage, sat down and put his head in his hands for a few seconds before taking his phone and scrolling through streams of messages, smiling as he did so.
He then took a seat. As the TV crew did their final checks, Hamilton gazed at the World Championship trophy sat next to him. He won't get his hands on it till next month, as is tradition, at the FIA's Gala Awards. But it was an opportunity to remind himself of what he has achieved, and where he now stands among the greats. The answer, statistically at least, is now at the very top….
Chasing the dream
Hamilton was eight years old and his father threw him into a boxing ring to toughen him up. The Briton had little experience in this arena, though he had started taking karate two years before as he was being bullied at school and wanted to be able to defend himself. He entered the ring, to be met by a bigger kid two years his senior.
Hamilton was terrified and was subsequently beaten up, coming out of the bout crying and with a nose bleed. He saw his Dad who told him he couldn't give up and sent him back in. Hamilton did so, against his will, but this time, he didn't let the kid get a punch in – and he beat him.
It is that resilience and utter refusal to give up in the pursuit of reaching the top of his profession that has got him to where he is today, even if the all-time targets, at that time, looked insurmountable. "It wasn't unimaginable but I think it was seen as impossible," he says of the prospect of breaking Schumacher's records. "However I still dreamed of it. I dreamed of going to space, I still may go to space!
"I believe in things. I think when you dream, we all come up with crazy ideas and often think that's crazy, but there's something there. It's our duty as human beings to investigate what that is. Not to neglect it, figure out how hard it is to get there and go for it if you that's what you really want.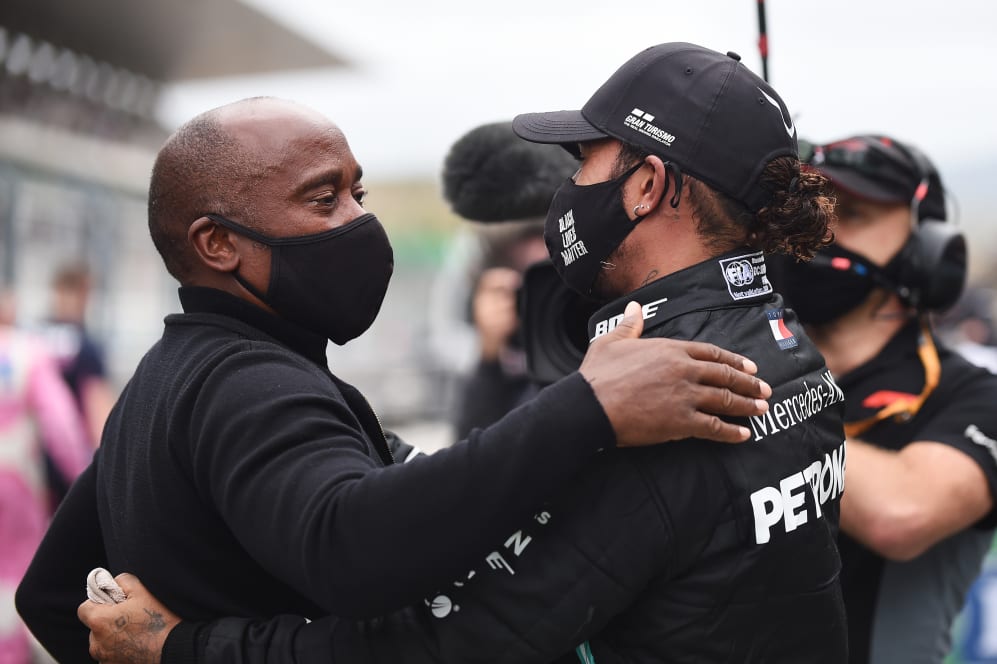 "I know for a lot of people out there, it's not easy to go after your dreams. My mum used to love dancing but as soon as she had kids, she stopped dancing. My dad had things he wanted to do, but as soon as he had me that all changed. So I understand that. But my dad had a dream of us both being here. We worked together. If one thing drops, something else comes up, there's always doors."
WATCH: Anthony Hamilton's touching tribute to son Lewis, as he wins 7th world title
Never giving up
Hamilton was on the ropes when his contract with McLaren was torn up in 2005, leaving him and his Dad needing to find sponsorship and putting the dream in doubt. A reconciliation with McLaren came, but he still had to deliver and couldn't let the opportunity slip, and in an absorbing 2006 debut season in GP2, he did just that – none more so than in the Turkish round, when he spun round on lap two to fall to the back, before powering back to second.
It was a drive that highlighted his refusal to ever accept he is beaten, no matter how bleak things looked, and announced him on the scene.
"When I think about 2006, oh man," says Hamilton with a smile and a big in take of breath. "People may or may not know, I remember the year before my contract was ripped up with McLaren towards the end of the year [2004]. I had to find sponsorship money for the last two. I was pushing to go to GP2 earlier.
"I then came back into contract and we entered GP2 the next year in 2006. I know I was in the F1 circuit, I knew the bosses would be watching, including the most important one, Ron [Dennis]. I put so much pressure on myself.
"Most championships I did, they said we do two years in each – a year of learning and a year to win it. And if you don't win it by your second year, you're not good enough. That was always the thinking. But I remember that year, in my mind, if I could win this in my first year maybe they'll give me a chance to be in F1 next year. So I put an unbelievable amount of pressure on myself.
"In that race [in Turkey] there were multiple obstacles. I had that spin and I remember that feeling I had, holding the clutch, making sure I didn't finish, letting go and not hitting car that came by. Then not just giving up, and pushing like never before, and coming second. What a moment. It was one of the pivotal moments in my career. People thought 'he's the real deal'."
WATCH: 13-year-old Lewis Hamilton goes from last to first in karts as he shows 7-time champion qualities
Putting in the work
Getting to F1, of course, was only the beginning. It was then that the real hard work started – and from there, it's not stopped. 14 years on from his debut, 13 since his first World Championship win, Hamilton continues to find ways to better himself, and more importantly, challenge himself.
Today, it's not just about putting everything into winning the title – that remains a huge goal, but it's one of many. Now he balances that with his own fashion line with Tommy Hilfiger, with working on his own music, with launching his own foundation to push for equality and diversity. He's spinning a lot of plates, but giving enough attention to all so that they rotate in unison. Just how does he do it? He laughs in response.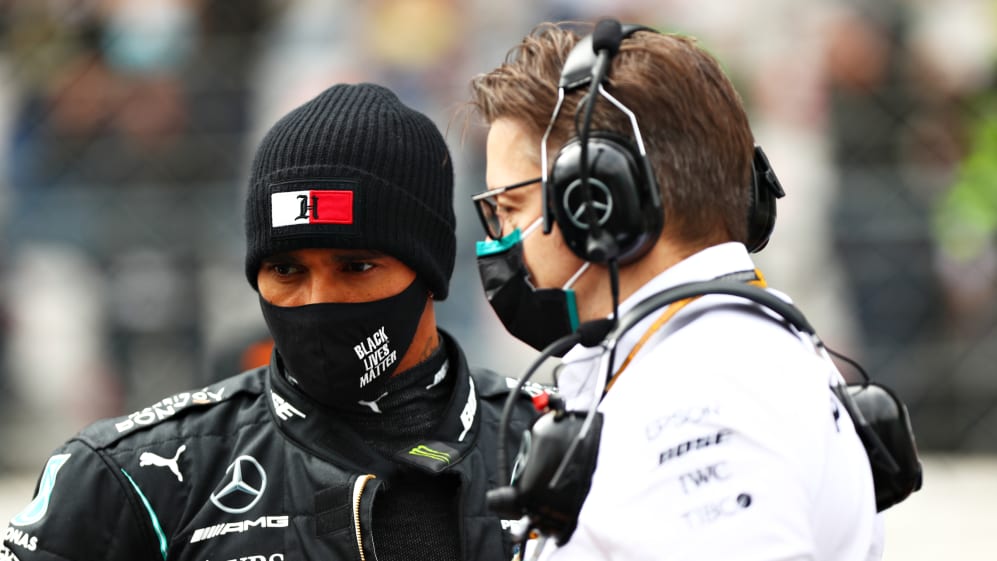 "It's not easy," he says. "With great difficulty. People may think it looks easy, but I tell you man it's far from it. It has taken a long, long time to be as good as I am. I think I've always had the talent. I have probably always had the tools, but I've been messing around in the toolbox not knowing what to do with those tools. I've been fine tuning them. And I think it's just focusing on things.
"Every year, I write down where I'm not great, as there are plenty of places I'm not great, and then ask 'so how do we do that?' I'm not great at communicating sometimes, so I how can I do that better with Bono and the guys? How can I be more positive every time I come to work and be more uplifting rather than drag on people? In the car, how can I better understand all the buttons?
"It's a lot of studying, I've done more this year than I would have done last year [because of Covid and its restrictions on life]. I never understood that when I was younger, I'd just arrive and drive. The amount of homework I do in the background is probably the reason you see the results that I get today."
READ MORE: 'It's the thing that people don't see' – Pete Bonnington on how 'rock star' Hamilton keeps improving
But Hamilton admits he is just a cog in a bigger machine that has yielded such impressive and consistent success. While he undoubtably has the talent, he needs the very best people around him to harness it. And it is not lost on him that he is surrounded by great people.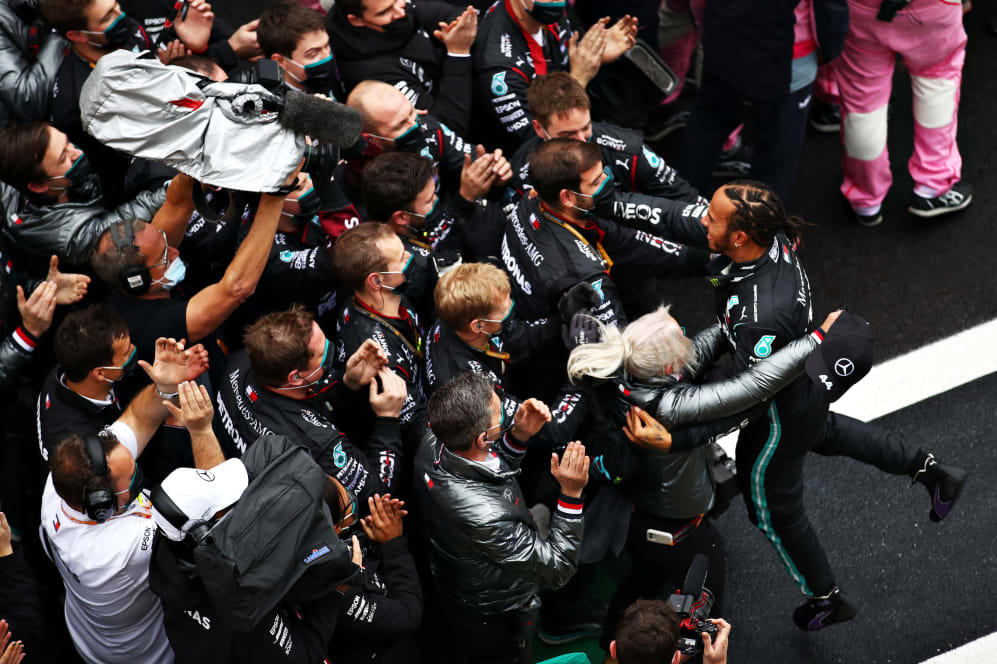 "I'm humbled by all the people who are behind me," he says. "There is a huge workforce behind me. I really couldn't do it weekend in weekend out without every single person, whether it's the cleaning ladies, they are such lovely people, so supportive and on the edge of seat with me.
"They are just as important as an aerodynamicist or someone in the carbon shop. Everyone is as important as each other. We are all part of this massive chain and if one link is more working, the thing doesn't work and you see that in other places. We have all these strong links, and I'm really proud of every single person. What we have done, no one else has done."
READ MORE: 'She's one of the greatest things that's happened to me' – Hamilton on his physio Angela Cullen
Family is central
Hamilton has spoken at length about the support his parents and family have given him, and he continues to do so to show critical they have been to his success.
"Naturally, often the first person I call is my dad," he says when he has big news. "In my experience, the mother-son relationship is something so unique, and I'm very close to my mum. Feel like she's really in my heart. With my dad, he's always been that rock, the guy I have always wanted to improve for, the guy I wanted to make proud. It has not been an easy job. But I wouldn't have wanted it any other way as it has made me the person I am.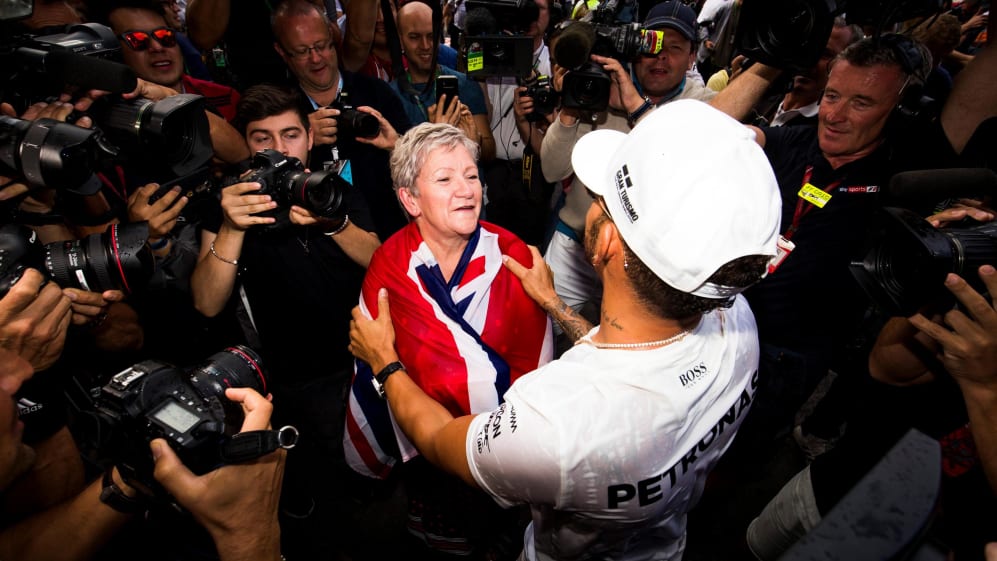 "He is the guy I wanted to call [after my title win], as he is the guy who didn't give up. That's something special. I want to be that for all other kids out there, for my kids, for my niece and nephews. I want to be that strength, that guiding light if possible, to help them realise that we should dream big. Don't restrict yourself, that's what my dad always said."
Giving something back
What Formula 1 means to Hamilton has certainly changed. It remains what motivates him, but he now sees the sport as part of something bigger, and he wants to use his position as the best racing driver in the world to create meaningful change around the world. It's why this championship victory feels different to him. You can see the passion in his eyes. This is what drives him on to succeed in F1.
"It's been a self-driven, a self of propelled passion to win a championship," he says. "I've been a man on a mission and along the way, you have people helping you. This year has been so different in the sense that I'm fighting for something much bigger than a seventh world title. Yes, it's great and it is an amazing thing to see this [world championship] trophy but what does it all mean?
"What we need to do, and the thing we haven't won yet, is we need to come together, we need to push for change. We need equality, we need more diversity within industries. We need kids to see more representation of themselves within industries.
READ MORE: 'Change isn't coming quickly enough' says Hamilton as ex-McLaren boss joins his new diversity commission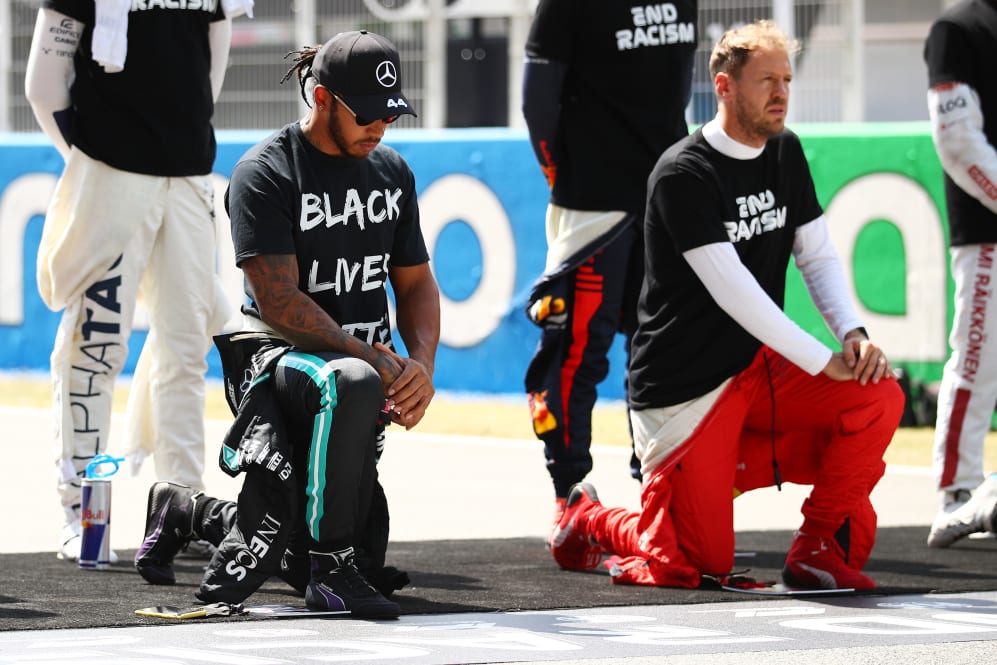 "When we talk about diversity, it doesn't mean we want to swap people out. It's about making it more diverse and more representative of the outside world. We need to work together to create equal opportunities.
"Every kid should have equal education. It shouldn't be dependent on your religion or where you live. We have an opportunity and a platform here to raise awareness. There are people in high positions who say they don't want to get involved in politics. Well screw you. It's not political, it's a human rights issue. We have to be allies, we have to do it together."
READ MORE: The GOAT? Our writers on whether Hamilton is the greatest, if 2020 is his best season, and more